What is OverDrive 2 all about?
It all comes down to a .125" increase in the upper section of the tapered steerer tube, taking it from the current 1 1/8th standard to an outer diameter of 1 1/4 inches. The lower section of the steerer tube, where the steerer and crown meet, remains the same. The goal is improved stiffness at the handlebar, especially given the rise of wider handlebars on trail and all-mountain bikes. Giant is claiming a massive 30% increase in stiffness at the end of the handlebar with OverDrive 2. Here are the facts:

• The fork's steerer tapers from 1 1/2" at the bottom to 1 1/4" at the top where the stem clamps. This means that it does require a new stem, upper headset assembly and headset spacers.

• The bike's head tube inner diameter actually remains the same, at least on Giant's bikes. This means that not only can all of Giant's bikes that come equipped with the OverDrive 2 system be easily converted to fit a standard tapered fork and stem, but older models from previous years can also be converted to accept a new OverDrive 2 steerer equipped fork.

• Other companies are free to use 1 1/2" - 1 1/4" tapered forks as well. Giant is not patenting OverDrive 2, so expect it to pop up elsewhere as well. It will be a while before we can truly call it a standard, at least two to three years, but with Giant behind it it's not likely to disappear.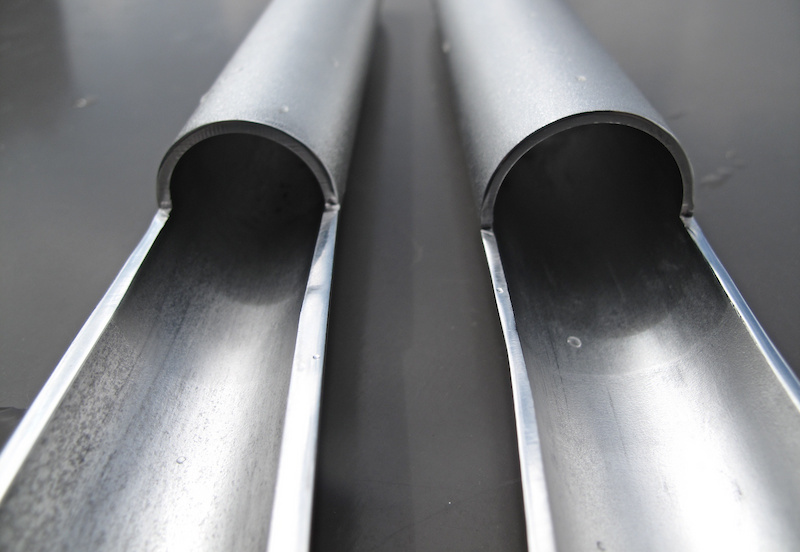 There was confusion and resistance when tapered steerers first made their appearance, despite the fact that they are stiffer than a standard straight steerer tube and have a very minimal weight penalty. Will the OverDrive 2 steerer (right) face the same?

  Is 1 1/4" steerer tube sizing new to the bike world?
Certainly not, and Giant isn't claiming to be inventing anything with OverDrive 2. In fact, 1 1/4" first made its appearance in the 90's on Gary Fisher bikes, although it was in the form of a straight, non-tapered steerer tube. It was dubbed "Evolution" and it didn't gain any traction, disappearing from the scene rather quickly. If you go back far enough you'll discover that there have been about ten different head tube sizes throughout the years (I'm sure that I'm forgetting about some) that, whether they were called for or not, were at one point thought of as the standard. Most are not widely used anymore, but you may be surprised what an old, obsolete sized stem will fetch on eBay if you happen to find a desperate buyer. It's worth noting that steerer tube sizing has generally enlarged as bicycles have evolved, until weight began to play a more important role in design, which is when tapered designs began to show up.

  30% is a big difference, but where and how is it measured?
The figure is measured by placing a 200lb weight at the end of a nearly-flex-free solid steel handlebar and measuring the amount of flex at its end. While exact numbers in millimeters were not handy at the time of writing this, Giant says that they have found a whopping 30% increase in stiffness at the end of the bar when comparing the new 1 1/4" steerer to the current standard. While it may certainly feel as if your bar and stem are flex free, that is actually far from the truth. Do this simple test: have a friend put your front wheel between their knees while you stand over the bike and try to pull one end of the bar up while pushing down on the other - you may be surprised to see just how much give it has. It was claimed (although I haven't verified it) that it isn't uncommon to find up to 20mm of movement at the end of the bar, even with the present day 31.8mm bar clamp diameter. That means that Giant's OverDrive 2 setup should flex about 6mm less, assuming that the assertion of a 30% increase in stiffness is true. How does that 6mm translate to the real world, where bikes are equipped with high volume tires, 6 inches of suspension travel and plenty of other places for flex to make itself known? We'll have to get on a bike that uses the new OverDrive 2 setup and get back to you...

  Which fork manufacturers have put their weight behind it?
The big three - RockShox, Fox and Marzocchi - all have fork models that will come as standard equipment on select Giant models. There is no doubt that Giant's size and buying power (they are one of the worlds largest bike manufacturers) played a role in those three companies adding the new sizing to their lineup, but I'd like to believe that they would have investigated the merits of the new sizing and made an informed decision on their own. Those who have warranty and aftermarket concerns should be happy to hear that RockShox will be supporting the new size fully, and we assume that both Fox and Marzocchi will be doing the same.

  What does this mean for riders who currently use standard or tapered forks?
Right now, not much. Don't expect to wake up one morning and find it impossible to track down a standard 1 1/8th stem or headset parts. There are simply too many bikes out there right now, as well as many more to be manufactured and sold, to have the current straight and tapered steering sizing disappear. Also, because Giant is actually using the very same head tubes on their OverDrive 2 equipped bikes on previous years, those with standard tapered steerer tubes can easily bump up to the new, larger size without having to purchase a new frame (although the upgrade does require at least a new crown/steerer unit, stem and upper headset assembly)

  Is there anything different about the frame?
Surprisingly, absolutely nothing. The head tube's inner diameter remains the same, only the upper cup and top headset bearing are different from Giant's current setup. This means that current non-OverDrive 2 frames and the new models will both be forward and reverse compatible.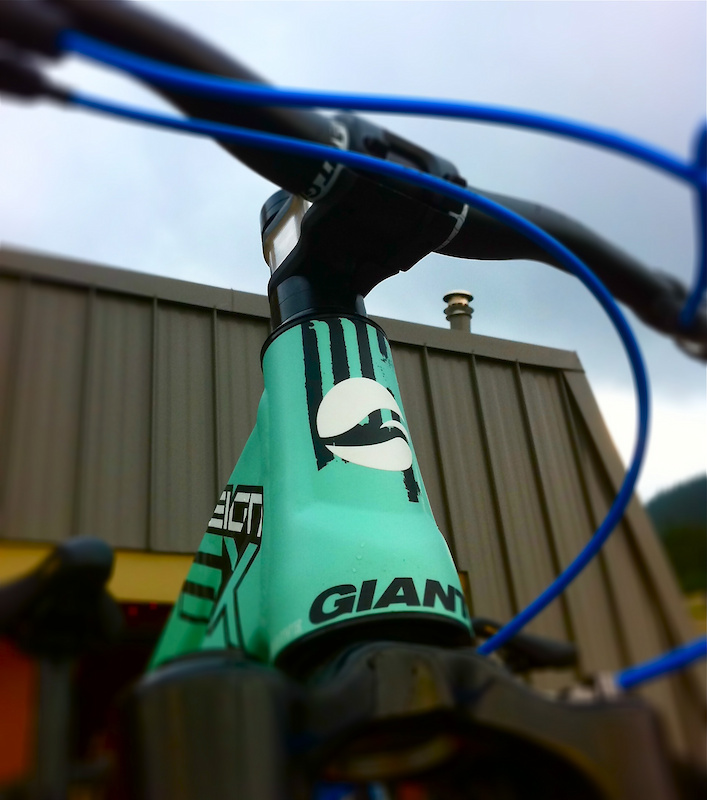 OverDrive 2 equipped bikes will actually use the same head tubes as previously employed, it is only the upper headset assembly, stem and spacers that need to be changed.

  So, why not just go to a full 1-1/2" head tube?
The answer is weight. Even if you personally don't mind the extra grams that would be added by a full-length 1 1/2" steerer, along with a larger and heavier upper headset assembly, bearing and stem, the goal of designers and engineers is to always build stronger, stiffer and more efficient bikes without adding weight. Would a full length 1 1/2" steerer system be stiffer? The answer is surely yes. Is OverDrive 2 stiffer than the current tapered standard? Again, the answer, according to Giant, is yes. Taking into consideration the total package - steerer, headset assembly, stem and spacers - which of the two is lighter, while still offering more stiffness than a full length 1 1/8" steerer or standard tapered setup? We'd have to wager that the nod goes to OverDrive 2.

  Where does OverDrive 2 not make sense?
With only a few exceptions, OverDrive 2 will only be employed across the range of Giant's performance oriented grail and all-mountain bikes. You won't find it used on their top-tier cross-country races bikes yet, but Giant says that you'll see it there in the near future. Where you won't likely ever spot it is on the front of their downhill bikes or any model that uses a dual-crown fork, simply because the stiffness provided by the extra crowns would make the OverDrive 2 steerer redundant.

  Is there a weight penalty for the larger diameter steerer, headset parts and stem with a larger bore?
Giant is claiming that it's a wash, that the system weighs the same overall as an equivalent tapered setup. Do we believe them? It is likely to be very close in weight, although we wouldn't be surprised to find that OverDrive 2 does add a small amount of weight. Also, the materials and manufacturing processes of the Overdrive system must be optimized to deliver lower weight and more rigidity in a larger diameter steerer, so is is safe to say, that lower-priced models that employ Overdrive will weigh more than one with a standard tapered head tube (this, we have witnessed with the 1.5 standard). We'll have to compare the two side by side before we can say for sure.

  Will OverDrive 2 add to the price of the bike?
Nope, Giant claims that OverDrive 2 will not add additional costs. We believe them on this one, simply due to the fact that new tooling isn't needed because they are using the same head tubes as in previous years. Yes, there will be brand new headset and stems, not to mention fork crown and steerer units, but Giant's massive manufacturing numbers and buying power should negate these costs.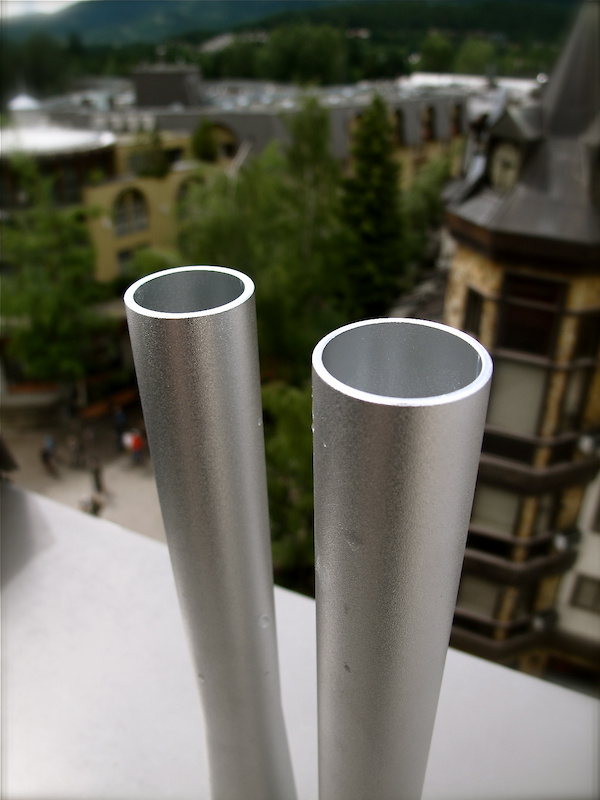 The top of a standard tapered steerer on the left next to an OverDrive 2 steerer on the right.

  What happens when you need a new or different stem or headset?
As of right now only FSA is manufacturing headset parts for OverDrive 2, but both Giant and FSA are distributed widely enough that we don't expect tacking down parts to be an issue, especially further down the road when the new size becomes more common. You can assume that it also won't take long for other headset makers to tool up production as well.

When it comes to stems, Giant is so confident that OverDrive 2 is here to stay that all of their mountain stems will be made to the new size (they'll include a shim to downsize them to fit smaller steerers as well ). Pro and Ritchey are also said to adding OverDrive 2 sized stems to their lineup, but given Giant's size you can expect many more to join the club.

  Why should we give this new sizing a chance?
There will no doubt be a knee jerk reaction from a lot of riders about yet another new "standard" that is being forced down their throats, and most of the coverage of OverDrive 2 isn't exactly doing a great job of educating anyone on the matter. There are two simple questions that need to be asked: 1. Is there a performance advantage that can be gained from going to a 1 1/4" - 1 1/2" steerer tube, and 2. Is the advantage large enough to warrant making the switch, which would include not only a new fork, but also an upper headset assembly, headset spacers and a stem.

You'd be kidding yourself if you think that outright performance isn't what has made your own bike what it is. Even if your current ride is a decade or more old, the technology and standards used on it were likely developed on the previous year's race bikes by professional riders. The goal is almost always to be faster (even if that isn't your personal goal), and the ingredients are stiffness, low weight and more efficiency. Is this the case with OverDrive 2?
Is the current and most popular steerer tube sizing ideal for a mountain bike with a single crown fork? If a stiffer system can be employed, one that doesn't add any weight, as Giant claims, does it not make sense? Lets hear what you think of OverDrive 2 - put those thoughts down below!