While wandering the Outdoor Demo we spotted an oasis of shade and beer at the Hayes tent, and while under that tent we also spotted a new big-power brake from the Hayes boy's. The Stroker Ace is a Four piston brake for those of you looking for even more power. The same riders interested in the Ace's may want to check out Sun-Ringle's ADD Lite wheelet, a tough and light set of wheels that can lighten up your overweight bike!
2 Full HD Video's inside!
Denny Yunk brings us up to speed on the new Hayes Stroker Ace brake. Available in all rotor sizes, the Ace enters the field as a proper all-mountain and DH stopper.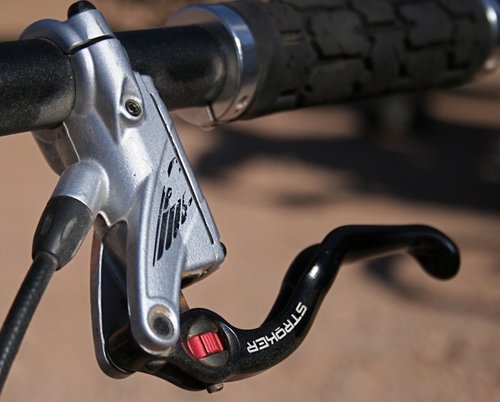 Stroker Ace master cylinder and longer lever blade
Features
-Four pistons
-One piece mono-block caliper (no bolts)
-Larger pad surface
-Longer lever blade for more leverage
-Tool free reach adjustment
Hayes.com
for more information
---
Next up Denny shows us his personal favorite wheelset, the Sun ADD Lite. Compatible with nearly every axle size out there, the ADD Lite's will bolt on to nearly any bike. These hand built wheels look burly enough to send it, and yet are still reasonably light weight.
Check out
Sun-Ringle
for all the tech specs.