REVIEWED
Ibis
Mojo HDR
650B

WORDS
Mike Levy
PHOTOS
Amy McDermid
Ibis wants you to have it your way with their Mojo HDR platform, and they have designed their new bike with different amounts of rear wheel travel and two wheel sizes in mind. On one hand you have a 160mm travel, 26" wheeled all-mountain rig that would be at home when ridden over some seriously hectic terrain, but the other half of this versatile machine is its ability to run 650B wheels and 130mm of travel for a ride that sits more along the lines of a solid trail bike. Don't worry, though, because these two characters differ in more than just their wheel size and travel, with different length shocks (
hence the 30mm change in travel
) and forward shock mounting hardware that Ibis says delivers the correct geometry for each setting. We chose to review the HDR with the larger sized wheels, and assembled our frame with a custom build that reflects the rough and difficult trails that we rode the bike on.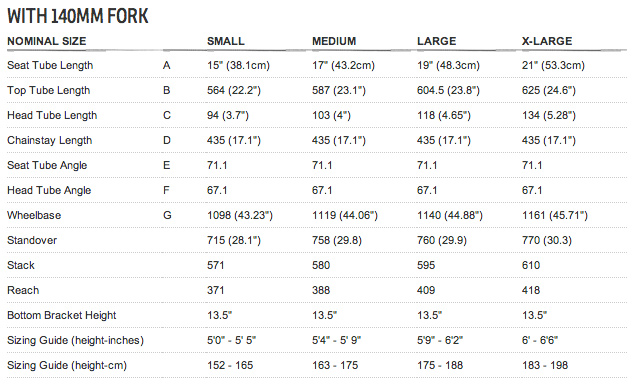 • Intended use: trail/all-mountain
• Rear wheel travel: 130mm
• dw-link suspension
• Wheel size: 650B
• Compatible with 26" wheels (different shock, mounting hardware)
• ISCG 05 chain guide tabs (splined adapter)
• 12 x 142mm axle
• Routing for dropper post
• Frame price: $2,699 USD w/ FOX Float CTD shock
Frame Details
The Mojo platform is hard to mistake for anything else, and the design's swoopy lines and good looks are easily spotted from far away. The same can be said of the latest addition to the Mojo series, the HDR 650B, although there are some important differences between the HDR and the original HD that came before it, including a completely different carbon construction method Ibis says results in a frame that is a half pound lighter without giving up anything in terms of rigidity or strength. The finished product weighs in at 6lb (
claimed, w/ FOX Float CTD shock
).
A tapered head tube, cable routing for a dropper post, and a 12 x 142mm axle are all present on the HDR, as is a sturdy bolt-on down tube shield that looks like it is ready to protect the frame against a shotgun blast let alone a rock strike. The clever guard also acts as protection for the bike's down tube routed cables, with them entering at the top and exiting via openings on each side of the guard, and its two lower mounting bolts also serve as the bike's only water bottle mounting location. Interestingly, Ibis has chosen to go with external cable housing front to back, a choice that is in contrast to the concealed layout that some other brands are moving towards. Having said that, the frame utilizes ultra-clean carbon fiber guides that bolt onto the front triangle - a classy looking solution.
As talked about above, both the 130mm travel HDR 650B shown here and the 160mm travel HDR with 26" wheels share the same frame, but there are two key differences that Ibis says allows the design to work well across both wheel sizes. Firstly, a shorter 7.875" x 2.0" FOX Float CTD shock is used in place of the 8.5" x 2.5" unit on the longer travel, 26" wheeled bike. This helps to lower the bike in order to compensate for the larger wheel diameter, thereby correcting its geometry as well. The shorter shock is bolted to the front triangle by way of interchangeable chips - Ibis refers to them as 'Limbo Chips' - that are 650B or 26" specific. It is also worth noting that the new frame is compatible with piggyback style shocks, like FOX's new Float X, should you be looking for more big hit, high-speed performance.
The HDR's dw-link suspension is a known quantity at this point, with multiple iterations of the dual-link design being used by Ibis and other brands over the last few years, although this new bike does use a tweaked layout when compared to previous bikes from the California company. This also includes a burlier bottom link and pivot arrangement, as well as both improved front derailleur clearance and chain guide compatibility via a splined ISCG 05 adapter that fits over the bike's bottom bracket shell. Yes, you could run a special Mini-G chain guide from MRP on older Mojos, but the new bike allows other guides to fit easily, a change that single-ring riders will appreciate.
---
| | |
| --- | --- |
| | This is a finesse rider's bike, one that really comes into its own when the brute force approach is left at home in favour of planning and precision. |
Climbing/acceleration:
Having spent considerable amounts of time on other machines that utilize dw-link suspension, we hopped aboard the HDR fully expecting it to wow us with its acceleration from a near standstill to cruising speeds, and the blacked out Ibis did exactly that. Get on the gas and the HDR will jump forward with a level of enthusiasm usually reserved for bikes with no rear suspension and a weight figure in the low 20lb range - it's that good. Get a bike like this under a set of fresh, strong legs and you can bet all you'll be seeing is its rider's back fading off into the distance, especially given the mental advantage that a spry rig like the HDR can bestow upon an already fit rider. Much like the Ibis Ripley that we reviewed a few months back, we found no need to reach down to flip the bike's FOX Float CTD shock from its 'Descend' setting to anything firmer, with a set-and-forget approach that we far prefer to having to rely on silly pedalling aids that we inevitably forget to turn off after a leg burning, brain melting climb. The downside to the bike's first-rate climbing efficiency turned out to be a somewhat skittery and un-planted feel when a section of loose or stepped ground was under its tires, with the bike feeling like it was firming up enough under power to cause a slight loss of traction in some scenarios.
With a 150mm travel RockShox Pike on the front of the bike, and an unashamedly short stem and wide bar combo for a cockpit (
a spec that we assembled on our own as opposed to the stock build from Ibis
), the front tire needed a bit more of a firm hand to direct it when inching your way up a slow, steep climb. That's not meant to be a knock against the HDR's handling in the slightest, because when compared to similarly setup rig, this bike is most definitely on-par. Do your local haunts include anaconda-like roots that make New England's trails look like a green-rated bike park run? If so, do yourself a favour and spec a fork with some sort of travel adjust, be it the Dual Position Air system from RockShox or FOX's Talas design, that will let the bike dodge and weave through techy terrain with ease.
Technical riding:
A relatively light bike that has a good jump to those initial pedal strokes, the HDR felt as if it could be placed to within a millimeter of where you wanted to be in a do or die situation, and that includes going up, down, or across. This is a finesse rider's bike, one that really comes into its own when the brute force approach is left at home in favour of planning and precision. This was especially clear to us when moving at a good clip into a challenging section that required some quick decision making to get on the proper, and sometimes the only, line in order to call it a success. This often calls for a more committed move in order to be in the right place at the right time, and the black bike has a willingness to do what is required of it that made such scenarios easy. And much like a true high-performance toy of the wheeled kind, the HDR came into its own as the speeds increased and it was allowed to show its mettle. Quick direction changes felt instinctive when the bike was pointing downhill, and the HDR certainly leans more towards the lively side of the handling scale, a personality that can be a lot of fun when taken advantage of.
Letting that momentum drop does hint at a slightly high ride feel from the HDR, although it's far from from feeling tippy, just maybe a little less glued to the ground than some of the competition. Allowing the bike's FOX shock to run a bit deeper into its sag does help to eliminate this, but we have to admit that blame likely has to be placed upon the 150mm travel Pike fork and its slightly longer axle-to-crown height than the 140mm travel fork the bike is designed to be run with. With that in mind, we'd likely recommend running a 140mm travel fork on the front of the HDR unless you put a lot more focus on the downs than the ups like we do.
Downhill:
The HDR shines brightest on trails where the speeds are high and the terrain isn't too toothy, with the 130mm travel bike handling a bit like how we'd expect riding a Speeder Bike from Star Wars would feel. This type of personality certainly makes for some great fun in places where other bikes might flounder, and it wasn't hard to end up taking novel lines aboard the HDR that would otherwise be impossible on a longer travel or less peppy machine. Of course, the bike's handling also plays a big part in this, with it having the right mix of relaxed and on-point that allows for a good amount of confidence - push hard and you won't get bitten unless you really do deserve it. Once that fact becomes known you can start exploring the boundaries of traction, of which there is plenty on offer from the HDR.
Don't plow the Mojo down the trail - it isn't the kind of bike that responds well when ridden in such a gruff manner - but rather channel your inner child and think about where you can leave the ground for short periods of time over and over again. You know, pretend like fun is the name of the game rather than looking for the straightest line from corner to corner, and that's when you'll start to see how to get the most out of the HDR. Like any proper mountain bike, it can be ridden down the trail any way you'd like, but realizing that this is one bike that likes to make the most of the terrain will in turn allow you to make the most out of it as well.
| | |
| --- | --- |
| | We routinely stuffed it so hard into corners that it'd be fair to say that exit speed was the last thing on our minds, especially given that we really didn't expect to actually exit the corner on the bike, yet we usually did exactly that. |
It is when the ground turns from comparatively smooth and fast to rough and chundery that one can begin to poke at the HDR's limitations, with the bike's suspension riding a touch rough compared to other rigs in its travel class. If we were able to perform a blind test aboard the black Ibis we would likely guess that it runs on the shorter side of 120mm rather than its 130mm of advertised travel, and that while it does a sufficient job of muting the impacts, it was a touch harsher than expected.
Technical Report
• Our HDR's Novatec Diablo wheelset not only held up well, but they also make the most sublime ratcheting noise from their freehub. We literally found ourselves coasting longer than we had to just so we could listen to it. On a more functional note, their 23mm inner width offered good support for the Michelin tires that we mounted up, and their tubeless conversion was pain free and quick.
• Speaking of tires, the Michelin Wild Grip'r and Wild Race'r may have questionable names but they most definitely performed well in the mostly dry trail conditions that we rode the bike in. The Race'r is one hell of a fast tire, with a tread pattern than leans more towards speed than all out braking or climbing bite, and the Grip'r offered a predictable feel all around. We did manage to cut the casing on the rear-mounted Race'r, though, when we mistimed a rock move and landed directly on the rear wheel. To its credit, we don't think any tire would have survived this particular hit.
• The HDR's sole bottle mount location, found on the underside of the down tube, isn't useable when on the move and we generally wouldn't run a bottle down there anyways. Yes, most of us wear backpacks with bladders these days, but we found ourselves missing the ability to run a water bottle and cage on the HDR for shorter rides that didn't require supplies.
Pinkbike's take:
Some bikes have the sort of personality that can be forgettable at the best of times, but the HDR 650B reminds us that fun is the name of the game out there. And while we admit to finding its rear suspension a touch harsh, the bike can move over the ground in a way that makes you look for opportunities to let it hang out, although it isn't the best choice if you spend most of your time on rocky, rough trails. Given that it requires a different shock and mounting hardware, we certainly don't expect HDR owners to swap between 650B and 26" wheels on a regular basis, but rather spec it from Ibis how they see fit.

- Mike Levy
www.ibiscycles.com