Interview:

INSIDE

SAM

HILL'S

MOVE

December 23rd's announcement
that Sam Hill would be decamping from Team Monster Energy-Specialized for fresh scenery likely became the single most talked about press release of the 2012 mountain bike season, if not ever. Yes, there were many hints and whispers floating around both the industry and the internet over the last few months, and those who are embedded in the trenches of the race scene were aware of murmurs as far back as the previous year, but the move came as a bombshell to many. We caught up with Nigel Page, the man who runs Hill's new Team CRC/Nukeproof program and who played a vital role in bringing Hill to the team, and Sean Heimdal, the team manager with whom Sam has spent the last decade with.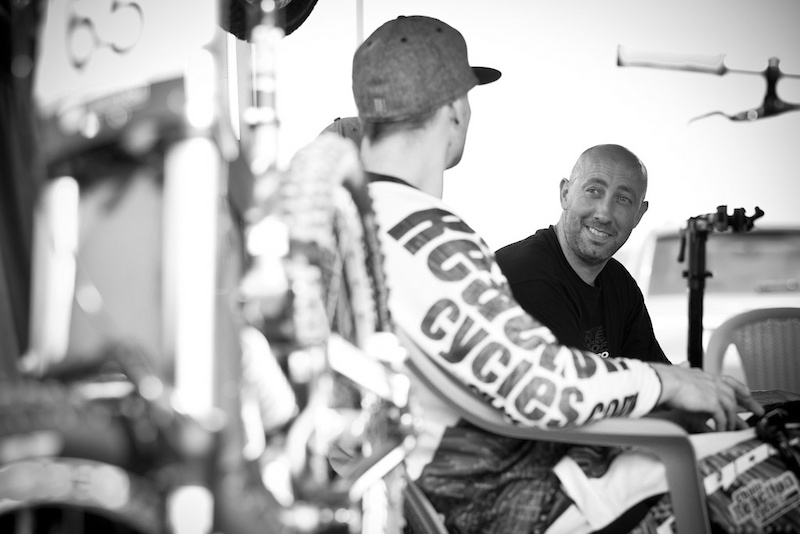 Team CRC/Nukeproof team manager, Nigel Page.
Nigel Page (
pictured at right
) may not be a name that riders who are new to the sport will recognize, but the British rider turned team manager has been a fixture on the World Cup scene since his days as a professional in the early 2000s. And while his time triggering the start beam at World Cup races around the globe may be behind him, he is still continent hopping as the manager for Team CRC/Nukeproof, the outfit that just made headlines by signing legendary Australian downhiller Sam Hill. Page was instrumental in bringing Hill onboard the UK-based team - he even shipped his personal Pulse prototype for Sam to test - so who better to talk to about the move than Nigel himself.

Nigel, Sam Hill signing to ride for Team CRC/Nukeproof has to be one of the biggest transfer announcements in years. How did it all begin?
Nigel:
Well, I usually go over to CRC mid-season to have a chat with the main guys involved about how the team is doing, how much it is costing, and where we want it to
head for the future. Everyone decided that for how much the team costs CRC and how much work and effort goes into it, we were just missing a rider that could both podium regularly and get good media exposure for the team. Having said that, all the riders we had are great and all capable of top tens and getting onto that World Cup podium. Matti Lehikoinen was the rider we had for that role. Matti is really high profile and everyone loves him, but unfortunately he hasn't been able to do what he is capable of due to the horrific injuries he has sustained over the last few years. I have loved working with Matti. He has become one of my best friends and I am really going to miss working with him next year.
   

Matti certainly leaves some big shoes to fill on the team. How did you go about doing that?

Nigel:

I made a list of riders that would be available for the 2013 season and the riders we thought would fit into the team to step us up to that top level. Back at the races, I spoke to the riders on that list to let them know we where looking to hire a guy for 2013. I was really pleased with the response that I got from most of them, and they all mentioned that the team looked great and that the Nukeproof bike both looked good and was a bike they thought they could win on. Once the race season was over and everyone went back home for some down time I got speaking to Sam a bit more. His contract with Team Monster Energy-Specialized ran out on December 31st and he was keen for a change. I didn't go into all the details with Sam of why he fancied a change, I just wanted to make it happen for him to ride for Team CRC/Nukeproof. Negotiations started and I was able to come up with a package for Sam with CRC that everyone was happy with, and then it was a case of Sam trying out the bike to see if he thought he could win on it.

Hill on the 2012 Nukeproof Pulse during filming and testing of the new bike.

   

And how big of a factor did the new Nukeproof Pulse play in Sam's decision to sign for the team?

Nigel:

Before we shipped a Pulse for him to try, Sam said that riding the bike would be the deciding factor. I think that a few of his continuing sponsors wanted him to have a go on the bike before he made any big decisions, which I agree was probably the right thing to do. I was quietly confident that he would like the bike, especially because he had mentioned to me that he thought they looked great when they were first revealed mid-season. However, I must admit I was still a bit nervous because the only guys that had ridden the bike at that time were the team riders and a few designers. Plus, Sam was coming off of a great bike that had essentially been custom made for him. The Pulse has some different geometry and characteristics from what he has been riding, so we were fully aware that we might need to tweak a few things for him, and we had already looked into how we could do that with the current design.

   

Getting Sam on the Pulse for testing must have been a challenge given that his current contract had not yet expired and there were so few examples of the new bike in existence.

Nigel:

Yes, these things took a lot of time to plan and work out, and Sam needed to try out a Nukeproof Pulse before the end of the season. He is a very professional guy and respects his previous contract so he made sure to test the bike at a secret location and on a quiet day when no other riders would see him. As we only have a few Pulse frames (

they are still prototypes for 2013 production

) the only medium frame we had to spare was my personal bike. SRAM were very good to get us some BlackBox parts to put on it before we shipped it off to Sam to try out.

The Pulse pictured above is still in the prototype stages, but Hill is reportedly a fan of how the bike performs. This will be the first single pivot design that he has raced on during his professional career.



   

How did that initial testing go?





Nigel:

I had an email sitting in my inbox from him first thing in the morning the day after I knew Sam was going out on the bike for the first time. He said he had ridden the bike, loved it, and couldn't believe how much speed it carried through the rough sections, which is something I also noticed when I rode the Pulse. He also said he felt like he could win on the Pulse, and so the deal was agreed upon.



   

Talk about waking up to good news! Did Sam ask to change anything at all?





Nigel:

After a couple more rides on a pretty different set up, a new frame, different bars, different tires etc..., Sam asked if it was possible to try out a few tweaks to the bike to make it feel more like what he was used to. Of course we were willing to do this. RockShox sent him a slightly shortened shock that dropped the bottom bracket a touch to give Sam a lower position, and we sent him a higher rise set of Nukeproof bars and told him it was easy to change both the sweep and bend. The Pulse has a 1.5'' head tube and we have our own angle-adjusting headset cups, so the bike's head angle is easily tweaked to suit a rider. Ali and Dale, the designers back at Nukeproof, were looking at how to make these changes for Sam when he e-mailed me after some back-to-back testing with the stock and modified Pulse bikes. What was really cool to hear was that he had decided he preferred the bike as we had it originally; he liked the stock bottom bracket height and loved the higher rise stock Nukeproof bars. So that was great to hear and confirmed we are all doing the right things at Nukeproof. Happy Days!




| | |
| --- | --- |
| | I'm very excited about riding for team Chain Reaction Cycles/Nukeproof. They are very positive towards downhill racing and I know they are going to put in 100% just like me. I'm really looking forward to getting to the races under the Chain Reaction Cycles tents and hanging with the team. 2013 is going to be a good year. - Sam Hill |


   

That must have been a huge relief. There has been a lot of internet chatter comparing Sam's previous bike to the Pulse that he'll be on for the coming season.





Nigel:

I love reading all the forum comments from the 'experts' that know everything about everything. Everyone who is involved with the team at CRC and Nukeproof are all passionate and experienced riders and racers who love bikes and the sport. We all have input into the design of the Nukeproof bikes and what we want. It is a great position to be in because we can make a bike exactly how we want it to be and what we want to ride. We don't start off with a bike and then change things. I think because we have such great people working on everything, things happen quicker and better than they may with other bike companies, but the Pulse frame that the team rode for the second half of the 2012 season is a first prototype and it came out pretty much 99% perfect. Amazing really! Although a lot of the design was done and tested with the Nukeproof Scalp frames.




DID HE JUMP OR WAS HE PUSHED?

Speculation as to why Sam signed with Team CRC/Nukeproof has been rife with anonymous internet posts citing reasons ranging from Hill being straight up fired, a large carrot in the shape of a bag of money being dangled in front of him, to Sam simply wanting to shift to a new setting. What many posters seem to be forgetting is that Hill's contract with Team Monster Energy-Specialized ran out at the end of 2012, thereby allowing him the freedom to pursue other avenues if he so chose to. Every team manager also knew this, and you can bet that Hill was the subject of many a private discussion behind closed doors. We'll likely never know how Team Monster Energy-Specialized team manager Sean Heimdal's offer to retain Hill's services compared to others on the table, but we'd wager that Hill likely had a number of offers from different teams to chose from. He didn't jump, and he certainly wasn't pushed, but we're betting that the reserved Aussie knows that an entirely new setting might be a key element in re-igniting that shockingly fast yet clever riding style that typified his most successful years.

WHAT ARE TEAM CRC/NUKEPROOF GETTING?

Hill is still a rider that would be near the top of any team manager's wish list, which begs the question of just how the he has gone from piloting a Demo 8 down World Cup tracks to joining the Team CRC/Nukeproof roster. That isn't to take anything away from his new team or the Nukeproof Pulse downhill bike that we'll soon see him on, but rather simply admitting that the move is surprising. Or is it?

Online giant Chain Reaction Cycles clearly have deep pockets and are committed to the competitive element of the sport, and what better way to raise the profile of the Nukeproof name - a company owned by CRC - than to sign the most influential DH rider of this generation? Both Matt Simmonds and Joe Smith were flying the CRC flag last year (

and will be back for 2013 as well

) and put in some very respectable runs, but it's a given that having Hill on the team is going to sell more bikes in a single year than Simmonds and Smith could give away during that time. Then there is the development factor. Hill isn't known for having the same hypersensitive touch as, say, Nicolas Vouilloz, but no one can argue that any bike he has spent time on has been transformed from a somewhat questionable race-specific rig to a proven podium contender. Word is that the Pulse is a very respectable machine, and Hill didn't sign on the dotted line until he had some time on the single pivot, linkage activated bike beforehand to confirm that point, but you know that Nukeproof is looking forward to the feedback that Hill will provide to them. Will the Pulse be sporting a slightly shorter rear end and lower bottom bracket height when it hits production? Don't bet against it.

Regardless of whether Hill is or isn't the rider he was back in 2007 and 2008, or if it's the competition that has closed the gap since those dominating wins, there is no denying that the Australian isn't the jaw dropping force that he once was on a World Cup track. The days of him laying down mid-course split times that were several seconds up on the competition while coming through sections visibly quicker than other world class riders may be gone, but there aren't many that would bet against him standing on top of a World Cup podium again at some point in the future. This is especially true when it comes to any steep, technical, and muddy track, a well known forte of his, but Hill's ability to put the power down efficiently has been underestimated by many. Split time comparisons between Hill and other riders show that he has steadily improved in this area compared to seasons past, which, not coincidentally, has been in accordance with Hill's rising results last season. 2012 was also the first in a few years where Hill was able to compete injury-free, having sat out the majority of 2010 and part of 2011 due to knee and shoulder issues. The competition has only gotten faster during his downtime, with the likes of Gwin pushing the sport to new levels of speed and consistency, but Chain Reaction Cycles clearly have faith that Hill will once again be able to contend for the top step of the podium. They aren't the only ones, with both SRAM retaining him on their BlackBox race program and Troy Lee Designs continuing their support as well.

Do we think Sam will win another World Cup race? Yes, we do. But even if he never stands on another podium, Chain Reaction Cycles have made a smart choice by bringing him on board. The exposure he brings to the brand is immense, with the every race fan well aware of what Hill has both done and is capable of. Roll on 2013.
Sam, pictured here with his father Merv at the Mont Sainte Anne World Championships, a race that he won after returning from both a major knee surgery and a shoulder injury.

What are the chances of seeing him aboard a carbon fiber Pulse at some point next season?
Nigel:
I think that you will have to wait and see on that, I'm afraid. I think our aluminum Pulse is good enough to compete at the highest level at the moment, and the weight of the bike is really good also.

What can you tell us about Sam's mechanic, Jacy Shumilak. Will he be wrenching for Sam again in 2013?
Nigel:
At the moment we are keeping Brooks on as the main team mechanic. Brooks does a great job, he is a fantastic mechanic and top lad! Carl has had to leave to team to concentrate on his bike shop in Glasgow, which is a shame, but thanks to Carl for the last few years with the team. I have spoken to Jacy, so it's not out of the question at this stage but I honestly don't know.
Will Jacy Shumilak, Hill's longtime mechanic, be joining him in on Team CRC/Nukeproof? As shown in motorized sports, the rider/mechanic relationship is an important element in the entire package.

Don't many of Sam's long term sponsors conflict with the equipment used by the team last season?
Nigel:
Well, all of the contracts that we had on the team expired at the end of 2012, so it really wasn't such a big deal. We had already agreed with SRAM that the team would be on their full lineup: RockShox suspension, SRAM drivetrain, Avid brakes, and Truvativ running gear for 2013. Sam keeps his Monster Energy helmet deal, TLD clothing deal (
which the whole team will run
), Five Ten, and SPY, which are all companies CRC deals with so it all works out really well. I would also like to take this opportunity to thank all of our continuing sponsors for 2013, as well as all of our past sponsors that have supported the team over the last five years.

What do you think were the main elements of the Team CRC/Nukeproof deal that brought Sam over from his previous team?
Nigel:
I think that is a question for Sam, and I honestly don't know the answer to that. Just the whole package was right for him, I guess. I think a lot of people believe that CRC have just paid over the odds for Sam, but we are honestly paying Sam what he is worth and what any other big team would expect to pay for a rider of his caliber.

The news of Hill signing for Team CRC/Nukeproof was actually embargoed until January 1st, 2013, but a certain German website let the cat out of the bag early, thereby forcing Pinkbike and others to also post the announcement long before it was intended to be public knowledge. This surely must have caused a bit of a shit storm on your end...
Nigel:
Well, when planning something as big as sponsoring Sam, a few people and certain sponsors have to know about it, so you never really know if anyone mentions it to anyone else, but it was all going pretty well until a particular website posted it up before the January 1st release date! I guess these things can happen. I didn't send out the press release myself, and I haven't dealt with an embargo before, but I would have sent it on New Year's Eve because you can't trust everyone. I have definitely been watching too many secret agent movies! I will be honest, I was really pissed off that this happened. It was just embarrassing and I didn't want to piss people off as contracts run to certain dates and we should respect those. We are all here to try and make our sport and industry better. I sent out a few e-mails apologizing that this had happened, and yes, Geoff Rogers from Specialized sent me a nice reply being really cool about it, which was really good of him. Specialized is one of the largest and best companies in our industry so it was nice of him to take the time.
Both Matt Simmonds (left) and Joe Smith are likely to only get faster throughout the season thanks to sharing pit space and track time with Hill.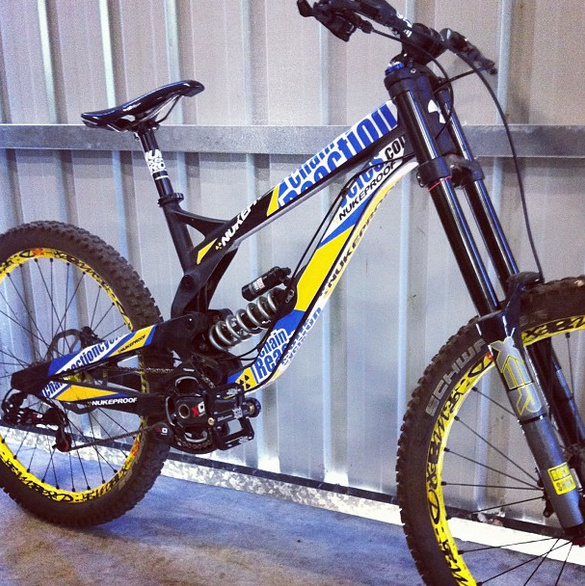 Hill's 2012 CRC/Nukeproof Pulse. While much of the running gear is similar to last
season, the Mavic Deemax wheels and Schwalbe rubber are two big changes. Expect
the 2013 team issue bikes to differ slightly. Photo from Hill's Instagram

Returning riders Matt Simmonds and Joe Smith are great riders in their own right. Do you think that some pressure will be taken off of them now that Hill is on the team?
Nigel:
This is one of the most exciting factors for me. Both Matt and Joe are fantastic riders, really fast and both are focused. Having Sam on the team will be great for them both, and I am hoping it will give them that missing link to make it to that top level consistently. The pressure will be off, and I think that will also help them achieve the results that I know they are capable of. They are both focused and motivated themselves, and now Sam is joining us, so they should be even more so. We have a great team of three riders, and both Matt and Joe are great lads and I think that will help Sam.

Where will we first see Sam, Matt, and Joe aboard the Nukeproof Pulse in 2013?
Nigel:
We will be doing the full UCI World Cup series, the BDS rounds for Matt and Joe, and as many BDS stops as possible for Sam, which I will work out over the next month or so when I plan his flights and travel. Sea Otter may end up being the first race, but to be honest, it all depends on when bikes, parts, and kit arrive.
---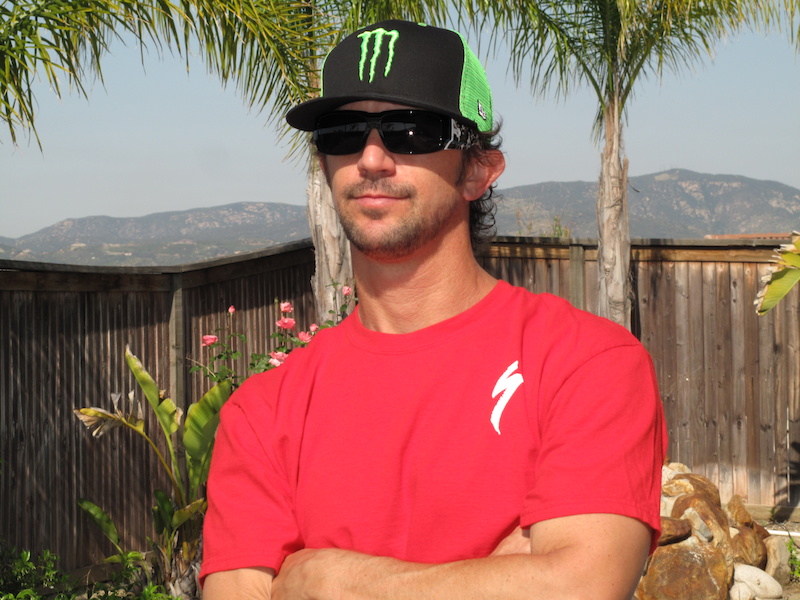 Team Monster Energy-Specialized manger, Sean Heimdal.
A California native, Sean Heimdal (
pictured at right
) has run the Team Monster Energy-Specialized program as the team manager since its inception, as well as the Iron Horse/Mad Catz outfit prior to that. Hill's departure to a new team for 2013 marks the first time in a decade that he won't be racing for a team managed by Heimdal - an incredible stat that speaks volumes about how much time the two have spent together over the years. We caught up with Sean to get his take on Sam's exit from Team Monster Energy-Specialized and what the future might hold.

Sean, first things first, will we see Team Monster Energy-Specialized for the 2013 season?
Sean:
Some final details are being sorted so I can't comment on whether there will be a "Monster Energy-Specialized" team at this time. Either way, Specialized will have a great World Cup program and Monster Energy will also continue to support athletes and programs globally.

What about those persistent rumors of Specialized pursuing a factory-based effort next year...
Sean:
Specialized have always had a factory team within the Monster Energy program, and we're working together to find the best direction for 2013. It won't be much longer before there's a definitive direction for everyone and it'll be an exciting season nonetheless.

It sounds like there is some big news to come. Speaking of news, Sam's departure leaked earlier than intended. Did this cause on any trouble on your end?
Sean:
Yes, the news went public a little early and it was fun reading all the guesses going on @teamrumors. For us, it's been known for some time that Sam wouldn't be coming back onboard for 2013. He'll definitely be missed within the program, but we've known each other for so long, he'll never be too far away... I know he'll be over to poach a sandwich and/or an icy cold green!

Can you expand on the situation regarding Sam leaving the very successful Monster Energy-Specialized outfit?
Sean:
Sam's contract was up for renewal and I believe he was at a point in his life where some changes were needed to light the spark again...A fresh start without everything being so routine, and to create a new challenge within himself. I'm one of his biggest supporters with a belief that if a healthy and hungry Sam Hill shows up, he'll consistently be back on the podium.
Hill in his Iron Horse days during the '08 World Champs in Italy. He would finish
3rd after a massive crash within sight of the line.

So he wasn't poached?
Sean:
No, he wasn't poached and everyone was given an equal chance to continue on with each other.

At what point in time did you suspect that Sam might not be returning to the team?
Sean:
The subject dates back to end of 2011 season when he was looking at other options until finding something that suited him this off-season, and Sam personally delivered the news to me.

Sam has been with your team for many years. Do you feel like any bridges have been burnt during his departure? Maybe no exchanging of Christmas cards this year?
Sean:
No bridges burnt, and we've never sent each other Christmas cards, so why break tradition? All good.

In your eyes, what are the benefits of Sam joining Team CRC/Nukeproof?
Sean:
To be completely honest, the only benefit I foresee is a "fresh start" for Sam because there's only one Jacy (
Team Mechanic
) on the circuit and no way they can make a sandwich as good as mine.

What elements of the Monster Energy- Specialized sponsorship and support package do you think Sam will miss most?
Sean:
I'd like to think he'll miss just about every element from the program, but he wont be too far away from us in the pits, so the transition will be a lot easier...It'll be interesting to see how the transition goes while working with unfamiliar surroundings and without the Championship proven Specialized equipment.

What advice and tips can you give Nigel Page as Sam's new team manager?
Sean:
I'd say the first thing is that media want the "first scoop," and don't distribute press releases until they're absolutely ready to go out =)! Otherwise, Nigel has been around a long time, he's just signed on Sam, and I don't think I've got any advice that would improve the direction he's been going as a team manager. Good luck and see you all at the races! Lastly, I want to thank all our fans, supporters, sponsors, media, and photographers for all their support over the past eleven years where Sam's been for ten of them... Yes, a decade of Sam Hill onboard this program has ended, but let's get excited about some upcoming hungry fresh new talent mixed with veterans, making the 2013 racing season more exciting than ever!
Interview questions by Mike Levy and Si Paton
Photos by Colin Meagher, Fraser Britton, MTBcut