REVIEWED
Kona
Process 111 DL

WORDS
Mike Levy
PHOTOS
Amy McDermid
What should take priority when it comes to choosing your next bike: how much suspension travel it has, or its geometry? If you picked the second option, you just might be thinking along the same lines as the minds behind Kona's new Process 153, 134, and the shorter travel 111 reviewed here. Instead of simply deciding that they wanted a 160 or 130mm (
or any other nice even number
) travel bike that easily fits into a set category, they chose to let the bike's geometry define how much suspension it would have. In the case of the 111, that means that they ended up with 111mm of travel due to the bottom bracket and chain stay lengths they settled on that play a major role in how the bike handles. Despite its relatively short travel, this ain't a purebred cross-country bike - it has been designed to get just as rowdy as any enduro or trail bike rig that more easily slots into said categories. So, which marketing tagline best describes the 111? There might not be one, actually, but Kona is confident that there is a market for a rig like the 111, with them citing the mostly positive response to our '
The Argument for Short Travel Bikes
' article that aired in November of last year. ''
It was a powerful confirmation that the Process 111, a dual suspension trail bike with 'too little travel' and no front derailleur, was a bike that mountain bikers would embrace,
'' Kona's Chris Mandell explained to us. ''
And that we were not alone in our desire for a bike that prioritized aggressive geometry and a stiff chassis over checking a 'category box'.
'' No, Kona isn't the first to mix low and slack geometry, a short rear end and a relatively long front end (
paired with a short stem
), but the 111 is surely one of the most extreme examples of such thinking. Does it make sense on the trail? Read on to find out.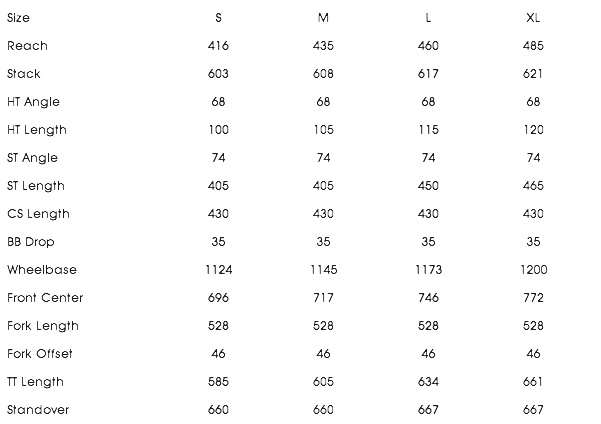 • Intended use: trail/all-mountain/enduro
• Rear wheel travel: 111mm / 4.3''
• Wheel size: 29"
• Frame material: aluminum
• ISCG 05 chain guide tabs
• Tapered head tube
• Press Fit 92 bottom bracket
• 12 x 142mm Maxle
• Internal or external dropper post routing
• ''Trail/enduro Kona sizing and fit''
• SRAM XX1 drivetrain
• Lifetime warranty
• MSRP: $5,599 USD
Geometry First, Travel Second
Stand back to take the 111 in as a whole and there's one point that likely pops into your head right away: damn, that thing looks low and clean. And it is. Tidy would be a good way to put it, with a dramatically sloping top tube that matches the angle of the bike's seat stays to create one continuous sight line from front to back. The top tube's exaggerated downward angle meant that Kona had to create a seat tower of sorts, with the seat tube extending up well above the tube tube and supported by a long gusset. The result is a hell of a lot of crotch clearance, even on our large sized test bike. In fact, the large and extra-large 111s sport an ultra low 667mm/26.2'' stand over height, which is just 7mm taller than the small and medium sized models. The seat tube length of our large 111 comes in at 460mm, and potential buyers should take this number into consideration because the medium, the size we would have assumed would make the most sense for our 5'10" height, sports a 435mm seat tube length that wouldn't have allowed us to raise the seat up high enough for our longer than average legs. At least that means that we didn't end up waffling between which size of bike we wanted.
You might also have noticed the 111's rather long looking top tube and short stem, a somewhat weird combination on a bike with so little travel. This is probably the most extreme example of Kona's "trail/enduro sizing and fit'' philosophy that sees them pair a long front-center with a 40mm stem, and Kona says that the 111 has been designed to be used with stems between 35mm and 50mm. This is only part of the equation, though, with the 111's slack (
for a short travel bike
) 68° head angle and 430mm/16.9'' chain stays making up the rest of the picture. ''
Trail/enduro bikes currently on the market are still subject to the traditional fit and sizing mountain bikes took from road bike sizing standards, whereby seat tube length defined the sizing, and stem lengths increased with frame size,
'' Kona explains. In contrast, they claim that their approach with the geometry used on the Process lineup creates a ''
trail worthy balance of long reach, short stem, slack head angle and short chain stays.
'' The 111's rear end is so compact, with the wheel tucked up close to the front triangle, that the lack of clearance means no front derailleur can ever be fitted to the bike. That's right, Kona has sacrificed the front derailleur in the name of geometry, meaning that the bike will always utilize a single-ring drivetrain.
| | |
| --- | --- |
| | We traded off travel for shorter chain stays and more bottom bracket drop, with a bit less travel giving us a few more millimeters of bottom bracket drop and a chain stay length that was shorter. We examined every possible configuration, prioritized geometry, and found what we think is the best balance in the Process 111. - Chris Mandell, Kona |
The 111's Suspension Explained
Kona has long employed a single pivot and rocker arm arrangement on their bikes, sticking with it while many other brands abandoned such layouts in favour of any number of dual-link designs that have popped up over the last few years. That isn't to slight any format - most have their merits - but it is interesting to see that Kona have not only stuck to their guns, but also worked hard to evolve the simple single pivot setup into something that rivals anything found on the market when talking about fit, finish, and execution. The 111, which takes its name from how much travel it has, is a perfect example of this, and it bears little resemblance to the Kona's of the past. The bike's chain stays wouldn't look out of place on a downhill bike, and they are in fact created using the same tubing as found on the back of the 200mm travel Supreme Operator, with a large diameter aluminum pivot axle tying it to the front triangle. That main pivot also uses an extremely wide stance, so wide in fact that Kona has gone to a Press Fit 92 bottom bracket shell in order to gain the necessary clearance, with Kona aiming for all-out lateral rigidity at the back of the 111. They have pursued that goal to such extremes that the balance between chain stay length, tubing diameter used, and heel clearance has become a very fine line - note the scuff marks in the photo above. The burly looking but hollow 12 x 142mm axle clamps, along with the clevis style dropout and rocker link pivots, also contribute to what Kona says is one of the stiffest full-suspension bikes they've ever created
Again, the battle to balance the 111's rear end length, travel, and geometry is apparent by the bike's seat position that actually sits forward of the bottom bracket shell and is angled back to put the saddle in the right neighbourhood when at full extension, something that had to happen to make room for the rear wheel to come up as the bike goes into its travel. This has necessitated the use of a 'U' shaped pivoting extension off of the rocker arm and serves as the rearward mounting point for the bike's Monarch RT3 shock, an element first used Specialized's 2009 SX Trail and now employed on many bikes in the marketplace.
Specifications
Release Date
2014
Price
$5599
Travel
111
Rear Shock
RockShox Monarch RT3
Fork
RockShox Revelation RTC3 Solo Air, 120mm
Headset
FSA Orbit 1.5 ZS No.57
Cassette
SRAM XX1 11-42
Crankarms
SRAM XX1 w/ 34t X-Sync ring
Bottom Bracket
SRAM Press Fit 92
Rear Derailleur
SRAM XX1
Chain
SRAM XX1
Shifter Pods
SRAM XX1
Handlebar
RaceFace Atlast FR
Stem
Kona, 40mm
Grips
Kona S-LOG
Brakes
Avid X0 Trail w/ 180 front, 160mm rotors
Hubs
Hope Pro 2
Spokes
DT Competition Butted Black
Rim
Stan's Flow EX 29''
Tires
Maxxis Ardent 29" EXO, 2.4" front, 2.25" rear
Seat
WTB Volt Race
Seatpost
KS Lev Integra
---
| | |
| --- | --- |
| | The 111 forces you to recalibrate how you think a short travel bike should perform, and Kona is taking a real chance by asking consumers to look at the bike's geometry and think outside the box rather than zone in on how much travel it possesses. |
Climbing/acceleration:
It's fair to say that we fully expect a bike with just over four inches of travel to ascend in an efficient and speedy manner, and the Process doesn't disappoint in this regard, even if the boys from the Northwest have penned the 111 with more fun in mind than grinding out a climb. Step on the pedals hard and the bike jumps forward better than any five or six inch travel rig could ever dream of doing, and although it doesn't quite have the urgency of a true cross-country whippet (
which it clearly isn't intended to mimic
) when its little RockShox Monarch RT3 shock is left at full-open, we still only flipped the compression lever to a firmer setting when either starting our rides with a commute to the mountain behind the handlebar, or turning circles up a boring logging road to access the goods. And for a machine that has been designed to be an all-out hooligan on the trail, the Process surprised us with just how comfortable it was in such situations, even after a few hours of gaining elevation. The 74° seat tube angle plays a part, especially for riders who prefer to sit and spin their way up things, but it's the bike's roomy cockpit that really does wonders - it simply doesn't force you to assume a hunched over position nearly as much as other bikes that have been fitted with a such short stem. This left us feeling fresher and more relaxed, and we even partly attribute the lack of usually persistent lower back pain to the spacious front end as well. The 34 tooth XX1 chain ring that comes stock on the 111 might have the opposite effect on some riders' legs, though, so make sure you get your shop to swap it out if you require something smaller.
It wasn't the Process' climbing ability on less technical terrain that surprised us, after all, any short travel trail bike worth its salt should feel like a thoroughbred on a measly logging road, but rather the agreeable body positioning that the bike puts you in. Things aren't quite so clear when poking your way up anything technical - more on that below - but Kona might have inadvertently created mountain biking's equivalent of a 125cc shifter kart that has been fitted with a Tempur-Pedic mattress for all day comfort. And yes, we realize how silly that would look, but wouldn't it be fun? That image sort of sums up the 111 on long climbs: sporty but ludicrously comfortable.
Technical riding:
Taking the 111 to your personal limits reveals Kona's singleminded approach to creating a bike that does exactly what you ask of it, so long as you're not pointing straight up the hillside, that is. As always, it's all about tradeoffs, with a bike that excels at one task often not showing so well at the contrasting job, and this is very true when talking about the 111. Let's cover the good news first, which is that the Process might not have any peers on complex terrain that angles down. And that sentiment applies regardless of whether we're talking about 26", 650B, or 29" wheeled bikes, although wheelsize isn't the story here - this bike is the 29er that 29er haters should all be forced to ride. It's a bike that forces you to recalibrate how you think a short travel bike should perform, and Kona is taking a real chance by asking consumers to look at the bike's geometry and think outside the box rather than zone in on how much travel it possesses. That geometry, along with the firm suspension and laterally rigid chassis, brings about a ride that redefines precision when riding at a good pace. The fact that you don't have to pull up through two or three inches of sag to get the bike's wheels off of the ground lends itself to moves that would simply require more effort when aboard a longer travel steed, and the overall package lets you get yourself into some seriously interesting places on the trail. Huge manual? How about picking the back wheel up and off of the deck to get around a tight switchback without coming to a near stop to perform a janky wheel pivot? Pop up and over that rock with a nice flat table? Done, done, and done. You get the idea: the 111 rides like it was created by a gifted BMXer who woke up one morning and decided that cross-country riding was his new calling in life. Strange? Maybe, but strange has never been so fun.
| | |
| --- | --- |
| | It exhibits many of the traits that a five or six inch all-mountain bike is guilty of on tricky singletrack climbs, with a bit of a light front end that requires a slightly exaggerated forward body position to keep it from lifting, and it pushes a wide arc through tight switchbacks that will have you looking for more real estate. |
Should we expect the short travel Kona to climb like a proper cross-country bike, or would judging it against bikes of similar travel be a bit unfair given how we've spelled out that the 111 is much more than its travel? The fact is that you'll undoubtedly be disappointed if you throw a leg over the Process and expect to climb tricky sections like you should be wearing white bib shorts and a Breathe Right nasal strip - the flip side to the 111's technical prowess on the downs is that it can be quite a handful on the ups. It exhibits many of the traits that a five or six inch all-mountain bike is guilty of on tricky singletrack climbs, with a bit of a light front end that requires a slightly exaggerated forward body position to keep it from lifting, and it pushes a wide arc through tight switchbacks that will have you looking for more real estate. Sure, a strong technical climber might not have much trouble scaling their local singletrack chess match, but those who don't shine at such tasks could feel like they're biting off more than they can chew on the Kona. The 111's saving grace, though, is how much traction its rear end delivers, with the stubby (
for a 29er
) 430mm/16.9'' rear-center length contributing some serious bite and propelling it up all sorts of sketchy walls. Just concentrate on pointing in the right direction before putting all the traction to use.
If it sounds like we're painting a grim picture of the Process' singletrack climbing abilities, it's only because we don't want potential 111 owners to think they are getting a cross-country flier simply because it has a similar amount of travel to such machines. The 111 compares equally to a ready-for-anything five or six inch travel bike in such settings, which isn't a surprise when looking at its geometry numbers. Climb with this in mind and you'll get it, but forget that fact and all you'll get is frustrated.
Downhill:
If the 111's technical climbing was a wakeup call that travel figures can mean next to nothing, its descending prowess cements that concept firmly into our minds. We often talk about things like grip and balance, and while those are always valid talking points, the Process takes another deciding factor to new highs: fun. If that important f-word could be quantified somehow - possibly by counting the number of times we shouted out a different f-word each time we pulled something off that we shouldn't have been able to - the 111 would surely top the list of bikes that inspire one to be an absolute delinquent on the trail. The Process 111 is, without a doubt, a hooligan through and through. Trails that we've ridden for well over decade and could probably navigate safely while blindfolded suddenly had new lines popping up in front of us, such is the bike's level of exuberance. Sure, they were usually small things, a mini hip out of a corner and across the trail here, or maybe a cheeky little inside line into a drift, but it's those little moments that put the exclamation point on our rides, isn't it? If that's true, and we firmly believe that it is, then the 111 is everything that is right about a fun handling bike.
| | |
| --- | --- |
| | Riding the 111 on the rivet lets you feel the edge of traction much more than you ever could when on a longer travel bike, and it's almost like the trail is telling you exactly how far you can push things. That feeling doesn't come as easily on any of today's carbon fiber, six inch travel do-it-all bikes, although it might be an awareness that some riders aren't looking for. |
It is also a bike to ride accurately rather than lazily. With 120mm on tap up front from the RockShox Revelation RTC3 Solo Air, and 111mm courtesy of the diminutive Monarch, you'd best not be chucking yourself blindly into toothy bits of trail with the expectation that you'll get away with it like you might when aboard a longer legged bike. The funny thing is that the 111's low position, short rear end, and rear-ward weight bias will quickly have you thinking that you can do exactly that - it really is an inspiring combination of numbers that allows you to wring the bike's neck, continually grab a taller gear, and look for options that your buddies are blowing by without a second thought. Alright, we admit that we did get put on the ground a few times due to the bike's geometry allowing us to either push harder than its travel would allow for, or because we ended up on a line that might have been a bit much for the Kona, but the truth is that no other bike in this travel bracket would have had us attempting such things to begin with, let alone a rig that can be comfortably pedalled for five or six hours at a good clip. Steering at speed requires a lighter touch than you might expect, and the longer than average front end did have us unconsciously leaning forward more than we do when riding a bike with traditional geometry. This isn't something that we had to work at - it just seemed to happen - and the bike didn't exhibit any washing out of the front end that wasn't fully deserved.
We honestly can't think of a local trail that we wouldn't happily point the 111 down, something that we can't say about all 29ers or even all 26ers of similar travel, and the bike was surprisingly confidence inspiring on sections of trail that we'd use a downhill bike on without shame. Picture the steepest of rock rolls, wet and rooty chutes that have a defined point-of-no-return, and even some decent sized gap jumps. Because the 111 has less built-in forgiveness (
i.e., travel
), it thrives on commitment. Hesitate at the wrong moment and you'll quickly be reminded that there is a direct correlation between how often you hit the ground and how much suspension you have under you. Get it right and the 111 can roll down anything and everything, though, and you'll quickly be showing your riding buddies that less can be more. Having said that, the bike's relative lack of suspension travel can be felt when the speeds pick up, demanding that you place a priority on smoothness over directness (
maybe we should be doing this anyways?
), and carrying too much speed into a rough section of trail, say braking bumps into a corner or a minefield of rocks, will show you the limitations of the bike's suspension. And while the bike's Revelation fork does well given its 120mm of stroke, we can't help but fantasize about a Pike lowered to the same travel, an upgrade that would be worthy of the 111's handling. Never happy, are we? Out back, the Monarch RT3 was strangely invisible to us, with no moments of "
well, we certainly hit bottom there
''. Proper setup is always important, but that has to be even more true on a bike with so little travel and such rowdy intentions.
Technical Report
• The Process rolls on a set of Stan's Stan's Flow EX rims laced to Hope's lovely Pro 2 hubs, a lightweight and reliable combo that approaches the weight of a carbon wheelset without bumping the bike's asking price into the stratosphere. In fact, given how ridiculously easy they are to setup tubeless, their competitive weight, and the ultra-dependable Hope hubs, we'd likely choose the Process' no frills wheelset over a number of questionable carbon options on the market.
• Kona chose to spec the Process with KS' internally routed LEV Integra telescoping post that, with its clutter-free appearance and full 150mm of drop, seems to make a lot of sense on paper. Unfortunately, the Integra doesn't live up to its potential in the real world due to a design that depends on housing tension as opposed to cable tension for operation. It worked well for the first few weeks of riding until an issue arose when we adjusted the height of the post in the frame, which caused the post to stop working due to the change in the housing tension. Pulling or pushing on the housing where it entered through the port on the seat tube would sometimes fix the problem for awhile, and we ended up using an extra zip-tie to hold the housing in one place for a time until we swapped the Integra out for a different telescoping post.
• The Process is the first XX1 equipped bike that we've managed to bend an X-Sync chain ring on, with some solid contact at the top of a steep rock roll pushing it in towards the chain stay enough to come within a millimeter of making contact (
we were able to mostly straighten it with a crescent wrench, though
). Sure, the bike's relatively low bottom bracket might have played a part, but the tweaked 'ring also reminded us that it might be wise for some riders to run some sort of guard depending on where and how they ride given that they retail for around the $100 USD mark depending on size. There are also less expensive narrow/wide 'ring options on the market, of course, but we'd put that money towards MRP's nifty XCG integrated skid plate before we had to replace the stock XX1 chain ring.
• Speaking of XX1, the eleven speed drivetrain from SRAM is still impressing us with its longterm performance. Full marks again for not a single dropped chain despite the complete lack of any sort of guide, and the rear derailleur on our Kona stayed on point despite some serious war wounds that showed it made contact with a few immovable objects during our time with it. The same can be said of the carbon fiber XX1 crank arms, with them sporting some cosmetic damage from rock strikes but no terminal damage.
• One of our biggest gripes with the Process 111 has to be the sole bottle mounting location that sits low on the underside of the down tube, a location that makes it pretty much unusable when on the go. There are few things that feel better than leaving the backpack at home to head out for a short ride with only the essentials, of which we'd certainly put water into that category. That liberating act isn't really possible with the Process, though, which is a real shame given how much fun we had on it during short blasts, but we also admit that suspension design should come before water bottle placement on the priority list. Tradeoffs.
Pinkbike's take:
There is always an urge to try and classify a bike by putting it into one category or another, and while we often make fun of all of the marketing friendly catch phrases that stem from this approach, those defining labels can make it easier for consumers to decipher a bike's intentions. The thing is, what about a bike that defies those descriptions? The fun loving Kona does exactly that, with a personality that will bring out the good times from even the most mundane trail. When pressed about what exactly the 111 is by riders at our local trailhead, we ended up calling it a 'down-country' or 'fun-country' bike, which usually brought on some confused looks. And despite the tongue in cheek expressions, those might be the best way to illustrate the 111's temperament.

- Mike Levy
www.konaworld.com