REVIEWED
Mondraker
DUNE XR

WORDS
Mike Levy
PHOTOS
Colin Meagher
Quality 160mm travel bikes really aren't hard to come by these days, with many solid options to choose from should you be looking for a mid-travel bike to get rowdy on. And while all the companies behind these bikes would like to think that theirs is truly something special, there isn't much separating the field, save one or two that manage to outperform the rest when things get wild. Then there is Mondraker, with the 160mm travel, 27.5'' wheeled Dune platform that utilizes their radical Forward Geometry and a 10mm long stem, a design that turned a lot of heads when the Spanish brand first began to show it back in 2012. The question that needs answering, though, is if Mondraker's extreme interpretation of the short stem and long front center length concept is enough to lift it above its rivals.
Our Dune XR came kitted out with FOX's Float 34 CTD fork and Float X CTD shock, both of which have been given the Kashima treatment, as well as SRAM's new X01 drivetrain. Formula's T1S brakes slow the bike down, while a set of interesting 2.4" Onza Ibex tires come stock on the e*thirteen TRS+ tubeless ready wheelset. The eclectic build kit is all hung on an aluminum frame, with the package retailing for $5,299 EUR and weighing a very reasonable 29.7lbs. North American readers who have had their interest piqued should note that Mondraker has no distribution on this side of the Atlantic, so you'll be on your own if you would like to have a Dune in your garage.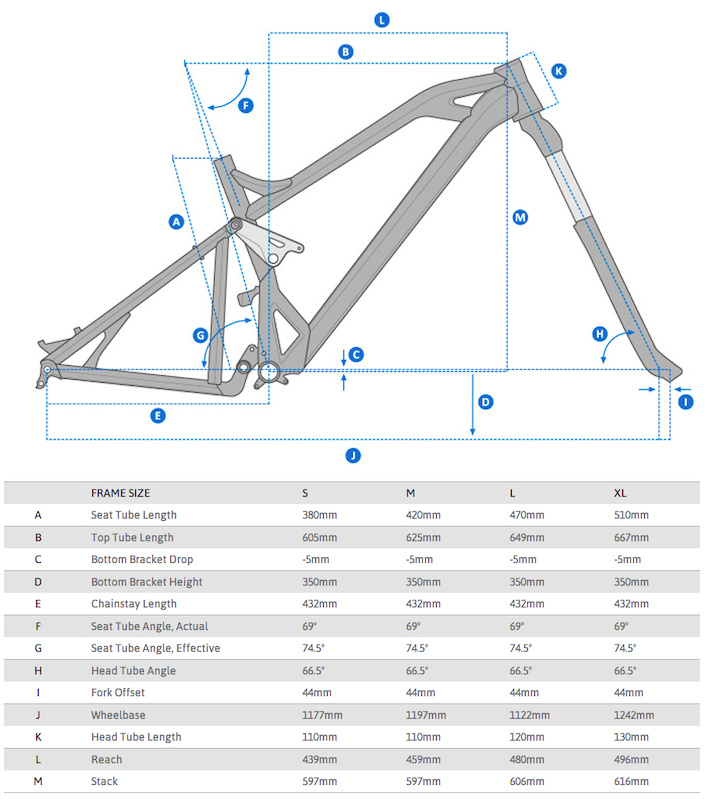 • Intended use: all-mountain/enduro
• Wheel size: 27.5''
• Rear wheel travel: 160mm
• Frame material: aluminum
• Forward Geometry w/ 10mm stem (30mm option)
• Mondraker's dual link Zero Suspension System
• FOX 34 Float CTD w/ Kashima, 160mm
• FOX Float X CTD w/ Kashima
• Sizes: sm, med (tested), lrg, xlrg
• Weight: 29.7lbs
• MSRP $5,299 EUR (no US availability)
The Way Forward?
Ask any 160mm travel bike owner what length stem they have fitted to their ride and you'll most likely discover that the large majority of them seem to default to a 50 or 60mm job. This is simply the accepted norm in most places, and it's a good choice for many bikes that are going to be ridden hard and fast on the downhills due to how it positions the rider's mass further back behind the front axle - anyone who has ridden both a pure cross-country bike with a long stem and more aggressive bike with a short stem on the same rowdy downhill can attest to which one made them fear for their life and which one had them looking for air time. But if using a short stem has that sort of effect, why not go to an even shorter stem? Well, it isn't quite that simple, because employing a 10mm long stem on a bike with standard geometry will only create one very awkward riding package that will
feel too short in reach, as well as not place enough weight on the front wheel for proper handling when you're climbing and descending. Bottom line: a 10mm stem like the one used on the Dune requires frame geometry designed around it. More specifically, a longer front center length to compensate for the length taken out of the stem, which is exactly what Mondraker have done with their Forward Geometry. Simply put, instead of Mondraker designing the bike around a 60mm stem, they instead added 50mm of that to the bike's front center length and then went with a minuscule 10mm stem to balance it out. The result is that the rider is in the same position, but the front wheel is further out in front of them and the bike's wheelbase is a touch longer.
| | |
| --- | --- |
| The concept of using a longer tube in combination with a shorter stem is far from out of the norm, with a handful of companies using the same approach, albeit in a less aggressive package that sees 50 to 70mm stems and longer front center lengths in place of where you might normally see 70 to 90mm stems and more conservative geometry. And if you've been around long enough you might also remember the original Rotec downhill bike that utilized a stem of similar length to what is pictured here on our Dune XR test bike. But Mondraker is the only brand that is currently offering a range of bikes with such an bold interpretation of the concept, with everything from the 205mm Summum downhill bike to their 120mm Factor 29er and Vantage hardtail employing some version of their Forward Geometry. Not all of these bikes are designed to be used with the short FG10 stem, though, as Mondraker also offers their FG30 and FG50 stems to suit each bike's intentions. | A bike's geometry has the largest effect on its performance, and not even the best suspension able to save a machine that sports some questionable numbers. However, geometry is also something that is often misunderstood or, sometimes even worse, taken as gospel. After all, Enduro 3:16 says that a bike must have a 67° head angle and be spec'd with a 50mm stem for it to be okay to ride, doesn't it? Which is why we're all the more impressed that Mondraker has committed so wholeheartedly to their Forward Geometry, with much of their range using the concept. It won't be easy to convince the average mountain biker that Forward Geometry really is the way forward (we're often a closed minded bunch, aren't we?), but having their 160mm travel Dune XR perform well could be the catalyst for a paradigm shift in terms of mountain bike geometry. |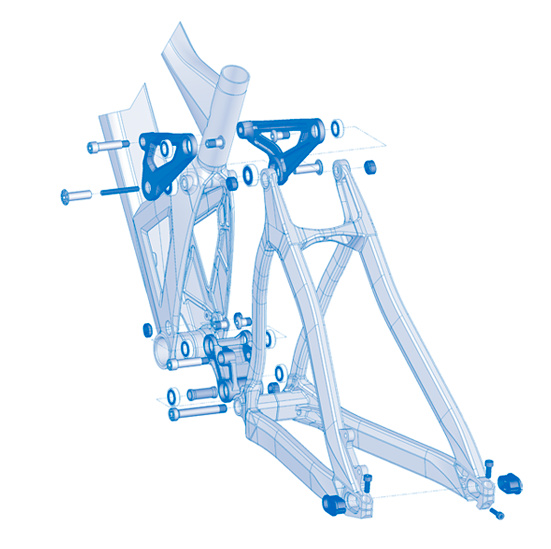 The Dune's Suspension Explained
The Dune's 160mm travel Zero Suspension System utilizes two short aluminum links that create a virtual pivot point and connect the rear triangle to the front of the bike. Both of the links rotate in the same direction, with the longer upper link compressing the shock from above, while the lower link does the same from below. Compressing the shock from both ends isn't a new idea, but it does mean that the front triangle doesn't have to be designed to deal with the direct force of a harsh bottoming moment in the same way as it would if the lower shock mount was static, something that can lead to a slight weight savings. Mondraker makes all sorts of claims about the design, saying that it "
prevents any unwanted movements produced whilst pedalling,
'' and that ''
Rear brake forces do not alter the suspension system,
" both of which explain where the design's name comes from: zero movement while pedalling, and zero rear brake input. Bold claims any which way you slice it. The bike's FOX Float X CTD shock is mounted about as low as possible in the frame, a move that can trick the bike into feeling lighter on the trail than it actually is, and the shock's CTD lever is still easily reachable should you want to firm the bike up when it comes time to get to the top of the mountain under your own power. Mondraker has also had FOX add a volume spacer to the Float X's air can to create a slightly more progressive stroke.
Specifications
Release Date
2014
Price
$5299
Travel
160
Rear Shock
FOX Float X CTD Adjust Factory Kashima 215x63.5mm
Fork
FOX 34 Float 27.5 CTD Adjust FIT Factory Kashima 160mm
Headset
Onoff integrated tapered
Cassette
SRAM X01 XG-1195 10 - 42t
Crankarms
SRAM X01 aluminum w/ 32t 'ring
Bottom Bracket
SRAM GXP
Rear Derailleur
SRAM X01 11spd
Chain
SRAM PC-XX1 11spd
Shifter Pods
SRAM X01 11spd
Handlebar
Mondraker Dune XR custom design 31.8mm 760mm
Stem
Onoff Stoic FG 10mm (30mm optional)
Grips
Onoff Paw Lock-on
Brakes
Formula The1 S w/ 180mm rotors
Hubs
e*thirteen TRS+AL
Rim
e*thirteen TRS+AL 27.5 tubeless ready wheelset
Tires
Onza Ibex FRC TLR SkinWalll 27.5x2.4
Seat
SDG Circuit MTN
Seatpost
RockShox Reverb 31.6mm
---
| | |
| --- | --- |
| | Have you ever tried something new and ended up liking it, despite your initial hesitation? The Dune is like that questionable piece of sushi that you're a bit scared of but still want to try. Much like that chunk of eel sitting in front of you, the key is to just give it a go without thinking about it too much. You might be a fan after all. |
First impressions / setup:
Strange. Completely foreign. Even a bit awkward. Those are just a few of the thoughts that came out of our mouths when we first swung a leg over the green and black Dune, and the bike feels "different" enough that riders with less than open minds might be put off after just a quick spin around the parking lot. At the same time, the bike also manages to feel surprisingly normal, or at least close to it, and we were taken aback by how conventional it felt when only concentrating on where we were going. Those two statements might completely contradict each other, but give us a chance to explain and it will begin to make more sense. The Dune's initially unfamiliar feel comes from the bike's handlebar position relative to the fork axle, with the front wheel appearing to be further away than it should be, and it all feels a bit detached during the first few minutes of getting to know each other. At the same time, you aren't sitting nearly as upright as you might expect given the 10mm long stem, which is down to the bike's relatively long top tube, and the steering is far from downhill bike-sloppy, with sharp action to it that defies expectations. No, it feels nothing like a run of the mill 160mm travel bike that's been fitted with a standard 50mm stem, especially when you get stuck on looking down at the 10mm stem and front wheel while trying to figure out what is going on. However, we quickly discovered that, at least with the Dune, it's better to just forget about the numbers and take to the trails in order to better understand what's happening under you.
Climbing / acceleration:
You'd be forgiven for assuming that the Dune climbs technical singletrack about as well as a drag car handles a go-kart track, but you'd also be completely wrong. As a matter of fact, we admit to thinking the same, yet the 160mm travel Mondraker immediately went from being the test bike we avoided when the ride plans included a tricky climb, to the bike that constantly surprised us with its manners in such settings. Okay, so maybe our excitement over the Dune's singletrack climbing prowess might have its roots in our initially low expectations in this regard, but there is no getting around the fact that this bike - the one with the 10mm long stem - sneakily weaved its way up climbs that it should have no business excelling on. Part of this is due to how the Onza Ibex tires are able to find so much grip that we began to wonder if Onza was able to somehow splice the DNA of climbing hotshot Alex Honnold into the tacky rubber, but us saying that the Dune's unexpected gracefulness on climbs being due to the tire choice would be selling the bike's designers extremely short. No, this is down to handling rather than an admittedly smart component spec - geometry, as always, is the major factor as to if a bike is a winner or a 'binner, isn't it?
Stay seated and in a gear that allows you to pedal smoothly rather than in short, hard efforts, and the Dune will tractor its way up nearly anything, with the front tire staying more weighted than what we've seen from most bikes with similar travel and 50mm stems. You'll end up getting around switchbacks that would frustrate the motorbikes from Tron once you've realized that it obviously requires a more gradual turning angle than a rig with an appreciably steeper head angle - remember that the praise we're heaping onto the Dune is relative to other 160mm travel bikes. There was also little to no spinning out back, although that is largely addressed by how it is far better to stay seated when climbing on the Dune due to a somewhat awkward feel when standing that we never got used to. And, thanks to the long top tube, the bike was a comfy climber when sitting in the saddle for long, gradual gravel road access climbs to get to the goods.
| | |
| --- | --- |
| | The Dune is the 'we'll get there when we get there' kind of climber that doesn't appreciate its rider stomping on the pedals like their feet are on fire. This should be your mantra when climbing: taking my time, picking my line, making it mine. It's not a race, at least not up the hill, right? |
We love being surprised, and the Dune did exactly that, but the bike is far from being free of faults when it comes to climbing and pedal input. As mentioned just above, there is an unwieldy feel that pops up as soon as you rise out of the saddle, with the bike instantly feeling like it loses stability when you do so. The Dune's rear suspension is also active enough that it makes a lot of sense to reach down and flip the FOX Float X's CTD lever to either the Trail or Climb mode when faced with any sort of ascent that will take more than a few minutes of effort, and not doing so will allow you to feel what it's like to pedal a waterbed uphill. Spoiler alert: it doesn't feel good to pedal a waterbed up anything, no matter how easy the grade. Sure, there aren't many 160mm bikes that we would say pedal with real urgency, but the Dune seems to have even less "jump" to it than what we've come to expect from the class.
Downhill / technical riding:
Lets just get straight to the point here: the Dune comes down faster than kids at a rave when the cops show up, but only after you come to terms with Mondraker's Forward Geometry and learn how to get the most out of it. It took the first ride alone for us to adjust our timing to Dune's front end, with us catching the front tire on mis-timed manuals and lofts until we got used to the position of our hands relative to the fork axle. This isn't a bike that you can just jump aboard and expect to immediately feel at home on. Give it time, though, and you'll discover how to best ride the bike. And that's an important thing to note with the Dune - you can get on many other 160mm bikes and ride them fast right out of the gate, and some riders might be able to do the same with the Dune, but most will take time to warm up to how it corners, jumps, and behaves when pushed hard.
The higher the speeds and the rougher the ground, the more the Dune feels at home, with the 160mm bike offering stability that just shouldn't be possible on a machine with anything less than downhill bike-like travel. There's no two ways about it, the bike just gets less upset about fast, chunky terrain than pretty much any other machine of similar travel, and this means that you don't feel like you're holding on for dear life in those moments when you might usually close your eyes and get ready to rag doll. Part of this is down to the bike's relatively long 1197mm/47.1'' wheelbase, but a bigger factor has to be the rider's mass in relation to the fork's axle - you're further back, which means that you're less likely to have your weight thrown forward, or it stays further back when that does happen, and the result is a sort of invincible feeling that had us charging into all sorts of mayhem. The phrase "letting it roll" has never been so applicable as when on the Dune, and while this may not make for the most graceful of riding styles, it can certainly be the fastest when it comes to sections of trail that look more like a boulder field than any sort of flowy singletrack that seems to be slowly replacing proper technical trails these days. The other side of the coin is that all that "I'm going to go through that rock" attitude stifles any sort of playfulness that the bike has, and we never really found ourselves searching out fun bonus hits on the side of the trail when riding the Dune. Hell, even if they were obvious, we didn't often feel like working hard to make it happen, such is the bike's desire to stay on the deck. Having said that, a skilled rider is bound to be able to coax the Dune to do anything they ask of it, but it doesn't come as natural as when on other more traditional designs. This can be helped somewhat by switching the Float X shock to Trail mode, but the Dune is never going to be a frisky bike.
| | |
| --- | --- |
| | Head into your time with the Dune thinking about the long-term rather than one night stand and you'll discover that this unique creature offers some real advantages for the rider who knows how to get after it. The bike literally doesn't give a toss what you point it at, it just wants to go fast. Hopefully you do as well, otherwise the relationship might be a bit too one-sided to make much sense. |
Things get a bit interesting when it comes to tighter trails, and this is where really knowing how the Dune reacts will be beneficial. Ride it like a bike with average geometry and a 50mm stem, and with a neutral body position, and you'll get down the trail just fine, although that's far from the ideal way to do it. Make a conscious effort to be slightly more forward and more upright, as well as realizing that it's not only okay to let the back of the bike wag around like it's a crazy carpet with a thick coating of Pam on its underside that's been sent down an icy slope, but also a hell of a lot of fun. That sort of technique is sure to irk your local fun police, but the bottom line is that the Dune gets around tighter corners fastest when its rear end is allowed to, ahem, "break loose" a bit - I'm not telling you to skid, but go ahead and skid. It isn't that the bike can't rail a tight-ish corner without lighting up the rear end, but there was a point when we found ourselves using that approach more often than not, and it proved to be more effective than doing the same on any other 160mm we've spent time on. This sort of attitude is required less and less as the pitch of the trail levels out or the bends open a bit more, and momentum can be carried into and through them with the bike happily carving a constant arc.
If the bike's radical geometry encourages a balls-out riding style, its rear suspension is there to make sure you don't render those same balls as useless, with a good ability to take in and deal with some serious impacts. Is it the Zero Suspension System? The FOX Float X CTD shock? Likely the smart combination of both, and the result is great and predictable control at the back of the bike. Saying that the Dune's travel is fluid would be a good way to put it, and even a slightly faster rebound setting wasn't able to inject any erratic behaviour into the bike's performance. Travel doesn't feel limitless - it is a 160mm bike, not a 200mm bike after all - but it deals with hard impacts quite well, which only encourages you to crack the throttle open more and more. The 2014 FOX 34 Float fork, with a matching 160mm of travel, does an admirable job of keeping up, and impacts seemed more muted and detached, as if they weren't being passed through to the handlebar. While the revised CTD damper has been very impressive, we're going to say that what we're feeling is down to the handlebar's position relative to the fork's axle, with its more rearward position feeling as if it better isolates the rider from forces being transferred up through the frame and handlebar. And, much like we've said recently about another aggressive bike spec'd with a 34, Mondraker wouldn't have done wrong by going with a stouter fork chassis. FOX, where's that 27.5" compatible 36 Float 160 FIT RC2 fork at, because this is the exact bike that we'd run it on.
Technical Report
• Onza's Ibex tires, who would've thought? With a super predictable feel to them and a wide pressure range in which they work well, these 2.4" tires are pretty badass all 'rounders. Their crown knobs do have some ramping to them, but don't be fooled into thinking they roll fast - the ratio of rolling speed to traction is greatly tipped towards the latter of the two. That didn't bother us much on the Dune as it might have on a bike with less of a downhill bias, and we suspect that most Dune owners will feel the same. The jury is still out on the skin wall sidewalls, though.
• For a bike that puts such a focus on descending, its Formula T1S brakes leave something to be desired. We can often get by with less power so long as there is plenty of modulation on tap, and we'll reluctantly get used to brakes that don't offer too much in the way of feel if they have the stopping power of a brick wall, but the Dune's stoppers can't boast of having either power or modulation. We've spent time on other Formula offerings and have been happy with their performance, but not this time around.
• This is the fifth or sixth bike that we've tested that uses SRAM's new X01 drivetrain, and each and every one has shifted just as well as its slightly more expensive brother. No dropped chains either, and the 32 tooth chainring is small enough to get you up all but the steepest of walls.
• e*thirteen's 1,767 gram TRS+ wheelset was easy to setup tubeless, and the paring of the Onza Ibex tires made for a reliable setup that was flat and burp free. No flat spots, no loss of tension, and zero play at the hubs mean that we don't have anything to complain about. And keep in mind that a bike like the Dune deserves a reliable wheelset that can keep up with its abilities, something the TRS+ look to be able to do.
• The bike's RockShox Reverb dropper seat post performed flawlessly, but we can't help but find ourselves wishing for a 150mm version (
it comes stock with a 125mm model
) and Stealth internal routing. The Dune is such a boss on the descents that having that extra 25mm of seat drop could come in handy - a sure sign of just how aggressive you can get on the green and black bike. One more small point: if the bike isn't spec'd with a front shifter, why not go with a right hand Reverb remote placed on the underside of the bar in its place, surely the most ergonomic setup out there. Maybe we're nitpicking.
Pinkbike's take:
Thinking that the Dune might be for you? Let me tell you how it's likely going to go: your first few rides on it will consist of you trying to convince yourself that you didn't make a big mistake. The next handful of days on the bike will have you thinking that you're starting to figure it out, and that you are waiting for your friends for longer than usual at the bottom of the rowdy descents. Fast forward a few weeks and you'll know that you not only didn't make a mistake, but also that your confidence on the downhills has skyrocketed to previously unseen levels. Telling someone that a 160mm bike is far better suited to truly hairy terrain is stating the obvious, but that fact is especially true of the Dune, and those who spend most of their time on smoother trails are likely to find that the bike is far more than just a touch overkill for their terrain. But if you are looking for a 160mm machine that can moonlight as a downhill bike, the Dune could be just what you need.

- Mike Levy
www.mondraker.com