As anyone who has "owned" a dog can attest to, they don't call them man's best friend for nothing. In fact, ask any dog owner about their pooch and you'll likely hear them gush on and on about why their own special Fido is so great, and that the dog is part of the family rather than something that is owned. Hell, I know people who have more photos of their dog in their wallet or on their phone than they have of their own kids. The sense of companionship and unconditional love is both strong and simply different than what you have with a partner, and it doesn't fade after a few years of being together, either - dogs don't care if you plugged the toilet, would rather watch Supercross than the Gilmore Girls, and they most certainly don't want to spend a Saturday in Ikea picking out new fixtures. Some food, some exercise, and more than a few ass scratches and you'll have a resolute friendship for life, which is why it might be so difficult to write today's Pinkbike Poll article about if our canine companions really do belong on popular mountain bike trails.
Nearly 600,000 views on Pinkbike of the 'Lily Shreds Trailside' video (
featured again below
) proves that we all like the idea of a dog coming along for the ride, but the flip side is that many of us have come across dogs on the trail and have had a bad experience, sometimes even a dangerous one.
Lily Shreds Trailside
Filmed and edited by Rossimo37
Being chased down the trail by your dog is the kind of experience that's hard to explain without using clichéd, mushy terms about bonding, fulfillment, and love, but that's really how it is. There's a good chance that your dog has never felt as free as when he or she is high tailing through the trees, jumping the same jumps as you, and taking French enduro lines to try and keep up, or maybe even go for a dirty pass. And, in a way, the same can be said of the dog owner. There's something about letting your hound off-leash to run at full tilt in the wild that brings a big stupid smile to a human's face as well, and it definitely goes well beyond providing exercise, doesn't it? Maybe it's the letting them revert to being an animal in the bush, a real animal acting off of instinct rather than the desire for a Milk-Bone, before jumping forward fifteen or twenty thousand years of domestication to the present day where they pass out at 7pm while you're watching the Gilmore Girls... or Supercross. Domestication or not, most dogs
love
to get out on the trail as much as their human does, often waiting by the door as soon as there's a mere hint of a chance of singletrack in their future. Many of us admit to feeling like we belong on the trails, but just imagine how our four legged friends feel on the subject given that, relative to the evolution of other species, they aren't that far removed from the grey wolves from which they came. The singletrack, the forest, the wild; it's still an instinctual thing for them that hasn't faded away over thousands of years as it has in us.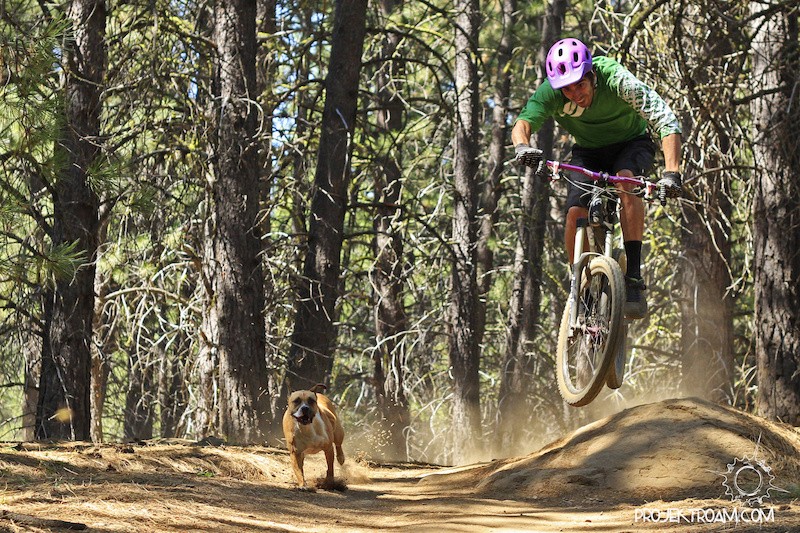 Projekt Roam's Colt Maule and his dog enjoy the Whoops trail in Bend, Oregon.
Photo by Projekt Roam
If the dogs love it, and if their human companions love it, why would anyone ever frown on having dogs on the trails? There are the obvious reasons often cited by overprotective dog owners who can be seen in the park with their sweater-wearing pugs, things like the high-speed running being bad for their joints - certainly a valid concern depending on the dog's age and breed - or that a muddy dog needs to be bathed before it gets the carpets dirty - maybe they should consider a cat, then? But what about the safety of both the dog and the people out on the trail? Alright, confession time: many years ago I hit and killed a dog when mountain biking down a fast, open section of trail. It was a terrible moment, one that I'll never forget, and I think about it at least a few times a week when I'm out walking my own dog, although it must have been much worse for the dog's owner who watched it all play out. There was no avoiding the mid-sized black lab when he ran out in front of me, and I must have been doing at least 35kph when I T-boned him hard enough to send the dog flying, barely managing to keep myself upright long enough to avoid most of the large cedar trees close by. The dog's death was a terrible thing, but I also don't need reminding that it could have easily been very bad for myself. In fact, I've crashed at least twice since that day due to a dog being on the trail, and I've had a front row seat as dogs have stood on transitions of jumps and drops only to move out of the way at the last second, thereby causing the approaching rider to change their approach. It wouldn't have been pretty, and the sight has been enough to convince me to only take out Sherpa, my own dog, rarely during weekdays, and on trails that don't see much traffic. That's too bad because she loves it, but I don't want to see her get hurt or, more importantly, cause an accident that hurt a fellow rider.
It's not the dog's fault, though, is it? A dog is only as well behaved as it's been trained to be, and if the owner is lazy or hasn't taken control the dog can't be expected to know what to do when it's out there. There is also the simple fact that, despite all the countless hours of training, yelling, rewarding, and enjoyment, your beloved friend is still a dog that will act on instinct and curiosity no matter how many years you've spent on the trail together. The key is obviously to use discretion, to think about not taking your dog out to a busy trail on a Saturday or Sunday afternoon, and to maybe leave the dog at home if it's going to be a large group, as much as it hurts to leave Fido behind when he knows that you'll be doing the one thing that his instincts tell him to do - run wild in the forest.