Many of us have been there: that one jump when you thought that it might be all over, or maybe you rolled into an exposed line that bordered on being a do or die sorta move. It also certainly doesn't take a Mountain Dew fuelled decision to get yourself into a life or death situation on your mountain bike, with a seemingly simple wrong turn followed by a few bad choices able to lead one down a path that they might not ever return from. Light fades, weather rolls in, and all of a sudden that single jersey and Double Espresso Clif Shot energy gel might not be enough to see you through a few chilly nights of exposure, especially if you also managed to injure yourself. And let's not forget about what can happen, however remote the chances are, when a lone rider stumbles upon a cougar, grizzly bear, or honey badger at the wrong time, surely a fate that is in the back of the minds of those who make a habit of hitting the trails solo. But you don't have to be competing in the Red Bull Rampage or riding your bike around in circles in the grizzly bear enclosure with raw steaks strapped to your CamelBak to put your life at risk during a ride, with all sorts of innocuous looking incidents being capable of laying a rider down for the longest nap.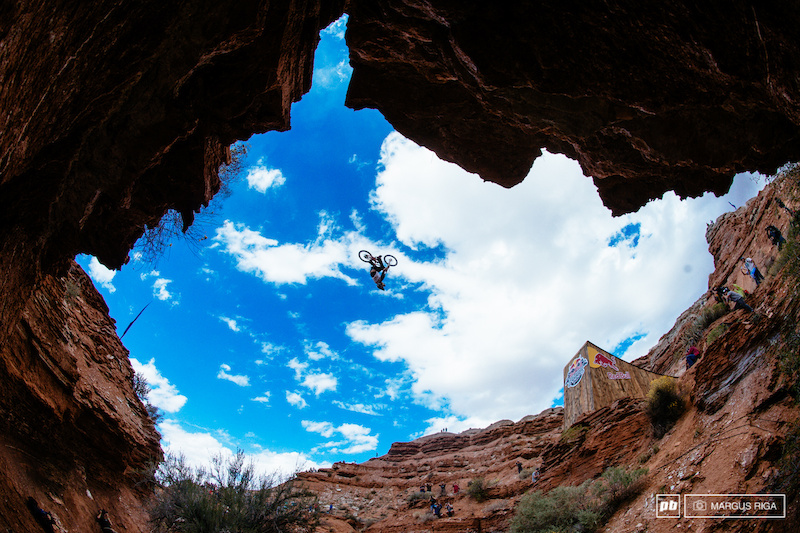 Diamondback's Kelly McGarry flipping the 72ft canyon gap on his way to a second place at the Red Bull Rampage. McGarry stomped it with authority, but it's fair to say that this could be considered a life and death kind of move.
Our sport surely isn't as dangerous as many other activities, though, especially those where there are more factors at play than just your own decisions. Take serious mountain climbing for example, a sport that without a doubt requires a healthy dose of Cam Zink-link courage, an insane amount of technical know-how, and a mix of fitness and stubbornness that maybe only Jens Voight possesses in the two-wheeled world. Oh, and lets not forget about that fickle bitch, Mother Nature, who can kill you about a dozen different ways if she happened to wake up on the wrong side of the bed. The list of activities more dangerous than riding a bicycle in the woods stretches on far longer than those that might be considered less dangerous - cliff jumping or cave diving. Backcountry skiing. Football. Anything with a motor. Navigating a set of steep stairs if you're older than eighty. The only answer, one that most readers here on Pinkbike will undoubtedly agree with, is to just get yourself outside and do what you enjoy doing.
I think that it would a near unanimous vote if Pinkbike users were asked if the risks associated with mountain biking are worth the reward, though, because when it's all said and done we're doing this sport because we love it. There is no paycheck involved for all but a relative few of the world's best riders, and the feeling of pushing your personal limits, be it with fitness or skills, is one of the reasons why many of us are out there.