Bontrager 29-1 tire
Bontrager's 29-1 tire has been designed with outright speed in mind, specifically on fast hardpack or loamy surfaces. Low profile knobs cover its round casing, with a row of offset paddle-style lugs across the crown for braking and climbing traction. The tire's square shoulder and corning knobs feature sipes to improve grip by increasing the amount of knob flex and adding more biting edges. The 29-1 is available in either a 2.0'' or 2.2'' width, as well as either in 60 or 120 TPI (
threads per inch
). Our 2.2" wide, 120 TPI Team Issue model weighs in at 579 grams, and retails for $69.95 USD.
www.bontrager.com

Fast but fragile, the 29-1 tire is a speedy option that you should steer clear of if you ride rocky trails.
Pinkbike's Take:
| | |
| --- | --- |
| | Bontrager's 29-1 tire may have been designed as an "ultra-fast rolling, cross country race tire", but that doesn't mean that it's the only way that you can use it. Installing a tire like the 29-1 on the back of your bike, while keeping a meatier tread up front, will result it much more rolling speed on dry, hard packed trails, allowing you to carry more momentum when conditions are right. The difference between a standard, more aggressive tire and the 29-1 is night and day, with a noticeable amount of speed injected into our rides. Of course, this isn't the tire to use when the trails are muddy, but it also wasn't nearly as on/off as we expected it to be on damp ground. Braking traction was a touch better than we've come to expect from a fast rolling tire like the 29-1, and corning bite surprised us - there is plenty of traction to be had in the dry. The downside is the same as with many other tires similar to the 29-1: its light duty casing is more prone to damage than a beefier tire. We actually cut the sidewalls of two different 29-1s in a two month period, both on trails that have never given us any issues with other tire options. Bontrager is very clear that the 29-1 is intended as a cross-country race tire, so we can't complain too much, though. You might want to stick to the beefier 29-4 tires if your local trails are littered with rocks, but riders who frequent smoother terrain will find that the 29-1 is one of the better fast rolling options currently available. On 26'' wheels but want to give this fast tire a try? The XR-1 is the smaller wheeled version. - Mike Levy |
---
Dakine Breaker jacket
Just in case the name didn't give it away, Dakine's Breaker jacket is a lightweight and thin wind breaker. The thin 90% nylon and 10% polyester shell is not lined or taped (
check out their Shield or Blitz jackets if you're looking for more protection
), but can be rolled up into an extremely small package to fit into a backpack, or even a jersey pocket. Molded PU cuff tabs allow you to seal the jacket's sleeves around your glove's cuffs to keep the wind out, and a zippered chest pocket acts as a spot to keep your phone or a gel pack. A venting channel across the rear of the jacket is permanently open to encourage airflow, but features a protective overhang to keep out any precipitation. Sizing ranges from small to extra-large, and the Breaker can be had in either the black shown here or a blue ''reflex'' color. MSRP $80.00 USD.
www.dakine.com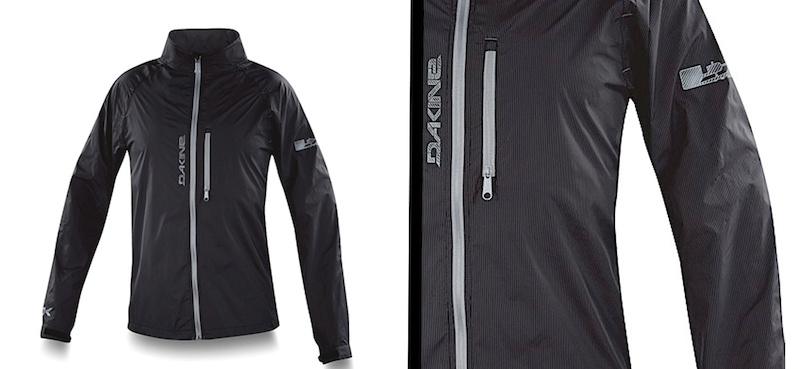 Dakine's Breaker jacket won't cut it in the Winter, but is one of our favorites for three season riding.
Pinkbike's Take:
| | |
| --- | --- |
| | We've been using the Breaker jacket for quite awhile now, with it having a near permanent spot in our gear bag. It is far from water proof - that isn't the Breaker's intention - but it does a great job of eliminating the bite from a cold wind when the temperature drops. We're also big fans of its practical fit, with a casual cut that isn't baggy but also doesn't hug your body like some of the Saran Wrap-esque jackets out there. We often roll it up into a tiny ball and stuff it down into the bottom of our backpack, where it is light and small enough that we actually forget that it's there until we need to pull it out. Our single complaint stems from the zippered chest pocket who's positioning doesn't make a lot of sense to us; even the lightest of contents could be bothersome while riding. We'd like to see it moved lower to a spot that would likely be less noticeable. That small complaint aside, the Breaker is one of our favorite pieces of gear. - Mike Levy |
---
Easton Havoc stem
With a burly-looking appearance and short reach options, it's clear that Easton's CNC machined Havoc stem has been purpose built for aggressive riding. Opposing steerer tube clamp bolts hold the stem in place, and an interesting 'Top Lock' bar clamp is said to remove stress risers by way of the face plate's upper edge being designed to bottom out on the stem body when clamping the bar. According to Easton, Top Lock works by "
distributing clamping forces over a larger area and moving the stem bolts away from the edge of the stem,''
which they say allows them to
''distribute stress more evenly along the center section of the handlebar
". The Havoc is available in 35, 50, and 65mm lengths, as well as either 1 1/8 or 1.5-inch steerer tube clamps. Black or anodized orange are your color choices. MSRP $95.00
www.eastoncycling.com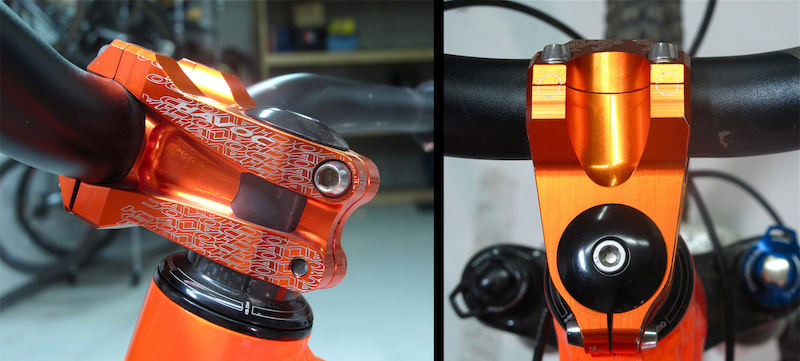 The sturdy Havoc stem is as solid as they come.
Pinkbike's Take:
| | |
| --- | --- |
| | The anodized orange Havoc stem's distinctive blocky appearance, complete with the Havoc logo splayed along its sides, have it standing out from the crowd, but it isn't just its appearance that won us over. Our 65mm Havoc stem proved to be just as solid as it looks, with not a single hint of flex, and it also refused to rotate on the steerer when we crashed. The stem's Top Lock feature is invisible on the trail, but we also certainly didn't have any bar issues either. Regardless, we're fans of anything that helps to make for a more reliable front end, which the system is claimed to do. We'd like to see the edges taken off of the backside of the steerer tube clamp for the sake of our sometimes-unprotected knees, but that is our only concern. Overall, the Havoc is great looking stem that we never once questioned. We're also currently testing Easton's new oversized Havoc 35 stem and bar, a combo that you'll be able to read our thoughts on soon. - Mike Levy |
---