MRP Bling Ring
MRP's Bling Rings are designed to replace the chain ring and spider assembly of your SRAM or Truvativ crankset, providing a simple and clean way to run a single ring setup. They utilize a spider-less design that mates directly to the splines used to mount the stock spider, making for a very BMX-esque setup that shaves weight compared to a more traditional single ring layout that still requires four chain ring bolts. The arrangement also allows riders to fit ring sizes that aren't available from SRAM as stock equipment, with MRP manufacturing 28, 30 (
60 grams, tested
), 32, 34, and 36 tooth options in their US facility. Weight ranges from 53 to 94 grams depending on size, and they are compatible with GXP versions of SRAM X9, X0, and Truvativ AKA arms, as well as some OEM models, including the S2200 and S1400 cranks. MSRP $69.95 USD.
www.mountainracingproducts.com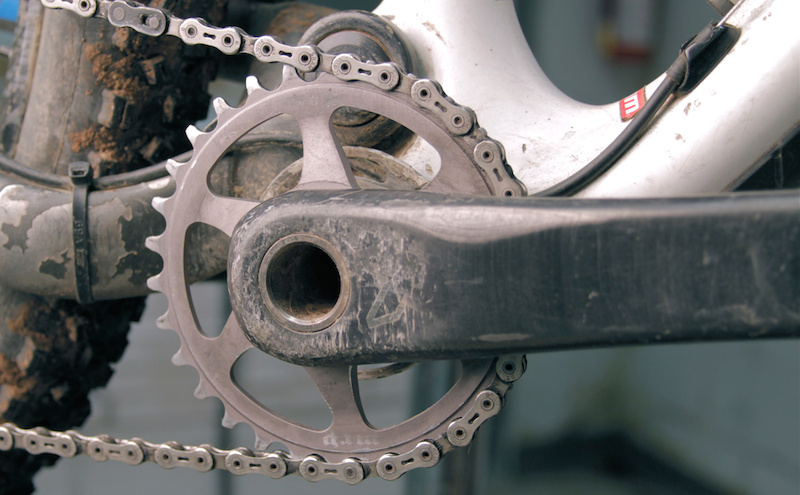 Thinking about making the switch to a single ring? MRP's Bling Ring offers a light and clean-looking way to do it. The only downside is that it only fits on specific SRAM and Truvativ cranksets.
Pinkbike's Take:
| | |
| --- | --- |
| | Is a single chain ring setup going to be suitable for everyone and every kind of terrain? Certainly not, but the simplified drivetrain not only creates a stronger rider over time, it also changes the way you approach a trail, making many rides new again in the same way that riding a single-speed bike can. Our 30-tooth Bling Ring was fitted to the X0 crankset on our 29er because it comes close to matching the gear development of a 32 tooth ring on a 26-inch wheeled bike, a ratio that makes for a good workout on our steep local climbs. Installation is a simple job that required only a Torx key to remove the single screw holding the stock spider onto the aluminum splines, with the Bling Ring then pushing on snugly in its place. Since we would no longer be shifting up to the now-replaced big ring, we also took a few minutes to shorten the bike's chain by a few links (always make sure to double check that your chain is long enough to prevent damage at bottom-out). With the crankset reinstalled on the bike, we found that no amount of playing with the bottom bracket spacers would allow us to align the ring perfectly with the MRP 1X guide that was mounted in place of the bike's front derailleur, resulting in a touch of chain rub at the far end of the cassette. This was remedied by spacing the guide's slider out slightly from its mounting arm - MRP includes two 1mm Nylon spacers with the 1X guides for this purpose - but it took a few tries to get it just right. MRP has designed the ring to sit at a 51mm chainline, but keep in mind that slight differences from bike to bike mean that some tinkering with spacers may be required to set it up drag free. The Bling Ring does its job just as you'd hope once the proper guide spacing is set, though, with absolutely zero issues arising during our many months using it. The fit is still snug on the X0 crank's splines, and not a single creak or groan as popped up from the junction. The ring's wear rate is par for the course as well, with ours certainly showing some, but nothing more than we'd expect given the amount of use it sees compared to a dual ring setup that spreads chain ring wear over two rings. All told, the Bling Ring makes a lot of sense for those who use a SRAM/Truvativ crankset and want to ditch their bike's front derailleur - it's simple, trouble-free, and the lightest way to run a single ring. - Mike Levy |
---
Bontrager Rhythm short
Bontrager's Rhythm short is constructed with two-way stretch fabric, and features six pockets, belt loops, and adjustable waist straps that allow you to dial-in the fit. A sturdy zippered and dual button enclosure should present no problems in the long run, and they come stock with a detachable mesh liner that is fitted with Bontrager's own inForm Solstice chamois. The 14-inch inseam puts them firmly on the casual side of the fence compared to shorter, racier offerings. The Rhythm short is available in small through double-extra large, and in either grey or the black shown here. MSRP $89.99 USD.
www.bontrager.com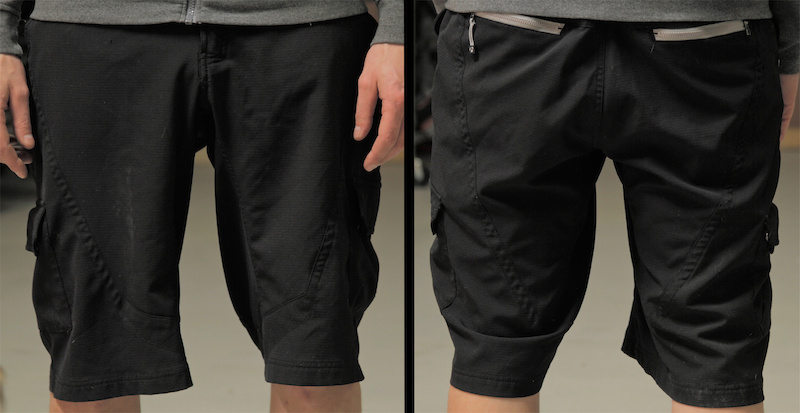 The mid-weight Rhythm short is a touch baggy, but it will be perfect for those who ride in knee pads.
Pinkbike's Take:
| | |
| --- | --- |
| | We liked the soft, two-way stretch material that Bontrager has used for the Rhythm short because it sits right between a burlier, heavier fabric and something that would be too lightweight for use throughout the fall. We found the fit to be pleasant, and the casual cut meant that we often wore them while not on the bike without looking like a cycling oddball who escaped out into the real world. The 'Easy-adjust' hook and loop waist straps make fine tuning the fit simple, a nice feature that we took advantage of as we rode off our Winter pudge. We are also fans of the zippered pockets (both of the rear and one of the cargo pockets) that never left us guessing as to how far back their contents fell out, although, just as with any other short, we were reluctant to put anything more substantial in them than a small multi-tool or gel due the contents swinging around during pedalling. We like our shorts to have a bit of a long and baggy cut to them, enough so that we don't end up with our creamy white inner thighs exposed to the world, but we sometimes found the Rhythm short to be just a touch too loose at the leg openings. The upside is that they will play nice with bulky knee pads, though. We also weren't big fans of the inner liner that comes with them, but that is easily removed to allow riders to use their own chamois. No, the Bontrager name isn't as fashion-conscious as some other brands out there, but they proved to function just as well as offerings from other brands. Looking for some under the radar clothing? The Rhythm short is a good choice, especially if you wear knee pads on a regular basis. - Mike Levy |
---
Osprey Momentum 26 backpack
Osprey has a full lineup of bags that includes models for hiking, travel bags, and even child-specific offerings, but the Momentum 26 tested here has been designed with bike commuting in mind. The bag's name refers to its 26 liters of storage capacity, although that figure increases to 31 liters when the zippered expansion panel is utilized, providing enough room for a change of clothes, your lunch, and whatever else you'd like to bring to work with you. A dedicated sleeve provides a protected place for a laptop, and a zippered pocket on the shoulder strap is ideal for a phone, camera, or wallet (
although not large enough for all three at the same time, obviously
), with the opposite strap being home to a key pocket that incorporates a clever retractable clip - no need to remove the bag to unlock the front door, and it also keeps you from dropping your keys. Your helmet can be clipped onto the bag via a plastic section that is attached to stretch cords, allowing you to slip it through one of the helmet's vents and snug it down. The entire package becomes easy to deal with thanks to tuck-away shoulder straps that turn the Momentum 26 from a backpack into a handbag, complete with a side handle. Color options are bamboo (
tested
) and carbide. MSRP $129.00 USD.
www.ospreypacks.com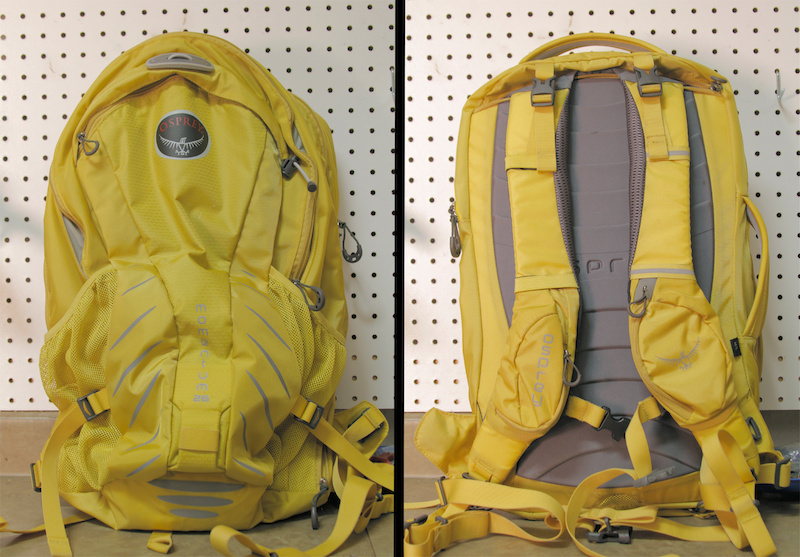 Commuters take note: the Momentum 26 makes more sense than your silly, fashion-friendly fixie bag.
Pinkbike's Take:
| | |
| --- | --- |
| | We used the Momentum 26 strictly for commuting, choosing to go with a smaller and more trail-specific pack for off-road use, although we could see a trail guide or first aid rider making use of the bag's cavernous hauling capacity. We liked the sectioned storage area that splits the bag into three sections: the laptop sleeve, a big area for clothing and gear, and a smaller, zippered section for any tools or odds and ends. This let us keep things separate from each other that shouldn't be mingling, such as our lunch and our laptop. There is also plenty of room for clothing, enough so that we never found ourselves having to do the 'ol squeeze-and-zip routine in order to close the bag up, but we did take note of the awkward rounded bottom to the inside of the large section. This isn't really a big deal, but it meant that we often ended up just stuffing clothes in rather than folding and stacking them; good luck keeping your lunch containers upright as well. The bag's shoulder strap pockets are a massive plus in our mind - why more bags don't employ something similar is a mystery to us. The cell phone pocket allowed quick access to our phone if we needed to answer a call or take a quick photo, and the retractable key clip on the opposite pocket simply makes a ton of sense. Because we're based in B.C., we had ample opportunity to try out the bag's rain cover, deploying it from its zippered pocket at the bottom of the bag countless times. A small clip at the top allows you to access the bag's upper reaches without having to completely remove the cover as you might if it simply stretched over the entire bag, and it proved to be able to keep out all of the moisture. The bag is well thought out, with plenty of clever details that make sense in the real world, but we also liked the fact that it actually looks like a backpack rather than a funky commuter bag that bows to the fixie scene and puts fashion over function. We recommend the Momentum 26 to any rider who commutes to work and needs enough room for a change of clothes. - Mike Levy |