Dakine Shield jacket
Dakine uses a ''2.5 layer waterproof / breathable DK DRY membrane system'' for their new Shield jacket that, just in case you couldn't deduce from the description, is designed to keep the rain out while still allowing for a level of breathability. Vents span the back of the jacket, and along with large zippered pit openings, encourage air flow while you are huffing and puffing your way up climbs. The jacket's two front zippers - both the main closure and the zipper for the breast pocket - are water resistant, and the Shield's hood is large enough to fit over a standard helmet should Mother Nature unleash her fury upon you. Clever zippered hand pockets each sport an open mesh inner that lets the wearer warm his or her paws up against their body. Color choices include the flashy blue shown here or a more subdued black option, and small through extra-large sizes are available. MSRP $125.00 USD.
www.dakine.com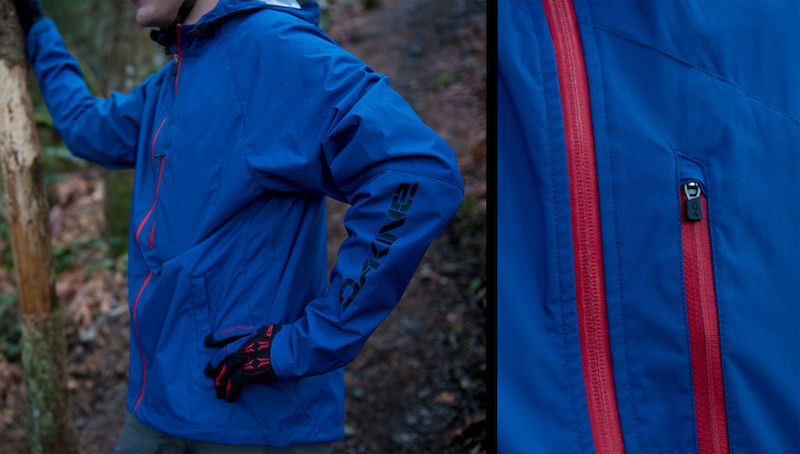 Going for the Cookie Monster look? Dakine's blue (it also comes in black) Shield jacket is just the ticket while also keeping you dry in the worst weather.
Pinkbike's Take:
| | |
| --- | --- |
| | Compared to Dakine's lighter weight, $80 USD Breaker jacket, the Shield is a serious piece of clothing intended for a trail assault in conditions nearing a typhoon. No matter how heavy the deluge, we never sprung a leak, and it was during those monsoon-like conditions when we most appreciated the helmet-encompassing hood. Bringing along a second (or even third) pair of gloves is one trick that many riders here in rain-prone British Columbia use to keep morale high, and the two mesh pockets inside of the Shield proved to be an ideal place to keep them dry and warm until it was time to swap out the soaked pair on our hands. Dakine says that the Shield has a ''DH/Freeride'' fit, but we just found it to be overly baggy, although we admit it makes more sense if you wear upper body armour. Either way, our medium jacket fit more like an extra-large on our average frame, and we'd likely go down to a size small if we didn't plan to wear any padding underneath. As much as we liked the Shield when the heavens opened up on us, it felt like overkill when it wasn't truly pouring. Opening the pit vents helped to keep the sauna effect to a minimum, but we still stuffed the Shield into our pack as soon as the serious rain stopped. Given that it is designed as a full-on rain coat, though, this doesn't come as a surprise. Do you often head out regardless of the pouring rain? If so, the Shield is a solid option. Just make sure that the fit is correct before paying up, and consider purchasing a size down if you are picking it up online. - Mike Levy |
---
Zoic Torrid fleece hoodie
Zoic offers a truly massive range of clothing that covers pretty much any and every cycling discipline, but it is their casual Torrid fleece hoodie that we've been using the most over the last few months. The Torrid is manufactured with fleece fabric that features a soft waffle pattern exterior and a smoother interior that looks to put comfort high up on the list of priorities, and a full-length zipper means that you don't have to pull it over your head to get it off after the ride is finished. Then again, its casual look means that you might not feel like you need to take it off before heading into the local pub for a post-ride brew, unlike most other pieces of cycling clothing. The relaxed appearance belies Zoic's nod to function, with the Torrid sporting a proper zippered jersey pocket out back, along with a breast pocket intended for an iPhone or other multimedia device. Color choices include either grey, black, or the blue shown here, and sizes run from small through to double extra-large. MSRP $75.00 USD.
www.zoic.com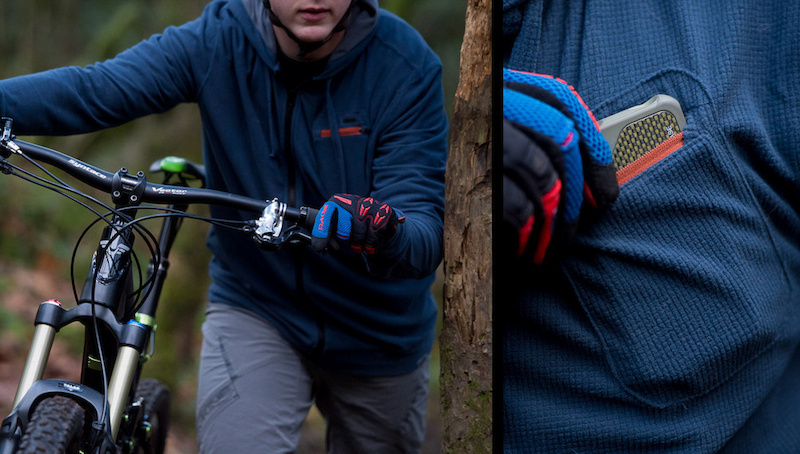 Supremely comfortable and toasty warm, the Torrid hoodie from Zoic is near perfect in our books.
Pinkbike's Take:
| | |
| --- | --- |
| | We have to confess that the Torrid hoodie wasn't exactly at the top of the clothes pile when it came to choosing something for our chilly winter rides. Maybe it was the semi-casual appearance or the fleece's waffle texture, but it just didn't seem like something that we'd picture ourselves wearing... and then we wore it. Zoic has managed to design a piece of riding gear that is not only functional, but is also akin to curling up in front of a roaring fire with a Snuggie on (minus the whole ''I'm wearing a Snuggie'' feeling) - it's that comfortable. The fleece fabric is supremely soft against bare skin, meaning that you can wear the Torrid sans under-jersey, and the sleeve and torso length are spot on for an 'in the saddle' position. Yes, you obviously would want to choose something else as an outer layer if it is pouring, but the Torrid proved to be impressively warm on those dry but nippy winter morning rides. With a proper zippered rear jersey pocket, the practicality is also there (why don't more tops have discreet jersey pockets these days? Is it not 'cool' anymore?). The only change that we'd like to see is to the zippered breast pocket. We like the headphone port, but an iPhone in a slim case is a very tight squeeze to get in, and we aren't about to remove the phone from its protective case. Worse than that, though, is that the pocket's position puts it directly in line of where we prefer to run our backpack's sternum strap, making for a bit of an awkward feeling. Zoic, increase the size of the breast pocket while also moving it down a touch and the Torrid hoodie would be absolutely perfect in our books. - Mike Levy |
---
Bontrager Preset torque wrench
Bontrager's compact Preset torque wrench isn't intended to take the place of a full-sized version that you'd find on the workbench in a good shop, but rather to be used by the home mechanic who does some wrenching and doesn't want to second guess their work, especially with carbon fiber components. Rather than employing a needle gauge or any torque adjustments, the red tool is a simple unit that emits a click while ratcheting once when the pre-set 5Nm torque is reached, letting the user know that there is no need to keep applying pressure. Two different versions are available, with either a 4mm or T25 torx bit fitted (
bits are not interchangeable
). MSRP $20.99.
www.bontrager.com

Bontrager's handy preset torque wrench has a permanent place on our workbench.
Pinkbike's Take:
| | |
| --- | --- |
| | Not a fan of explaining to your local shop exactly why your carbon fiber steerer tube splintered? Nervous about snugging up your new expensive carbon fiber handlebar? Or maybe you simply pride yourself in being bang-on when it comes to your wrenching. Whatever the reason, Bontrager's little red torque wrench makes a lot of sense for anyone who does some or all of their own wrenching. The tool is non-adjustable, with a pre-set torque of 5Nm that conveniently matches a lot of bar and stem torque recommendations, and is ultra-simple in that there is no needle gauge to monitor: simply turn until you hear the tool click. Unlike some pricier torque wrenches, it is possible to continue tightening the bolt after the tool clicks, although you likely shouldn't be allowed to use any tools (or drive, or cook, etc...) if you manage to do that. We're not sure why Bontrager bonded the T25 torx and 4mm bits into each tool as it means that you can't tighten 5 or 6mm bolts (although the bits do come out if you really want them to) but, in Bontrager's defense, it is usually the smaller hardware that requires a 5Nm spec, including their own stems. The other point to keep in mind is that, in the long run, the tool will likely lose some of its accuracy. For this reason it may not be the best for constant use in a shop setting, but it is ideal for the home mechanic. Given that many of us spend over $20 a month (or week?) on fizzy energy drinks or overpriced to-go coffees, this little torque wrench doesn't seem like a bad investment, especially if your bike is equipped with torque sensitive parts, like a fork that uses a carbon steerer, or has a carbon bar, stem, or seat post. - Mike Levy |
---