2010 Specialized Enduro S-Works
The idea of the all-mountain bike has caught on like gangbusters over the past few years and the category has been refined so much that it is truly amazing what a rider can get away with aboard some of the latest mid-travel machines, and have more fun doing it. I've had the chance to ride a number of different do-it-all steeds throughout the last couple of seasons and have always come away impressed with what was possible on a properly spec'd bike, which got me thinking about how I would put together the ideal bike for my ideal ride. After throwing some ideas around the office, it seemed we all were looking for the same thing: lighter, slacker, more forgiving, all while being more capable no matter the terrain or which direction you were going. Enter from stage left our latest test bike, the
Specialized
Enduro S-Works.
The Enduro S-Works frame is stunning in person. The carbon front triangles, immense tubes and smooth lines bely it's light weight. One expects such a large object to require some effort to hoist, but at only
5 lbs 10 oz
there isn't that much there to lift. While there are a few frames to choose from that close in on the Enduro's travel/weight ratio, it's the Specialized's angles that get me excited. Most frames this light, even with similar travel, are distinctly steeper. Bike manufacturers have been forcing us to choose between travel and geometry for years, forcing those who wanted a mid travel machine to ride steeper bikes than a lot would prefer. The Enduro is a 6" travel platform with a 66.5 degree head angle (slightly slacker than the '09's 67 degrees) that should be a confidence inspiring package under the right sort of rider. While only half a degree more relaxed than some of the competition, it can make all the difference.
Tyler had a chance earlier this season to jump aboard the new mid and long travel bikes from Specialized
so I was looking forward to spending some time on the Enduro myself.
For 2010 Specialized has revised their entire Enduro lineup, keeping their proven Horst Link suspension but with a slightly differing lay out. Gone is the '09's vertical shock mounting, replaced by a damper that is in line with the bike's top tube. A diminutive swing link activates the Fox RP23 and controls the leverage, while a clever two piece coupling replaces the sometimes troublesome rearmost DU bushing on the damper with two sealed bearings. Say goodbye to perpetually worn out and knocking bushings, with the added benefit of suspension that should be slightly freer moving.
Frame Details



• Carbon front triangle, aluminum rear end
• 6" of travel via a Fox RP23 w/ Boost Valve
• Tapered head tube accepts both standard 1.125 and tapered steerer tubes
• Removable ISCG adapter for guides or HammerSchmidt use
• Built in cable routing for remote controlled adjustable post
• Frame weight of 5 lb. 10 oz
• Frame kit USD $2800 msrp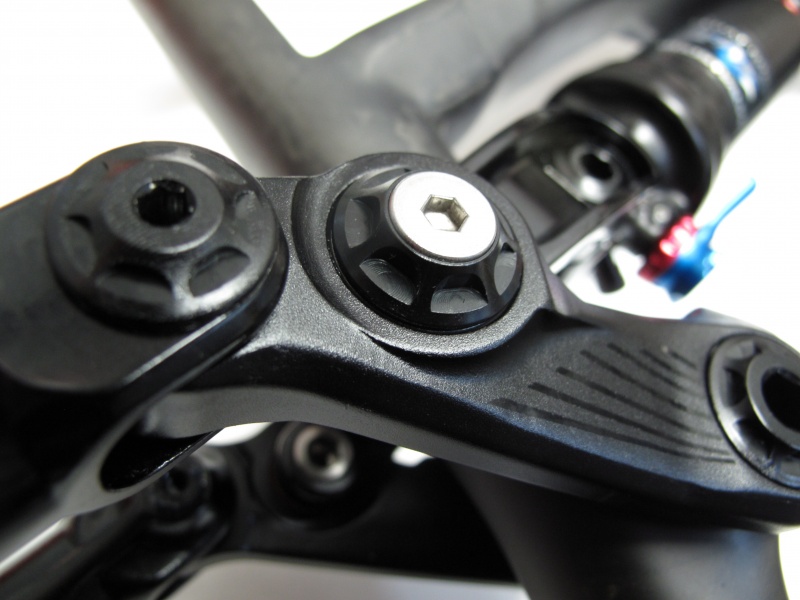 The Enduro's pivot hardware is quite nice
Geometry for a medium Specialized Enduro
| | |
| --- | --- |
| Head angle | 66.5 |
| EFF Seat Angle | 75 |
| EFF Top Tube | 562 mm |
| Chainstay | 419 mm |
| Bottom Bracket | 350 mm |
| Wheelbase | 1151 mm |
| Actual Frame Size (seatube length) | 444 mm |
| Standover | 761 mm |



Reach

: 431 mm


Stack

: 587 mm

Want to know what the reach and stack measurements mean?

Specialized offers the Enduro in four sizes. Available are small, medium, large, and extra-large sizes.
Have a look at their geometry chart to see which would suit you best!
The Specs
Frame and Size

Specialized S-Works Enduro, carbon fiber
•medium Frame

Rear Shock

Fox RP23

Fork

Fox 36 Float RC2
•160 mm travel

Headset

Cane Creek

Crankarms

Truvativ Hammerschmidt, 170 mm

Chainring

Truvativ Hammerschmidt, 22t

Bottom Bracket

Truvativ Hammerschmidt AM

Pedals

Wellgo MG1

Chain

Wipperman 904

Cassette

SRAM PG990 11-34

Rear Derailleur

SRAM X9, short cage

Shifters

SRAM X0, Hammerschmidt

Handlebar

Truvativ Stylo WC

Stem

Thomson, 50 mm

Grips

ODI Ruffian

Brakes

Avid Elixir's, 7" front/6" rear

Front Wheel

Specialized Roval Traverse EL, 20 mm

Rear Wheel

Specialized Roval Traverse EL

Tires

Front, Kenda Excavator 2.35 folding
•Rear, Kenda KOT 2.35 folding

Saddle

Fizik Aliante

Seatpost

Specialized Command Post (4" drop) w/ remote
While this will primarily be a test of the Specialized's Enduro S-Works frame, we obviously took the opportunity to throw some premium AM oriented parts at it. I had a goal in my head of assembling a sub 30 lb. bike with 6" of quality travel while still taking advantage of Truvativ's HammerSchmidt crankset and a remotely operated Command Post adjustable height seatpost. Both of these additions to the build should add some great benefits (
and maybe drawbacks - we'll see in the review
) to the overall "trail-ability" of the entire package. Keeping the weight down is Specialized's own Roval Traverse EL wheelset, a light AM option that fits in perfectly with the Enduro's intention.
Have a look at our Traverse preview.
So did we manage to hit our target weight, or maybe even come in well under it? You'll have to wait for the full test to find out!
The Specialized Enduro lineup spans four bikes (
two carbon and two aluminum models
) that all use a front derailleur combined with two rings and a bash guard for protection and security, but the designers of the Enduro know full well that some users may want to bolt on a single ring and guide, or even a HammerSchmidt crank system. The two aluminum Enduros come equipped with built in ISCG tabs, but the carbon Enduro required a more cunning approach to the problem, one that wouldn't rotate under the H/S system's torque. The answer is the Adaptatron, an aluminum adapter that mates snugly onto the splined surface around the drive side bottom bracket shell. While not the first company to use a system like this, it is clean and simple nonetheless.
With bikes like this capable machine, among many others, it is pretty easy to get a smug grim on your face and forget that it was not that long ago that we were happily installing foot long purple stems (to match our purple seatposts, naturally) on our bikes, blissfully unaware of the horrible consequences to the handling of an already skittish bike. My, how times have changed! Today a rider is able to pick from a field of bikes that are all designed to do the same task, albeit with slight deviations that may let said bike excel over another on your local mountain. We are both blessed and cursed to be able to chose the exact tool for the job, sometimes it can be overwhelming but it's nice to have the opportunity to make that choice. This particular machine is a perfect example of that. Lighter, slacker, and hopefully even more capable than it looks.
Stay tuned for the full test in the near future!
Specialized.com
Mike Levy