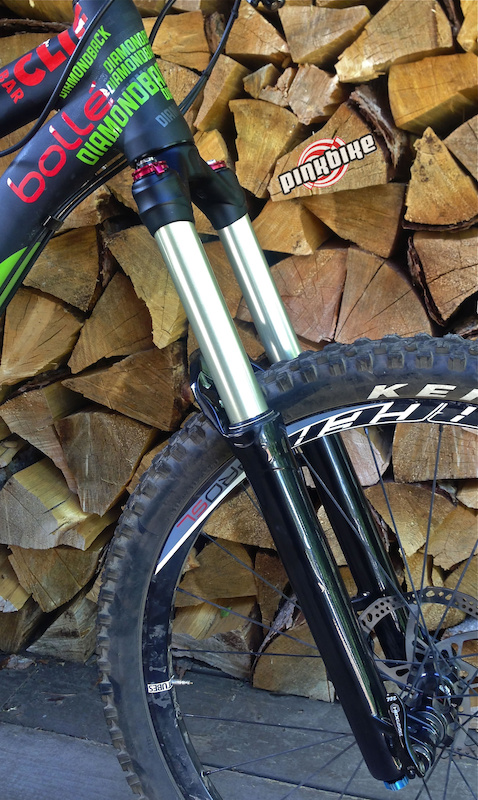 Diamondback's Eric Porter has played a major role in testing the fork.
A 160mm Travel Contender?
Although the Dorado is, at least in our opinion, one of the best downhill forks available, it has been a long time since Manitou has been a serious player in the mid-travel market. Things have progressed greatly since their Sherman fork was a viable option, with both RockShox (
with their Pike
) and FOX (
with their revised '14 34 and 36 forks
) putting forward 140 - 160mm travel forks that offer incredible performance, and it's fair to say that most people weren't sure when they'd see a 160mm travel option from Manitou. As it turns out, they are about to debut a brand new mid-travel fork aimed directly at the aforementioned competition and appearing to sport around 160mm of travel. Will this be the fork that puts Manitou back in the running with the other major manufacturers? That will depend on two factors: reliability and outright performance. While only time can be the judge of the former, we're expecting the latter to be taken care of by technology lifted from the proven Dorado. More specifically, an altered version of its phenomenal twin-tube open bath TPC damper.
Although Manitou weren't willing to discuss the prototype fork, there are plenty of details to take away from the photo shown at right. Firstly, it is a safe bet to assume that there is a variation of their TPC damper hidden within its right leg, with a closer look at the fork's dials backing that up. A single anodized blue dial can be seen at the bottom of the right leg, more than likely controlling low-speed rebound, while multiple dials can be seen atop the crown, which makes sense given the high-speed and TPC compression adjustments found on the Dorado. This also means that it probably incorporates the same hydraulic bottom-out and top-out design as well, negating the need to use a rubber bumper or top-out spring for those duties.
Zooming in on the crown-mounted dials reveals a small tab that would easily allow the rider to reach down and flick it in order to firm up the fork for climbing, but there is also what looks to be a channel machined into the side of the same dial that would serve as home to a cable for optional remote operation. The spring-side dial has that same channel, although we suspect that its purpose could be for a remote travel adjustment system, enabling the rider to lower the fork for technical climbing. The fork would also need to be air sprung in order to compete with the rest of the market weight-wise, with it needing to come in between 4.5 and 5.5lbs to be a player, although Manitou hasn't ever been known for chasing weight class wins.
Externally, the fork makes use of Manitou's long standing reverse arch, which isn't much of a surprise given that it has been a design feature found on all of their right side up forks for many years now, as well as their unique Hex Lock thru-axle system that forgoes a standard round axle for a six-sided unit that they say greatly increases torsional rigidity. It is difficult to tell from the photo whether it is a 15 or 20mm diameter axle, but we would assume that it is 15mm given that all of Manitou's existing QR Hex Lock axles are of that size. What isn't hard to see, though, is that the unnamed fork is has been designed for 26'' wheels, but it wouldn't be out of line to expect Manitou to produce a set of 650B-compatible lowers as well.
Although all of the above is pure speculation at this point, there is no doubt that this fork
needs
to be a home run in order for Manitou to regain their footing in the high-end market. We'll have more from Eurobike where the fork will see its debut, including all of the official details.
www.manitoumtb.com