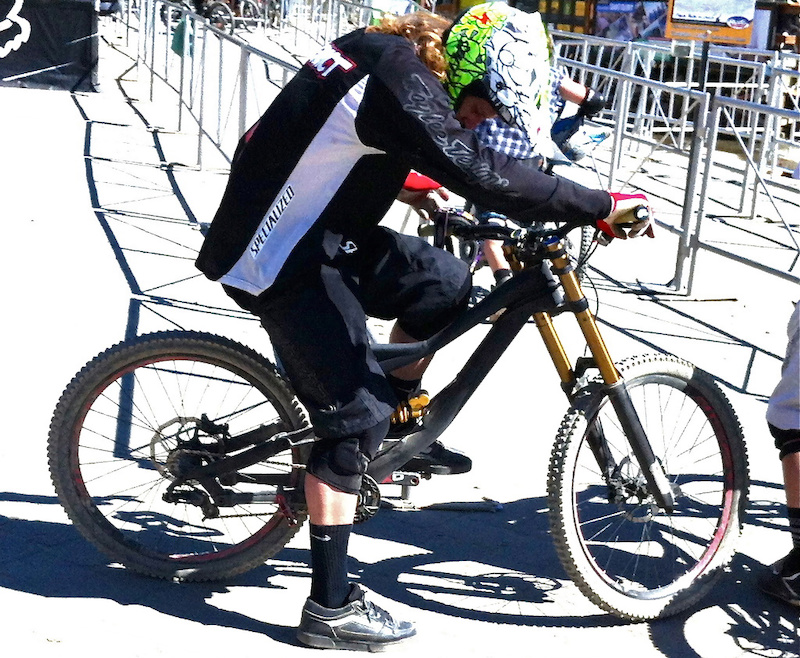 Thanks to Pinkbike user Jacob Carmichael for sniping this photo in Whistler today
Noted Specialized tester Brad Benedict, a key rider in the development of both the Demo 8 Carbon and the company's recent collaboration with Ohlins, was spotted earlier today doing laps in the Whistler Bike Park aboard a rather interesting looking machine. Brad wasn't keen to either talk about the bike or sit still for a better photo, but it's clear to see that the matte black aluminum bike isn't a Demo as we know it. And while it does bear some obvious similarities to the current Status platform, there are also some differences as well. Brad's right leg is inconveniently (
at least for us, maybe not for Specialized
) covering the bike's major suspension components, although it is a pretty safe bet that the prototype employs a very Status-like rocker arm to activate the Ohlins shock, with the shock itself sitting much lower in the frame than the configuration on the current Status. Comparing pivot locations against the current Status also reveals that there are some major differences between the two, and it isn't inconceivable to suspect that the bike's rear end has been designed specifically with the trick Ohlins shock in mind.
| | |
| --- | --- |
| | We're always testing and developing different bikes. Some of these are for eventual production, while others allow us to evaluate different concepts. That is exactly what this bike is: a mule for us to assess geometry, frame stiffness, and other attributes. This bike won't ever see production - it isn't a replacement for either the Demo or the Status - but it certainly does serve a purpose. - Sam Benedict, MTB Product Marketing |
Zooming in on the bike's Horst Link, FSR rear end reveals that it appears to be a work in progress, with the stays and clevis pivots looking much rougher than anything we'd expect to see nearing production, which is in line with what Sam Benedict, Specialized's MTB Product Marketing, gave us when questioned about the bike. Having said that, it wouldn't be far fetched to assume that the unlabelled bike under Brad is mule of an evolved Status. Does the prototype feature 650B wheels? It is hard to tell from the photo, but the fork appears to use the standard, 26'' wheel-compatible FOX 40 lowers instead of the 650B lowers that feature an altered axle position to correct the trail geometry. It is no secret that Specialized is experimenting with 'tweener wheels, but they are not on the prototype pictured here.
We'll be covering Crankworx from start to finish, so expect more information as it becomes available at the event.
www.specialized.com