Stan's Flow EX rim
Although not specifically designed for DH use, the long-awaited Flow EX rim has been developed with the help of the Athertons, so we're expecting it to be up to the task. The new rim's sidewalls are slightly thicker than found on the original Flow rim, meaning that it should be better at resisting denting and flat-spotting, and the thickness at the spoke bed has gone up 33% as well. Stan's knew that the rim's relatively light weight - the 26" version weighs just 490 grams - would make it a top choice for many of gram counting DHers, and so they have increased its interior width to 25.5mm in order for it to offer more support for high-volume DH tires. They also tweaked their patented bead socket shape for the same reason, allowing riders to run low pressure without having to worry about burping air in a hard corner. The new Flow EX is available in 26", 27.5" and 29" sizes, as well as in complete wheelsets that can be configured to fit any dropout standard. Will we see the Flow EX used by World Cup riders, or will the Athertons and others be using a still-newer rim with a taller profile?
www.notubes.com
---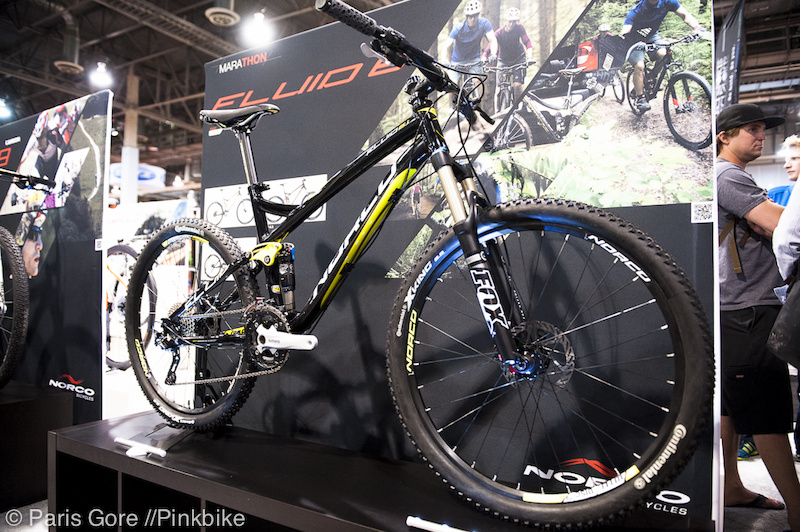 Norco Fluid 6.1
We recently
spent time on Norco's new, 27.5"-wheeled Range Killer B
, and while the 160mm travel bike was a lot of fun, we decided to take a look at a more all-round machine while visiting the Canadian company's Interbike booth. The 26"-wheeled, 120mm travel Fluid 6.1 shown here looks like a good choice for someone who needs a machine that will allow you to get to the summit of your local hill without having an aneurysm, but should also offer a lively ride on the way back down. Vertically-challenged riders who have struggled to find a medium-travel bike that offers enough stand over clearance will be stoked to hear that the Fluid is offered in an XS size, an option that Norco says will work well for a 4'9" tall pilot. The Fluid lineup is spread between the $1400 USD entry point to the $2170 USD 6.1 seen here.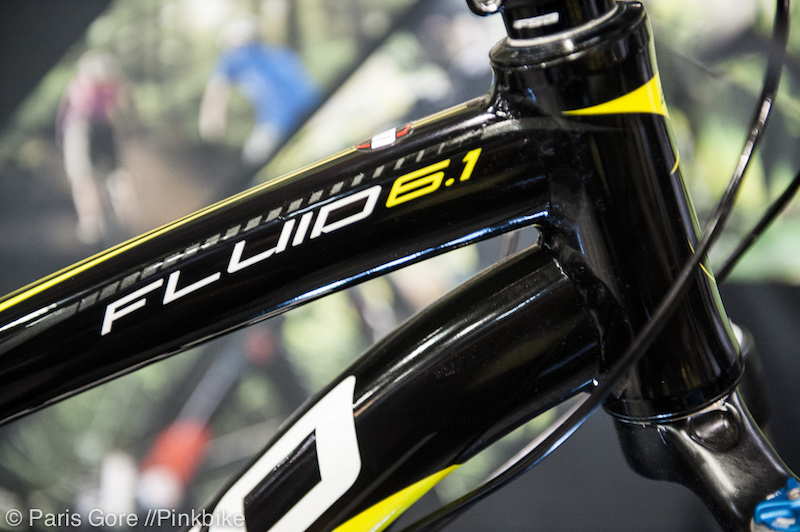 The 120mm travel Fluid series uses the same A.R.T. rear suspension layout as on their longer travel bikes, albeit in a more compact form. The design is a variation of the Horst Link that Norco has tuned to have slightly more rearward axle path than what is found on many other Horst Link designs. The goal is one that is talked about often: better square edge performance, which in turn can result in a bike that carries good speed over rough terrain. The bike's rearward axle path can also be used to tune-in a certain amount of anti-squat by way of chain tension, a tool that is used to improve the bike's pedalling abilities.
www.norco.com
---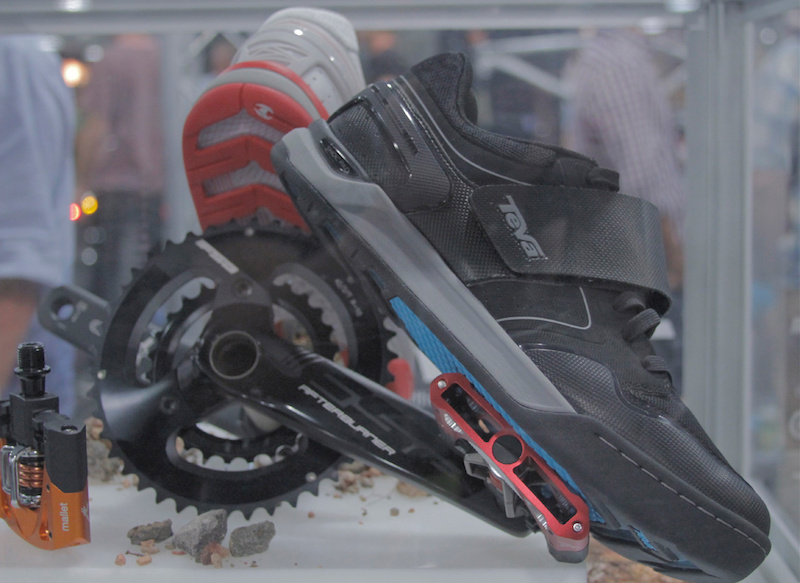 Teva consults Crank Brothers
Teva worked with Crank Brothers to bring their new Pivot shoe to life, taking a step towards integration that hadn't yet been done when talking about skate-styled clipless shoes. We weren't allowed to remove the shoes from their glass bubble (
which explains the shoddy photos
), but Teva says that they are quite light for the category that they fall into. The lack of heft comes from a shortened composite nylon shank that doesn't run under the toes or heel, as well as rubber cutouts on the sole that save further grams while also aiding traction for those hike-a-bikes sections. Teva was also quick to point out that the Pivot features a lower volume interior compared to a non-clipless skate-style shoe, a change that they found mandatory due to a clipped-in ridder being able to apply both downward and upward force. Another difference between the two types of shoes can be seen in the tongue, with the Pivot's forgoing the usual thick, water absorbant filling that is found on most skate shoes - these have been designed to dry out quickly.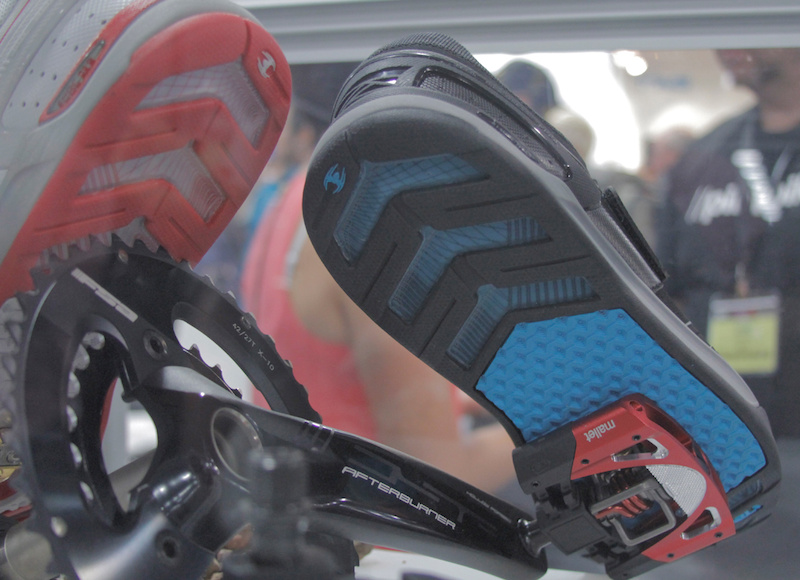 The Pivot's cleat mounting point in quite interesting, with a lightweight aluminum plate integrated into the inset area. This has been done to keep the 'wings' used on Crank Brothers' pedals from eating into the shoe's sole. The left and right edges of the inset also sport a section of stiffer material that resists wear while also providing some extra support on the pedal body. The Pivot is still a ways out from being available to the public, with a forecasted release date of next July, but you can expect them to retail for approximately $150 USD when the time does come. Oh, and they are still compatible with every other clipless pedal.
www.teva.com
---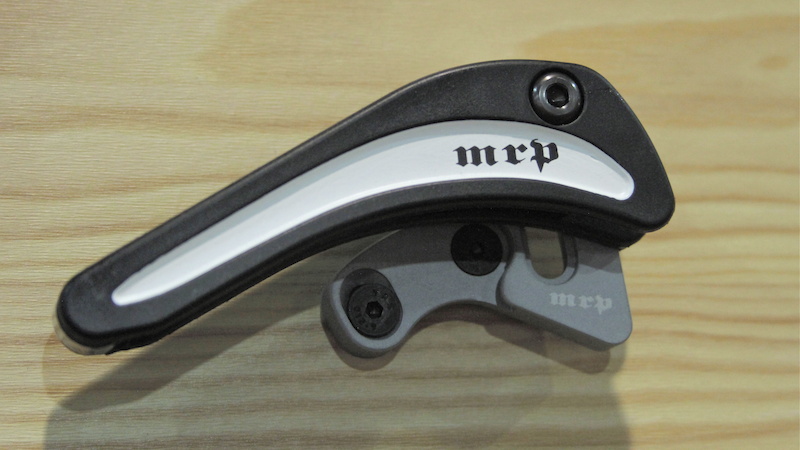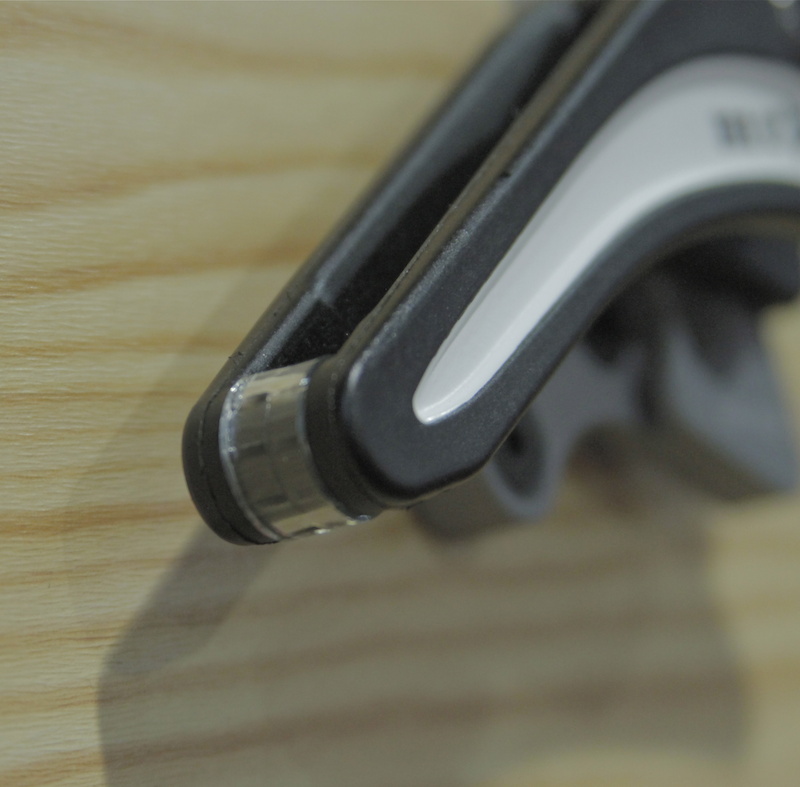 Updated MRP 1X guide
Single ring riders who don't need downhill-level protection should check out MRP's updated 1X guide. The minimalist unit uses only an upper slider piece - there is no lower guide or ring protection - to keep the chain from derailing, and attaches to the bike via an updated mount that looks to be sturdier than the previous design. A urethane sleeve has also been added around the slider's rear joint, likely cutting down on a bit of noise and wear. The new 1X is available in direct-mount, E-mount, bottom bracket, and seat tube compatible versions. We've spent nearly a full season on MRP's current 1X guide, using it on our single ring equipped trail bike on some pretty rowdy terrain, and have come away surprised at how well the simple unit performs. Having said that, the 1X is clearly not intended to be used on a downhill bike.
www.mountainracingproducts.com
---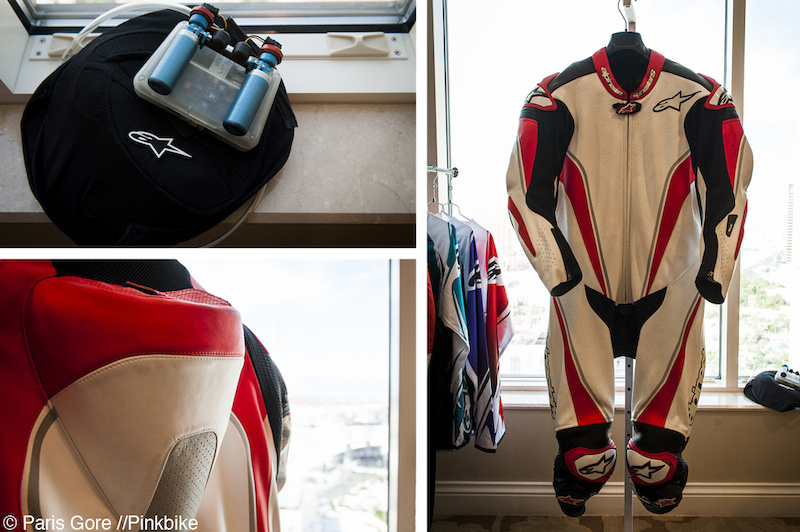 Alpinestars 2013
The Italian company had a number of new products to show us, but it was their Tech Air Race Suit that we found ourselves getting the most excited about. No, it has nothing to do with their mountain bike lineup (
although some of their protectives take styling cues from their longstanding involvement in motorsports
), but it is just too cool to not mention. Designed specifically for MotoGP racers, the suit employs twin pressurized gas cylinders and an extremely small pyrotechnic charge that combine to nearly instantly inflate the suit's two shoulder-mounted air bags. How fast does it all happen? It takes just 45 milliseconds for the suit's five accelerometers - one in each arm and leg, as well one within the processor housing - to go from waiting for action to sensing danger and having the air bags fully deployed, which is about half the time that it takes from the rider to go from experiencing trouble to impact. In the event of a crash, the accelerometers sense that a fast, unnatural movement is taking place, and the suit is even constantly 'thinking', with the same accelerometers transferring data to the main unit, hidden in the shoulder hump, every 2 milliseconds. It is brought online when a magnetic connection on the zippered closure is joined together, with a small strip of LED lights on the right cuff telling the rider if it is armed or not, and its status can even be monitored via a smart phone with Blue Tooth.
It took Alpinestars eleven years of development to get the Tech Air Race Suit to this point, with it now being available to the public for approximately $5,000 USD - this level of safety and technology certainly doesn't come cheap. Plan on doing a spot of two-wheeled racing at 200mph? Then the Tech Air Race Suit's asking price may not be such a big deal. We found ourselves wondering if the technology employed in the it could someday also be utilized in the mountain bike world, but Alpinestar's Nic Sims explained that it would be a tricky task to map the very dynamic movement of a downhiller (
we tend to move around on our bikes much more than a motorcycle racer
) in order to define the algorithms required to tell the suit's processor the difference between 'all good' and 'oh shit, this is going to hurt'.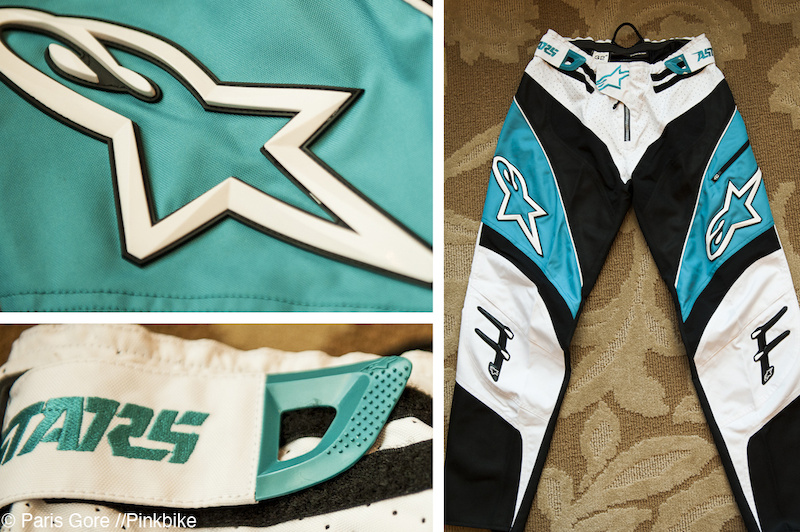 The A-Line pant may look like a standard moto pant, but a closer inspection reveals that these are from from being hot, heavy, and overbuilt bottoms. Designed specifically for use on a downhill bike, they feature air mesh sections and thinner fabric than what you'll find in the motorized word, as well as a trimmer fit that makes more sense on a bike that requires pedalling every now and then. Compact expansion panels in the knees allow for flexibility and room for pads without having to have excess material, and two Velcro-equipped waist straps let you dial in the fit. We didn't put the A-line pant on, but holding it up revealed that it is substantially lighter than a true moto pant. Colour options include yellow, gray, red/black, violet/white, and the blue marine model shown here.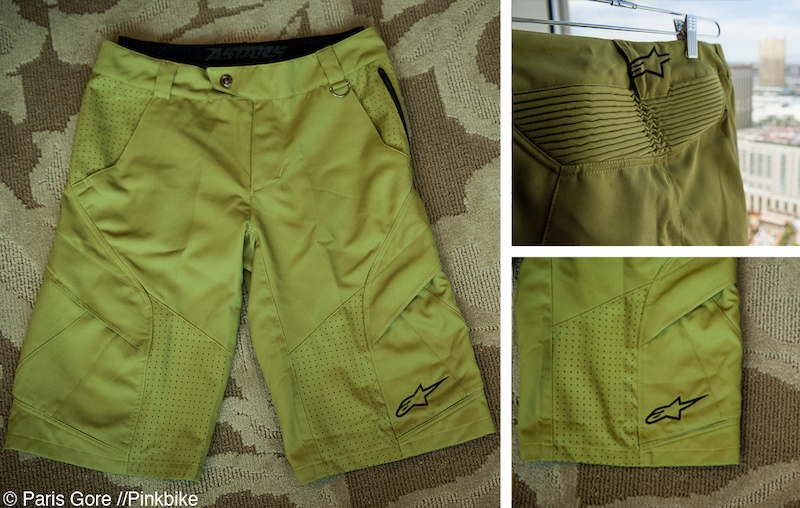 We reviewed Alpinestars' Manual short awhile back and found it to be a good option, but in need of some refinement. They have done just that for 2013, addressing all of our complaints to greatly improve this mid-weight short. Their fly gets upgraded from a Velcro job that always seemed to open up at the worst times to a proper zippered closure, and the short's side pockets are now deep enough to be useful. An accordion-styled rear panel allows for some movement in the material, while vents across the front of the thighs should let a bit of air through. One detail that we particularly like is the small metal D-ring that provides a good place to attach a lift pass. The Manual can be had in the green colour shown here, or you can pick from chocolate, black, or dark gray options.
www.alpinestars.com
---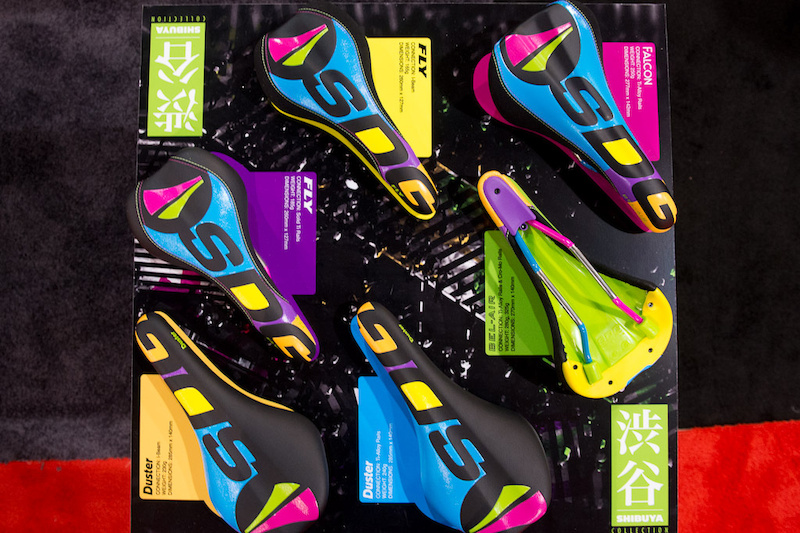 SDG and the Shibuya district
Looking for some flash? SDG had a number of their saddles done up in a mix of neon and black colours that are sure to attract some attention to your ride. The 'Shibuya Collection' takes its name from the fashion-centric district near the Shibuya Station, one of Tokyo's busiest railway stations. We're picturing one of these saddles looking great on an otherwise murdered-out bike, but what do you think?
sdgcomponents.com
---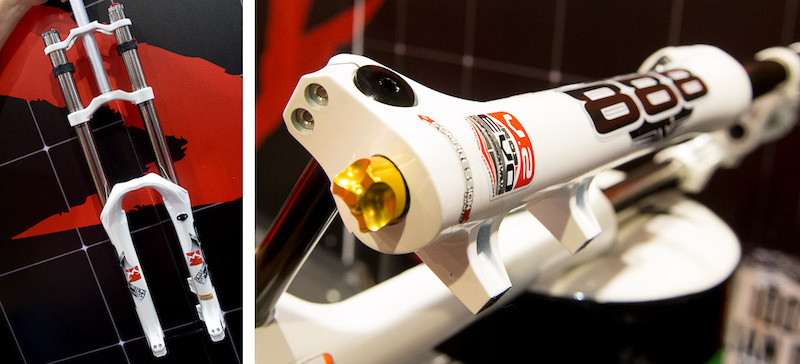 Marzocchi's 888 and a new DH fork?
With a total of thirteen forks in their catalogue, Marzocchi has a trimmer, more focused suspension lineup for 2013. Some of you will be disappointed to learn that the 66 range has been dropped, although three variations of the venerable 888 are still present - we can't picture the Italian brand without also picturing their long-standing, 200mm travel DH fork. The 888 RC3 EVO V.2 Titanium tops the range, with both a titanium coil spring and titanium hardware from stock. Externally adjustable rebound, low-speed compression, high-speed compression, and volume allow the user to dial the fork to their liking, and its nickel-treated 38mm stanchions look slick as snot.
While 2013 looks to be a rebuilding year for Marzocchi, there are whisperings of an entirely new downhill fork to be debuted within the next two seasons. No, it most certainly will not be a re-released Shiver, despite what we were told last year, but will actually be a right-side-up fork that utilizes a new damper system. Word is that it won't be replacing the 888, but rather slot above it in their fork hierarchy. Marzocchi isn't sharing any details beyond those facts, but we're eager to see the approach they take with the new fork.
www.marzocchi.com