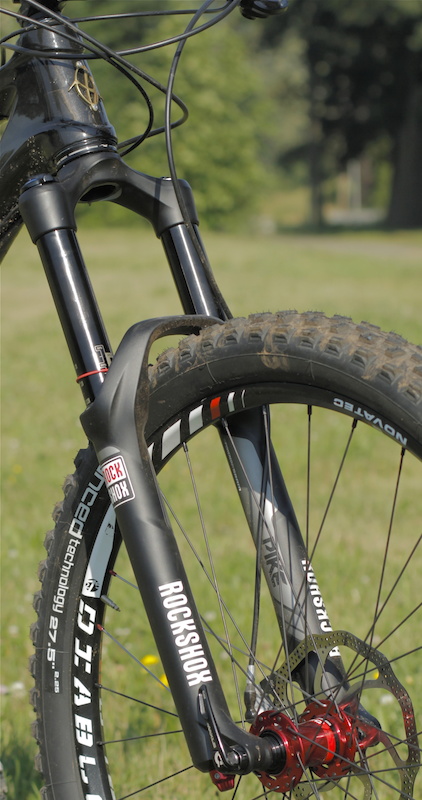 Available in a number of different travel and wheel size variations - our test fork is the Solo Air RCT3 model for 27.5'' wheels - RockShox's new Pike fork is aimed squarely at the trail/all-mountain segment. The Pike name might be familiar to riders who have been around for a few years, but the fork is entirely new both inside and out. Our 27.5'' wheel compatible Pike features 150mm of travel via RockShox's Solo Air spring (
30mm of travel adjustment is possible by way of their Dual Air spring system found on other models
), and like all of the Pike forks, it utilizes their brand new and highly touted Charger damper instead of the long standing Mission Control unit found in their BoXXer and Lyrik offerings. That will change in the future, though, with the Charger damper being spotted in BlackBox-spec BoXXer forks at recent World Cup races, meaning that we'll likely soon see it used across the board on RockShox's high-end products. Externally, the fork's chassis makes use of 35mm stanchions that receive a hard anodized black finish (
this is different from the BlackBox-only DLC or limited BlackGold treatment
), and sturdy looking lowers that feature more material on the disc side where the forces are higher. Casting details also include slightly less magnesium on the damper side as it does not require the same volume as the spring leg, shaving further grams, and a redesigned and much sturdier 15mm Maxle Lite thru-axle.
RockShox Pike Solo Air RCT3 Details
• Intended use: trail/all-mountain
• Travel: 150mm
• Wheel size: 27.5''
• New Charger damper (
closed, serviceable
)
• External adjustments: rebound, low-speed compression, pedal assist
• 35mm stanchions w/ black hard anodizing
• Redesigned 15mm Maxle Lite axle (
no 20mm option
)
• Steerer: taper only
• Colours: black, white
• Weight: 1861g/4.10lb
• Availability: June, 2013
• MSRP: $1,005 USD (
other models: $980 - $1085 USD
)
Charger Damper
RockShox's previous damper design utilized an emulsion-based layout that made allowances for air in the system, with the air gap acting as a compensator for shaft displacement as the fork was compressed, and this includes their high-end Mission Control damper that they use in their BoXXer and Lyrik forks. The reason for the air is that oil does does not compress, meaning that the fork would not be able to absorb impacts if the leg or cartridge body were only full of oil. This design is often simpler but can mean that the oil and air can mix enough to cause the resulting air bubbles to pass through the damping circuits, resulting in a loss of damping and control.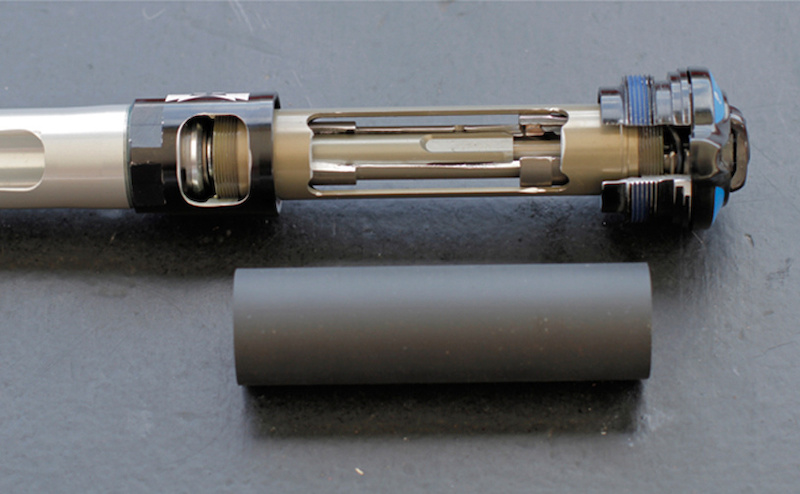 However, a closed and pressurized damper like the Charger system is completely full of oil and has essentially no air within it, meaning that there is far less chance of it foaming during hard, extended use. How does the damper compress if it is completely full of oil? In order for a closed damper to work, it must employ some sort of compensator that allows for expansion under compression - picture the internal floating piston in the piggyback of a rear shock that pushes against the air trapped on the opposite side of the oil, thereby allowing for displacement. Rather than an IFP, the Charger damper uses an extruded rubber bladder to accomplish the exact
same task, with the bladder expanding as the damper shaft travels into the cartridge as the fork compresses. This is far from a new idea, but it is one that makes a lot of sense within a fork because a bladder does not present any of the friction and packaging issues of an IFP design.
RockShox isn't claiming that the concept behind the Charger damper is new - they are very aware that bladders have been used in FOX's FIT cartridges for years, as well as squeezed within the piggyback of many moto shocks - but they have gone to great lengths to improve on the design. Reliability was paramount during development, we were told, and it is for this reason that they chose to go with an extrusion process rather than molding to manufacture the damper's bladder. Their thinking is that molding results in seams and geometry changes in the bladder that can lead to weak points, whereas an extrusion technique produces a long and seam-free section of rubber tubing that is then cut to the correct length. When asked how long a rider could expect the bladder to last, RockShox product manager Jeremiah Boobar answered with "
years.
"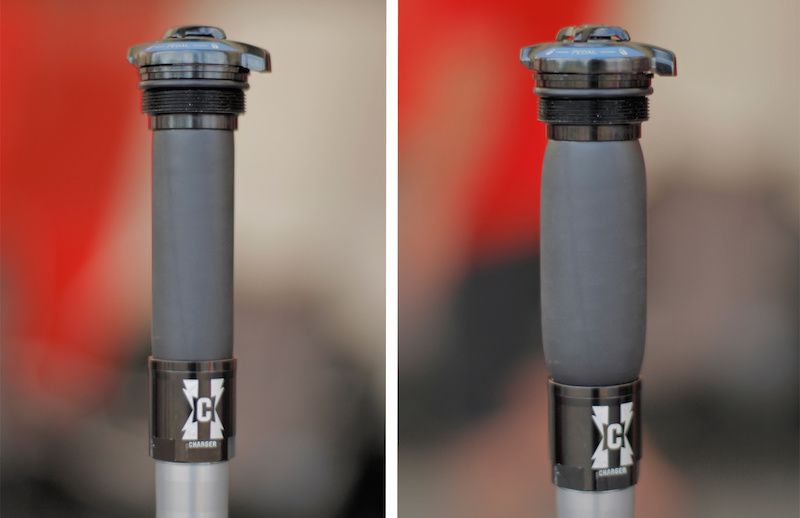 The bladder at rest when the fork is fully extended (left), and the bladder expanded when the fork is compressed (right)
Simplified Air Spring
All Pike models will be air sprung, with riders able to choose from either a Dual Position Air (DPA) system that allows for 30mm of travel adjustment by way of simplified internals compared to previous iterations, or the fixed-travel Solo Air option that is tested here for those who don't feel the need to lower the front of their bike for climbing or tamer terrain. The spring rate on all versions of the Pike can be tuned by way of RockShox's 'Bottomless Tokens', plastic spacers that are threaded by hand into the underside of the top cap. Multiple Bottomless Tokens can be stacked up in order to increase the progressiveness of the fork throughout its travel.

Some Pike models use RockShox's Dual Position Air travel adjust system (left), although our test fork employs their non-adjustable Solo Air spring. Volume spacers (right) can be used to adjust the fork's progression, if required.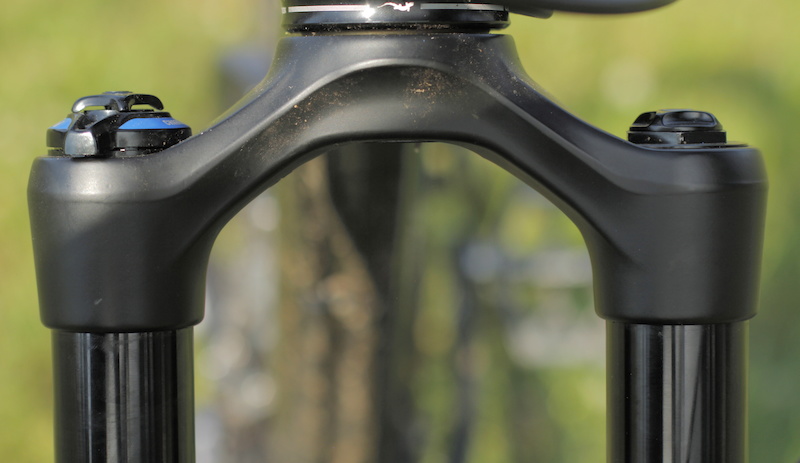 New Chassis
The Pike's Charger damper isn't the only thing to talk about, though, with it sitting inside of a completely new fork chassis that features 35mm stanchions, a new crown and steerer assembly, and impressively detailed lowers that contribute to the fork's relatively light 4.05lb weight. A revised 15mm Maxle Lite ties the legs together, with it forgoing the sometimes fragile lever catch of the original design. While the previous version depended on expansion to tighten up, the new axle's simpler thread-in and clamp system uses compression to accomplish the same task. Clocking the
quick release lever to the proper angle is done by removing the axle from the fork, pushing the lever-end into the axle, and turning until it sits in the proper place, a job that should only need to be done once. The new lowers are also home to simpler fork seals that combine both dust and oil duties into one single-lip unit, something that is possible thanks to the new closed Charger damper cartridge that separates damping and lubrication oils.
Sag gradients on the right side stanchion allow for quick and easy spring rate setup. Compression adjustments are made at the top of the right fork leg, with the large dial offering full open, pedal, and lock settings. The smaller inner dial adjusts the amount of low-speed compression damping when the fork is set to full-open, and low-speed rebound is tuned via the red aluminum knob at the bottom of the same leg. The dial is captured, meaning that it can't rattle out during a ride like as on some older RockShox forks, and its detent ball bearing and spring are also trapped within the dial for the same reason.

The Pike's new Maxle Lite 15mm thru-axle looks much sturdier than the older expansion dependent design.
---
Performance
One thing became clear even before we hit the dirt with the new Pike under us: the fork is strikingly smooth at the top of its stroke. That slippery feel is also apparent when the fork changes direction in its travel, moving from compression to rebound, and certainly added to the Pike's animated ride. There are a few things that contribute to this, but RockShox's new single-lip seals are likely the biggest factor - previous forks used a more traditional dual dust and oil seal layout - and the action is very much akin to an open bath fork. While the fork's stiction-free stroke might not carry as much weight as a dialled spring curve or well behaved damper, the smoothness of the Pike, even when brand new, was a sign that we should be expecting good things on the trail.
While we've often found manufacturer's recommended air pressure settings to be well off for real world use by a competent rider, and that's including previous RockShox forks, the pressure chart on the Pike's left leg turned out to be close to spot on. At 170lb full geared up, we began with 75psi (
RockShox says that 65 - 75psi is ideal for a 160 - 180lb rider
) pumped into our Solo Air spring, and actually ended up dropping that down by 5psi, not something that we often find ourselves doing with an air sprung fork. We believe that the Pike's Charger damper, with its ability to properly control the fork's compression stroke, is one of the major reasons for the slightly lower air pressure than we were expecting to have to use, as well as RockShox's spring rate that ramps up just right when pushing the fork hard. In fact, we didn't find the need to use RockShox's 'Bottomless Token' volume spacers, which was surprising given that we tested the fork on relatively steep terrain with some good sized impacts.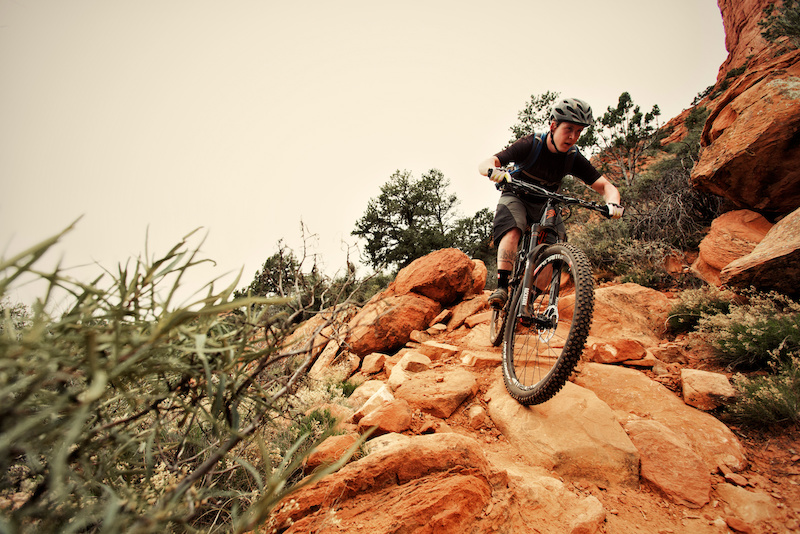 The chunkier, the better. The Pike dealt with everything that we threw at it in an impressively controlled manner. Photo: Adrian Marcoux
It is clear that RockShox has been listening over the last few years. The Pike's Charger damper offers a supportive feel that doesn't translate to harshness when the rider isn't charging hard, somehow striking a great balance for those times when you are really on it, but also for days when you are dialled back a bit. This aligns with our earlier impressions of the Pike when we first rode it in Sedona, Arizona, with it continuing to impress us on our home terrain in southwestern B.C.. Low-speed compression moments - rolling down a steep rockface, landing on a nice transition, and heavy braking - all showed that the fork remained very composed and stable, leaving both more travel available for when it was needed and also preserving the geometry of our Ibis HDR test bike. We found that it was possible to dial in a bit too much low-speed compression via the dial atop the right fork leg, though, and that six clicks out of twelve was more than enough for our liking. Even with it backed completely off, there was still a considerable amount of control.
The Pike's capabilities when ridden over fast, rough ground were a revelation, with it offering a sense of calmness usually reserved for forks sporting an extra 50mm of travel. Let's not get too carried away, though, because the Pike doesn't pretend to be anything close to a true downhill fork, but the level of control on tap from the Charger damper is like nothing we have felt before from fork in this travel bracket. Controlled and relaxed, it did well to take out much of the harsh spiking that we would expect to upset the bike, and the interesting thing is that it did it in an very uncompromising way. What we mean by that is that setting up a fork to perform well in one or two aspects can be pretty straightforward, but you will often sacrifice performance in other aspects to get what you're looking for. We didn't see that imbalance with the Pike, with it able to level out everything from small chatter, fast and hard repeat hits, and large bottom-out impacts.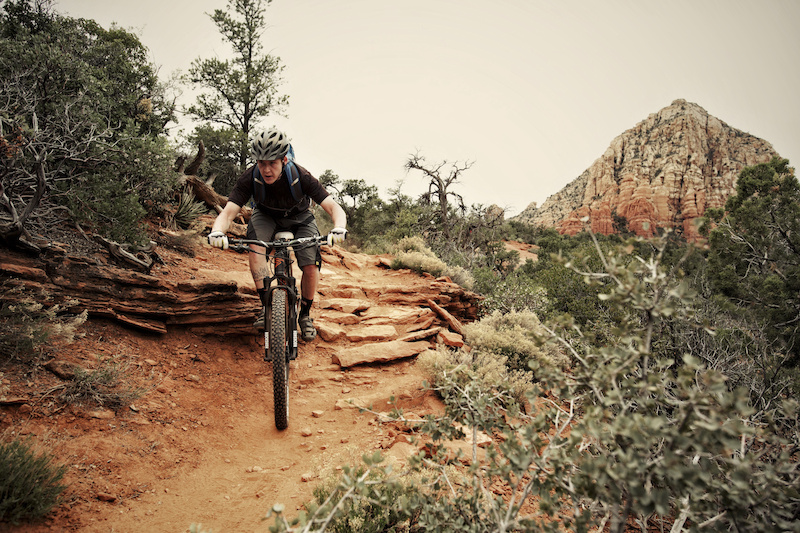 What impressed us most was the fork's ability to be set up to iron out not only the roughest sections of trail, but also tamer bits that we might have expected it to feel harsh on. Photo: Adrian Marcoux
Our Solo Air Pike doesn't feature the 30mm of adjustable travel of the Dual Position Air (
Levy prefers the set and forget approach - ed.
), but its three-way adjustable compression damper atop the right leg allowed us to firm up the fork's stroke for when we were faced with a commute to the mountain or a long access road climb to get to the goods. While the low-speed compression dial controls the amount of damping when set to the full open position, the larger dial underneath offers two more options: pedal and lockout. We didn't get much use from the prior though, preferring to simply lock out the fork's travel for any extended, smooth climbing.
While we could ramble on and on about how well the Pike's damper performed, the fork's revised Maxle Lite axle is also a huge improvement, especially for the more ham fisted home mechanics out there. No longer are riders forced to leverage the Maxle lever against the thin outer walls of the older axle's lever catch, a setup that often led to damage when a rider either over-tightened the axle or was in a rush and didn't have the lever fully engaged in its slot. The Pike's Maxle Lite does away with all that, now being a much more solid feeling thread-in and clamp design instead of the previous expansion dependent design.
Much to many riders' protests, the 20mm axle featured on many mid-travel forks from years past won't be making a comeback anytime soon, although there is still a clamor when a new all-mountain or trail fork is released with a 15mm thru-axle. This was true of the initial Pike launch a few months ago, with many comments centered on the fork's 15mm axle. While we would be inclined to agree that 20mm across the board does make a lot of sense, we have to admit to the Pike feeling as rigid as we would ever require from a fork of its travel. In fact, it can boast of having a much more torsionally rigid chassis overall than a 150mm travel Revelation with a 20mm thru-axle, another fork that we've put countless hours of trail time on. Cross-compatibility with other wheelsets in your stable of bike parts might be a whole other argument, but rigidity is the sum of a fork's entire chassis, not just its axle, and the Pike's crown, lowers, and 35mm stanchions offer more than enough for any rider, 15mm axle included.
Issues
We have zero complaints at this point in our time aboard the new Pike, with it performing well in all regards. Having said that, the key to the fork's success will be RockShox's ability to produce a consistently reliable product that won't give consumers trouble a year or two down the road. RockShox is claiming that the Charger damper requires an impressively lax 200 hour service interval (
they say 100 hours for BoXXer damper
), and that the design's extruded bladder should be essentially trouble-free for a very, very long time. If the Pike's longterm reliability can match its performance, RockShox will have hit a home run.
Pinkbike's take:
The new Pike ticks all of the boxes when it comes to outright performance: a dialled spring curve, plenty of adjustability, and a damper that offers incredible performance for both a pro-level rider and a weekend warrior out for a casual rip. Factor in both its weight and overall chassis rigidity and you have a fork that we believe is best in class.

- Mike Levy
www.sram.com/rockshox