ELEMENT
B.C. Edition
970 RSL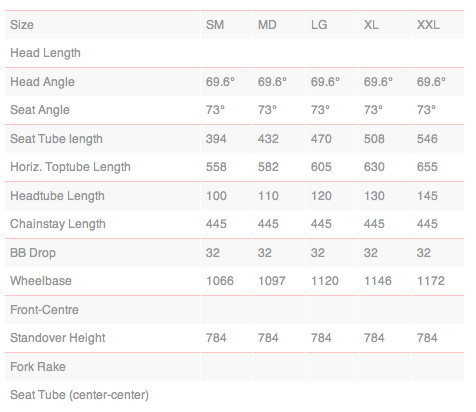 Element 970 B.C. Edition details:

• Intended use: cross-country/trail
• Rear wheel travel: 95mm
• C13 Hi Mod Carbon Smoothwall monocoque front triangle
• Aluminum chain stays
• ABC (Angular Bushing Concept ) pivots
• Tapered head tube
• E-Thru 12 x 142mm rear axle
• Internal cable routing for shifting, dropper post
• BB-92 bottom bracket shell
• Sizing: S - 2XL
• MSRP: $5,199 USD
With 95mm of rear wheel travel and purebred cross-country feel, Rocky Mountain's 29"-wheeled Element platform caters to riders who might find themselves either toeing the start line of a cross-country race or out doing intervals to prepare for said cross-country race. There is one exception to that statement, though, with the Element 970 B.C. Edition muddying the waters between tradition and a new-school train of thought. The bike, which is assembled around the same carbon fiber front triangle as the 999 RSL mated to aluminum chain and seat stays, utilizes a unique component spec that, according to Rocky Mountain, ''
reflects how some Rocky employees and friends of ours in Vancouver would set up their race bikes
''. B.C. is one of the few locations in the world where many cross-country riders choose to run dropper posts, so that is exactly what you'll find on the Element 970 B.C. Edition, with a RockShox Reverb fitted as stock equipment. A 120mm travel FOX 32 fork can be found up front, giving the bike an extra 20mm of forgiveness compared to the standard Element 29 RSLs, further enforcing the bike's ambiguous personality. She is going to weigh more than the other models in the Element 29 RSL family, but the $5,199 USD 970 B.C. Edition might be just the ticket for those who stress the importance of enjoying both the pain of the climb and the joy of dropping their ridding buddies on the descents.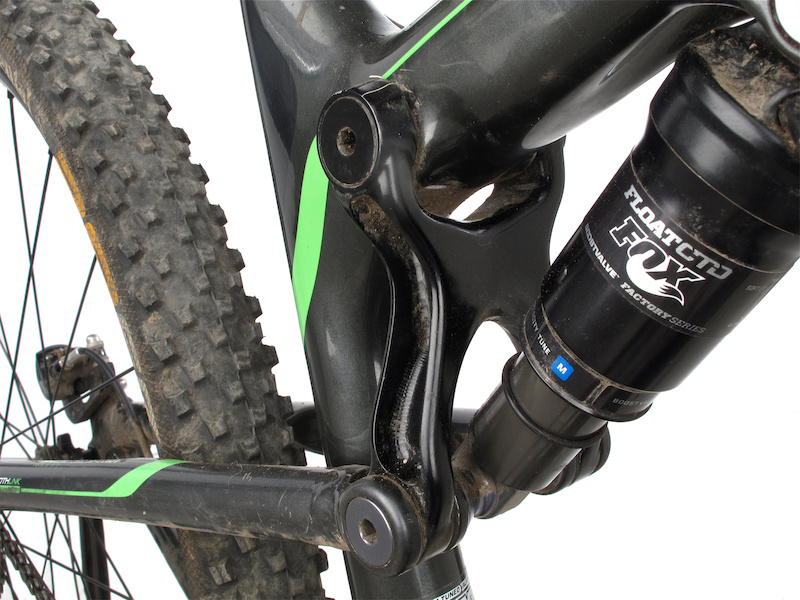 SmoothLink suspension
The Element utilizes Rocky Mountain's SmoothLink suspension layout, the same system as employed on their longer-legged bikes, but optimized for the Element's shorter travel and cross-country intentions. The main talking point of the design can be seen at the dropout pivot (
pictured above
) that has been placed 10mm above the axle. Rocky Mountain says that this ensures that, if one were to draw a straight line through the main pivot to the rear pivot, they would find that it sits above the rear axle throughout the bike's travel. Why does that matter? "
The lower linkage member is virtually parallel to the Average Chain Torque Line (ACTL ), at all points of travel. This is the key to bob-free suspension, since the two are parallel, the chain tension cannot act on the suspension.
'' Basically, the claim is that they have been able to neutralize chain tension so that it has little to no effect on the bike's suspension, thereby allowing the rear end to remain active and supple when on the gas. This is an especially important trait for a bike such as the Element given that it has just 95mm of travel out back - with a relatively small amount of suspension, it has to be working well at all times.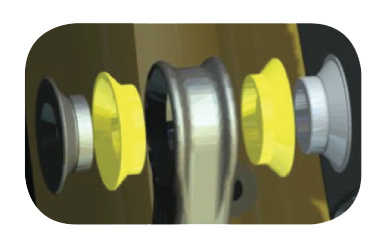 ABC pivots
When it comes to suspension pivots, sealed bearings are the go-to method for most companies. And for good reason; they can last many seasons of abuse while remaining both smooth and noise-free. If you've been riding full-suspension bikes since the early 2000's, you'll likely remember the alternative: those cheesy bushings that would often wear down to nothing multiple times during a single year, not to mention the creaking and groaning they could emit if not looked after. With those memories firmly lodged in the heads of many riders, it may surprise you that Rocky Mountain would choose to use bushings at some of the Element's suspension pivots. Thankfully, these are far different than what was employed in the past. Consisting of two angled contact surface polymer bushings and tapered aluminum hardware, the ABC pivots are claimed to provide a much more rigid interface than what a sealed bearing could ever dream of, as well as saving a purported 120 grams per bike over a standard bearing layout. ABC pivots are used at the dropout and rocker arm locations, with traditional sealed bearings still being employed at the main pivot location.
Clean cables
For a bike with a dropper post and provision for a cable activated rear shock lockout, the Element has a remarkably clean appearance. Its streamlined look is thanks to internally routed lines, with cable entry ports just aft of the head tube, and exit points hidden under the bottom bracket and the top tube. Both the front and rear derailleur emerge from under the B.B. via an aluminum plug that can be pulled out to make cable replacement a simple task - no cursing as you try to feed the new cable through a tiny opening at the opposite end. The Element 970 B.C. Edition's Reverb seat post has its hydraulic line routed through the top tube and out just ahead of the forward shock mount. Other than the rear brake, there are no guides or housing stops to route the lines externally.
Specifications
Release Date
2013
Price
$5199
Travel
95
Rear Shock
Fox Float CTD Custom Trail Valved
Fork
Fox 32 TALAS 29 120 FIT CTD
Headset
Cane Creek Forty Series
Cassette
SRAM PG-1070 11-36T 10spd
Crankarms
Race Face Turbine 170-175mm 42/32/24T 3x10spd
Bottom Bracket
Race Face Press Fit Team XC
Rear Derailleur
SRAM X9 Type 2 All Mountain 10spd
Chain
SRAM PC-1071 10spd
Front Derailleur
Shimano SLX E Mount 3x10spd
Shifter Pods
SRAM X9 MatchMaker Triggers 3x10spd
Handlebar
Race Face Turbine Flat Wide Ø31.8mm x 700mm x 9° Sweep
Stem
Race Face Turbine
Brakes
Avid Elixir 9
Hubs
DT Swiss
Spokes
1.6 straight pull
Rim
DT Swiss X 1.6 Tubeless Ready
Tires
Continental X King Folding 29
Seat
Rocky Mountain XC Light
Seatpost
RockShox Reverb
---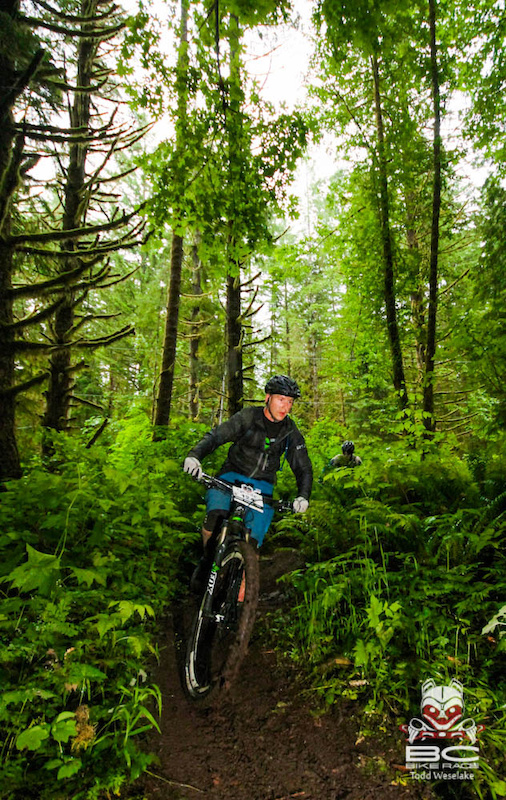 Element 970 B.C. Edition does the BCBR
The process involved with testing a bike usually goes something like this: we'll make some setup and suspension changes after receiving the bike, then head to the mountain for a few 'get to know each other' rides before settling in for the long haul together, followed by some big days on familiar terrain. By the end of the program we'll have put quite a few miles on the bike and will come away from it all with a good idea of whether it's a winner or a 'binner.
Our process was quite different with Rocky's Element 970 B.C. Edition. Our introduction turned out to be the 54km-long first stage of the epic B.C. Bike Race, a cross-country stage race that spans seven days on some of the most technical terrain in the province. We rode the bike throughout the entire event, averaging more than 50km per day, and then brought it home with us to throw down on our local trails. A trial by fire, we knew that it wouldn't take long to determine whether or not we felt comfortable on the B.C. inspired Element.
Climbing
While the Element 970 B.C. Edition comes stock with a dropper post and a longer stroke, 120mm travel FOX fork, it is still a cross-country bike at heart. With this in mind, it came as no surprise that the carbon machine ascends with zeal. Measuring just under 30% sag on the Float rear shock, the bike felt firm and responsive enough that we only ever reached for the shock's blue, ride-firming CTD lever when facing a long gravel or paved climb. Even if the Element had come equipped with a remote trigger to control the CTD function, we doubt that we would have used it.
The bike's sporty-feeling suspension allowed us to stand up and hammer without feeling as if we had our feet strapped into a pair of moon boots, but it was the Element's relatively short 445mm chain stays that really gave the bike its get-up-and-go spirit. The rear end consistently found traction (
despite the questionable Continental X King rear tire
), a trait that was apparent when forced out of the saddle to crest a steep, loose pitch. Not coincidentally, those were the same sections that we found ourselves thanking Rocky for spec'ing the Race Face Turbine triple ring crankset - we are fond of both dual and single-ring setups, but the week-long BCBR event showed us that there is still a time and place for three chain rings, ego be damned.
Descending
So, is the Element 970 B.C. Edition just a 29er cross-country bike with a 120mm travel fork fitted? Hardly. Like other machines, the Element is the sum of both its components and its geometry, and Rocky has the mix just right with the B.C. Edition. The bike is like that one friend you have who, no matter how dire the situation is, manages to make you give up a laugh. Yes, it is a 29"-wheeled cross-country bike, but it's a 29"-wheeled cross-country bike that wants nothing more than to be jamming along a technical trail with its front tire in the air for extended periods of time. A manual here, popping off of a root there; it is far more capable than its numbers suggest. When the time comes to stop playing and start charging, the bike is still there for you. In fact, it seems to reward aggression, a trait that isn't uncommon among 29ers. It's happy carrying speed through corners, but the bike felt just as at home when asking the rear end to step out to square off the same corner - the Element doesn't care how you do it.
Swapping between a longer-travel trail bike and the Element certainly reveals that having under 4" of travel does have its drawbacks, that much is apparent, but it's what Rocky has done with that travel that has us so impressed with the bike. Even so, 95mm is 95mm, no matter what the quality is, and it's when covering fast, rough terrain, you'll be reminded that the Element 970 B.C. Edition has a foot firmly planted in the cross-country world. The active rear end certainly helps, but be prepared to work for your speed on such sections.
Other Ride Notes
• The RockShox Reverb post adds another dimension to the bike's performance. No, a dropper post isn't required to ride a mountain bike, but it sure as hell adds to the enjoyment level. Kudos go out to Rocky Mountain for spec'ing it as stock equipment.
• The bike's Race Face Turbine crankset spun impressively smooth throughout our time on them. This includes a rather wet BCBR event, countless washings with the jet washer, and zero TLC from us - the best Press Fit bottom bracket in the biz. Shifting across the three rings was on par with the big names as well.
• We usually have nothing but good things to say about DT Swiss' wheelsets, but that isn't the case on this go-around. The Element's rear wheel bought the farm after giving no hint of its coming demise, losing nearly all spoke tension in one catastrophic moment. Given our otherwise nothing but good experiences with their wheelsets, we'll put this one down to bad luck.
• Fancy yourself as a hard-charging rider who likes to hang it out? If so, do yourself a favour and ditch the bike's Continental X King tires. The Element's capabilities make it deserving of something with more bite.
• We feel like we're beating a dead horse when we talk about FOX's CTD-equipped forks, but a bike's front suspension plays such a vital role that we can't not mention it. We were forced to run much higher than recommended air pressure in order to hold the front end up under braking or on steep sections, and the 'Descend' mode employs so little compression damping that it will be near-useless under an aggressive rider. We left the fork in the 'Trail' mode 90 percent of the time.
• How did those bushing pivots hold up? Just fine, actually, with zero noise and zero play.
Pinkbike's take:
| | |
| --- | --- |
| | The Element 970 B.C. Edition is a bit of an anomaly in the short-travel 29er world. It's a fun bike that will allow a rider to cover an immense amount of trail while also getting the most out of the singletrack that they've worked so hard to get to. A disclaimer applies here, though, because unlike a slacker, longer travel trail bike, the 970 B.C. Edition isn't going to bridge the gap that only hard-earned skill can fill, but it will inspire well-rounded riders to look at the trail in a different way. Despite its name, you most certainly don't have to live in B.C. to appreciate the bike either, with it likely being a blast anywhere and everywhere, but the gnarliest of terrain.- Mike Levy |
www.bikes.com