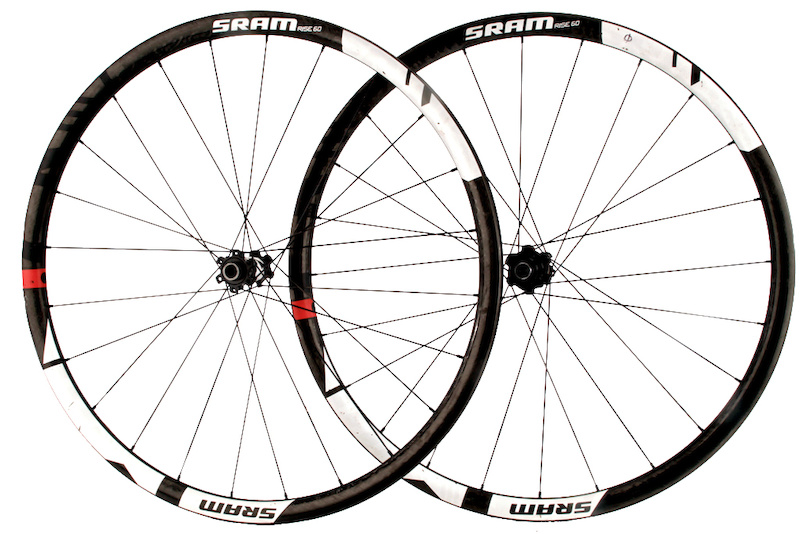 SRAM's high-end Rise 60 wheels employ a carbon fiber rim, bladed spokes, and sealed bearing hubs.
SRAM Rise 60 wheelset details:
- UD and woven carbon fiber rim
- 19mm internal width, 26mm height
- Bladed Sapim CX-Ray spokes
- Aluminum nipples with nylon locking inserts
- Aluminum freehub body
- Front hub: QR or 15mm thru-axle, rear hub: QR or 12 x 142mm
- Weight: 1530 (
claimed
), 1600 (
actual
)
- Available in both 26" and 29" (
tested
)
- MSRP: $2,000 USD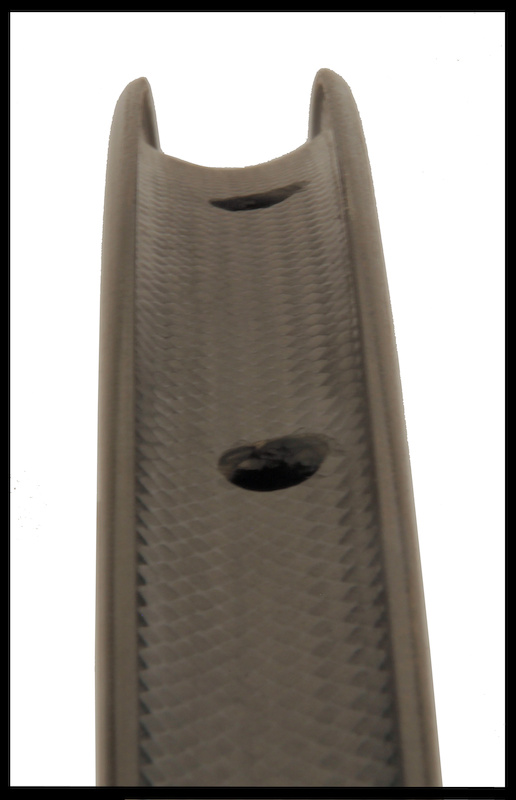 The Details
SRAM set out to build a wheelset that offers impressive lateral rigidity without the weight penalty that is usually associated with larger diameter 29" wheels, a design goal that required the use of a carbon fiber rim to achieve. The rim is manufactured using uni-directional carbon for its external shape that gives it a high level of impact strength, combined with a bi-directional carbon weave for the internal construction. SRAM says that the mix of materials and layup has allowed them to tune-in the desired amount on vertical compliance while still allowing the wheels to be laterally stiff. The finished product stands 26mm tall and 27mm wide, with an internal width of 19mm that makes them compatible with tires up to 2.4" wide. The rim bed is drilled to allow the nipples to be put in place, and thus requires some sort of tubeless conversion kit if one wishes to run them without tubes.
The Rise 60 wheels are assembled around large-bodied hubs that are home to sealed bearings - two 6804 bearings in the front hub, two 6902 bearings in the rear hub shell, and three 6802 bearings in the freehub body. Bearing preload is not adjustable, which is a good thing in our mind as it eliminates the chance of over-stressing the bearings, and the axles and hub endcaps utilize a tool-free press fit that allows freehub maintenance or axle conversions to be performed sans tools. The front hub can be swapped between a standard QR dropout configuration and stiffer 15mm thru-axle setup, while the rear can convert from 135mm QR to 12 x 142mm layout. Interestingly, the rear hub employs endcaps that feature
long overlapping sleeves, thereby offering more support for each axle setup. The aluminum freehub body is home to three pawls, each with three biting edges of their own, that are sprung separately by small leaf springs. A 54 tooth engagement ring works with the three pawls to provide a relatively quick 6.7° engagement angle that limits drivetrain lag during those make it or break it moments on the trail.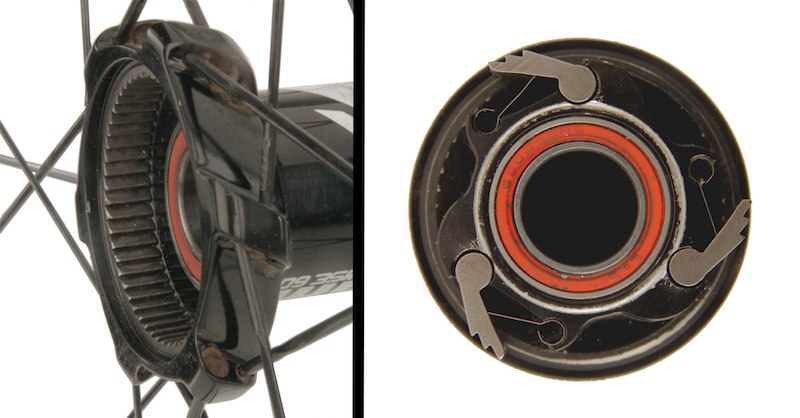 A 54 tooth engagement ring meshes with three pawls to provide fast pick-up.
Tying it all together are 24 straight pull, bladed Sapim CX-Ray spokes that are generally acknowledged by those in the know to be the Gucci of spokes. Going with straight pull spokes means that SRAM can do away with the pesky J-bend found at the hub-end of a traditional spoke, the point where the majority of non-impact spoke failures occur. Straight pull spokes are certainly less common, though, so it might pay dividends to have a few spares in your toolbox. Cleverly, both the front and rear wheels share a single spoke length all around. Aluminum nipples are employed, complete with a nylock inserts in each one to prevent the spoke tension from backing off.
Performance
There are only a few different options when it comes to carbon rimmed 29er wheelsets, but all of them are quite expensive. Enough that SRAM's $2,000 Rise 60 wheels are actually on the lower end of the price scale, believe it or not. Regardless, that is a large amount of money to be spending on a set of wheels, so we would expect them to offer some substantial performance and reliability gains in the real-world, not just on paper. While not an overly fair comparison, we went from a set of 1800 gram, aluminum rimmed 29er wheels straight onto the Rise 60's and found the difference to be, in a word, startling. The wheelset weighed in at 1600 grams on our scale, a fair bit heavier than claimed, but the difference between the standard aluminum wheels and the Rise 60s is mostly down to the lighter weight carbon fiber rim (
although SRAM admits that it is not the lightest carbon rim available
). That lighter rim makes for much less rotational weight, and therefore a bike that rides as if it is much lighter than the scales say. Lively, playful, and responsive are overused words when it comes to product reviews, but they all apply to a bike fitted with the Rise 60 wheelset. Yes, there was only 200+ grams difference, but we have to say that the bike felt significantly more dynamic and sporty than we expected. There is surely more than just lighter weight that is coming into play, though.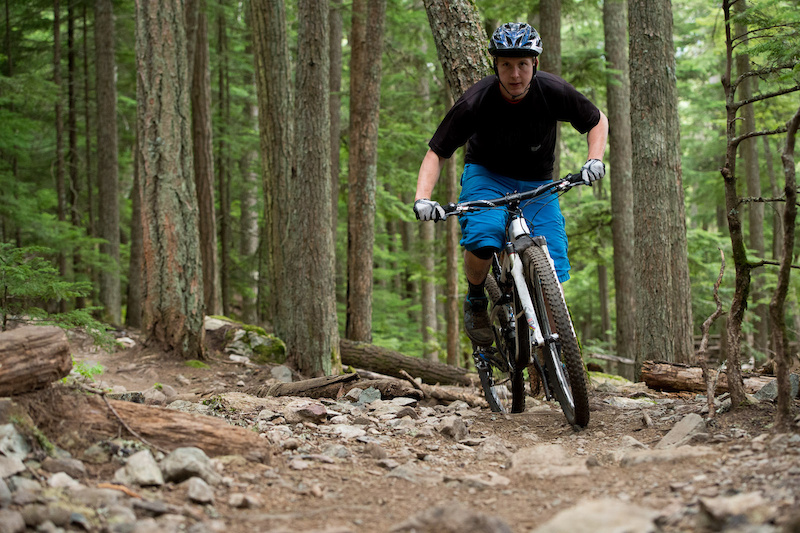 While we wouldn't say that the Rise 60s had us grabbing taller gears on the climbs, they certainly did offer an energetic feel compared to a more standard wheelset.
How a lightweight wheelset affects a bike's performance is well documented, but this attribute is often sacrificed for rigidity. This is especially true when talking about featherweight aluminum rimmed wheelsets, with the rims usually having to sport a very low profile in order for them to shave grams, and therefore that all-important rotational weight. The Rise 60s, and some other carbon rims as well, feature a relatively tall and wide profile that helps them to be surprisingly stiff laterally. Of further benefit is the wheelset's relatively high spoke tension necessitated by the 24 spokes per wheel, 8 less than you'll find on a conventional 32 spoke wheel. Their shape, carbon construction, and high spoke tension makes them not only much stiffer than any aluminum 29er wheelset that we've spent time on, but also lighter. It's hard to beat those facts. What about that vertical compliance that SRAM says they've built-in? Sorry, but we didn't notice the difference between the Rise 60's and other wheels.
We fitted the Rise 60 wheelset with a number of different tires during our time on them, including everything from 2.0" wide, purebred cross-country racing tires to high-volume, 2.4" options, all with no trouble whatsoever. Their 19mm internal width means that we certainly wouldn't go any wider, though, although we can't imagine why a rider using a set of Rise 60 wheels would do such a thing.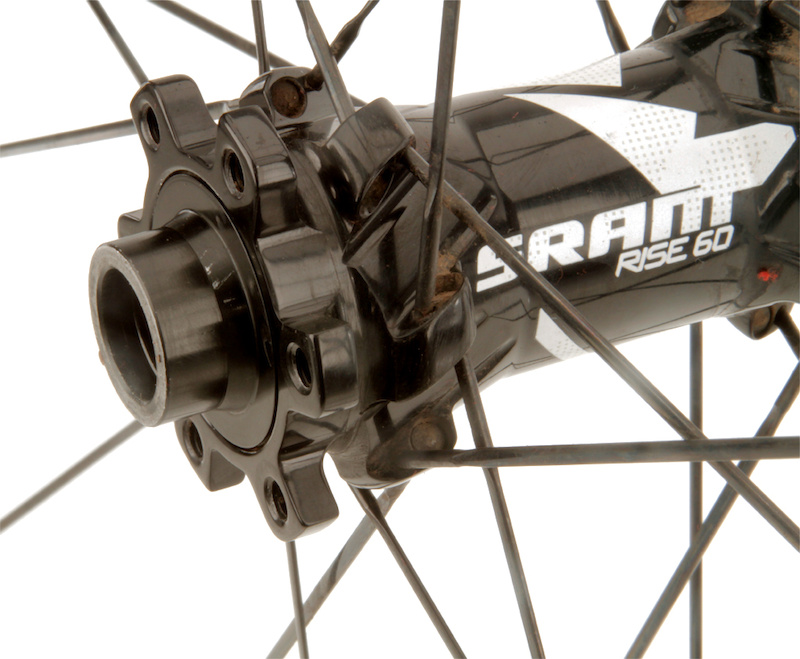 The wheelset's straight pull spokes proved to be trouble free.
The carbon rim also proved to be quite sturdy, shrugging off more abuse than it would likely see under most cross-country riders. Not only did we often run excessively low rear tire pressure, often resulting in hard bottoming of the rear rim on rock edges, but we also rode out of the bush on a flat tire on two occasions. After all of this, along with months and months of regular hard riding, and the rim's bead edges remain dent and ding free. This includes a massive strike to the tall rim sidewall of the rear wheel on a sharp and unmovable rock while riding Utah's Gooseberry trail network last Winter, a hit hard enough that we expected to find some sort of damage to the carbon sidewall - we confess to being somewhat letdown that there was only the smallest of cosmetic marks from the contact. We've seen a few carbon rims from other manufacturers crack at a one or two nipple holes in the past, but to date the Rise 60 rim has had zero impact issues.
While the carbon rims dismissed more abuse than we thought a rim could, they did require a few minor truings during our time on them. The adjustments needed were minor and nothing that we would consider out of the ordinary, but it should be noted that you'll have to use a tool to hold the bladed spokes from twisting as you true the wheels - the aluminum nipples use a nylock insert that keeps them from backing off over time, but it also means that they feel quite stiff when it comes time to turn them. Bearing-wise, the wheels have performed as expected. After over ten months of solid use, including using them through most of the seven day BC Bike Race, we've just recently had to replace the front wheel bearings, with the rear's coming due soon. As with most hubs that use sealed bearings, the job is a simple task that you or your local shop should be able to do relatively quickly. The rear hub's 6.7° engagement figure sounds impressive, but we have to admit that we didn't seem to notice the quick pick-up on the trail when comparing it to slower-reacting hubs.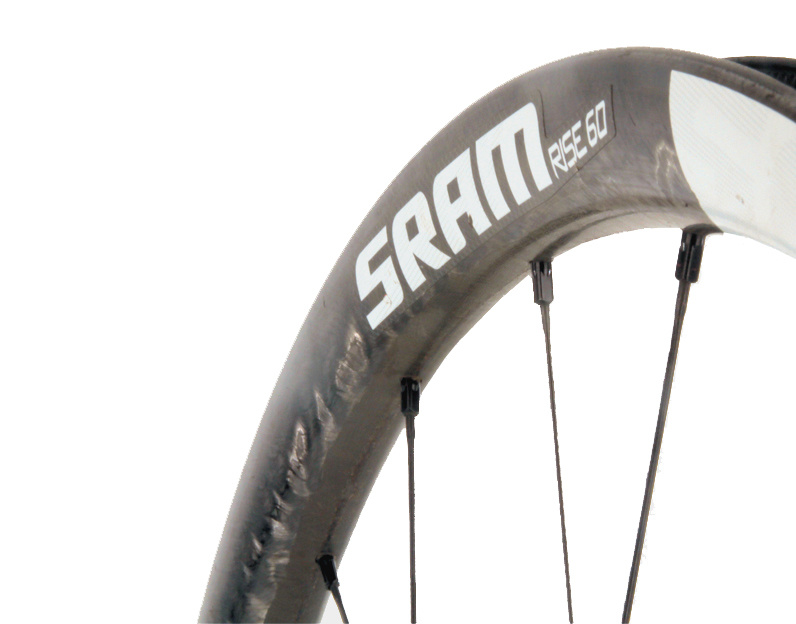 The carbon rims used for the Rise 60 wheelset are incredibly strong and reliable, but we wish performing a tubeless conversion was easier. This has apparently been addressed on newer versions.
Issues
The Rise 60 wheelset certainly added performance to whatever bike we bolted them to, but we did have a major issue in the form of two broken rear axles that took them out of commission until replacement parts could arrive. We'll be the first to admit that we were likely pushing the Rise 60 wheels harder than they were intended to be ridden given their cross-country intentions, and that both failures occurred while using the lighter duty quick-release setup, but that is also looking at the problem through rose-tinted glasses because we aren't the only riders who like to get a bit rowdy on our cross-country bike. Having said that, SRAM is aware of the issue and has made a change to current production axles that sees them feature far more material where the failures have been occurring, which is where the overlap on the two-piece, slip-together axle comes to an end. This change should go a long way to eliminating the problem, and early production wheelsets can be fitted with new axle as well.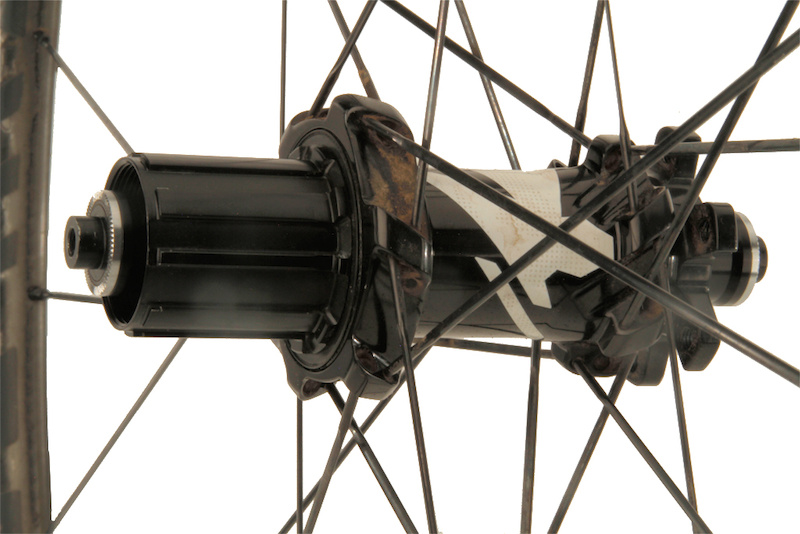 The Rise 60s great performance was let down by reliability issues with the quick-release rear axle.
The other kink that needs pointing out was the difficulty we experienced when it came to setting them up as a tubeless wheelset. We had zero luck getting a number of different tires to seat, including the usually easy-to-tubeless Specialized tires, when the rims were equipped with a standard wrapping of Stan's tubeless rim tape. It took three complete wraps around the rim with Gorilla Tape in order for us to create an interface that would seal reliably, but once seated we never had any issues. The difficulty comes from the Rise 60's rim bed shape that is a touch too deep, thereby not giving the tire's beads an opportunity to create an airtight seal and requiring us to build up the height of the rim bed with multiple layers of tape. SRAM has recently made a running change to the internal shape of the Rise 60's 29" carbon rim profile that produces a shallower rim bed, meaning that it should be far easier for customers and shops to perform a tubeless conversion, although we have yet to carry out this job on the updated rim. Potential Rise 60 buyers should be aware that their taller than average profile means that some tube valve stems may not protrude enough for a mini-pump to get enough purchase.
The 29" Rise 60 wheelset had been advertised as weighing 1420 grams when they were first released but SRAM has revised that number slightly, putting them at 1530 grams. Yes, that is still a very impressive figure for a 29" wheelset, but it is still lower than the 1600 grams that our test wheels came in at. Riders who are thinking about picking up a Rise 60 wheelset for themselves should take note that the 1420 gram weight still showing on the SRAM website has yet to be amended, and that their actual weight is moderately higher.
Pinkbike's take:
| | |
| --- | --- |
| | There is no denying that $2,000 is a lot of money to spend a set of wheels, especially when you consider that many riders pay less than that for their entire bike, but in the rarefied world of carbon wheels it is actually one of the least-pricey options. Just as we've said in the past, a set of carbon-rimmed wheels will drastically improve how your bike performs. It is easy to say that losing an inch or two from your waistline would have the same effect, but that simply isn't true - your bike will handle better with a set of lightweight, carbon wheels bolted to it, no matter what you weigh. The Rise 60s are undoubtedly quite nice, fulfilling much of the performance expectations that come with a $2,000 sticker price, but our early production wheelset's rear axle issues, along with their difficulty when it comes to performing a tubeless conversion, left us feeling a bit unfulfilled. SRAM says that both issues have been remedied on current production versions, which, if true, should make them winners. We'll have a chance to put some longterm test time on the updated Rise 60 wheels, so stay tuned for an updated report in the future. - Mike Levy |
www.sram.com