What is it:
SRAM's X0 drivetrain has been designed to be versatile enough to span the gamut of uses, and true to form, we've seen it mounted on everything from top flight cross-country hardtails to World Cup downhill bikes, all with great success. But SRAM's high end product range is driven by their competition focused BlackBox racing program, a development team consisting of some of the world's top riders who, with the help of SRAM's engineers, are always developing components that are designed to get them over the finish line faster. Consisting of a new rear derailleur, chain guide and a carbon-armed 83mm crankset, SRAM's new X0 DH family is a specialized component range that was born from the BlackBox program and is designed for the very focused world of downhill racing, 4-cross and slalom.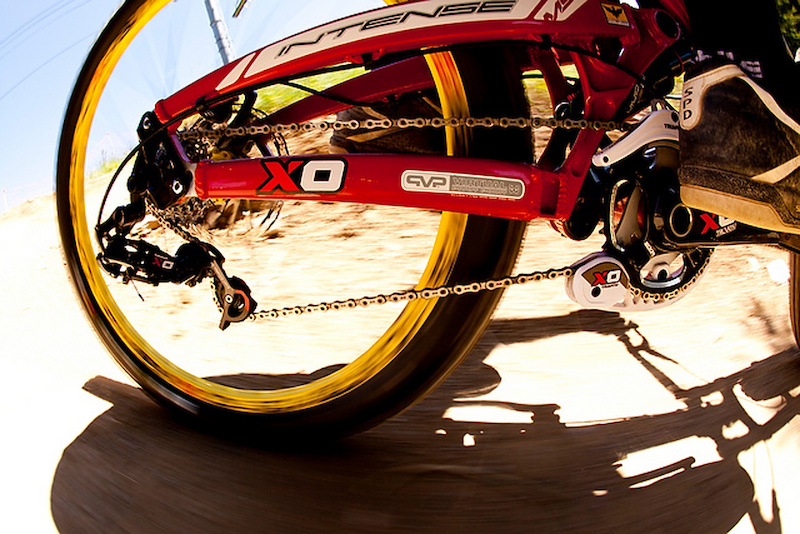 SRAM's X0 DH family consists of a DH specific rear derailleur, chain guide and carbon cranks that use an 83mm spindle.
How is X0 DH different?
The 10 speed X0 DH rear derailleur looks very similar to the standard X0 unit from a distance, and the difference is not easy to spot, save the "DH" moniker on the carbon cage, even when both units are in your hands. But the difference is in the P knuckle - the segment between the cage and parallelogram - which is shorter on the X0 DH derailleur than on the standard version. This seemingly small modification has a drastic effect on how the derailleur functions, allowing the upper pulley wheel to track the tight ratio DH cassettes that racers use closer, which results in more chain wrap, faster shifting and a more reliable setup under demanding conditions. A standard X0 rear derailleur has enough clearance to easily handle today's modern wide range cassettes that feature 36 tooth large cogs, but you'll never find such a wide gearing range on a downhill race bike - they'll usually feature a 26 or 28 tooth cog at the largest position - and while a standard derailleur can and does shift quite well when combined with a tight ratio cassette, getting that upper pulley wheel even closer to the cogs should improve reliability and shift speed, two points that racers are always looking to improve. SRAM's head of drivetrain development, Chris Hilton, expands on the role that the BlackBox program plays in product development:
| | |
| --- | --- |
| | BlackBox is an environment that allows us to test products at the highest level of intended use. Sometimes we are testing products that we intend to move into a production product, as was the case with our X0 DH components. Other times we are simply putting concepts into an arena that allows us to get an elite level view of the performance, durability and usefulness of the idea. For X0 DH we saw a desire from BlackBox to create lighter race bikes and use a high performance 10 speed drive train on downhill race bikes. Steve Peat rode the first prototype 10 speed X0 DH RD in 2009 for the Worlds and won. Sam Hill rode the first prototype X0 DH carbon crank at worlds in 2010 and won. Since those events, we have had a number of prototypes in and out of the BlackBox program to fine tune the product to the production product it represents today. It feels awesome when you can take a 100 percent stock production product, and replace the BlackBox part on a racer like Peat or Fairclough's bike and know it's going to perform. So ultimately, the difference between BlackBox product and production product in this case is just time. Those riders get it before you, but you get the same exact specification, performance, and product that those guys have on their bikes today. Until of course we put more ideas into BlackBox... - Chris Hilton |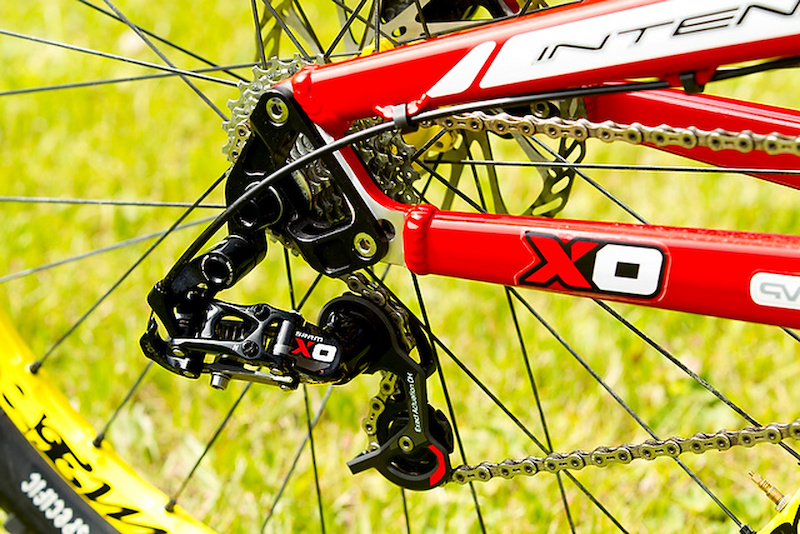 The X0 DH rear derailleur uses the same construction and carbon cage as the standard version, but a shorter P knuckle allows it to track close ratio cassettes closer.
X0 DH rear derailleur details:
- A shorter P knuckle lets the upper pulley wheel track a tight ratio DH cassette closer
- Will work with up to a 28 tooth cog
- Works with any SRAM 10 speed shifter
- Cage length is the same as a standard X0 short cage unit
- 2 graphic colors: New Silver and Red
- 203 grams
- MSRP $234 USD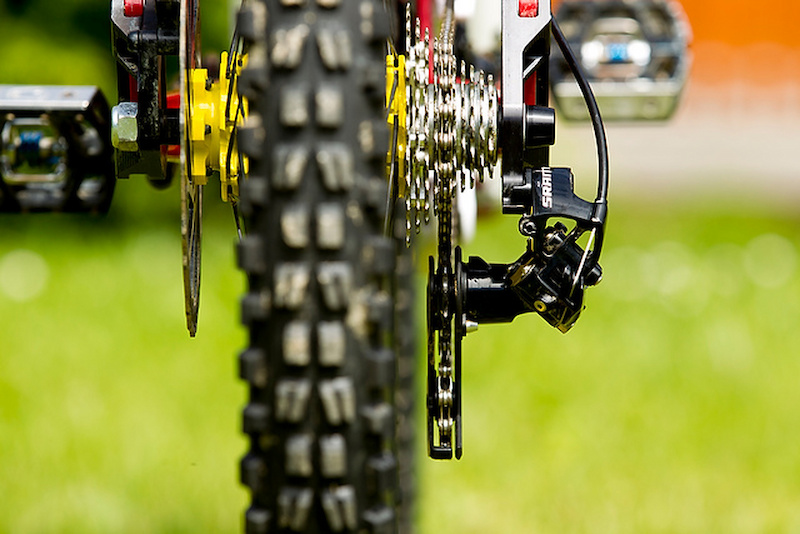 The X0 DH derailleur bolted to the back of a beautiful Intense M9

SRAM's Chris Hilton, along with his team of engineers, has been working on the X0 DH group for many seasons. You're now seeing the finished product of their hard work.
Carbon DH cranks:
While the new rear derailleur is certainly noteworthy, the carbon X0 DH cranks are actually the first DH specific carbon arms that use an 83mm bottom bracket spindle on the market and weigh in at an impressive 750 grams - including the bottom bracket and 36 tooth ring. How different are the X0 DH cranks from the standard X0 arms? The carbon arms themselves, besides now being offered in a 165mm version, are actually the very same as used on the conventional model, but are mated to a longer and burlier 83mm spindle (
a DH strength 73mm spindle is also available
) to allow them to be fitted to the majority of downhill bikes on the market. Again, the BlackBox program played a major role in the X0 DH crankset becoming a reality, with Sam Hill using his BlackBox modified X0 cranks, which were actually a modified standard X0 crankset shortened to 167.5mm, to take gold at the Mont Saint Anne World Championships.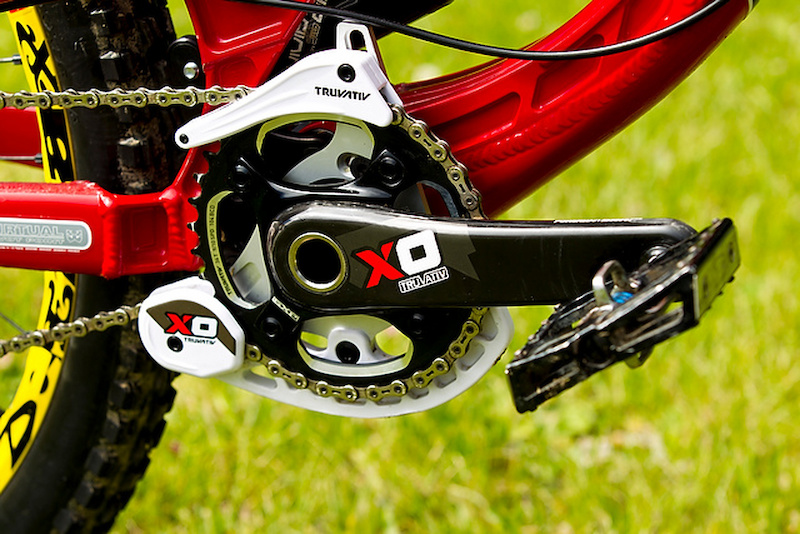 SRAM's X0 DH cranks are the first production downhill cranks made from carbon fiber
X0 DH crankset details:
- Carbon DH crankset intended for downhill racing
- 750 grams (
including GXP83 bottom bracket, 36 tooth ring
)
- Available in 170 and 165mm lengths
- Available in GXP, Press Fit GXP, 73 and 83mm spindles
- 2 graphic colors: New Silver and Red
- MSRP $444 USD (
w/o bottom bracket, including ring
)
Debuted at Sea Otter, the X0 guide has been designed by MRP and is part of the X0 DH family.
Truvativ XO chain guide details:
- Integrated replaceable skid plate design
- Sealed bearing pulley wheel integrated into skid plate
- Aluminum back plate
- Available in BB-Mount, ISCG or ISCG 05 mounting standards
- Models to fit 32-36 tooth rings (
168 grams
and 36-40 tooth rings (
185 grams
)
- Black and white color options
Pinkbike spent six amazing days in Les Gets, France, riding the new X0 DH gear and hanging out with the SRAM crew, including Peaty and Fairclough. Cheese, booze and bikes, all in the French Alps! My X0 DH equipped Mondraker (top right) took the mud and abuse in strike, peforming wonderfully throughout my time on it.

Pinkbike's take:
Downhill racing is arguably the most specialized discipline of our sport and often requires the most specialized equipment as well, with aggressive riders putting demands on their gear that the components would otherwise not see. Pinkbike has to give major props to SRAM for developing a component family, however small the niche, that downhillers have been requesting for years: more reliable shifting that should perform better in race situations, and components that can survive on a DH race bike that are still relatively lightweight.
Visit the
SRAM website
to see their entire lineup.
Photos by Sven Martin