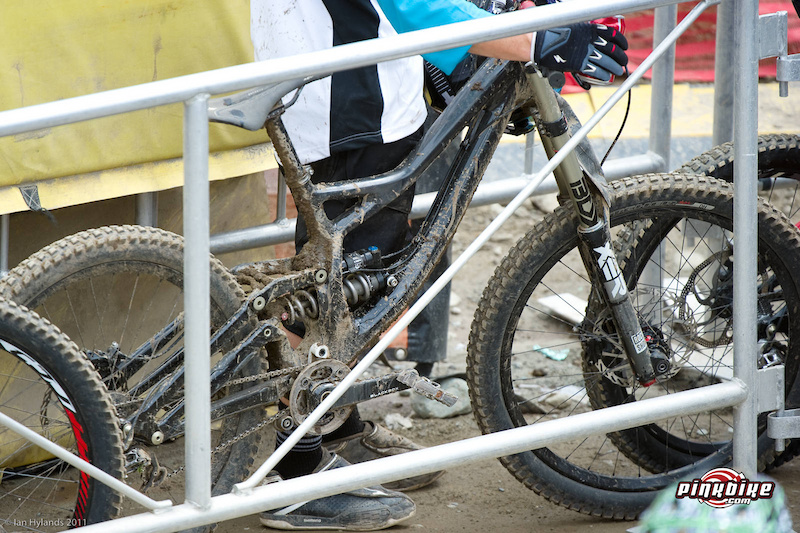 Specialized's long awaited carbon Demo makes an appearance at the Kokanee Crankworx event in Whistler, B.C., flying under the radar of nearly everyone in the lift lineup thanks to its stealth looking black color scheme. The prototype looked like it was being passed between different Specialized engineers and test riders from run to run throughout the day, no doubt to gather as much feedback as possible.

We were quick to ring up Specialized for details of the new machine, but there is little to be learned at this point. Regardless, here is what we can assume:
• It is very likely that the production frame will feature the exact same shape and layout as the prototype above. Why? Carbon molds are very pricey and it is doubtful that Specialized would invest it multiple molds when the frame shown above looks to be at a very refined state and near production.
• The production bike will use an aluminum rear end. Besides the fact that this prototype is sporting the aluminum chain and seat stays, it is generally agreed upon that not only are carbon stays much harder to manufacturer, but they are also very costly to produce. We could be wrong, but we're willing to say that it is unlikely.
• Expect a drastic weight savings over the current aluminum version. Why? Because they have to. Specialized's competition has unveiled carbon bikes over the past few seasons that are not only claimed to be much stronger than their aluminum counter parts, but also drastically lighter, around two full pounds in some cases. Specialized would not be putting the effort in to produce a carbon downhill frame if they also couldn't come up with some substantial weight savings. While we obviously don't know just how much lighter it will be over the present aluminum frame, we'll venture that it must be between 700 and 1000 grams.
• Don't expect any radical changes to the geometry on the new bike. They have worked hard with the Monster Energy - Specialized team to come up with a geometry set that seems to work very well. In fact, the team - Sam, Brendan and Troy - all ride production frames. We believe that the carbon frame will continue to make use of a short 421mm rear end and a low bottom bracket height. Given the rise of headsets that allow riders to adjust the steering to their liking, you can expect the head angle to remain the same as well.
• The bike may be able to be purchased with Cane Creek's much loved Double Barrel rear shock as stock equipment. This one is a bit of a reach, but there is no arguing that the CCDB leads the pack when it comes to damper performance, and if Specialized wants to come to the market swinging, they'll likely at least offer it as an option.
• The new frame will be only nominally more expensive than the current aluminum model. Downhill frames are in no way inexpensive, but the latest carbon models are, somewhat surprisingly, not accompanied by a massive increase in price. Yes, it will be costly, but we'll wager that it will still be priced competitively.

  While it hasn't exactly been a secret that Specialized is working hard to join the carbon downhill bike club, they have done an admirable job of keeping the new machine under wraps while working on its development. There have been no leaked "spy photos", and even the Monster Energy - Specialized team hasn't been spotted testing the new rig, although you can all but guarantee that they've been involved in its evolution. Of course, all of that flies in the face of the hype machine that usually surrounds a major bike's coming out, which is why it came as a bit of a surprise to see the much talked about, but yet to be seen by mere mortals, carbon Demo doing hot laps of the Whistler mountain bike park. The very finished appearance of the frame has us believing that while the bike may still be a ways away from production, it will likely show up under one or all of the Monster Energy - Specialized team riders at an upcoming World Cup race, possibly even the next round in La Bresse, France.
Given the prototype shown here, Specialized must believe that carbon is the future of performance downhill bikes. Do you agree? Has the sight of Specialized's carbon Demo got you thinking? Put those thoughts down below and stay tuned for more information as it becomes available!
Visit the
Specialized website
to see their entire lineup, although you won't find the new carbon Demo there yet!