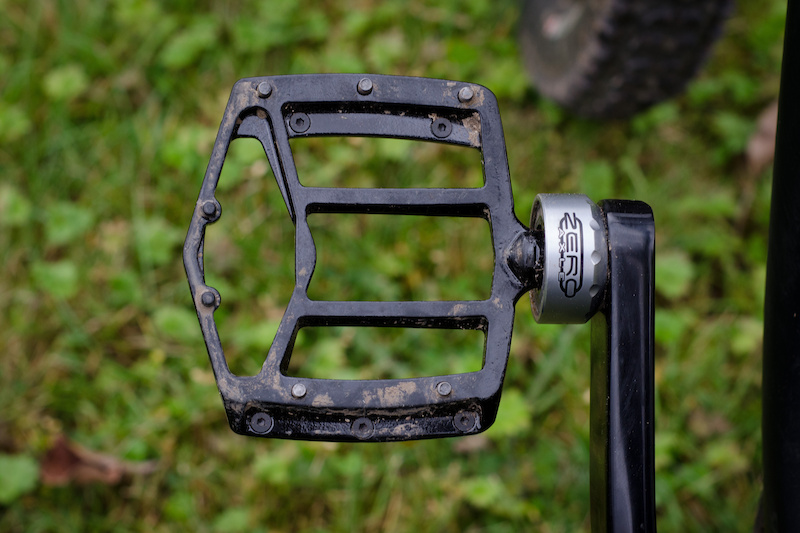 Tioga's 7mm thick MT-ZERO pedals use a thin steel body and massive external bearing to offer unheard of ground clearance.
MT-ZERO pedal details:
- Intended for XC and AM use
- 7mm thick pedal body, 4mm at center
- Investment-cast chromoly platform
- ZEROaxle bearing and housing design
- Concave body
- Seven pins per side (
five replaceable screws, two cast-on pins
)
- Platform and ZEROaxle housing available separately
- Colours: black, white, silver
- Weight: 480g/PR (
actual
)
- MSRP: apprx $100 USD
The Details
Axle-Less Design
Tioga set out to design the thinnest platform pedals on the market, with the result being their 7mm thick MT-ZERO pedals. The usual limiting factor in platform thickness is, of course, bearing and axle size, and we've seen companies resort to smaller and smaller bearings, especially the outboard bearing, in an effort to bring down body height to previously unheard of low measurements. There are even models that have moved to an external bearing at the end of the axle, thereby avoiding being forced to squeeze it inside the platform. One of the major issues with this approach is that the smaller the bearing, the quicker it becomes rough and worn - a problem we've experienced with many of the micro, RC car-sized bearings employed on many current designs. Tioga's engineers took an entirely different approach by removing the axle and outboard bearing entirely and replacing them with a massive external bearing that sits up against the crank arm. This has allowed them to design an extremely thin pedal body that, at just 7mm at its thickest point (
the leading and trailing edges
), trumps all but the crank-specific Flypaper pedal.

The wafer-thin body is contrasted by the large 'ZEROaxle' bearing housing up against the crank arm.
Steel Body
The MT-ZERO's body is so slim that there is no way it could be made from aluminum and stand up to any proper abuse, so Tioga manufactured the platform from investment-cast chromoly. This makes for a heavy-by-today's standards pedal that comes in at 480 grams per set, but remember that hitting a low weight target wasn't Tioga's goal with the MT-ZERO design. The steel body looks quite slender compared to what we're all used to seeing with an aluminum pedal, but it is key to note that it takes less steel than aluminum to create a strong package. The MT-ZERO body measures in at just 7mm thick, tapering down to 4mm at its center. Impressive. There is a chamfered leading edge, some machined pockets here and there that shed a few grams, and two cast-in pins on the outer edge on each side of the platform. Three countersunk screws on the leading edge and two on the trailing provide bite. The bodies can be purchased separately if required.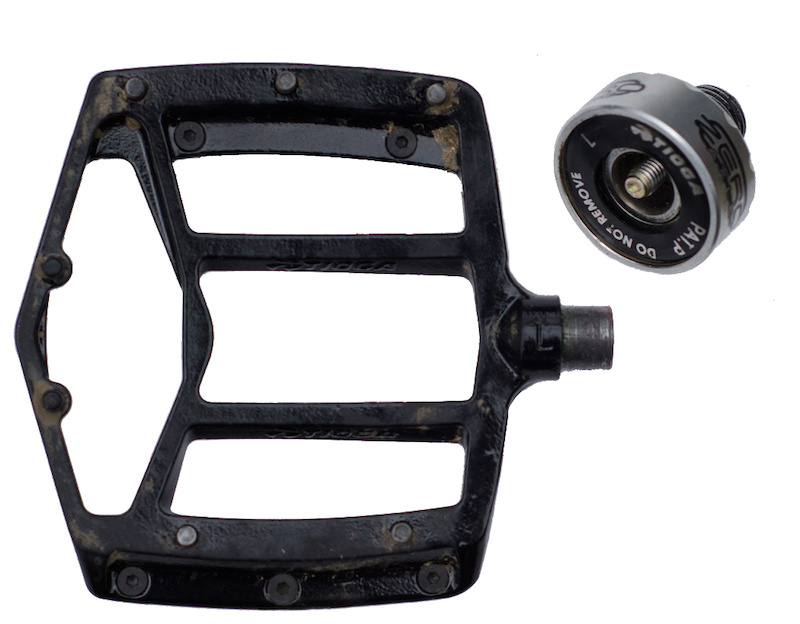 Bearing Housing
The heart of the pedal is the 'ZEROaxle' bearing system that consists of a massive, over-sized bearing pressed into the grey housing. It is this housing that threads into the crank arm, with an M6 hex head screw running through the bearing and threaded into the pedal body. The attachment screw doesn't have to deal with much in the way of load carrying as a burly looking extension on the steel body fits directly into the bearing's inner race. The single large bearing is responsible for the job that would normally be done by at least two bearings (
or bushings
) on a standard pedal, but Tioga is confident that the design can stand up to some serious cross-country and all-mountain use. Interestingly, Tioga doesn't recommend the pedal for pure downhill or freeride-type riding, which is exactly the sort of use that most platform pedal users take part in. Yes, platforms are becoming more common as downhillers hang up their long-travel bikes for capable mid-travel rigs, but Tioga's warning still has us questioning just what market the MT-ZERO pedal is intended for. Having said that, we have to applaud Tioga for bringing the clever design to the market with an acceptable retail of around $100 USD in a world where boutique pedals routinely go for more than double the price.
Performance
Traction
We have to admit that, with a rather tame looking layout consisting of five flat-top screw and two cast-in pins per side, we weren't expecting the MT-ZERO pedal to offer much in the way of traction. That theory was quickly rejected once we hit the dirt - there is a surprising amount of bite on hand, with the pedals providing a very secure feel. No, they can't compete with the more aggressive pedals out there, but we have to say that the MT-ZERO is on par with most options on the market, even those that use grippier, open-top set screws for bite. How is that possible given the docile pin layout? There are a few different factors at play, but the biggest contributor has to be the thin profile that puts the sole of your feet nearly right on top of the axle center line. This extremely low foot position improves traction because the pedal body doesn't want to roll underfoot as much as a pedal with a taller profile would.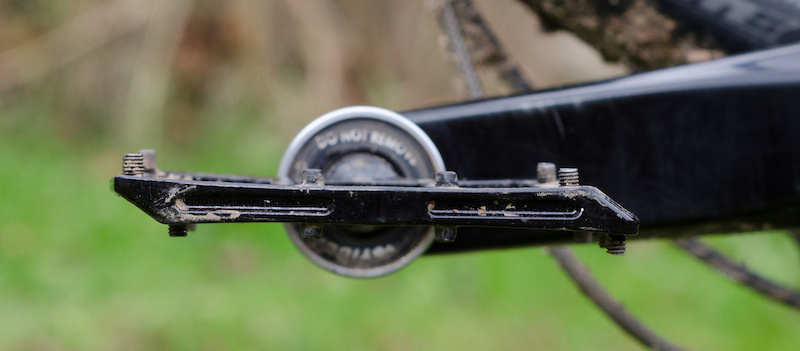 Traction is impressive despite the slight concave and mild pin layout.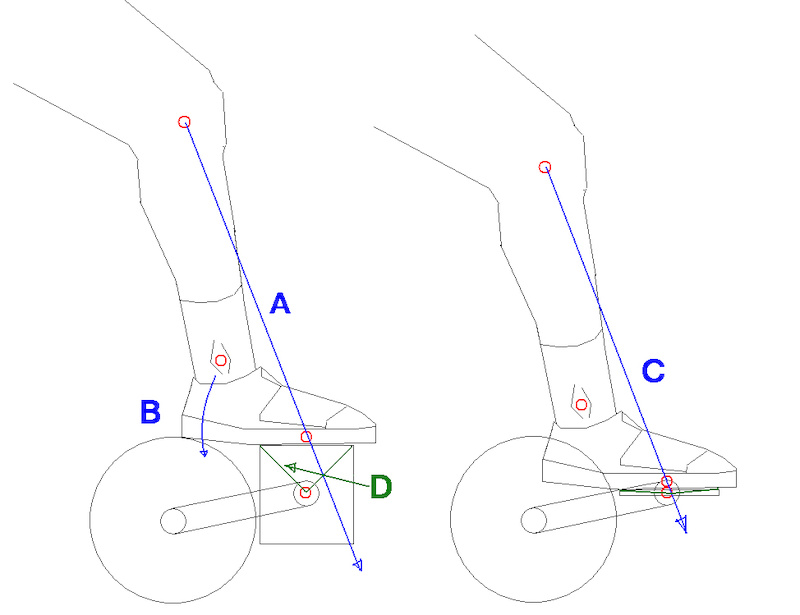 The easiest way to understand how and why it makes a difference is to use an exaggerated example, and one that Tioga themselves cite: imagine yourself using pedals with 6'' tall wooden blocks strapped to them, effectively increasing their body height more than six fold. That inflated height means your feet will want to rotate back and forth easier around the center line of the pedal axle, making for what would likely be a very unstable feeling. Tioga employs the exact opposite approach with the MT-ZERO, bringing your feet closer to the axle center line. Sure, it may only be by a few millimeters compared to other pedals, but we believe that it is enough to actually improve stability.
The body's built-in concave, going from 7mm at the leading and trailing edges to 4mm in the center, is another factor, although the 1.5mm of incurvate is the same as many other pedals on the market. Massive, open cutaways on the body likely also play a part, letting the sole of the shoe sink further into the pedal, thereby allowing the pins to work harder. All told, those three points create a pedal that certainly bites much more than we first guessed it would.
The platform size, at 92mm long x 96mm wide (
at its widest point
), is roughly the same size as some other options out there, although there isn't as much foot real estate available. This usually wouldn't be an issue, but the MT-ZERO's large outboard bearing takes up room that would otherwise be available for your shoes. The result is that you are left with your feet hanging off of the pedals' outer edge, even though the actual platform size isn't overly small. This, combined with the increased Q factor of the pedals, results in a wider overall pedal/foot profile compared to using a more traditional design. The outcome is less clearance in the width department, but we have to say that we found ourselves clipping pedals less rather than more. The added ground clearance certainly helps in this regard, but it comes at the cost of a slightly wider overall width.
Reliability
Many riders who saw us using the MT-ZERO pedal would point to the ultra-thin platform, shake their heads, and say, "Those are going to break." On the contrary, the bodies have proven to be very resilient - they are perfectly straight as we type this - but we'd expect that given their investment-cast chromoly steel construction. The large majority of platform pedals use steel pins that are threaded into a softer aluminum body, allowing them to be bent or ripped right out of the malleable aluminum in the event of a heavy impact. We dragged the MT-ZERO pedal over rocks with the disregard that comes only from using something you don't actually own, but the steel pin/steel body makeup brushed it all off without any hint of damage. The same goes for the two cast pins on the outer edge of each side of the pedal body - they don't wear down as you would normally expect to see aluminum molded pins do.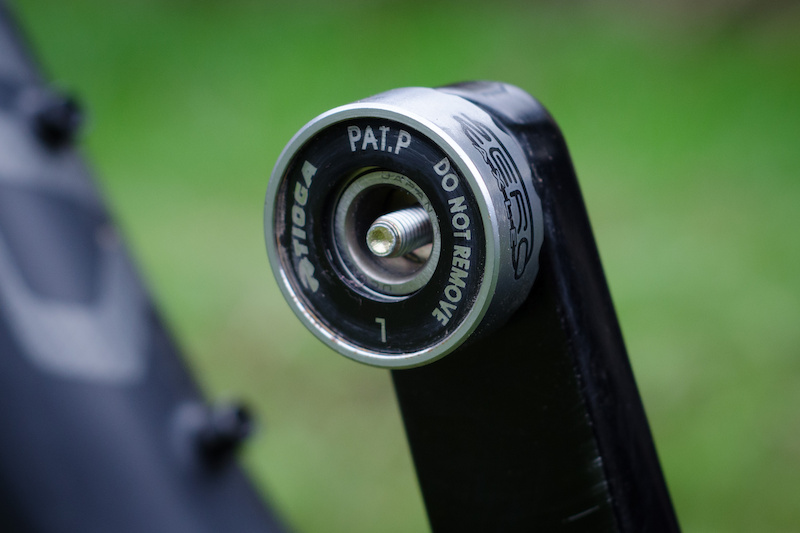 Bigger doesn't mean better - the ZEROaxle bearings didn't last long under us.
The bearings, on the other hand, didn't last more than a handful of rides before they became noticeably rougher. It was downhill from there, with the bearings becoming coarse enough that we could feel them through the soles of our shoes. A bit of maintenance was called for, hopefully accomplished by just lifting the bearing seal up and dripping in some light lube, but that was kiboshed by the non-removable bearing covers that are pressed in place. Yes, the covers do pop out if you really want them to (
Tioga doesn't want you to do that, though
), but the bearings use steel shields instead of the more common rubber shields, meaning it is a bit more involved to remove them when it comes time to drip in some lube. The bearing itself is 100% not removable, being machine pressed into the housing in a permanent manner. Instead, Tioga offers replacement housing assemblies consisting of the housing that threads into the crank arm, bearing and bearing cover, and attachment bolt. While this is a handy one-stop way to do things, we'd much rather have easier access to the bearing itself in order to give it some much needed love.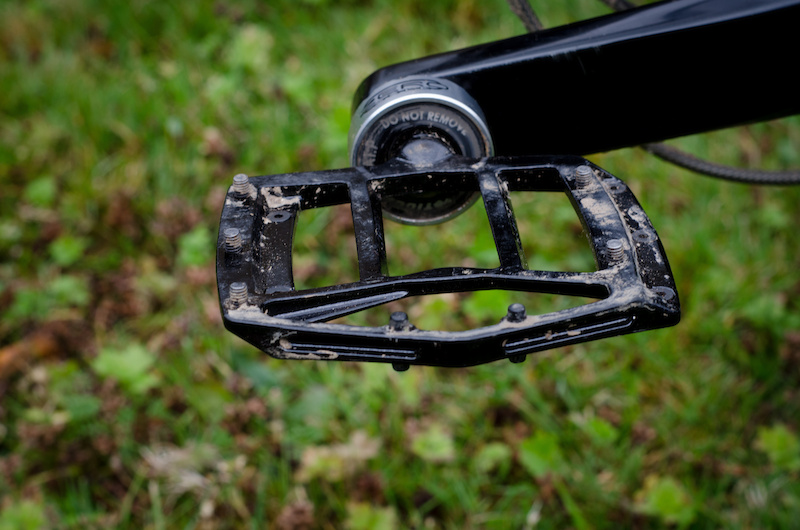 The MT-ZERO's remarkably thin steel bodies gave us zero trouble.
Issues
The MT-ZERO pedal is so slim and striking that pretty much everyone we rode with questioned us about them. Most were curious as to if the ultra thin platform could handle abuse, and if we suffered less pedal strikes while using them. The answer to both of those questions is a resounding yes, but the benefits come at a cost. The design's large external bearing forces your feet out into a very wide stance compared to what we are all used to, effectively making for a massive Q factor. The difference sounds small - about 13mm on the DMR V8 pedal versus 19mm for the MT-ZERO, but you also have to factor in the 15mm thick bearing housing on the Tioga pedal that prevents your feet from sitting inboard slightly on the platform. Those are big numbers when you are talking about bike ergonomics, especially when your feet have gotten used to a certain position after years and years of riding. The feel is akin to being forced to walk with your feet ten inches further apart than you usually would, despite the difference being measured in millimeters. In a word, awkward. We couldn't get used to the change of foot position, either, with it never feeling right to us. For this reason, Tioga admits the MT-ZERO pedal is not going to be everyone's cup of tea, and we'd have to agree with them.
Pinkbike's take:
| | |
| --- | --- |
| | Tioga has put a lot of time and effort into their axle-less design, and the result is certainly an impressive looking pedal. Barring the crank-specific Flypaper pedal, the MT-ZERO is likely the thinnest option on the market. We do question the very awkward ergonomics of the design, though, with us never being able to come to terms with the bow-legged position that the outboard bearing design forced us into. This, along with the fast wearing and non-serviceable bearings, has us questioning if the increased ground clearance is worth the trouble. If you are of the mind that you must have one of the thinnest pedals out there, or maybe you live and ride in an extremely rocky area, at least give them a spin around the parking lot to see if the wider stance works for you before throwing down your money. - Mike Levy |
www.tiogausa.com