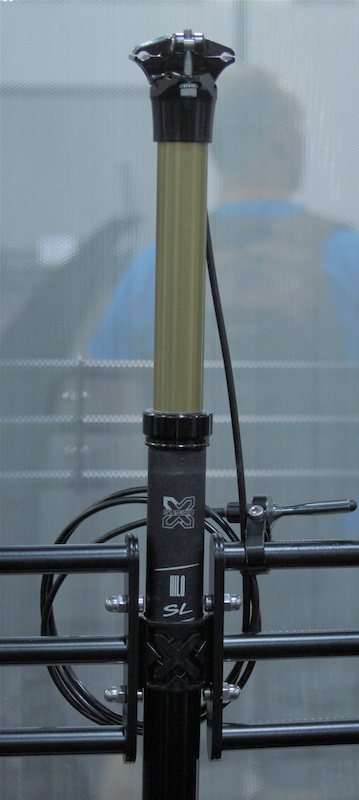 X-Fusion Hilo SL 125 details
• 125mm of drop
• Infinite adjustment
• Two-bolt head
• 'Gold Slick Ano' stanchion
• Remote operated only
• Weight: 450 grams (
claimed
)
• Sizes: 30.9mm, 31.6mm
• Availability: December
• Price: TBA
X-Fusion's new Hilo SL telescoping seat post has been in development for a year now, and although it utilizes the same internals as their standard Hilo post, the chassis is an entirely different animal altogether. Gone is the single-bolt, clamshell saddle rail clamp, with a proper two-bolt layout in its place. Rider's who have had time on a single-bolt rail clamp will know that the design can be prone to rotating, especially under hard use or larger riders, so the new layout is a very welcome change. While the new head will eliminate that moment when you discover that your saddle is pointing up at a 45° angle after a jump gone wrong, it does mean that X-Fusion has had to do away with the under-seat lever option due to space constraints. Those who prefer not to add yet another cable to their cockpit can use either the standard Hilo 100 or 125 models - both are still in the lineup. The same goes for those who's frame's require a 27.2mm diameter post - the Hilo SL will only be available in 30.9mm and 31.6mm sizes due to the change from the steel upper tube used on the original design to the larger diameter aluminum tube employed on the Hilo SL.

The new aluminum stanchion receives X-Fusion's Gold Slick Ano treatment that they claim meets Kashima when it comes to smoothness. Word from X-Fusion is that it makes a noticeable difference in the post's action, but that it also won't add much to the retail price of the post.

Internally, the Hilo SL borrows the same open cartridge layout employed within the standard Hilo. Its hydraulic internals allow the saddle to be positioned anywhere between full extension and completely lowered, but it also means that the saddle can be pulled up by hand
unintentionally, although it will return to its lowered position and won't have an effect on reliability. A low pressure air spring that can be set between 15 and 30psi is used to adjust rebound speed.

Does the Hilo SL's remote ring any bells? If it looks familiar, it's because it functions in the exact same fashion as Crank Brothers' Joplin remote, although X-Fusion has machined a different profile onto the lever that should offer an improved feel. The original Hilo post used a trigger-style remote switch that mounted up against the grip, but they wanted a more dynamic lever to operate the SL. The new post's remote does just that, allowing the rider to not only mount it nearly anywhere on the bar, be it above or below, but also activate the post by pushing or pulling on the lever in any direction. "I wanted a remote that I knew I could operate when completely gassed," X-Fusion's John Hauer told us, "and this one is easy to hit, no matter how tired you -
are." This is possible thanks to the lever itself not actually being mounted solidly to the perch, but rather depending on cable tension to hold it up against the base. Pushing or pulling on the lever forces it to pivot on its edge that sits within a groove around its circumference. And while the remote is clearly very close in design to the original Crank Brothers unit, the cable pull required by the actuation arm atop the post's head is far less comparably, meaning that the lever throw needed to raise or lower the saddle is lower than found on other designs. It pulls on a standard shift cable, installed through the outboard end via a removable cap, and also employs a split perch for easy installation or removal.
---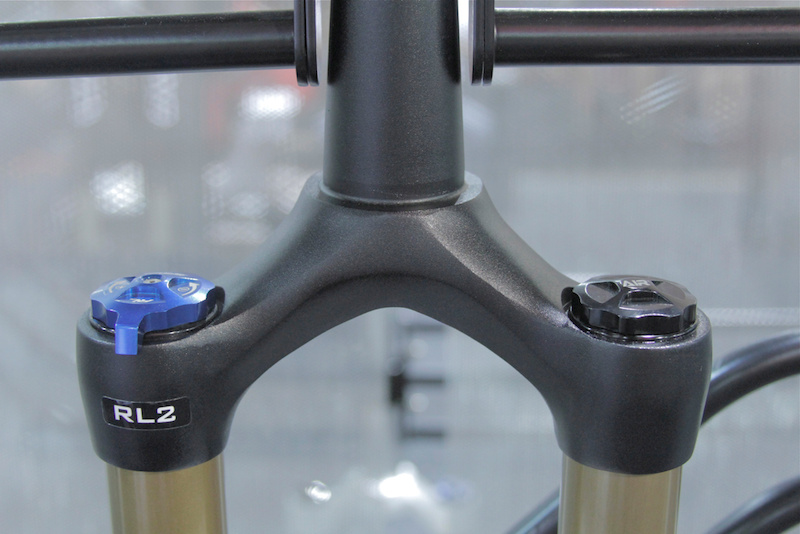 One-Piece Crown and Steerer Unit
Inspecting the aluminum steerer tube and crown assembly on your own fork will reveal that the two pieces are separate, but joined together with a press fit - this is the norm for pretty much any suspension fork on the market. While this press fit joint is largely trouble free, it can be the source of creaks and groans after some hard abuse over the long run. X-Fusion takes a different approach with their Uni-Crown by machining both the tapered steerer tube and the crown from a single piece of aluminum. The obvious benefit is the lack of the aforementioned press fit joint, but the unit is also said to be approximately 15% lighter and stiffer to boot. The Uni-Crown assembly will only available on X-Fusion's Trace series of 29er forks (
there will is standard 1 1/8th option as well
) for 2013, but expect it to pop up elsewhere in the lineup down the road.
www.xfusionshox.com