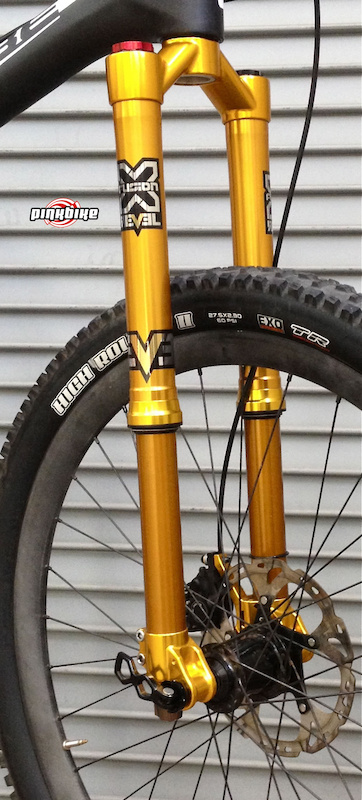 Inverted from X-Fusion
We've been touting the performance of X-Fusion's suspension offerings for a few seasons now, with the Santa Cruz, California, based company putting out some seriously good products that, at least in our minds, rival anything else on the market. Factor in that their forks and shocks often retail for less than comparable offerings from the competition and it's no wonder why we've seen more and more of them on the trails. X-Fusion wanted to do something different, though, a project not constrained by target costs and established thinking. That train of thought has led them to the Revel HLR, shown here for the first time, an inverted single crown fork that employs some unique design points and is assembled in their Santa Cruz facility. No, it won't be for everyone - it's high anticipated MSRP will see to that - but it very well could shake up the premium suspension market in a way that not many were expecting.
X-Fusion Revel HLR Details
• Intended use: all-mountain/enduro
• Travel: 140 - 160mm (650B), 120 - 140mm (29'')
• X-Fusion HLR Damper
• Adjustments: high/low speed, independently adjustable    compression and rebound
• Spring: 'Dual-Spring Air System'
• 34mm stanchion tubes
• Tapered steerer tube
• 20mm 'LockX' thru-axle
• Carbon stanchion guards (not shown)
• Weight: 4.5LB (claimed)
• MSRP: TBA
The Secret's on the Inside
Internally, the new Revel utilizes X-Fusion's twin-tube HLR damper that has consistently impressed us when employed in their Vengeance lineup. The design, which allows for independent tuning of the low and high-speed compression and rebound settings, means that the fork should offer the controlled stroke that we've come to expect from the HLR design, and that the onus will be on the fork's new inverted chassis. The Revel's inverted design is obviously its most
biggest talking point, as well as likely its most polarizing. There have been quite a few inverted downhill forks throughout the years, but you don't require all of the fingers on one hand to count the number of single crown variations during that same time. The issue boils down to torsional rigidity, or rather the lack of it, that can be sourced to the absence of a fork arch that would connect the two sides. So, how did X-Fusion get around this? ''
The secret to the whole USD system comes down to our patented Gold-E-Lock system,
'' X-Fusion's John Hauer explains. ''
Trilateral keyways located along each side of the stanchion and upper tubes restricts any twisting and gives you the most stout and consistent stroke over every impact.
'' This is in line with our speculation when we
first spotted an early prototype version
of the fork at last year's Eurobike tradeshow. A revised 20mm thru-axle, dubbed 'LockX', has also been employed to further improve torsional stiffness, but we're betting that it will be the Gold-E-Lock system that makes or breaks the Revel. X-Fusion is confident that the keyway design provides more than enough rigidity, saying that ''
the Revel, with its 34mm stanchion tubes, is far more stout than any 35mm or 36mm chassis on the market.
''
The Revel is also set to be assembled in X-Fusion's Santa Cruz, California, facility, a choice that will likely raise the fork's price but also allow X-Fusion to have better control over every last detail during assembly. ''
The guidelines for this project were to create the best performing suspension fork in existence without cutting any corners or being held back by cost,
'' says Hauer. ''
Turns out, we all quickly became very attached to this project and wanted to see it through from start to finish. That is why the decision to do complete assembly by our factory technicians in Santa Cruz, CA was made.
''
We'll have more on the Revel HLR when it's officially launched during next week's Interbike tradeshow, including more photos, details on its novel Gold-E-Locks trilateral keyway design, price, and expected availability.
www.xfusionshox.com