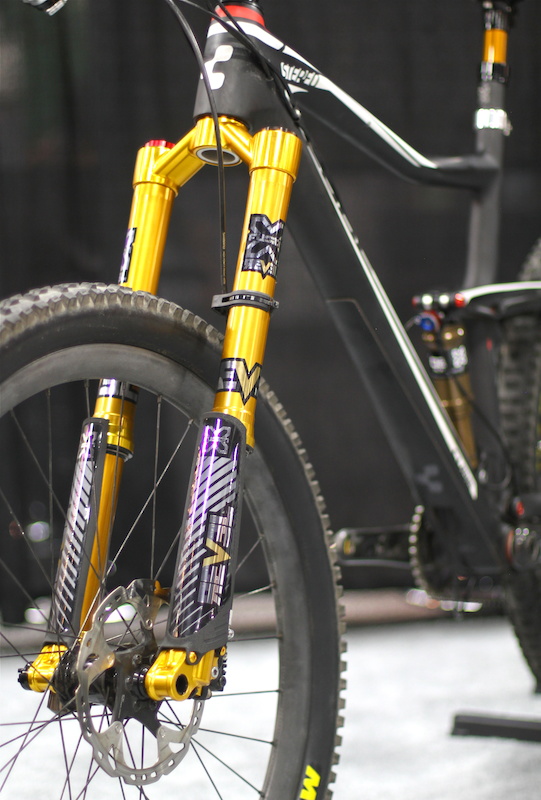 Revel HLR Details
• Intended use: all-mountain/enduro
• Travel: 140 - 160mm (650B), 120 - 140mm (29'')
• X-Fusion's HLR damper
• Adjustments: high/low speed, independently adjustable    compression and rebound
• Spring: 'Dual-Spring Air System'
• 34mm stanchion tubes
• Tapered steerer tube
• 20mm 'LockX' thru-axle
• Carbon stanchion guards
• Lifetime service program
• 200 Revels to be produced
• Weight: 4.5LB (
claimed
)
• MSRP: $1,776 USD
X-Fusion shook up the establishment, as well as reader's expectations, when they released information and photos of their new inverted Revel HLR fork
here on Pinkbike last week
, and now we were able to see, hold, and tinker with the ultra-exclusive fork at Interbike. Why would we refer to the Revel as being ultra-exclusive? Because X-Fusion plans to offer just two hundred of them - all assembled by hand in their Santa Cruz facility - and because they will retail for a staggering $1,776 USD. Yes, you read that correctly - the Revel will carry an MSRP that might have you wondering if its gold anodizing is actually real gold. While the fork's price will surely put many off, it should be pointed out that there are many high-end downhill forks that retail for similar prices, and that the Revel's
extremely limited numbers play a big factor in its asking price. X-Fusion could, of course, lower the fork's cost by assembling it in Taiwan like nearly every other option on the market, thereby allowing them to manufacture much high quantities and lower the fork's price. That strategy isn't in the cards, though, with X-Fusion aiming to produce a no-holds-barred fork that has no peers and isn't stymied by trying to hit an OE price point. Those limited production numbers also let them offer Revel owners free lifetime labour service on the fork, with only replacement parts being billed.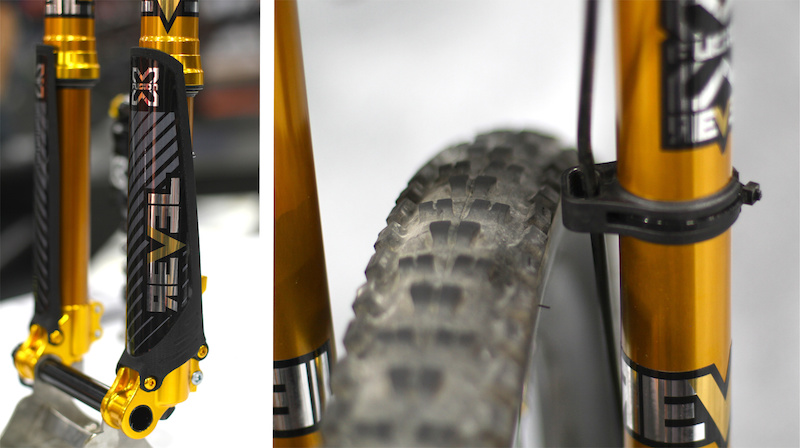 Carbon fiber guards (a rapid prototype plastic version is pictured here) will protect the Revel's stanchion tubes, and a clean hose guide will come stock from X-Fusion.
Torsional Rigidity via Keyways
There have been quite a few inverted downhill forks throughout the years, but just a few single crown variations during that same time. The problem boils down to torsional rigidity, or rather the lack of it, that can be sourced to the absence of a fork arch that would connect the two sides. So, how did X-Fusion get around this? ''
The secret to the whole USD system comes down to our patented Gold-E-Lock system,
'' X-Fusion's John Hauer explains. ''
Trilateral keyways located along each side of the stanchion and upper tubes restricts any twisting and gives you the most stout and consistent stroke over every impact.
'' This is in line with our speculation when we
first spotted an early prototype version
of the fork at last year's Eurobike tradeshow, but Hauer has now been able to spill the beans on how the system functions.
| | |
| --- | --- |
| | The Revel, with its 34mm stanchion tubes, is far more stout than any 35mm or 36mm chassis on the market. - John Hauer, marketing manager |
The patented Gold-E-Lock design consists of three keyways machined into the inner wall of the fork's upper tubes, as well as into the fork's stanchion tubes. Riding in each of those keyways is a single stainless steel barrel that is free to travel up and down within their slots, with three barrels employed in each fork leg. The keyways machined into the stanchion tubes are also slightly oversized to allow the barrels to "float" and prevent binding, but there is zero free play in the legs when both sides are tied together with a hub between them. The layout is similar to what is employed within some telescoping seatposts, although it sounds much more robust and uses stainless steel as opposed to the softer brass keys found in the posts. How does it feel? We slid the fork's 20mm 'LockX' thru-axle out and compressed each leg separately - it was incredibly supple and smooth, although proper trail time is the only thing that can provide real testing feedback, something we'll be able to do within the next few months once we receive our Revel HLR review fork.

The main air spring is adjusted at the top of the right leg, while a secondary valve at the bottom of the same leg controls ramp-up during the last 30% of the fork's stroke.
Separate Bottom Out Spring Control
There is more to the Revel HLR than just its clever keyway layout, with X-Fusion's 'Dual-Spring Air System' allowing for some serious spring tuning potential. An air valve atop the right fork leg allows owners to adjust the Revel's air spring rate, but a secondary valve at the bottom of the same leg also gives them better control over the last 30% of the fork's travel. Want more bottom out resistance? Simply add more pressure, and vice versa. Internally, the air spring chamber features an IFP (
internal floating piston
) that divides the chamber into two sections, with the upper acting as the main air spring and the lower controlling the last 30%.
HLR Damper Inside
As you might expect, X-Fusion's twin-tube HLR damper is tucked in the left fork leg. We've said it before and we'll say it again: we've been very impressed with the HLR damper anytime that we've put time on it, with a level of control over the compression stroke that, until very recently, wasn't common to see from most of X-Fusion's competition. It's for this reason that we're happy to hear that the damper is exactly the same, with no changes from their proven design.

X-Fusion has gone with a 20mm axle for the Revel, a move that will likely make a lot of riders happy.
20mm Thru-Axle
While 15mm fork axles are here to stay, at least for the foreseeable future, there is still an uproar from consumers every time a new mid-travel trail or all-mountain fork is released, with it being quite clear that 20mm is still the preference by and large for most people out there. Many will be happy to see that X-Fusion made the call to go with the larger axle on their new 160mm travel fork, a move that allows true downhill hubs to be used. Their reasoning boils down to rigidity, and the new LockX thru-axle features four small wedges that expand out into the fork's axle clamp as the lever is shut. The opposite leg is home to the Revel's bolt-on brake adapter, with X-Fusion planning to offer mounts for 180mm and 200mm rotors, both in matching anodized gold.
www.xfusionshox.com