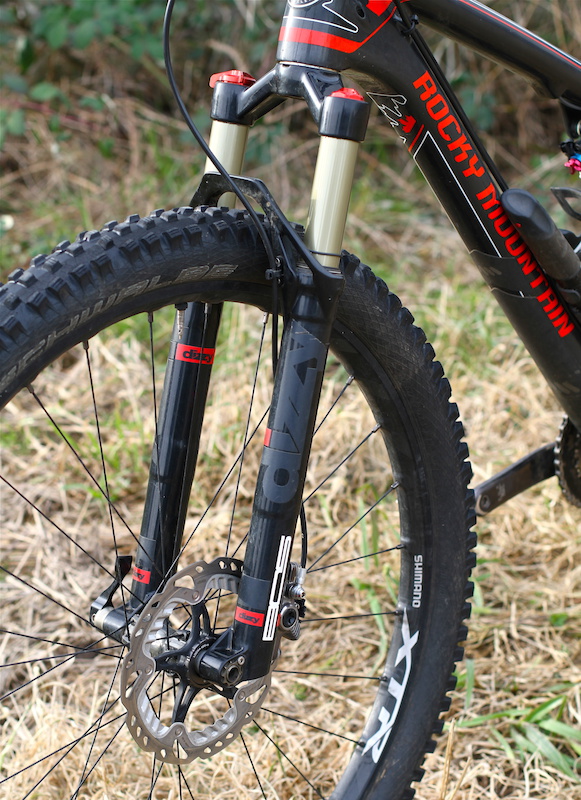 BOS is a name that many riders will associate with boutique downhill suspension from Europe, or maybe rally car racing if they happen to be a fan of four-wheeled motorsports. Both of those ring true, but BOS has also entered the world of lycra and short-travel with their new Dizzy cross-country fork. The $1080 USD Dizzy is available with either 120 or 140mm of travel for 27.5'' wheels, or with 100 or 120mm for 29'' wheels, although it should be noted that travel is fixed for each version and cannot be changed. The fork that I tested was the 29er version with 100mm of travel, and weighed 1,659 grams with a 7'' steerer tube.
BOS focuses on reducing friction and offering a top notch damper rather than offering the absolute lightest cross-country fork on the market, and you also won't find a handlebar mounted lockout that many racers like to employ. What you will find on the air-sprung Dizzy is a three-position compression damper that's intended to be used a little differently than what we've become accustomed to with similar looking setups - more on that below - and BOS' own 15mm thru-axle to tie the lowers together.
BOS Dizzy Details
• Intended use: cross-country / trail
• Travel: 29'': 100mm, 120mm / 27.5'': 120mm, 140mm
• Spring: air
• External adj: low-speed rebound, 3-position compression
• Stanchions: 32mm
• Steerer: tapered
• Thru-axle: 15mm
• Offset: 45mm
• Axle-crown length: 505mm (
100mm, 29er
)
• Max rotor: 180mm
• Weight: 1,580 grams (
claimed
), 1,659 (
actual, w/ 7'' steerer
)
• MSRP: $1080 USD
•
www.bosmtb.com
Inside the Dizzy
BOS has gone with a closed damper cartridge within the Dizzy, which means that you can drop the lowers for maintenance without worrying about having to perform a full rebuild. BOS says that the fork must be sent off to one of their certified service centers when that time does eventually come, although that's only required to go down once a year for someone putting long, hard miles in, or once every two years for a more casual rider. BOS has a bit of a bad rep here in North America when it comes to dealing with warranty and service issues - who wants to send their fork or shock to Europe? - but they've just opened a new branch in Las Vegas, Nevada, that will look after American BOS users, while Vancouver's Suspensionwerx will take care of Canadian riders.
BOS' rule about sending the fork off to a service center didn't stop me from stripping it down for photos, with my curiosity getting the better of me when it came to what's going on out of sight. I'd strongly recommend not doing the same to your own BOS fork, though, as their new service centers can have your fork rebuilt and back to you much quicker than in the past, and you won't be voiding any warranties if you don't crack it open yourself. The basic layout of the damper isn't anything out of the norm, with the compression assembly at the top and rebound at the opposite end, but it's worth mentioning that there is no compensator (
no expanding bladder as used on FOX's FIT forks or RockShox's Charger damper
), meaning that it appears that the air and oil are free to mix with each other as the fork goes through its travel. However, a closer look at the compression unit and the silver ''air / oil tank'' at the top of the damper does reveal that it looks like BOS has designed it to trap the air that's in the damper at the top, thereby allowing for fluid displacement but keeping the air from being drawn down lower into the cartridge. That's speculation on my part as BOS hasn't ever been too keen to disclose details of how their stuff works.
BOS has employed both a coil and air negative spring on the opposite side of the fork, with the coil helping the fork into its stroke in the early stages of the travel and the air acting on it from beginning to end. There is no volume-adjustment system to tune the Dizzy's ramp-up, with the only adjustment on the left side of the fork being air spring pressure.

The fork's three-position compression adjustment may have you thinking of FOX's similar sounding CTD system, but BOS has designed theirs to be used much differently. CTD stands for Climb (stiff), Trail (mid), and Descend (most forgiving), whereas BOS' says that the Dizzy's most forgiving 'Soft' mode is best suited for crossing flat, rough ground, and it doesn't offer enough support for proper descending. Flipping the switch to the 'Medium' setting is said to provide more all around performance and much more support, and the rider can actually adjust how stiff the middle setting is by clocking the dial differently. Feel like you need it to offer slightly more compression control for the majority of your riding? Remove the dial and clock it closer to the 'Hard' mode. Want the fork to be more forgiving? Clock it towards 'Soft' and you're set. The final, stiffest setting is called 'Hard' and it's exactly that - very rigid and best suited for spinning up gravel or paved road climbs. The three-position dial doesn't just act on the fork's low-speed compression, but also how it reacts to high-speed impacts.






The Chassis
The Dizzy's chassis is relatively straightforward, with a right-side-up layout and no carbon fiber to be found. That doesn't mean that it's not an impressive looking fork, though, just that there's not much in the way of pizazz to be seen, if that sort of thing matters to you. The fork's 32mm diameter stanchions appear to look like any other sliders out there in that they lack any sort of fancy looking coating, although BOS does say that an ''extra low friction coating'' has been applied. Function over flash, it seems. The magnesium fork lowers sport a slim arch with reliefs where it meets the legs, while a hose guide for the front brake requires a small zip-tie to fix the line in place. A set of post mount caliper bosses are ready to work with a 160mm rotor, and you can bump up to a maximum of 180mm if you think you need it. The Dizzy is only available with a tapered steerer as well.
The Dizzy employs a 15mm thru-axle, as you'd expect on a fork of this travel, and a large aluminum lever allows you to install and remove it without tools. The axle itself is tapered in the middle where material can be removed without a strength or rigidity penalty, while each end increases in size to 15mm to mate with the fork's casting. The design is sort of a hybrid between what FOX and RockShox use, as the disc-side sports a threaded nut that can be repositioned in the casting to allow proper orientation of the lever on the opposite side, which is similar to FOX. The action-end of the axle depends on a burly aluminum lever that is released and then aligned with slots in the axle head to provide leverage, much like an older Maxle. Also, the expanding wedge, which is adjustable in tension, sits within the axle on this side.
It's black and red everywhere you look on the Dizzy, including the red anodized aluminum dials and hardware. On the rider's left is a cap that gives access to the Schrader valve used to pressurize the fork, which itself threads into a red anodized threaded fork cap. The opposite side is home to the three-position compression dial, which is also aluminum and anodized bright red, and it sports a fin-shaped lever that makes it easy to fondle with gloved hands while on the move. A low-speed rebound dial is at the bottom of the same leg.
---
Setup
- While BOS' suspension has a rep for offering next-level damping performance, the company has never gone down the 'more is better' approach when it comes to dials and adjustments. That set-and-ride ethos continues on the Dizzy, with the rider only needing to get the fork's air pressure and rebound settings in the ballpark before hitting the trail, although I did hit a small speed bump before I even got out the door: the instructions that came with my Dizzy recommended that I run much less air than would be suitable, enough so that I could bottom the fork hard when just bouncing on it in the shop. I added more air and then reached out to BOS, who explained that they were working on a revised air pressure chart that would make more sense. There's no bespoke air volume adjustment (
more on that later
) or travel changes to fiddle with, and the three-position compression lever is pretty easy to wrap your head around once you understand what BOS is going for.
Air Spring
- The Dizzy's air spring took some tinkering on my part to get it where I wanted, much more so than the pump-and-go routines of the competition. First there was the misleading air pressure recommendation, which wasn't really a big deal given that it was pretty obvious that the suggesting pressure was spot on for a 6th grader rather than a 170lb guy who rides like he has nothing to live for. More air had the fork acting like it should, but the last 30% of its stroke still went by quicker than my youth did, and it took next to nothing to have me clanging off of the fork's bottom. I'm not talking about a soft bottoming moment, either, but a pretty abrupt end to the travel, which isn't ideal when you've only got 100mm of it available. The answer was to reduce the Dizzy's air volume, of course, but this needed to be done the old school way by introducing 10ml of oil into the lowers through the hole for the foot bolt. This worked as desired, giving the fork more ramp-up and keeping it from smashing into the end of its stroke too often. That said, keep in mind that most of the competition is employing some sort of nifty volume spacers, which makes having to add oil to do the same thing feel a bit messy and old fashioned. I was told that BOS is working on a volume spacer kit for the fork, though, so cross-country bandits who go with the Dizzy in the future will have an easier go of getting it dialed.
It took longer and was messier than I would have preferred, but I did eventually get the Dizzy's spring rate where I wanted it. It also needs to be said that the 120mm travel Dizzy features a more progressive spring curve straight from the factory (
and the revised air pressure recommendations
), which makes sense given that the longer stroke version will likely be ridden harder. The fork is incredibly supple at the top of its stroke, offers a nice, supportive ride through the middle, and now ramps up when it needs to.
Chassis
- This is a bit of a tough one for me because I found the Dizzy to not be as stiff as both a SID or FOX 32, and obviously less than an RS-1, but I also have to admit that I'm likely pinballing my way down trails that you wouldn't normally see in a cross-country event, except for maybe the BC Bike Race. I also don't think the fork's inherent flex held me back in the slightest - I never felt like I backed down because of it - but I could certainly feel the it ''winding up'' in corners and compressions, more so than the competition. This was especially noticeable when those two scenarios came together - picture a sharp corner at the bottom of a steep or fast section of trail. However, I do believe that, given the Dizzy's intentions, this complaint carries less weight than it would if it was a longer-travel fork.
The Dizzy's thru-axle functions very much like an old generation Maxle in that you open the lever, align it with the slots and then use it as leverage to turn it in or out. The big difference is that it feels much more solid and high-quality, and I doubt that even the most clumsiest of garage mechanics will ever be able to damage it, which is something you can't say about some other designs out there. It stayed tight and was easy to use during the entire test period.
Damper
- The key to getting the most out of the Dizzy is to understand how BOS wants the rider to use the three-position compression damper. Do it wrong - flip it to full-open when descending like you might first assume is correct - and you'll be wondering where all your travel went. But do it right - full-open for rough, flat ground, and the middle setting for most riding, and you'll be rewarded with what has to be the most controlled stroke of any cross-country fork on the market. The Dizzy's composure lets you hang it out and ride your short-travel bike with bad intentions, which is always the most fun way to ride, although it's not an approach that one usually thinks of when on a 100mm travel bike. And keep in mind that this is with the amazing BOS damper stuffed inside a fork chassis that doesn't exactly score top marks when it comes to flex.
Unlike other three-position dampers, the Dizzy's is best left in the middle setting for the large majority of time, with no need for you to flip it to the firmest option in search of more support. The fork's middle setting feels very well rounded in how it reacts to the trail: there's more then enough low-speed support to keep you up in the travel, but it's more sensitive and able to react better than FOX's Trail mode on their CTD forks. I never found myself wishing for added low-speed compression, even on the steepest things that I'd roll down on my cross-country bike, but it still allows the front wheel to get up and out of the way of the most insignificant of impacts. BOS has absolutely nailed a balance in that regard that other forks in the same travel bracket can't touch. Impressive.
The full-open setting can't be used when descending - it just doesn't offer enough support, but that isn't how BOS intended it to be used anyways. Open up the fork when you're crossing rough, flat ground, or even the same type of ground but on a climb, and you'll find that it takes care of a lot of the chatter that would otherwise make for a rough ride or even force you off line. It also allows the fork to run deeper in its stroke, which certainly doesn't hurt matters when you're working your way up a steep pitch. That said, it's a bit too active for any type of really vigorous out-of-the-saddle efforts, with it sloshing through its travel when you throw your weight around. The open mode is useful, but you won't be finding yourself in it too often, partly because the middle setting is so damn good. I'd ideally like to see a touch firmer damping in the full-open mode, which is something that would make this setting a bit more useful in more situations.
And what about the firmest mode? It's stiff enough that it's kinda useless unless you're charging up a gravel road at full clip, which isn't totally out of line given that the Dizzy is a cross-country fork. This drastically stiffens up the fork's entire stroke - it's not just a stiffer platform on top - and while you can still push into its travel, it should basically be considered a lockout. I rarely went full-stiff, even on the longest and smoothest of climbs, but it's there if you want it. I'm not a huge fan (
or even a small fan
) of remote controls for your bike's suspension, but I feel like there should at least be an option to go that route with the Dizzy. I might have used the firm mode more often if I had a lever on my handlebar, and I can see a real racer doing the same. BOS did hint that they're working on a solution.
Issues
- I do have two notable complaints. The first is the previously mentioned air spring that's just too linear for anyone who enjoys a spot of rowdy riding on their short-travel bike, although it sounds like BOS is going to sort this out with a proper volume spacers system. The bigger issue is how the fork's three-position lever that controls the damper settings is so easy to move that it would actually rotate to a different position when riding. I'd routinely roll into a descent with it set to the middle position, only to find that it had somehow switched over to the firmer setting, or worse, the softer setting, all on its own. An odd thing given the fork's high pedigree.
Pinkbike's take:
| | |
| --- | --- |
| | The Dizzy is an interesting alternative to the more mainstream options on the market, and while it lacks refinement in some areas compared to those other offerings, it trumps them all when it comes to lack of friction and damper performance. You're not likely to see too many other BOS forks out there, which is surely part of the attraction for some riders, but those who do take a chance on the small brand will be impressed with the Dizzy.- Mike Levy |
---
Visit the high-res gallery for more images from this review
---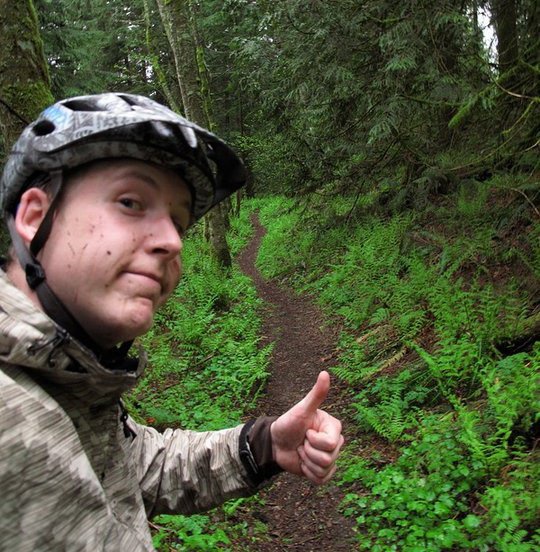 About the Reviewer
Stats: Age: 34 • Height: 5'10" • Inseam: 33" • Weight: 165lb • Industry affiliations / sponsors: None Mike Levy spent most of the 90s and early 2000s racing downhill bikes and building ill-considered jumps in the woods of British Columbia before realizing that bikes could also be pedalled for hours on end to get to some pretty cool places. These days he spends most of his time doing exactly that, preferring to ride test bikes way out in the local hills rather than any bike park. Over ten years as a professional mechanic before making the move to Pinkbike means that his enthusiasm for two wheels extends beyond simply riding on them, and his appreciation for all things technical is an attribute that meshes nicely with his role of Technical Editor at Pinkbike.