What do you think of when you see that a bike has 120mm of travel? There's a good chance Lycra, skinny racer types and even skinnier tires come to mind, but it doesn't have to be that way. With the 120mm travel Habit, Cannondale is jumping into the short-travel, big-fun niche that's opening riders' eyes to how much of a good time a "little bike" can be on challenging terrain. While the ten bike Habit lineup all sport the same 27.5'' wheels and 120mm of rear wheel travel, it's the $4,480 USD Carbon SE model reviewed here that receives a few winks and nudges towards getting a little rowdier than its siblings. The up-sizing includes 10mm more travel up front from the new 130mm stroke Lefty 2.0 Alloy OPI strut that gives the bike a 67.5° head angle (half a degree slacker than the tamer bikes), as well as more aggressive tires and 180mm rotors all around.

Habit Carbon SE Details
• Intended use: cross-country / trail
• Rear wheel travel: 120mm
• Wheel size: 27.5"
• Carbon front triangle, alloy rear
• Lefty 2.0 Alloy OPI, 130mm
• Internal dropper post routing
• 1.5'' head tube
• 12 x 142mm axle spacing
• Weight: 27.5 pounds (12.47 kg)
• MSRP: $4,480 USD
It's probably not out of line to say that the Carbon SE's mother might have been a cross-country whippet and its father a husky trail bike, with their 27.5 pound offspring clearly growing up to be a high-spirited thing that doesn't give a shit if it confuses people about its intentions so long as the rider is having fun. Sure, you could do a cross-country race on it, and no one would tell you that you can't show up to an enduro event aboard the Habit, but I suspect that the turquoise bike's main purpose is to just have a good time.
Frame Details
The Habit's carbon fiber front triangle is said to employ a unique blend of materials that make it especially resistant to impact strikes, say from a rock that gets thrown up by the front wheel or if the bike gets put onto the ground at speed, and Cannondale feels confident enough in the frame's ability to shrug off such hits that they don't include any type of bolt-on down tube protection. The buzzword that they use here is 'BallisTec Carbon', and Cannondale says that the technology is actually similar to what's used in, of all places, the baseball world: ''
The resins we use are high strength, high impact resins similar to what is used in the construction of carbon baseball bats; light, stiff and designed to endure thousands of deformation cycles.
''
There's a big 1.5'' head tube up front that's home to an equally large steerer tube, and there are two cable entry ports just aft of the head tube. One of these is for the hydraulic hose for the Monarch shock's XLoc remote that comes on the more expensive Habit offerings, while the other is where the KS LEV Integra's internally routed cable feeds into before going all of the way to the bottom of the down tube and then up part of the seat tube. More companies should route their dropper cables this way rather than having them on the outside of the frame until they reach the seat tube. The rear brake and shift lines are located on the underside of the down tube, being held in place with bolt-on aluminum guides.
Cannondale was actually the first to come up with the BB30 bottom bracket design that allows the use of a massive 30mm diameter aluminum spindle, having since made it a free international standard that frame and component manufacturers can use. I remember working as a mechanic at a Cannondale dealer when BB30 was introduced back in 2000 and, regardless of how you feel about press-fit bearings, it was a fairly wild idea compared to the threaded shells we were used to back then. Moving farther back, the rear brake caliper attaches onto the chain stay via the new flat road standard and an adapter that bolts to it. This is said to be lighter, more reliable and easier to produce in carbon, and Cannondale has matched this on their aluminum rear ends as used on our SE test bike. There's also a 12 x 142mm QR axle holds the wheel in place - nope, no Boost.
Lefty 2.0 Alloy OPI
Cannondale's Lefty strut (
it's not really a fork, is it?
) is probably one of the most polarizing mountain bike products that's ever been manufactured, with its out of the norm appearance simply making it a no-go for a lot of riders. I've always found it a bit amusing that people swear the single-sided strut, which has been around for well over a decade, will never stand up to how they ride, then they happily drive away in their car that has all of its wheels held on from just one side. Same goes for the landing gear of most planes. Different horses for different courses, of course, and it's good to think critically, but the Lefty architecture is about as proven as it gets, and Cannondale has also made some important updates to the design.
Internally, the aluminum stanchion is actually square, and the inside of the upper leg matches that shape, with four strips of roller bearings allowing the two pieces to roll rather than slide into and out of each other. The square-in-a-square design is what keeps the leg from rotating, whereas a traditional fork slides on bushings and depends on the axle and brake arch for torsional rigidity. The new Lefty design uses 3D forging to create a one-piece lower leg and stanchion that allows for a round external section, and therefore a more traditional fork seal can be employed to keep gunk out rather than the old accordion-style fork boot. It also lets Cannondale add a glide bearing to further enhance stiffness. The same 3D forging creates the one-piece upper leg and fork crown unit that means Cannondale doesn't have to bond or bolt those sections together. Less pieces means less complication and less weight.
A revised PBR Isolated Damper with Trail+ tune is dropped into the strut and allows the rider to firm the fork up by pushing the green button (
that's the 'Push Button' in the name
) on top of the fork crown, while the red rebound dial that encircles it (
that's the 'Rebound'
) is pushed to open the damper back up. The rider can't tune the amount of low-speed compression - it's either locked or wide open. The Lefty's air spring pressure is adjusted at the bottom of the leg by removing an anodized aluminum cap, and the bike comes with a number of different sized volume spacers that can be dropped directly into the air chamber to help create a more progressive stroke. It's interesting to see that the spacers don't thread or clip into place as on other forks on the market, but simply slide right down into the leg.
The Habit's Suspension Explained
I know what you might be thinking: the Habit's suspension layout looks a bit, ahem, dated when compared to the fancy pants virtual-pivot designs out there, but the simple design disguises a fair bit of clever engineering on Cannondale's part. The 120mm travel SE employs a cost-saving aluminum rear end (
more expensive models feature a carbon tail
) that can be boiled down to being a single pivot, linkage activated design, with the main pivot roughly aligned with the top of the bike's 30 tooth chain ring. Like some other relatively short-travel bikes, including the Scalpel that's been in Cannondale's lineup for many years, the Habit forgoes a traditional dropout pivot in favor of a design that flexes as the bike goes through its travel. Weight savings is the most obvious plus - there are no bearings or pivot hardware - but it's not out of line to assume that Cannondale's Zero Pivot rear end is also more torsionally rigid than one with standard pivots, which might be why the bike can get away without a bridge joining the left and right seat stays.
It's all held together with new expanding collet-style pivots that lock into place, and the trick carbon fiber link modifies the leverage ratio while compressing the RockShox Monarch RT DebonAir shock. Cannondale actually claims that the carbon link saves 100 grams over the aluminum link, which isn't a small chunk of weight relative to the link's small size. There's no handlebar mounted remote to be found here, just a pedal-assist lever on the shock itself, although I'd argue that any 120mm travel bike worth its weight shouldn't need to be firmed up so long as you've set it up correctly.

---
Specifications
Specifications
Release Date
2016
Price
$4480
Travel
120
Rear Shock
RockShox Monarch DebonAir RT
Fork
Lefty 2.0 Alloy OPI, 130mm
Headset
Cannondale HeadShok Si
Cassette
SRAM XG-1180, 10-42, 11-speed
Crankarms
Cannondale Si BB30, 30T
Bottom Bracket
Cannondale Alloy PressFit30
Rear Derailleur
SRAM X1, 11-speed
Chain
SRAM PCX1, 11-speed
Shifter Pods
SRAM X1, 11-speed
Handlebar
Cannondale C3 riser, 760mm
Stem
Cannondale C1, 60mm
Grips
Cannondale Dual Locking
Brakes
SRAM Guide R, 180/180
Hubs
Lefty 60 front, Formula with XD, 12 x 142
Spokes
DT Swiss Competition
Rim
WTB Frequency Race I23 TCS 27.5
Tires
Schwalbe Nobby Nic Performance, 2.35 front / 2.25 rear
Seat
Fabric Scoop Shallow Elite with Cromoly rails
Seatpost
KS LEV Integra
---
Climbing
Saying that the wall of roots in front of me is kinda steep would be a bit like saying that Jerome Clementz is kinda handy at riding bicycles. I've never met the builder behind the first trail that I pointed the Habit up, but I suspect that he likes to do things like stick forks in wall sockets for fun or cut his fingernails so short that it hurts to touch anything - he's got to be a bit of a masochist to think climbs like this are fun. Screw having a good time, I just want to get up it without tipping over backwards. Then I do just that, and with much less flailing than expected. The Habit found the traction to crawl to the top, over and around wet roots that look more like sleeping anacondas than any sort of plant life, and did it all without any drama. I'm pretty sure that I only need one hand to count the times that I've cleaned this particular bastard, and I know that all of my other successes have been on 29ers with aired-down tires and have come only by cashing in all my chips. Surprisingly, it all happened pretty easily on the Habit.
I'm not saying that the Habit is going to sprout feathered wings and whisk you up all of your tricky ascents, but I will say that this is the first 'tweener-wheeled bike that climbs on par with the most gifted of 29ers when talking about low-traction, technical ups. It's that good. The Nobby Nic tires are pretty grabby, which obviously helps, but the bike's weight distribution and rider positioning is spot-on, while the front-end can be steered around the tightest of corners without things getting awkward and tippy despite the 67.5° head angle. I always like it when a bike's geometry chart lies to me, and this is the perfect example of a bike easily out-tech'ing quicker handling machines in places that it shouldn't be able to.
The Habit gets a move on when you're riding up smoother ground that's more about efficiency than handling skills, as it should given that its travel is closer to a cross-country race bike than a big-travel beast. I never felt the urge to reach for the Monarch's pedal-assist lever, even when playing with suspension setup and running more than thirty percent sag, which probably means that the Habit will be more than efficient enough for anyone who doesn't wear white Lycra or fingerless gloves on a regular basis. The SE's upsized tires (
they're wider than those on the other nine Habit models
) don't exactly roll with a lot of urgency, though, so while the bike is going to feel sporty for anyone who's coming off a heavier, longer travel rig, you'll probably want to swap them out for something less chunky if you plan to ride it in those old fashioned events they call cross-country races. Then again, anyone who's going to be doing that sort of thing more than a few times a year will likely be looking at the SE's slimmer and lighter siblings - this turquoise toy is more for fun than competition. Firming the Lefty up via the green button on the fork crown does make things feel more efficient, but it also caused a strange clunking at the top of the stroke that Cannondale said is a symptom of the damper design. It's a bit disconcerting, but I was assured that nothing is being damaged.
Descending and Suspension
I really enjoy riding bikes that people don't expect to perform well, and not to be to hard on ol' Cannondale, but the East Coast company doesn't exactly spring to the front of my mind when I'm thinking about bikes that put a shit eating grin on my face. No, I think of tiny Spanish cross-country racers and sporty road bikes, or maybe Tinker Juarez. But I also love surprises and underdogs, which is exactly what the Habit is. The bike has less rear wheel travel than the height of a pop can. It's ''missing'' half of its fork. It's very, very turquoise. As it turns out, it's also very, very fun.
The Habit's color might be questionable, but its handling certainly isn't. Cannondale has struck just the right balance up front, as their little bike feels neither nervous and pointy or too slack relative to its travel. The sum of a 67.5° head angle, just the right amount of trail, and what has to be the most torsionally rigid short-travel fork out there, is a bike that nearly does all the thinking for you, even when you should be finding yourself under-biked on a rowdy trail. Geometry and the handling that comes from it is king of all, with travel a distant second, and the Habit only reaffirms that fact as the bike gives you plenty confidence relative to its travel. It doesn't quite match the Process 111 in this regard, the king of short-travel bikes that punch above their weight, but I'd rather be on the Habit during an all-day adventure that's going to put me on fun terrain.
A big reason for that sort of thinking is just how easy it is to make the Habit do whatever you want, even though the bike can still feel like a cross-country machine when you need it to. A lot of riders with a few years of skill can make any bike an extension of themselves, but I suspect that the Habit will widen that range even more. Yes, you can ride it like you're wearing a heart rate monitor and are trying to stay in whatever dumb zone you're supposed to be in, but that'd be such waste given what the Habit is capable of. I nailed long manuals on this bike that I've never even attempted on other machines, which is the sort of thing that can make a ride, at least for me, and I found a bunch of silly and useless natural jumps that I never would have bothered with had I been on most other bikes.
| | |
| --- | --- |
| | The last time I had this much fun I was six years old and in the ball pit at Burger King with a sugar high from a chocolate milkshake. Those were good times, but I think I'd rather be on the Habit with a sugar high from a chocolate milkshake. Some things don't change. |
Enough about the handling; how does the Habit's suspension perform? It erases massive rocks and roots like they're not even there, and absorbs hard landings from huge heights so well that you'd think you're on the end of bungee cord. Just kidding. The Habit has 120mm of rear wheel travel, so you're going to get smacked across the face if you forget that fact, but what the bike does do is use what travel it has in a smart way. Some short-travel bikes ramp up way too fast in an effort to compensate for lack of girth, but all that really happens is that they feel like shit once you get past the sag point. Others put so much focus on all-out pedalling ability, which is arguably not a bad a strategy given their usual intentions, that they just feel harsh regardless of spring rate. The Habit doesn't do any of those things, though. It just works well, which is kinda boring but also really good. You can set the little Monarch shock up with anywhere between 20 and 30 percent sag and not really have anything to complain about, although I tended to prefer running it on the firmer end of the scale and let the shock's DebonAir air can supply the suppleness. That approach worked well for me because I could ride the bike like I'm way younger than I actually am, but not lose that forgiveness at the top of the stroke.
The bike's Lefty fork is interesting, and not just because I was telling people that you can't ride no-handed because it will lean to one side. It doesn't do that at all, but I managed to convince a bunch of riders that it did. If you're reading this, I'm sorry-ish. As I said above, the fork chassis is unbelievably resistant to twisting. I know many people won't believe me when I say this, but it feels a lot like there's a double-crown downhill fork on the front of the Habit in this regard - just point the bike where you want to go and if you don't get there it's not because the steering let you down.
The Lefty's air spring is also on point, and it comes with a number of spacers that you can drop into the fork if you want it to ramp up quicker. I tinkered around with a few different volume setups and ended up with a pretty progressive spring rate, mostly because I found myself releasing small amounts of air during the first handful of rides in a search for a more active stroke. That just wasn't there, though, which made the front end feel a bit unforgiving compared to what we're used to in 2015. The travel is super smooth, but it's not as supple and active as the latest from FOX or RockShox. Think warm Nutella versus KY Jelly. Damping is decent, however, and there seemed to be enough support that you do have the ability to go a bit low on air pressure without spending most of your time deep into the travel. There is no external low-speed compression adjustment, though, so you best just be happy with the factory setting. Cannondale has what is probably the best fork chassis on the market right now, even if it looks odd and scares people who don't know any better, but they still need to step up when it comes to what's inside of it. And that could happen sooner rather than later, as Cannondale has poached one of the main minds behind RockShox's Pike. I wouldn't be surprised if the next-gen Lefty turned out to be a something very special.
Technical Report
• Pivot Hardware:
I had the bike's main pivot loosen off after a few weeks of riding the bike, which only goes to show that you need to stay on top of things regardless of any fancy expanding collet-style pivot hardware. It took about ten seconds to snug up and never came loose again.
• KS Lev Integra:
I've given KS' internally routed dropper a lot of heat in years past, all of it deserved, but the latest model that came spec'd on the Habit Carbon SE worked flawlessly during my entire time on the bike - I didn't even have to tinker with its cable tension once. KS also still has the best remote in the biz, even if the plastic body on this OEM version did crack when the Habit went cartwheeling down the hill without me on it, although I feel like the blame for the damaged remote falls more on my poor line choice that day than anything.
• Schwalbe Nobby Nic Tires:
I really like these tires. They get more traction than when you use a photo of a puppy on Tinder, and they're predictable in all sorts of conditions... except when they don't have air in them. I'm not sure if it was just an incredibly bad string of luck, but I managed to suffer more flat tires in a month of riding the Habit than I have over the last two years on other bikes. This is not typical of all the new Nobby Nics - the ones on my personal bike have been extremely reliable - but the casing on the Habit's Nics proved to be about as resilient to sharp rocks as single-ply toilet paper, with the result being nearly as messy. All of the cuts were too large for the sealant to plug up.
• Short Stem, Wide Bar:
Not long ago, I had a 160mm travel test bike that came stock with an 80mm stem, which is laughable while also making Cannondale seem forward-thinking. The SE has 120mm of rear wheel travel and comes with a 60mm stem that clamps onto a 760mm wide handlebar, a combo that felt spot-on for the bike's front-end length and how it wants to be ridden. This is a playful bike and the shorter stem only helps to bring that personality out.
• Water to Spare:
I don't feel like I should be pointing out that a large-sized water bottle fits inside of the Habit's front triangle, but the last few test bikes I've written about either only have room for a small bottle or the sole H2O location is on the underside of the down tube. This is a big deal for anyone that likes to do big rides, especially if they don't like wearing a backpack for hours on end..
• Fabric Scoop Seat:
My ass felt at home while perched on the Scoop for hours on end, and while everyone's undercarriage is shaped differently, I bet that the very large majority of riders would also get on well with Fabric's most popular seat.
Pinkbike's Take:
| | |
| --- | --- |
| | The short-travel Habit is like a cross-country bike if cross-country bikes were more about a good time than breathing through your eyeballs for a few hours while pretending you're enjoying yourself. It's adaptable in that you can ride it all day without feeling like you're being punished for something, but then it reminds you exactly why you're out there: for fun. It's also a good reminder that travel doesn't define a bike, and neither does its appearance. - Mike Levy |
---
Visit the feature gallery for high resolution and additional images
---
---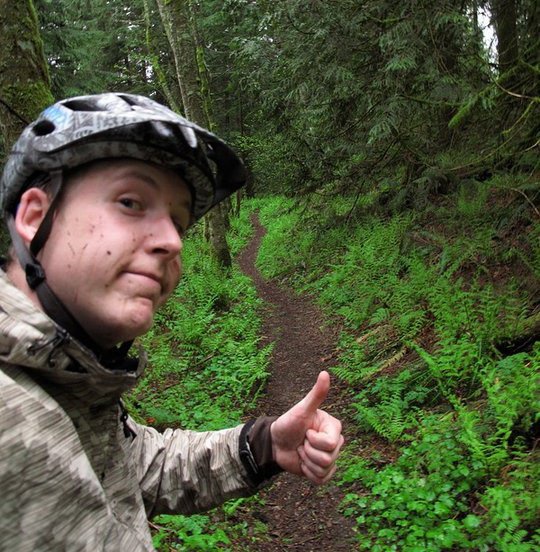 About the Reviewer
Stats: Age: 34 • Height: 5'10" • Inseam: 33" • Weight: 165lb • Industry affiliations / sponsors: None Mike Levy spent most of the 90s and early 2000s racing downhill bikes and building ill-considered jumps in the woods of British Columbia before realizing that bikes could also be pedalled for hours on end to get to some pretty cool places. These days he spends most of his time doing exactly that, preferring to ride test bikes way out in the local hills rather than any bike park. Over ten years as a professional mechanic before making the move to Pinkbike means that his enthusiasm for two wheels extends beyond simply riding on them, and his appreciation for all things technical is an attribute that meshes nicely with his role of Technical Editor at Pinkbike.