The all-new, 160mm-travel Rogue Sixty is an important bike for Ellsworth, probably more so than any other bike in the company's history. If it bombs, well, it could be a serious strike to an already tattered reputation. But if it's a winner, it could signal a fresh beginning for a brand that's seen its mostly unfair share of criticism, much of it from people who've never even thrown a leg over an Ellsworth.

The bike in question features their 'XT 1X' build kit that, you guessed it, comes with an XT drivetrain and a single chain ring. This build would normally ring in at $6,495 USD with a set of DT Swiss aluminum wheels, but my test rig showed up with a set of color-matched Reynolds carbon hoops that bumped the price up to $8,420 USD.


Ellsworth Rogue Details
• Intended use: all-mountain / enduro
• Wheel size: 27.5''
• Rear wheel travel: 160mm
• Four-bar, Horst Link suspension
• Carbon front triangle, seat stays
• Internal dropper post routing, Di2 compatibility
• 66° HTA, 74° STA
• Weight: 29lbs 8oz
• MSRP: $8,420 USD
•
www.ellsworthbikes.com
Frame Details
I think it's fair to say that Ellsworth has taken a few steps forward in the appearance department. The Rogue Sixty is a looker, especially compared to its predecessors. The bike's front triangle is carbon fiber, as you'd expect to see at this price point, and a 3K weave-finish has been combined with orange highlights. The bike's seat stays are also carbon, and the two sides are joined with a bridge just aft of the aluminum rocker arm to increase rigidity.
The proprietary 12 x 148mm axle features hexagonal ends for the same reason, as does the upper shock mounting hardware, all of which goes in line with what Ellsworth says about aiming to create a torsionally stiff frame.
Frame details include internal cable routing with full-length guides to keep you from having a nervous breakdown while trying to fish out that new derailleur cable, and there's a spot inside the frame for a Di2 battery should you want to go full robot with your shifting. If you know me, you might also know about my fetish for bikes that can fit a bottle inside the front triangle, which the Rogue can do, and there's also a second bottle mount location on the underside of the downtube.
What else... the bottom bracket is threaded, there's a set of ISCG tabs, there's enough tire clearance to make the bike's Highroller II rubber look skinny, and you can't mount a front derailleur.
Suspension Design
The Rogue's 160mm of travel is controlled by Ellsworth's AEES (Active Energy Efficient Suspension) design, a four-bar system that is said to provide a supportive pedaling feel while under power but remain active for traction. That's easier said than done when you're dealing with this much travel, especially when some riders will care more about pedaling performance than out-and-out bump absorption while many others will look for the exact opposite.
Specifications
Specifications
Release Date
2017
Price
$8420
Travel
160
Rear Shock
Fox Float X Factory
Fork
Fox Factory Series, 36 160mm Boost
Headset
Cane Creek Tapered ZS44/56
Cassette
Shimano XT 8000 11 speed 11-42T
Crankarms
Shimano XT 8000 1X 32T Boost
Chainguide
MRP AMg V2 I-05 26-32T
Bottom Bracket
Shimano BSA 73mm
Rear Derailleur
Shimano XT 8000 GS
Chain
Shimano HG-700 11 speed
Shifter Pods
Shimano XT 8000
Handlebar
Raceface Atlas 35mm, 20mm rise, 780mm
Stem
Race Face Turbine 35mm
Grips
Lizard Skin Charger Ellsworth
Brakes
Shimano XT 8000
Wheelset
Reynolds
Tires
Maxxis Highroller II 2.3
Seat
WTB Volt
Seatpost
Race Face Turbine 30.9 150mm
---
Climbing
There seem to be two schools of thought when it comes to bikes like the Rogue and climbing: some people don't give a rat's ass how well their 160mm bike pedals and handles on the climbs just so long as it's a demon on the descents, while the other group knows that just because a bike rips on the downhills doesn't mean that it gets a free pass to suck on the uphills. The second group is one hundred percent correct, of course, and the Rogue would make those riders quite happy.
Rocky Mountain's new Slayer is one of the best pedaling mid-travel bikes that I've ever spent time on, and the Rogue is right there with it when it comes to pedal-powered spunk. There were more than a few occasions when I got to the top of a climb and reached down to flip the Float X's pedal assist lever to the open setting, only to find that it had been left wide open all along. The big Ellsworth also refuses to sit back and wallow in its travel on steep climbs, something that goes a long way to having the Rogue make mincemeat of a lot of technical pitches that have stymied shorter travel and supposedly quicker handling steeds.
The short, 420mm chain stays make it easy to approach those confined corners and have it feel like you're pivoting right over the rear axle, and that's not a common trait among bikes in the same class as the Rogue. The last all-mountain bike that really impressed me with its handling on climbs was Alchemy's Arktos, but the Rogue matches it in every way, and maybe even trumps it when things get tighter than a duck's backdoor.
As well as the Rogue ascends, I wasn't a fan of the Shimano XT cassette's massive jump between the two largest cogs. The largest cog on the Rogue's cassette is a 46-tooth pie plate and the one below it has 37-teeth, making for an awkward feeling nine-tooth jump between the two. I get that a lot of riders on 160mm-travel bikes aren't wanting to do anything more than spin up the climb at a relaxed pace, and for them, the nine-tooth gap probably doesn't stand out. However, I often felt like the 37-tooth cog could feel a bit tall on steep climbs, but the gigantic 46-tooth bailout gear was far too low.
All this praise for the Rogue's handling and pedaling means that it's a good choice for a rider who wants all of the suspension without all of the mushy laziness that can sometimes come with it. There aren't a ton of 160mm-travel bikes that I'd be happy to pedal around all day, day after day, but the Rogue is on that shortlist.
Descending
The Rogue's greatest strength is perhaps its all-around handling prowess that nearly always seemed to be just right for whatever situation I found myself in. There are slacker bikes and longer bikes, and there are steeper and shorter bikes, but the Rogue Sixty's numbers seem to grant it the ability to feel at home in more situations than I expected. It's a bit of a shape shifter in that it feels just as happy to piddle along on a blue or green level trail as it is to fly into far more challenging terrain.
Granted, it doesn't quite have the poise of a Slash or Slayer when faced with sections of trail that might make some riders question what they think is fun - it can feel more nervous than those two previous examples at such times - but I'd argue that the slight amount of ground it gives up in those rare moments is worth the all-around capability that it provides.
The Ellsworth is a lot of fun regardless of what's on the day's menu, but it's is at its best when the main course includes any and every kind of corner. Slow, fast, tight, or wide, the Rogue dives into all of them in a way that makes the rider feel like he or she can do no wrong. Isn't that exactly what a good-handling bike should do? Of course, but it's rare for a slack-ish 160mm-travel bike not to make its rider feel like they're working hard to get around that one janky corner that every trail seems to have. The Rogue manages to make every corner feel like it has the ideal radius, however, which is a pretty neat trick.
The short, 420mm rear-end no doubt plays a role in how the Rogue can deal with the tightest of bends, but I wouldn't discount the bike's rigidity as a factor as well. Granted, there aren't a lot of noodley bikes out there these days, especially not for a 160lb rider like myself, but the Ellsworth is very clearly a solid package that never once displayed a single odd shimmy or shake.
Unlike a lot of enduro-focused bikes on the market, the Rogue doesn't need to be ridden at ten-tenths on every descent to be fun, which is a great thing when you put aside the ego and realize that pulling on a set of knee pads isn't going to make you Richie Rude. It's not the ground-hugger that a Slash is - more feedback is sent up through the bike - but that makes the Ellsworth ideal for a rider who values the ability to easily pop and play instead of the plow approach that's not always the most fun way of getting things done.
For as well as the bike handles, I wasn't that impressed with the Rogue's rear suspension. The flipside to the bike's great pedaling efficiency seems to be a less than super supple feeling to the top of the travel, especially when you're on the gas, and that isn't ideal for a bike with nearly half a foot of suspension and twenty-five to thirty percent sag. This wasn't as noticeable on smooth, fast trails, but repeated high-frequency impacts felt like they were being passed up and into my feet a bit too well.
The opposite end of the stroke seemed to come up all too quick also, with a some hard bottoming moments giving my janky ankles grief a little too often for my liking - that shouldn't happen on a 160mm-travel bike. The stock Float X shock comes equipped with a volume spacer from Ellsworth, but I'd have to add a larger one if I was keeping the Rogue Sixty in my stable permanently.
Component Check
• Maxxis Highroller II Tires:
You usually can't go too far wrong with big meat from Maxxis, and this is certainly true when it comes to descending. The Highroller IIs might not be as popular as the Minion, but they always work well across a large variety of terrain. The one caveat to that, at least this time around, is a distinct lack of climbing traction. To be honest, this isn't a complaint that I've had before, but I just didn't gel with the Rogue's rear tire this time around, with more spinouts than a Dukes of Hazzard episode when the trail was wet and slimy.
• MRP AMg Chain Guide:
I usually get by just fine without a chain guide, but I think that a lot of riders on 160mm-travel bikes would prefer to have one. Ellsworth ships the Rogue Sixty with MRP's little AMg guide that runs drag-free, doesn't clog up with mud, includes a removable bash guard, and weighs a bit over 100-grams. Hard to argue with any of those points.
• Reynolds Carbon Wheels:
I'm a bit conflicted over these admittedly awesome wheels. I love a set of nice carbon hoops, which the color-matched Reynolds certainly are, but they also add just under $2,000 USD to the price of the bike when it's spec'd with a set of DT Swiss wheels. Value is obviously a subjective thing, and I don't often comment when it comes to prices for that reason, but I bet that the Rogue Sixty would perform just as well with the aluminum rims at $6,495 USD.
• Race Face Turbine Dropper:
The Canadian company's dropper post, which uses technology licensed from 9point8, hasn't been trouble-free for us in the past, but that wasn't the case with the one on the Rogue. The 150mm of stroke was smooth, the post performed flawlessly, and its trigger-style remote is one of the best around. It's good to see Race Face get on top of the issues that their early production Turbine droppers had.
Pinkbike's Take:
---
---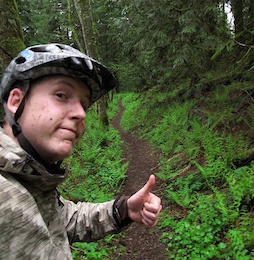 About the Reviewer
Stats:
Age: 36 • Height: 5'10" • Inseam: 33" • Weight: 165lb • Industry affiliations / sponsors: None • Instagram:
killed_by_death
Mike Levy spent most of the 90s and early 2000s racing downhill bikes and building ill-considered jumps in the woods of British Columbia before realizing that bikes could also be pedaled for hours on end to get to some pretty cool places. These days he spends most of his time doing exactly that, preferring to ride test bikes way out in the local hills rather than any bike park. Over ten years as a professional mechanic before making the move to Pinkbike means that his enthusiasm for two wheels extends beyond simply riding on them, and his appreciation for all things technical is an attribute that meshes nicely with his role of Technical Editor at Pinkbike.