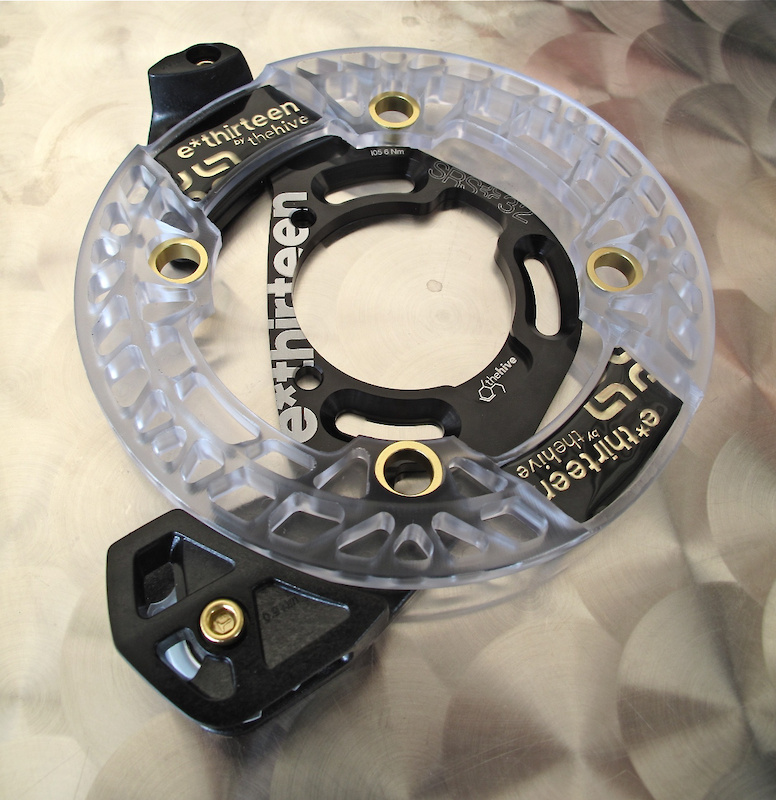 Originally built as prototypes for Team Monster Energy - Specialized riders and their unique six speed compact drive system, the SRS+ 32 guide will now hit production before mid Summer.
e*thirteen SRS+ 32 details
- Brand new SRS+ guide to fit 32 tooth rings
- Uses a new back plate designed to better suit 32 tooth rings
- Fixed lower roller position
- New 32 tooth TurboCharger bash guard (
will be available separately
)
- Price: TBA
You've probably seen our coverage of Team Monster Energy - Specialized's unique
6 speed gearing and 9 tooth cog
that allows Sam, Brendan and Troy to run smaller than average chain rings and bash guards, but a lot of readers were still curious about what chain guide setup they were using. It turns out that team sponsor Specialized Bikes had made the them a number of custom guides that used smaller diameter guards to give the bikes more ground clearance, combined with a more compact and non-adjustable back plate. The result was a very specific type of chain guide that was suited well to the team's 1x6 cassette and small 9 tooth cog combination. e*thirteen was well aware that not just team riders would like the system though, so expect the new SRS+ 32 to hit the production line by mid Summer.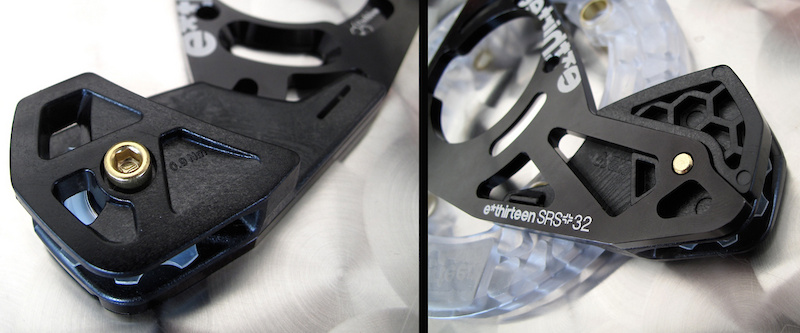 The SRS+ 32 is a very specific type of guide that is designed to work with just 32 tooth rings, and because of this its lower roller is now fixed in one position, unlike their other adjustable models. This makes the guide more compact for better clearance, simpler and lighter.
Many riders out there currently use a single 32 tooth ring combined with a standard SRS+ guide, but the new SRS+ 32 is a lighter and simpler option that gives the bike more ground clearance - something that many of us will appreciate. Let's hear what you think about e*thirteen's new compact guide - put those thoughts down below!
Check out the
e*thirteen website
to see their entire lineup.
Stay tuned for more from Sea Otter!