Fox's new 32 Step-Cast fork sees them take their proven FIT4 damper, as well as the new FIT GRIP damper, and drop them into an entirely new fork chassis that has allowed them to bring the 32 down to an impressive claimed weight of just 1,355g (2.98lb) for the Factory 27.5'' model. The 29er version weighs just five grams more, and both models employ Fox's FLOAT air spring that can be tuned with clip-on volume spacers.
How does the 32 Step-Cast compare to the competition when it comes to the scales? RockShox's lightest SID offering, the XX World Cup with its one-piece carbon crown and steerer, comes in at a claimed 1,398g (3.08lb) for the 27.5'' fork and 1,485g (3.27lb) for the 29er version, while DT Swiss' OPM O.D.L 100 RACE, also with a carbon crown and steerer, weighs a claimed 1,455g (3.20lb) in its lightest configuration. All those numbers mean that the 32 Step-Cast is lighter despite Fox not employing any carbon. What they did have to do, however, was make a drastic redesign of the 32's chassis.
32 Step-Cast Details
• Intended use: cross-country
• Travel: 100mm only
• Stanchions: 32mm
• New Step-Cast chassis
• 10mm narrower chassis width
• FIT4, FIT iRD, FIT GRIP damper options
• FLOAT air spring
• Boost or standard 15mm thru-axle
• Weight: 27.5'' - 1,355g / 2.98lb, 29'' - 1,360g / 2.99lb (165mm steerer, star nut, Kabolt axle)
• Availability: May, 2016
• MSRP: $619 - $1,569 USD
New Chassis, Extreme Measures
Any cross-country fork that weighs in somewhere around the low three-pound range should be considered as extremely light, but the more weight that engineers shave off, the more difficult it becomes to keep doing exactly that. You go from counting hundreds of grams to adding up double digits if you're lucky and really clever about it, and you'll eventually end up needing to make a drastic departure in design if you want to drop any meaningful weight. So that's what Fox did, with the result being a 225g (0.49lb) weight loss for the 27.5'' 32 Step-Cast fork compared to the 27.5'' 32 from 2016, and an even larger 255g (0.56lb) drop in weight for the 29er model.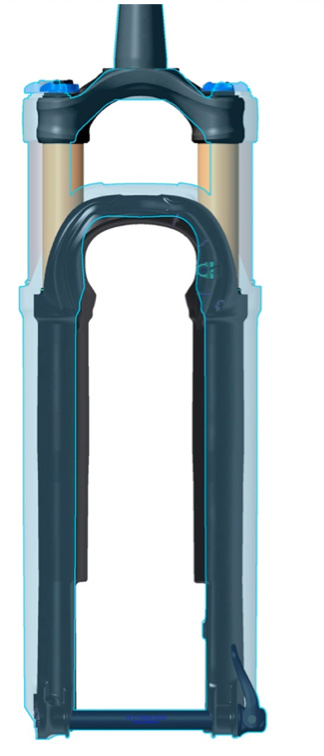 The drastic departure in design that Fox went ahead with to lose that weight consists of a whole new fork chassis that sports a narrower stance than the previous 32, so much so that the Step-Cast's lowers needed to be re-engineered to clear the front wheel's spokes and brake rotor. And this is where the fork's name comes from, with two large steps on the inside of each leg to provide the necessary clearance. A 15mm thru-axle ties the legs together, and riders can choose from either Boost or standard 100mm spacing, as well as going with Fox's 15QR or the lighter Kabolt axle that requires a 6mm hex key.

The new Step-Cast chassis, including fork lowers, can fit up to a 2.3" wide tire, with the redesigned crown residing at 10mm narrower in width than its predecessor, going from 130mm to 120mm in overall stance. That smaller package is where the large majority of the half-pound weight savings come from, but it's also obvious that some torsional rigidity is going to be lost compared to the previous year's 32. How much? Fox doesn't want to share the exact numbers with me, but they did say that the 32 Step-Cast is comparable to a 2015 32 when talking about equal fore and aft forces, but with slightly less torsional rigidity.

Also, we're talking about a half-pound weight loss from an already light fork that's made for pure cross-country racing, a sport where guys are excited to swap out their stock water bottle boss bolts for some aluminum hardware. In other words, a lot of racers will be more than happy with the trade-off.
Same Air Spring
While the rest of the Step-Cast fork has seen updates and complete redesigns, Fox didn't change anything when it came to the FLOAT air spring. Rider's will find the same spring curve as on previous 32 forks, with the ability to fit up to four clip-on volume spacers should they feel the need for more progression. And being offered in a single 100mm travel option means that there is obviously no need for a TALAS version of the 32 Step-Cast.
Updated FIT4 and New FIT GRIP Dampers
The 32 Step-Cast is available with a few different internal options, including the FIT4 damper with its extruded rubber bladder, RC2 10mm shaft setup, and the usual three-position lever that allows riders to fine tune low-speed compression when the fork is in its open mode. This damper can also be controlled via a handlebar mounted remote for those looking to keep all hands on deck. There is also a FIT iRD damper that provides electronic control of the lock-out for riders with a battery fetish.
The fork's FIT4 damper (pictured above) has been tweaked a bit for use in the Step-Cast, with basically the same low-speed compression, but with a lighter mid and high-speed control, as well as extra machining performed on certain parts in order to shed some extra grams compared to the FIT4 unit used inside of Fox's other forks.
The big news is an all-new damper from Fox, the FIT GRIP, that's meant to bridge the gap between their high-end and more expensive FIT 4 damper and a less pricey open system. FIT GRIP is a closed damper, just like FIT4, but it employs a spring-backed internal floating piston - rather than the expanding bladder in the FIT4 design - that acts as a compensator.

FIT GRIP (shown right) is a less complicated damper with different oil flow paths that is less expensive to manufacture than the more complicated FIT4 design, and it likely introduces a bit more internal friction into the system than if Fox had used a bladder, but the spring-backed IFP allows them to produce a less expensive closed cartridge that should offer much more consistent control compared to an open damper.

Performance Series forks with the FIT GRIP damper still provide Open, Medium, and Firm modes for riders to choose between by toggling a crown-mounted lever, as well as additional micro-adjust between those modes.