It doesn't get much more obvious than this, does it? Fox mechanic Kolja Schmitt posted a photo of the company's upcoming 29er DH fork to
his personal Instagram page
yesterday, all but confirming confirming the non-stop off-season rumors that many of the sport's largest teams will be moving from 27.5'' to 29'' wheels for their World Cup DH race effort.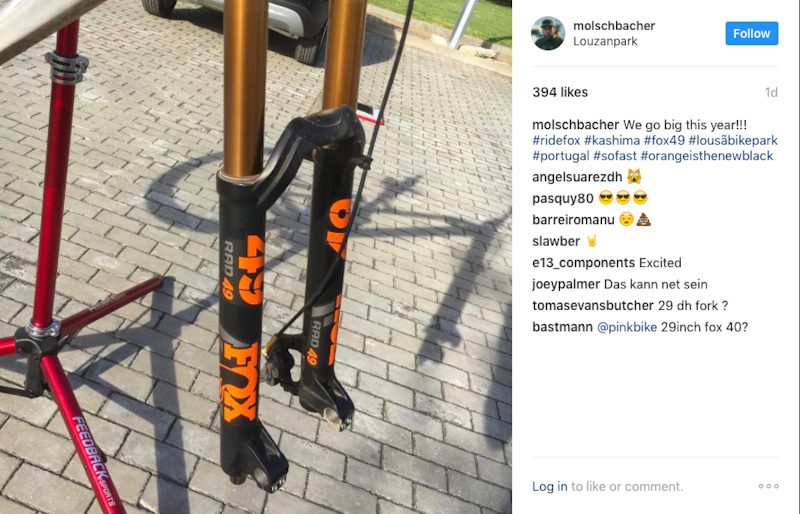 Fox had no official comment when questioned, but it's a safe bet that the new fork, which has the not so creative name of the '49,' will use the same RAD internals as the 27.5'' 40 that their racers have been on. The 49 will have a different offset compared to the standard 40, and surely a bit less travel as well - 29'' wheels generally don't require as much stroke, and its axle-to-crown length would be massive if it were sporting 200mm of travel. My guess is that most riders on the 49 will run around 180mm or 190mm. Remember
that photo of Santa Cruz's Greg Minnaar on a long-travel 29er
with a dual-crown fork from back in December? The new 49 pictured above is the outcome of that, and many other test sessions, and the whispers of a 29'' wheeled V10 have to be true.
The other thing to note is the bike that the 49 is bolted to. Check out that distinctive shadow that looks a lot like a Mondraker Summum - will we see Danny Hart and the rest of the team on 29'' wheels this season? It sure looks like it.