The new 130mm travel Mojo 3 is the latest trail bike from Ibis, and it's their first model that's designed with 27.5+ tires in mind. Riders aren't locked into high-volume rubber, though, with the company saying that the bike's 2.8" wide kicks are just 0.15" taller than a 2.3'' tire, meaning that you could run either size without upsetting its geometry. The 27 pound bike employs the latest iteration of Dave Weagle's dw-link suspension design, and Ibis says that the Boost rear end allows it to feature a short, 425mm chainstay length but without sacrificing the ability to run two chain rings and a front derailleur.
Mojo 3 X01 Werx Details
• Intended use: trail
• Rear wheel travel: 130mm
• Fork travel: 140mm
• Wheel size: 27.5''
• Compatible with 2.8" wide 27.5+ tires
• Compatible w/ single or double chain rings
• Updated dw-link suspension
• Boost 148mm hub spacing
• Frame weight: 5.5lb w/ shock
• Weight: 27.05 lb
• Frame only MSRP: $2,999 USD
• MSRP as shown: $7,599 USD
The high-end X01 Werx test bike reviewed below retails for $7,599 USD, but Ibis will offer a range of complete bikes that start with the $3,999 USD Mojo 3 with their Special Blend build kit, as well as a frame-only option at $2,999 USD.
Frame Details

With its familiar lines, anyone acquainted with Ibis is going to recognize that the Mojo 3 is part of the family from a mile away, and you'd also be forgiven for assuming that it's a heavier hitting HD3 at first glance. But while the angles are in the same ballpark despite the twenty-plus millimeter difference in travel between the two, the 5.5 pound Mojo 3 frame is an entirely new creation that's shorter on travel and about half pound lighter on the scale. And just like the HD3, the bike sports cable entry and exit ports that can be opened up to make maintenance easier (although it doesn't feature full-length internal guides), as well as room for a large-sized water bottle inside of the front triangle. No mandatory backpack required when on the Mojo 3, thankfully.

The bottom bracket shell is threaded to make things easier when it's time to give the bike some TLC, and splines on its outer face allow an ISCG 05 chain guide to be installed if need be, while a bolt-on guard protects both the underside of the down tube and the rear brake line that's routed beneath it. The rear derailleur and dropper post lines dip inside the frame through ports that are just behind the head tube.
Yes, it features a Boost rear end without any choice of running a standard, 142mm spaced axle, an option Ibis offers with their shorter travel Ripley. I suspect that your flaming arrows are lit and your catapults are loaded, but let me give you two numbers before you attack: 425mm and 2.8". The first number is how long the Mojo 3's chainstays are, which is pretty damn short, and the second number is the width of the bike's Schwalbe Nobby Nic tires, which easily clear the swingarm. Look past the two different units of measurement, and you'll realize that Ibis has given the Mojo 3 an impressively stubby chainstay length, one that's more in line with what we used to see from bikes with 26'' wheels, let alone 27.5'' wheels with 2.8'' wide tires. And, as much as Boost has been shit on by us and everyone else, it also allows Mojo 3 owners to go with two chain rings and a front derailleur if they'd prefer.
The Mojo 3 is pictured here with 2.8'' wide tires from Schwalbe, and that's also the configuration that I spent most of my time on, but Ibis' Scot Nicol does stress that the new bike is far from being a plus-only machine. ''We've found that the [width] numbers printed on tire sidewalls mean very little when it comes to their height,'' Nicol explained after experimenting with just how much of a difference there is in diameter between plus and standard 27.5'' tires. ''The Schwalbe and Maxxis 2.8s are only 0.15" taller in section height than a 2.3'' tire, whereas 3.0'' tires are 0.4" taller.
''That means with the 2.8s you get the added traction but without bounce and vagueness in corners. They also allow for those short 425mm chainstays which would not be possible if we tried to fit tires bigger than 2.8 inches.''

In other words, Nicol is saying that the minimal, 0.15'' difference in tire height between a 2.8'' tire and a 2.3'' tire means that the bike should ride well when rolling on either. Making the Mojo 3 compatible with 29" wheels is another story, however, as you can read below.

---
3 Questions With Ibis' Scot Nicol
Mike Levy:
The 130mm travel bracket is a bit ambiguous and could be considered not ideal for any specific use but ideal for many, many riders. So what type of rider is the Mojo 3 made for?
Scot Nicol:
I think you hit the nail on the head: ideal for many, many riders. Not everyone needs the full capabilities of a bike like the HD3. Yes, our EWS team works the HD3 to the limit. Most people, however, don't. The 130mm travel bracket is the best selling of all the trail bike brackets, though, so this is an appealing segment. It's the best bike for the most people.
I look at this bike as it being a rule breaker. Mine is just under 26lbs ready to ride, with 2.8'' tires. It's playful yet capable. Our Strava-enabled testers have been matching their HD3 times on this bike going downhill and beating them on the climbs. Switch from 2.3'' to 2.8'' tires depending on terrain, with no compromises.
Levy:
The Mojo 3 is roomier than past models, but Ibis hasn't embraced the super-long geo as fully as some other brands have. Why is that?
Nicol:
We're constantly making our bikes longer up front and shorter in the rear (thank you, Boost), but we're not compelled to push the outer limits of reach. A super long reach is an advantage on the super steeps, but a disadvantage nearly everywhere else.
It's hard to get enough weight on the front wheel. Not everybody wants to ride that aggressively all the time, so we try to strike a balance.
Levy:
What is the reasoning for not making the Mojo 3 29er-compatible by way of a small "flip chip" or geometry adjustment that would compensate for the change in overall wheel diameter? It seems like it would open the bike up to more consumers, wouldn't it?
Nicol:
We were looking at making the Ripley both a 29er and 27.5+ bike because plus tires were supposed to be about the same size as 29er tires. That's not what actually happened when we got out our giant calipers and started measuring the tires that we were sent. We found that all of the tires measured smaller than what the tire companies said they would. And when we rode a bunch of the plus tires, all the ones we liked were the shorter ones. Another thing that's not talked about much is that tires have their own sag, which is a real number at our preferred 15 - 18 psi pressures. When you measure the static bottom bracket height, it's slightly higher with the 2.8'' plus tires. When you measure bottom bracket height with your weight on the bike, it's the same as with 2.3" wide 27.5 tires.
When we realized this real-world scenario, we decided not to convert the Ripley and looked at the Mojo 3 frame instead. It works really well with "regular" 27.5 tires, which means you can choose different tire sizes with the same wheelset and no frame or fork modifications. Note that the 2.8'' tires are an inch shorter than the 29er tires. In order to fit 29er tires, the chainstays would have to get longer. So the bottom line is that it's a better 27.5+ bike because it's not also a 29er.
We also think that while it sounds nice, in actuality not many people are going purchase two wheel and fork setups. If you had the wheels and fork lying around, that would be one thing. Since the modern bikes are switching to Boost now, most people are not likely to have a spare Boost anything lying around.
---
---
Climbing
It doesn't make any sense to keep shouting about how a plus bike is basically the offspring of a mountain goat and an American Ninja Warrior winner. We get it, they offer a ton more climbing traction than a standard bike and its now anorexic-looking 2.3" wide tires. Yeah, you're going to get up things you might not have cleaned in the past. And yeah, they make a lot of stuff easier. The bar has been shifted, so the only fitting thing to do is judge them against each other, mano a mano. So let's do exactly that. I spent a bunch of time on Specialized's 6Fattie not too long ago, and now I've put in a ton of miles on Ibis' new Mojo 3, two bikes of similar travel (135mm for the Specialized, 130mm for the Ibis) and intentions, but that each go about things in a different manner.
Much like the 6Fattie, the Mojo 3 handles like a regular mountain bike - there's no awkwardness or strange gyroscopic effect like you'll find on a true fat bike - and the red Ibis scoots up complex and challenging climbs so well that you'll be forgiven for thinking that you're better than you actually are. And while the 6Fattie supplied plenty of traction, the bike's steering often felt a bit too slow to make the most of its abilities. The Mojo 3, despite sporting basically the same head angle (66.8-degrees vs. 67-degrees on the Specialized), is an easier bike to live with when the grades are steep and the speeds are low. Why? The Mojo's rear end is 12mm shorter (425 vs. 437), the wheelbase is tighter by 21mm (1158 vs. 1179mm), and its trail number is 106mm compared to the 6Fattie's 96.5mm.
A single, twenty-foot section of hellishly tricky trail sums up all those numbers, as well as how they compare to a standard machine. I usually do clean it on the latter, unless it's wet, in which case I'm probably batting .500. On the 6Fattie, however, I could do no wrong when it came to traction, with the only issue being that it took some serious steering input to keep the front wheel down below a trouble-making rock that may as well be a stop sign. The bike tractored through, but I wouldn't call it easy. The Ibis
wanted
to stay below that pesky rock so bad that I didn't have to tell it to, and it is more obliging if you take joy in testing yourself on technical climbs - there are still a few of us out there.
A big reason for all of the above compliments is the on-point steering, but also the bike's Nobby Nic tires that are grabbier than a prom date when the lights dim and the slow music comes on. At 2.8'' wide and at their best when around 16 psi, the traction is to be expected, but their taller knobs and open design means that they aren't prone to floating across the top of muck like some other plus tires I've ridden. They don't roll as quick as the Purgatory Control and Ground Control tires on the 6Fattie, but they're more predictable in the slop, which is a trade-off that I'll take everyday. And speaking of speed, the bike's latest dw-link suspension means that the Mojo 3 feels as sporty as a 130mm bike should, even with the big 2.8" wide meat, and I'd be surprised if anyone finds the need to reach for the Fox shock's pedal-assist lever. I never did.
Descending
I've spent countless hours on nearly all of Ibis' mountain bikes, from the older Mojos to the new HD3, and from that first generation Ripley to the latest LS version, and I'd make a case that all of them feel sportier, livelier, and quicker handling than most other bikes of similar travel. That's not always ideal, and no, they don't sport the most progressive geometry, but that is also what can make them such great bikes for so many riders - they're useable, and they allow riders to get the most out of the trail. Ibis designed the Mojo 3 in the same vein, and it's why it is exactly not what you'd expect a plus bike to be.
And what are they supposed to be? Unwieldy, and many reviewers have basically said that 27.5+ bikes have more in common with a fully loaded tandem than a unicycle on tight trails or terrain than should otherwise inspire some fun antics. This can be used to a rider's advantage when the ideal line is straight through a mess, but bobbing and weaving isn't the best tactic on a plus bike... unless that plus bike is the Mojo 3. The red Ibis, with its 2.8'' wide rubber, is more playful and alive than the large majority of bikes with tires that are half an inch skinnier and hundreds of grams lighter. Think Olympic gymnast who kills a large pizza every night and then scores a perfect ten despite it not looking physically possible. You know, don't judge a book by its cover and all that cliché stuff.
I've said many times before that numbers don't tell a bike's personality, but there's no getting around that the Mojo 3's stubby, 425mm rear end is a big reason for the bike's eagerness to party. That's quite a bit shorter than the Specialized 6Fattie, Santa Cruz Hightower, and most others, and, along with a front-end that's not crazy long, it makes for a bike that feels wired directly into your nervous system. While the 6Fattie liked to go through things, the Mojo 3 likes to either air over them or, if you ask it to, dance around whatever it is that has the rider's attention. The bike's 140mm Pike is 10mm shorter than the Fox 34 that was on the front of the Specialized, which also means the front-end is a bit lower, both points that factor into this discussion, and they also make the Mojo 3 feel a bit more balanced unless you're on life threatening terrain.
| | |
| --- | --- |
| | The red Ibis, with its 2.8'' wide rubber, is more playful and alive than the large majority of bikes with tires that are half an inch skinnier and hundreds of grams lighter. |
But what about when you need to plow? Well, the 6Fattie is a faster and easier bike when you need to smash through things, there are no two ways about it, and it's also a more confidence inspiring overall package when you're on the limit of your abilities. But I'd have to ask myself just how often I'm nudging up against that line. The answer is not as much as I'd like, which, I suspect, is the same for many other riders, and it's probably why I had so much fun on the Mojo 3. It's a bike the rewards control and exactness, even with its massive rubber.
The quick handling Mojo can also change direction with the best of them, and it's a joy to line up a bunch of interconnected corners that blend into each other. In those moments, I felt like one of those inflatable, five-foot-tall clowns that you can punch or push over and they pop right back up like they're spring loaded. That about sums up what it's like to string a bunch of quick turns together while on the Mojo 3, which certainly makes the shorter and probably not quite as stable wheelbase feel every bit worth the compromise.
Schwalbe vs. Maxxis
Ibis delivered the Mojo 3 with two different sets of tires for me to choose from: the 2.8" wide Schwalbe Nobby Nics that came installed, as well as a set of 2.5'' wide Maxxis Minions DHF WTs with a casing and lug design made to better gel with mega-wide rims like those on the Mojo. I spent the majority of the time on the former but managed to get in ten days with the revised Minions, enough time to comment on them and compare the two choices.
Firstly, the big Schwalbes provide much more climbing traction than the 2.5'' wide DHFs, and I found myself spinning out up wet, muddy climbs that I had breezed up only one day earlier when the Nobby Nics were on the bike. The difference when climbing in low traction conditions is immense, but there's also more braking traction with the Nobby Nics for the same reasons: lower tire pressures, more aggressive lugs, and a larger footprint.

The gap between the two in best-case conditions was smaller, but the 2.8" Schwalbe tire still tops the 2.5'' Minion when talking about climbing and braking bite. This makes the Schwalbes the better tire in a lot of scenarios, especially here in B.C. where it's often wet and slimy.

What the 2.5" Minion DHF does offer, though, is a much more traditional, albeit a bit less forgiving, ride. I'd describe it by saying that the bike feels more accurate when the Minions were on, but I'm also not too proud to admit that I felt quicker and more comfortable when using the Schwalbe plus tires, especially when the speeds picked up or things got steep. Traction aside, the Minions proved to be more reliable as I managed to slice the casing on the rear Nobby Nic wide open on a rock that I know I've been rubbing my tires up against for the last decade or more without any issues.
Pinkbike's Take:
| | |
| --- | --- |
| | If I could do a blind test of the Mojo 3, I'm pretty confident that I'd still be able to tell you that it's an Ibis through and through. Sure, there are machines of similar travel that have more DH attitude, but the Mojo's nimbleness raises the fun factor to 11 on all but the scariest terrain, and a lot of riders don't even have access to those sorts of trails. And rather than hindering the bike's agility, the plus-sized compatibility only opens up more options when talking about both tire choices and line choices on the trail. - Mike Levy |
---
Visit the feature gallery for additional high resolution images
---
---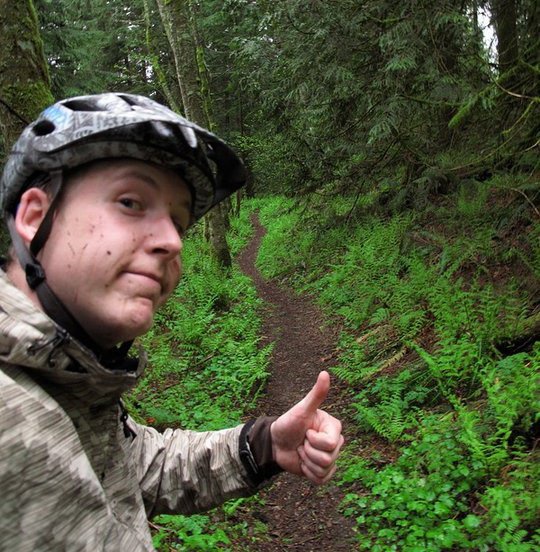 About the Reviewer
Stats: Age: 34 • Height: 5'10" • Inseam: 33" • Weight: 165lb • Industry affiliations / sponsors: None Mike Levy spent most of the 90s and early 2000s racing downhill bikes and building ill-considered jumps in the woods of British Columbia before realizing that bikes could also be pedaled for hours on end to get to some pretty cool places. These days he spends most of his time doing exactly that, preferring to ride test bikes way out in the local hills rather than any bike park. Over ten years as a professional mechanic before making the move to Pinkbike means that his enthusiasm for two wheels extends beyond simply riding on them, and his appreciation for all things technical is an attribute that meshes nicely with his role of Technical Editor at Pinkbike.