We've now seen a number of companies debut wider than average rims, usually laced up into a complete wheelset and, so far anyways, generally manufactured using carbon fiber. As you might have correctly assumed, this can make for a wheelset that carries a larger sticker price than many people's first cars. The most reasonably priced of the bunch is Ibis' series of mega-wide 741 and 941 offerings that both retail for $1,299 USD, which also happen to be even wider than the other well known options out there. The '41' in their names refers to the external width of each respective rim, which is obviously 41mm, while the '7' and '9' stand for either 27.5'' or 29'' hoops. It is a rim's internal width that determines how the tire is shaped - Ibis' is a massive 35mm. To put it in perspective, that's 12mm wider than the Mavic rims used for the French brand's latest Crossmax XL wheels, and 10mm more than ENVE's new M70 and M90 rims. Pinkbike's own Richard Cunningham was just at the launch of Specialized's new wide offering, but even those measure in 5mm less. But does wider really mean better? Does Ibis' extreme approach add up to more performance on the trail?

Ibis 741 wheelset

• Rims: carbon fiber, hookless bead

• Width: 41mm outer, 35mm inner

• Diameter: 27.5''

• Front Hub: 15mm thru-axle (

QR conversion

)

• Rear Hub: 142mm thru-axle (

QR conversion

)

• Driver: Shimano or SRAM XD

• Tubeless convertible

• Spokes: 3x butted, al. nipples, stainless washers

• Weight: 1,650g (

wheelset

), 475g (

rim

)

• MSRP: $1,299 USD

• Crash Replacement: $349 USD per wheel
---
Why Go Wide?
First we had wide handlebars and now we have wide rims - is everything better when it's wider? Not really, but there are some convincing arguments for wider rims that go beyond the hype and into that rarified zone where truth and facts hide out. These are lifted from
RC's great piece from 2011 that made a case for wider rims
, a spiel that some in the industry seemed to agree with.
•
Traction
- a wider rim puts more of the tread in contact with the ground in a straight line and while cornering because the tread deflects less dramatically under lateral loads and remains more parallel to the rim.
•
Weight
- consider the tire and wheel as an integrated unit. The tire weighs much more than the rim, so a wider rim, though slightly heavier, adds volume to the tire without adding additional rubber and tire casing. This could be especially beneficial to 29ers because the big wheel already spins way too much rubber.
•
Stability and Reliability
- wider rims add a significant amount of lateral support to a tire - especially large-volume tires like the 2.35 and 2.4'' rubber that has become regular fare for trail and all-mountain riders. A tire casing could be made lighter weight and boosting the tire's lateral stability should eliminate burping. This last point is arguably the most beneficial, as RC goes on to say: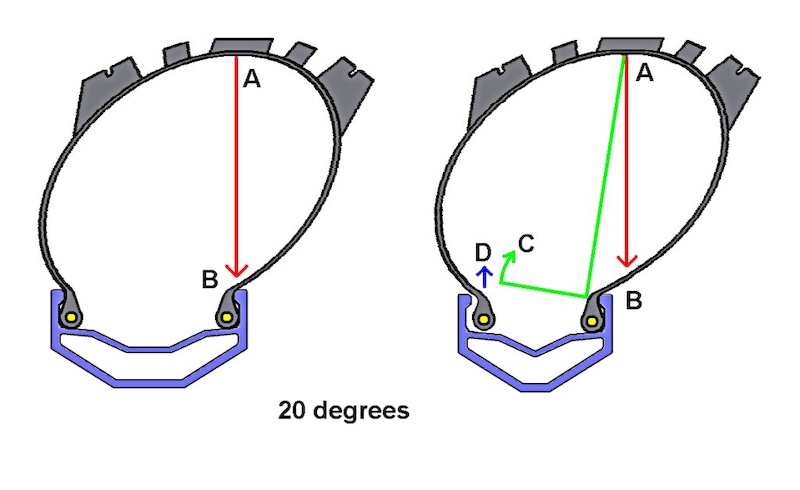 Turns out there may be another culprit to blame for the thorn in the side of tubeless. All pneumatic tires flex from side to side under lateral load shifts – it's in their nature. One reason that wider rims give tires more lateral support is that a wider rim ensures that the tire's contact point hovers between the rim flanges. It is possible for a tire's contact point to migrate outside the rim flanges and in such case, the line of force between the tire and rim would go over-center. In the same way that a quick-release lever generates an exponential amount of clamping force when it goes over-center as it is closed, once the tire's contact patch moves outside of the width of the rim flanges, the tire's ability to support the rider is significantly reduced, while the leverage it imparts to lift the opposite side bead from the rim would substantially increase. This effect would explain the
feeling of a tubeless tire burping – the tire suddenly collapsing under the weight of the rider or the G-force of a turn and then losing pressure. Of course, a narrow tire could not flex far enough to allow the contact patch to get near the danger zone, but a big, flexible 2.35-inch tire on a 22-millimeter (OD) cross-country rim certainly could.
At 20 degrees of imaginary lateral distortion, the wide-rim tire's contact point is just nearing the danger zone over the rim flange (B), but it can still support a load. The narrow rim's tire has flexed to the point where the contact patch is over center (B) and the bending forces are creating tension across the tire casing which pulls on the opposite bead, drawing it up and away from the rim flange (D). The seal has been broken and air may be already leaking.
---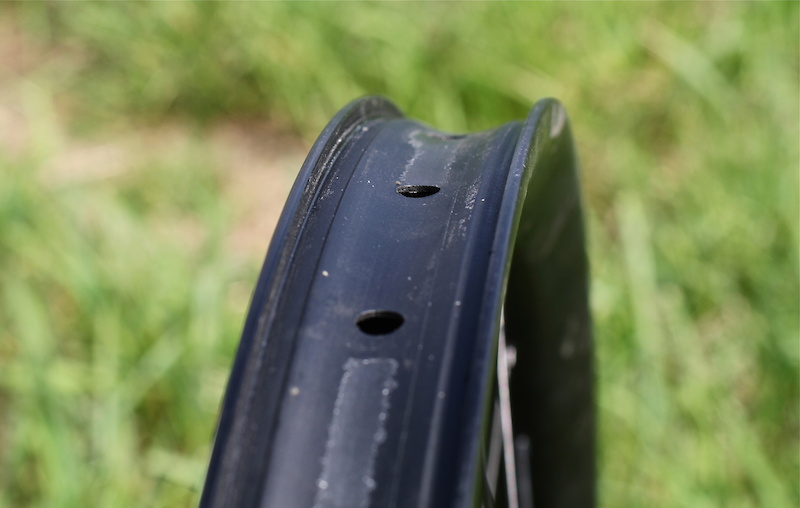 Carbon Rim
At 41mm wide externally and 35mm internally, the 741s look absolutely massive when you sit them next to a more run of the mill setup, though their lack of flashy decals and matte unidirectional carbon finish gives them a much more subdued appearance compared to some of Ibis' competitors. Look elsewhere if you want everyone to know you have carbon rims, or maybe just go out of your way to tell everyone that you ride with if you really want them to know. There's more going on here than just their extreme width and under the radar look, though, because the rims also lack any type of hook on the inner face of their walls - it's flat and vertical (
shown at right
) rather than sporting the classic inverted J shape that we've all become familiar with. Ibis isn't the first to do this - Specialized has had their hookless bead cabon rim around for awhile now - but it is one design point that can make for a much more damage resistant rim when it comes to dents or, when talking about a carbon rim, fatal damage. This is because instead of how a rim's hooked bead is thin vertically before widening out at the top, a hookless design can carry that same thicker width from top to bottom, and more material used smarter adds up to a stronger shape. How strong? ''
We tested the impact strength of several major brands of carbon fiber rims and discovered that the change to hookless bead was a major advantage in impact strength,
'' Ibis says on their website. ''
We also optimized the layup to further increase strength. In the end, our rims are 50 to 300% stronger in impact than competing rims we measured. We don't want to throw anyone under the bus, but we do want you to know that these are well-respected and well-known manufacturers.
''
Ibis told us that they also add carbon around the spoke holes to deal with the forces from a tensioned wheel, and that the spoke holes are drilled rather than molded-in as ENVE does. Is one method better than the other? ENVE says that molded-in spoke holes make for a stronger finished product due to not cutting and disrupting the carbon fibers along their length, but that approach likely also plays a part in upping manufacturing costs. Does that extra material at the spoke holes and hookless rim bead add weight? No doubt about it, it's a contributing factor, as is the extra carbon it takes to build such a wide rim, but they still weigh in at a very competitive 475 grams. Just for reference, a Stan's NoTubes ZTR weighs 530 grams in the same diameter and with an internal width of 25mm (
29mm external
), 10mm less than the 741s, although they do retail for $93 USD. Ibis does not officially offer the 741 rims on their own quite yet, although they are planning on having that option soon.

The illustration above, provided by Ibis, gives you an idea of the sidewall shape and size comparison of the 741 versus their skinnier 928 (28mm wide) and a more common rim.
Hubs and Spokes
The wheelset's Taiwanese-made hubs, much like its rims, lack any sort of pizzaz that would grab the attention of someone who's attracted to shiny things. No well-known logos or bright colours here, just plain black hubs that look to be more function than flash. This might come as a disappointment to those who are fond of having something from Chris King or DT Swiss at the center of their wheel build, but it also surely plays a part in the 741's reasonable-for-carbon $1,299 USD price tag. Both the front and rear spin on Enduro bearings, and the driver depends on three paired pawls to deliver 15° of engagement. Aluminum driver bodies are available in both Shimano or SRAM's XD configuration if you need to make a switch, both of which retail for $68.99 USD. Axle conversion kits can also take the front from 15mm to 9mm QR (
$15.99 USD
), and the rear from 142mm to 135mm QR (
$18.99 USD
).
Ibis has gone with a traditional 32 spoke layout that they say is more reliable than using fewer spokes that need to be tensioned higher: ''
In our tests we found that although you can reduce the weight by using fewer spokes it hurts the long-term durability and also is more prone to damage from sticks getting lodged between the spokes,
'' and they go on to cite how they feel that more spokes gives the rider a better chance of being able to pedal out of the bush if the worst does occur. ''
A 24 spoke wheel with even one broken spoke often can not be ridden as the tire will be hitting the frame. With 32 spokes you have a better chance of riding out after a mishap.
'' That's not to say that the build is plain jane, though, as the spokes are triple butted and laid out in a two-cross pattern that, thanks to the design of the hub's flanges, sees them not make contact with their neighbor where they cross. You'll know why this is a nice touch if you've ever had your bike making odd creaking noises that you tracked down to a spoke crossing and lost tension after weeks of searching. External nipples make for easier wheel truing than if they were hidden within the rim, although those with only thumbs for fingers will need to be careful as they are aluminum. Stainless steel washers also sit between the rim and the nipples.
---
Setup
We mounted up a set of Maxxis' 27.5 x 2.3'' Minion DHFs tubeless on both the front and rear wheels, a process that we found to be slightly less difficult than performing your own root canal, although maybe not as painful. The Maxxis tire and Ibis rim combo made for quite a tight fit, which in turn made for thumbs that were quite sore by the time we were done, but the flip side to this is how easy is was to inflate and seat the tires. No compressor needed, and it only took a few strokes of the floor pump to have both tires pop into place without any hassle. The 'TR' - tubeless ready - Maxxis tires did lose all of their air over the first night, though, but a second inflation and second ride saw them seal up without any further troubles. Once mounted up, the 2.3'' wide Minions measured in about 3 - 5mm wider than if they were on a rim of more standard dimensions. Their wider profile is only part of the story, though, as the rims' 35mm internal width also increased the tires' volume, not just the width at their tread.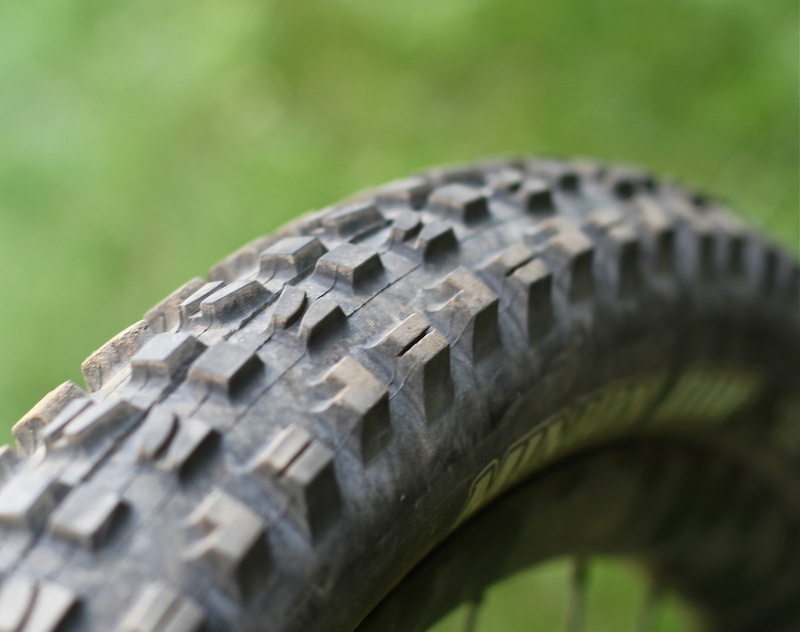 Two points to mention here regarding setup: you'll need to use a relatively long tubeless valve stem (they come with the wheels, and Ibis also sells 48mm stems for $7.99 USD), or make sure to buy tubes with long stems if you aren't going to run them tubeless. Having a flat tire way out in the forest and discovering that your spare tube is sporting a standard length valve stem would be rather frustrating, and we took to making sure that we had both a valve extender and a spare tube with a long stem in our bag at all times.

Our rear 741 came with the XD driver body that we required for testing, but we pulled the hub apart to see how difficult the conversion is regardless - we found that it was pretty damn easy. The driveside cap threads off with a 17mm wrench, and you can slide the driver body straight off the axle afterwards. This also makes for really easy cleaning and maintenance when the time comes.
---
On The Trail
Two different riders spent time on the 741s: test rider
#1
weighs in at well over 200lb and rides hard enough that he often finds himself having to run between 35 and 40 PSI in his tires in order to keep from burping his standard setup, and test rider
#2
weighs 170lbs and usually prefers to run pressures around the mid-20 mark depending on the trail. Reliability for both testers proved to be pretty impressive, with not only no flat tires to report, but nearly zero burping despite tire pressures going well below what both were able to get away with when using a standard width rim. In fact, 200lb+ tester
#1
began with 30 PSI and slowly let air out until he was comfortably in the mid-20s without any issues, something that simply wasn't possible on his stock wheels and tires. He reported that things started to feel a big vague for him when he went below that number, which is to be expected given his size and the amount of tire deformation that can occur, but ran them as low as 18 PSI for testing purposes. It was only then when he was able to get the rear tire to burp air once in a hard corner, although tire pressures were admittedly far too low for him to feel comfortable when pushing hard, something that would result in too much tire squirm when cornering or when on the brakes. This is to be expected, of course, but it did illustrate just how low he could go with air pressure before running into trouble. Pumping them back up to low to mid-20s depending on the trail, a full 10 to 15 PSI less than what he was used to, proved to be best for his terrain, size, and riding style.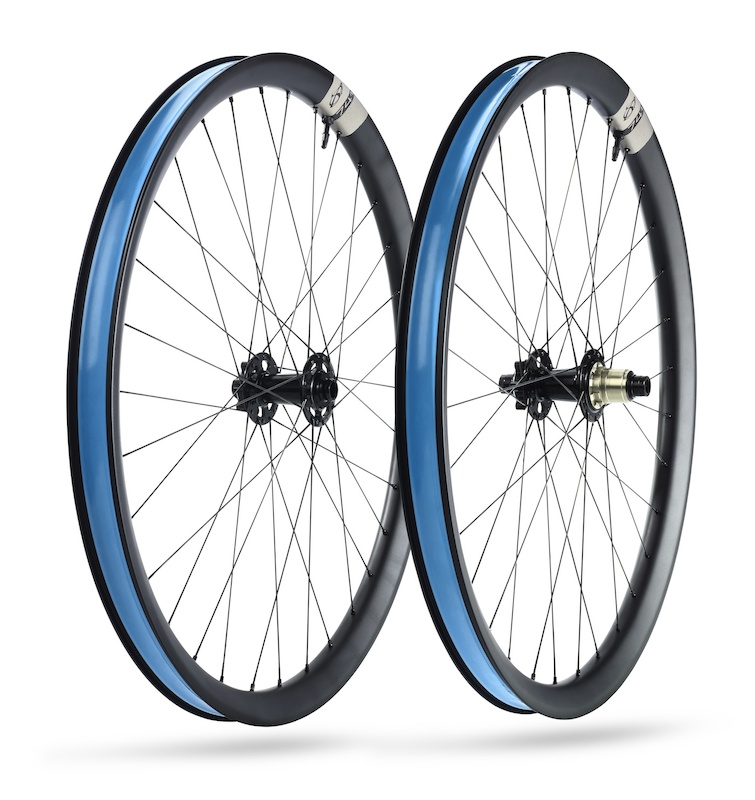 170lb Tester #2 had the same sort of experiences with the 741s, although he was able to run even lower pressures due to him weighing over 40lb less, going from mid-20s to 17 PSI front and back on the digital gauge without any issues. He suffered no burping at that pressure, but did complain about the vague feeling that is caused by too much tire roll when cornering. Going back up to 20 PSI made for a much more consistent feel when charging hard, and that ended up being the tire pressure that he preferred, regardless of conditions.

So, what did the setup feel like at lower than normal pressures? Very, very different than what we were used to, at least at first, and the benefits of the ultra-wide rim and lower tire pressure combo became pretty obvious as soon as we began to trust the setup. Traction is the most obvious perk, with there clearly being more grip on tap when one is faced with a tricky climb. It didn't matter if it was wet, dry and loose, or just rooty and rough, the added volume and lower pressures had the 2.3'' wide Minions declaring that any and everything under them was theirs to grab ahold of, which then moves you forward and up the slope rather than spinning out. The same thing goes when you're pointing the opposite direction: there is definitely more braking bite, and although we'd be hard pressed to say that we were actually braking any later, we would argue that it's just a more confidence inspiring feeling when you're trying to drop the anchor on a steep face or for a tight corner.
The other, slightly less expected benefit is one that makes sense when you stop to think about it: the higher volume setup does help to isolate the rider from rough ground slightly better than a typical tire and rim combo. Factor in the larger size of the tire with the lower air pressure and you up with a more forgiving ride, something that those who prefer shorter travel bikes, or even hardtails, should take note of. This could lead to you being able to even get away with a tire width smaller than what you'd normally run, thereby saving you some all important rotating weight. We also felt like we were being deflected off smaller impacts on the trail less often - picture square rocks, rooty ledges - than when running a standard wheelset and tire combo. Theoretically, this could mean more momentum carried over rough ground, but all that we can say for sure is that the bike felt like it was being knocked around less than usual.
Issues
With us able to get away with less tire pressure and enjoy the benefits that go along with that, there isn't much to brood over when talking about on-trail performance. Yes, you can still burp them, but that really only happens when tire pressures go from really low to so low that they won't even register on most floor pumps - try lower pressures but use common sense, please. It seems that one of the main issues with the 741s is figuring out what tires to use on them, as going with a something that sports a squarer profile will likely give you some pretty strange handling characteristics. Picture how square the shoulders would be on a Maxxis' Highroller when you mounted it up to a 741 - talk about on/off traction in the corners! 741 owners should only mount up tires with rounder profiles to them, much like the Minion DHFs that we used for testing. Schwalbe has a number of tires that would fit the bill as well, including the Hans Dampf. It could get even better if tire manufacturers get behind it: Ibis' Scot Nicol did allude to tire companies possibly offering wide rubber with a rounder profile that is tailored specifically to ultra-wide rims like the 741s and others. That sort of integration is when we expect to see the system, and the wide rim and suitable tire really need to be thought of as a system, really come into its own. As of right now, you might be out of luck if you prefer a certain tire but it sports a square shape.
Pinkbike's take:
There's no doubt about it, the 741s have convinced us of the benefits of ultra-wide rims. They allow the tire to provide more traction, make for a more forgiving ride, and also proved to be a much more reliable setup when running low tire pressure. This last point was shown to be true when one large rider able to run at least 10 PSI less than his usual pressure, and the other more average sized tester preferring about 5 PSI less, both with out any burping. The 741 wheelset isn't exactly inexpensive, but at $1,299 USD it does cost less than many other carbon wheelsets on the market that feature standard width rims. For this reason, and because of the benefits talked about above, we'd be far more likely to purchase a set of 741s before any of those other options.

- Mike Levy
ibiscycles.com/wheels