With just under 170mm of travel, sporting a 20mm thru-axle, and rolling on 26'' wheels, Kona's Process 167 could be considered a bit of a throwback to a time when wheels were smaller and travel was bigger. A skeptic might even see the bike as a big fat middle finger to trends that seem to be driven more by the industry itself than what consumers are actually looking for. That said, Kona's catalog includes all sorts of 27.5'' and 29'' wheeled bikes, yet the 167 is the outlier of the lineup that sort of defies the current convention, a misfit in a group of bikes that are, to be fair, already a bit 'out there' compared to what larger and more conservative brands offer. Whatever it is, with a 170mm travel Lyrik fork and dual-ply Maxis Minion DHF tires, the $4,999 USD Process 167 looks ready for action on some serious terrain.
Process 167 Details
• Intended use: all-mountain / enduro
• Rear wheel travel: 167mm
• Wheel size: 26''
• Frame material: aluminum
• RockShox Lyrik DH, 170mm
• SRAM 11-speed drivetrain
• Frame only MSRP: $2,249 USD
• MSRP: $4,999 USD
•
www.konaworld.com
,
@konaworld
In fact, Kona even refers to it as a downhill bike on their website, saying, ''
This is the ultimate gravity bike. Based on the Entourage geometry that wowed park riders around the world, we take the playful confidence of our Process platform, add a big chunk of travel and smaller 26-inch wheels to create one of the most fun downhill bikes on planet shred. Just ask Aggy.
'' Mind you, most of us don't live on the same planet as Aggy. We didn't do any threes off of cliffs or seventy-foot gaps, but the 167 did see plenty of action in the Whistler Bike Park and all sorts of rowdy backcountry adventures.
Frame Details
The general train of thought says that the more travel you have, the more effort it's going to take to throw the bike around. However, it's not always as simple as that, as Kona proves with this bike. As alluded to above, they set out to create a bike that would be at home on hairball terrain, but they also didn't want a bike that would feel about as alive as a dead fish when the rider wanted to get a little saucy. Their answer was to combine a relatively short rear-end with a roomy front-end, then drop a short stem on to compensate for the longer front-to-center number. This approach has been used for the entire Process lineup since 2013, not to mention by a few other companies in more recent times, and anyone who's ridden one of the bikes, especially the short-travel Process 111, will tell you that they are among the most playful and inspiring machines out there.
Our medium-sized 167 test bike sports a roomy 450mm reach figure that's more in line with what some other companies would call a large-sized bike, while the rear-end sits at just 420mm. Its top tube drops down at a steep angle to provide as much standover height as possible, so much so that all three sizes actually share the same 640mm of crotch clearance and only change in reach and stack. Even the small and medium share the same 387mm long seat tube length, with the large getting an extra 45mm of length for the beanstalks out there.
The aluminum frame comes with all of the de rigueur talking points that you'd expect from such a bike, including a tapered head tube, ISCG 05 chain guide tabs, and a 12 x 142mm thru-axle. There's a port at the bottom of the seat tube for the LEV Integra's housing to enter, although it'd be nice to see this go in at the front of the bike rather than in the middle, while the rear brake hose is routed externally for its entire length. The shift housing travels inside of the down tube then exits briefly before tucking into the chain stay. I'm sad to see another company who hasn't found a way to make room for a bottle inside of the front triangle - the only cage mount is on the underside of the down tube - but I can see most 167 owners either preferring to wear a backpack or being okay with picking up a case of giardiasis from a creek.
The 167's Suspension Explained
Kona has used variations of a single pivot and rocker arm design since, well, since there have been Kona full-suspension bikes, and they've stayed true to that layout while other brands have jumped to different designs every few years. That's not to say that Kona hasn't evolved, though, as that would be very far from the truth. 2013 saw the company debut their Process series of bikes that all employ, you guessed it, a single pivot and rocker arm design. The Process bikes, including the 167mm travel machine shown here, are entirely different animals compared to those old Stinkys, with a smartly configured rear-end that lets them tuck the rear wheel up for a short chain stay length. Rigidity was also a major priority here, with a wide stance to the main pivot and a large diameter axle running through it all, as well as a carbon fiber bridge that joins the two sides of the rocker arm. A clevis shock mount has also been used that allows Kona to go with a full-length seat tube.
---
Specifications
Specifications
Release Date
2015
Price
$5000
Travel
167
Rear Shock
RockShox Vivid Air RC2
Fork
RockShox Lyrik DH RC2DH Solo Air 170mm QR20
Headset
FSA Orbit 1.5 ZS No.57
Cassette
SRAM XG1180 10-42 11spd
Crankarms
SRAM X1 1200
Rear Derailleur
SRAM XO1
Chain
KMX X11
Shifter Pods
SRAM X1
Handlebar
RaceFace Atlas FR
Stem
Kona 40mm
Grips
Kona S-LOG
Brakes
Avid Guide RS
Hubs
Novatech
Spokes
Sandvik 14g Black
Rim
WTB Frequency Team i25 TCS
Tires
Maxxis DHF DH 3C 26x2.5"
Seat
WTB Volt Team
Seatpost
KS LEV Integra
---
Climbing
Let's get this climbing stuff behind us. The burly Process 167 is a very specific tool for a very specific job, and that job has nothing to do with climbing. Rather, it's designed to have loads of fun, and fun usually happens when your bike is pointed back down the hill. It's obviously not as single-minded as a downhill bike, but anyone looking forward to pedaling the 167 up a steep or technical climb has probably hit their head a few too many times and can now play hide-and-seek on their own. That won't come as a surprise to you if you've glanced over the bike's geo and spec sheet - it sports heavy dual-ply tires and a 170mm travel fork - but the truth is that a rider who's put the big Process on their shortlist likely won't give a single damn. What they'll probably do is pull their kneepads down to their ankles and work their way to the top of the mountain at whatever pace they feel like going, possibly with some tall cans in their backpacks, which is a pretty smart way to go about the task.
What they shouldn't do is dip into one of those trail pops before getting to the top of the climb, though, because they'll need all of their wits about them if they want to conquer uphill challenges. Riders with plenty of skill in this department might not have trouble, but those who don't possess the balance gene will find themselves dropping a foot on plenty of occasions. There's also no cheater switch on the bike's Vivid shock, and the active and supple suspension can feel pretty draining on long, boring gravel road climbs. It doesn't hurt to dial in the Vivid's blue low-speed compression knob at such times, or to run a set of clipless pedals instead of flats while thinking about spinning circles rather than attacking the ascent. Pro tip: don't attack, just sit back.
The big Process isn't a great climber, even compared to other bikes in the same class - the Slash, Sanction, and Nomad are all better at getting to the top - but I don't think 167 owners will really care that much. The funny thing is that I'm pretty sure Kona doesn't care that much, either, which is sort of admirable in this world of "
OMG, our bikes are the best at everything,
'' pitches that makes up so much marketing copy these days.
Descending and Suspension
Our 167 received an extensive tour of the Squamish, Whistler, and Pemberton corridor, adventures that had the bike see plenty of action in the bike park, be called upon for trail-bike duty when things were going to get rowdy, and was even privy to a helicopter drop in the backwoods of British Columbia. It didn't take a wild ride in the whirlybird to see that the Process is a special machine, though, as that fact was apparent right from the get-go. It's brilliant from the very first ride because it isn't awkward or finicky to setup, and it's exactly what it sounds like: an even heavier hitting Kona Process, which are a series of bikes that are already known for being simple, rugged, fun, and playful.
It's a simple bike in more ways than one. In a world where some long legged steeds are fitted with funky travel or geometry adjusting doohickeys that look like they're lifted from Rube Goldberg's sketchbook, the Kona is a straight-shooting machine that doesn't employ such trickery. This is a good thing because there are plenty of do-it-all bikes, whereas Kona's intentions are more single-minded, and I'd argue that there's room for such thinking. It's also an uncomplicated bike in terms of what it asks from the rider, which is nothing in particular - anyone could jump on this thing and have fun, just so long as the terrain is there for it.
And speaking of terrain, gobbling up chundery and technical trails is where the Process is a merciless beast that's always got the munchies. The big Vivid shock makes one question why anyone would ever need a coil-sprung damper, while the uncomplicated suspension profile - there's no surprises and it has a clean, progressive curve - means that you can hit some fairly serious descents like you're on monster downhill sled. Funny what great suspension, proper geometry, and some real tires will let you get away with. And like Kona's other Process bikes that are already very playful, manageable and fun rigs, you can choose some questionable lines but always appear at the bottom of a trail with a ginormous grin on your face.
If downhill bikes are the serious adults of the mountain bike world that have so much clear deliberateness to them, the 167 has to be the adolescent that just wants to party all night and then sleep in until noon the next day. Consequences? Those are for people who care too much. Come in late to a corner and make a square out of it, or rail around the outside to keep your momentum up; the 167 is happy either way. It's neither twitchy nor lazy relative to what you'd expect of it, which means you can drop your guard and ride it in a way that best suits you and the trail.
| | |
| --- | --- |
| | It's really a 'One More Lap' bike. The 167 always makes you want to go for "just another lap", and to restrain oneself from doing so, thereby avoiding the dreaded One More Lap curse, requires supreme self-control... but f*ck it, sometimes you have to break the superstition and go ahead. The problem comes from turning up late to dinner, BBQs with friends, and work. - Seb Kemp, Whistler local |
The 167 can be ridden like it has a few more inches of travel than it does, and it can also bob and weave through tight trails at a good clip thanks to a smart set of geo numbers, but jumping is where the bike shines brightest. It asks for less speed than some other machines to get over the same gaps, meaning you don't have to work nearly as hard at it, and driving your heels into the take off provides double-bounce, trampoline-like pop. Being one half BMX bike and one half chunky all-mountain machine makes the Process a toy that skilled jumpers will use to maximize the terrain to the point where those one-line type of riders won't know what to think if they're watching from behind.
There's not a lot to dislike about the 167 if you're the rider who's more likely to have a full-face helmet strapped to your bag rather than have an energy bar stuffed inside of it, but while the following may seem pretty obvious, it needs to be noted that the Process feels like
a lot
of bike on tame terrain. Sure, it's playful and fun when you've got a head of steam, but it's not nearly as inspiring when the trail is equal parts up and down rather than just down - keep in mind that this is a bike that likes to get all the climbing over with right out of the gate.
Technical Report
• KS LEV Integra:
Another LEV Integra that functioned with zero issues other than the remote's plastic body cracking, which is something that we've seen happen a few times recently. The damaged remote looked like it might allow the housing end to pop out, but that never happened. This is the second plastic remote we've seen crack in the last month, and it'd make more sense if it was aluminum.
• Drivetrain:
The X01 / X1 drivetrain performed flawlessly, and the big 42 tooth cog was called upon regularly when it was time to get the Kona to the top of a mountain. There were no derailments, but someone who's going to be doing a few races on the 167 would still be advised to install some sort of small chain guide. Insurance is a good thing to have.
• Lyrik DH RC2DH Solo Air:
Our test bike came with a 170mm travel Lyrik DH RC2DH Solo Air that, while being a solid fork that performed well, doesn't quite offer the same front-end traction as a new Charger damper-equipped Lyrik does. Sure, that fork doesn't have the 20mm axle that the 167's Lyrik does, but the damper upgrade is well worth the so-called trade-off.
• RaceFace Atlas FR Handlebar:
The full-width Atlas FR handlebar from RaceFace makes a lot of sense for this bike and how it's supposed to be ridden. You can trim it down if you're looking for something slimmer to match your body or to squeeze through tight trees, but it's way easier to cut a handlebar than it is to make one wider.
• Maxxis Minion DHF Tires:
You don't put tires from a Corolla onto a Hummer, and you shouldn't put cheesy, single-ply rubber on a bike like the 167. Kona obviously agrees because they spec'd a set of burly, dual-ply Minion DHF tires on the Process that, rubber preferences aside, won't leave anyone looking for more.
Pinkbike's Take:
| | |
| --- | --- |
| | The Process 167 is a bike that owes its existence to Kona's belief that there are still riders out there who don't give a toss about magazine covers touting the next so-called "quiver killer." Just shut up already about that nonsense and get on a bike that's meant to be good at what you like doing most, right? Well, not always, but that really is the best approach for so many things, and it's especially true when it comes to having fun on a mountain bike. All around perfection is boring when you can have a bike that's so damn good at one task that you can look past its faults in other areas, which is exactly what a 167 owner will end up doing. - Mike Levy |
---
Visit the feature gallery for high resolution and additional images
---
---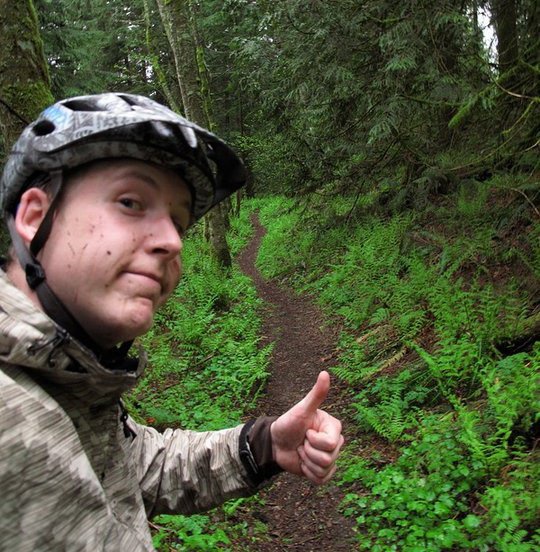 About the Reviewer
Stats: Age: 34 • Height: 5'10" • Inseam: 33" • Weight: 165lb • Industry affiliations / sponsors: None Mike Levy spent most of the 90s and early 2000s racing downhill bikes and building ill-considered jumps in the woods of British Columbia before realizing that bikes could also be pedalled for hours on end to get to some pretty cool places. These days he spends most of his time doing exactly that, preferring to ride test bikes way out in the local hills rather than any bike park. Over ten years as a professional mechanic before making the move to Pinkbike means that his enthusiasm for two wheels extends beyond simply riding on them, and his appreciation for all things technical is an attribute that meshes nicely with his role of Technical Editor at Pinkbike.