Your head does funny things when your body says enough is enough and begins to rev too low regardless of how hard you push on the pedals. Those who've ''
bonked
'', otherwise known as hitting the wall fast and hard, are very aware of how it goes. After your legs and lungs take leave, the rest of you doesn't really see the point in going on, so it just... doesn't. It's a hard feeling to describe to a rider who's only ever shuttled or not pushed himself that hard (
or has always fuelled himself properly
), but it ends in complete emotional distress. Picture how you would feel if your dog died in front of you unexpectedly: a lot of sadness, frustration, maybe some anger. Maybe a lot of anger. But you can't very well just sit on your ass in the bush, can you?
No, you need to get to the corner store and eat six Pop-Tarts and a drown yourself in a litre of Coke, so you keep turning the cranks over in the most miserable way possible. You want to be anywhere where there isn't a bike, especially your own beast of burden, and leaving it in the woods seems like a really viable option. Thankfully our brains take over and common sense prevails before we try to eat a squirrel or the fake leather off our shoes. For me, that means that I usually end up lost in thought, a daydream of sorts where I'm in a much happier place.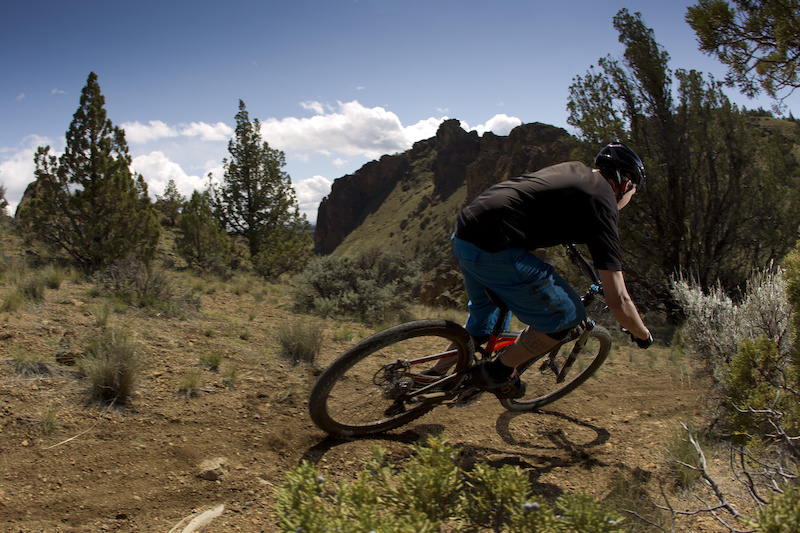 Feeling like you're going to die in the bush? It's best to think of the good times. Photo Sterling Lorence
This exact scenario happened to me a few months back, which I blame partly on a lack of fitness and mostly on a lack of planning. As I fumbled along the trail in a daze I found my thoughts trying to account for all the bikes I've owned, which eventually led to me reminiscing about some of the more memorable rides that I did on them over the last twenty years of skidding around. I may have been cursing the ride I was on at the time, but my first trip south from B.C. to Utah so a buddy and I could pretend we were good enough to ride Rampage lines popped into my head like it was yesterday. I was on a steel .243 hardtail with Atomlab wheels (
24'' out back, of course, with two DH tubes inside of it
), Profile cranks, and a Manitou Sherman sprung so stiff that I doubt I ever got more than half of the fork's travel on an average ride. This was long before my ankles shot pain up through my legs every morning, and I still had some decent sized coconuts, so the fact that I was on a 43lb hardtail with a 680mm wide handlebar did little to keep me from rolling off of drops that'd still be considered large by today's standards. I remember this particular day like it was only a few years ago rather than much longer, and I'd been riding like I had way more skill than I actually did, which was a good thing because my first ever run down the infamous Flying Monkey trail that day was a hectic lap on the ol' hardtail that saw me get lucky about a dozen times.
The Monkey is the trail that you want to cash in all your luck on, and I ended up doing a top-to-bottom without any issues, which is something I doubt I'd be able to pull off today. Four hours later I was on the other side of the valley, tee'ing up the old Grafton road gap from Gracia's section in whatever New World Disorder was out at the time. But it wasn't to be - all my luck had been used up on the Monkey, and too much confidence had me rolling in with not enough speed. Trip over, and a long drive home with a bent steel hardtail, bent Profile cranks, and a broken ankle. Even an injury couldn't keep that day from being one of the best that I've ever spent on a bike.
There seems to be some sort of strange masochistic parallel between me having great rides and times when I eat shit hard enough to hurt myself, with another of my favorite days on the bike beginning with a nicely executed scorpion into the face of an oncoming jump, this time in France. I'm going to sound like an a*shole, but living in southwestern B.C. means that I'm not a huge fan of travelling to Europe to ride my bike. That said, there is some gold across the Atlantic, and I happened to stumble across one such trail in Morzine while piddling my way through the Portes du Soleil, an event that strings together a handful of different resorts via lift-accessed riding over 80km in both France and Switzerland. That sounds pretty sweet, and it was a good time, but most of the trails are fairly typical of European bike parks: unpredictable jump lines mixed with some pretty fun, raw singletrack. Then came a slight detour in Morzine that took us off course and onto a trail that likely tops my list of anything I've ever ridden. With two lines crossing back and forth over the trail's entire length, and mostly off-camber ground covered in layers and layers of leaves, it was impossible to not get loose anytime the bike wasn't pointing straight. It was so good, in fact, that I actually forgot about the large patches of skin missing from my knees and thighs from that earlier get-off.
| | |
| --- | --- |
| | In what has to be one of my more shameful moments, which is really saying something if you knew me, I took shelter in a shit-splattered outhouse for thirty minutes while I waited for a fellow rider to fetch his vehicle and drive me out. This was the first and only time that I was cold enough to not be able to talk properly, which I hear isn't a good sign. |
There are countless others, like my first time riding in the BC Bike Race, or anytime that I've ridden the iconic Seven Summits trail up in Rossland, but not all of the most memorable rides are stuck in my head because they were so much fun. Mountain biking is far too rough and tumble for my top memories to not include that time I lost it about half way down the Canadian Bacon line at the now ancient first Rampage site, a bobble that saw me lose a shoe and only hit the ground three times in about seventy feet as I cartwheeled off the side of a small mesa. That was a big one, but it didn't hurt as much as the time I carried too much speed over a decent sized road gap and right into a 4ft diameter log laying on its side and hidden in the bush, completely out of the way but smack dab in the middle of my misguided course. Have you ever hit your head so hard that your eyes won't stop moving back and forth like they're having their own little seizures? Best to avoid that if you can.
Injuries aside, my favourite ride that took a turn for the worse happened just last year, and it's fair to say that it was a slap upside the head kinda reminder about being prepared... halfway through what was going to be a pretty solid 70km of saddle time, after climbing up and over one mountain and to the top of another 3,000ft peak, my bike's freehub decided that it was quitting time. It would have been annoying enough if it just stopped engaging, but it decided to take things from inconvenience to majorly frustrating by completely seizing. No coasting allowed and about 30km between myself and my van. Then it started snowing. My only option was to head down a gravel road to the bottom, but the freezing rain and cold snow had me chilled to the point of concern within just ten minutes, and soon enough my hands were too cold to even pull the brake levers. In what has to be one of my more shameful moments, which is really saying something if you knew me, I took shelter in a shit-splattered outhouse for thirty minutes while I waited for a fellow rider to fetch his vehicle and drive me out. This was the first and only time that I was cold enough to not be able to talk properly, which I hear isn't a good sign.
Returning to my story of bonking in the bush that had me reminiscing in the first place, I never was able to recall all of my different bikes over the years. And while I also couldn't tell you about every ride I've done over that time, I could easily write a rambling and nonsensical novel about my most memorable rides, both good and bad, which is exactly how it should be. Can you recall a ride that stands out to you, one that you know you're going to be telling people about ten years from now?