Are today's full-suspension bikes so good that they actually take away from the ride? I'm not sure that I'd go that far, but there's a reason why less travel often equals more fun: you're closer to the edge of control. I'm talking about those split-second moments when you may or may not find yourself picking dirt out from between your teeth while laying on your back; the dirfty, slidey stuff that makes a ride so great. And hardtails are the epitome of doing more with less, although it sure is easy to forget how fun they can be in these days of carbon fiber, full-suspension wünderbikes that can cost as much a decent car and let us cash cheques that our skills can't actually cover.
Santa Cruz, a company that has plenty of those carbon fiber, full-suspension bikes priced around the cost of a gently used Honda Civic, has just added the opposite kind of animal to their stable: a new aluminum hardtail designed to do a lot of things while not costing a lot of money. Or at least not compared to a fancy Nomad, anyway. The bare frame, which is said to weigh 4.6lbs, sells for $749 USD, and complete bikes start at $1,599 and top out at $1,999 USD.
The latest Chameleon is actually the seventh iteration of Santa Cruz's aluminum hardtail (feel old now?), and it's been made to run a set of 29'' wheels if that's how you roll, or 27.5+ rims and tires if you want more cushion for the push'n. Hate rear derailleurs? That's fine; you don't need to run one if you don't want. Four different sets of bolt-on dropouts let you pick from those choices, as well as everyone's favorite hub spacing that sounds like it was named after a fizzy energy drink. The bike's name sure makes sense when you think about it.
There's also a threaded bottom bracket shell, a place for a front derailleur, internal routing for your party-post that none of the complete bikes include, and you can even have it in any color you want just so long as that color is olive green. There are also two bottle cage mounts like every proper mountain bike should have.
The numbers lean towards the fun side of the hardtail spectrum rather than the nervous, scary side, with a 67.5-degree head angle with a 120mm-travel fork and a 460mm reach on the large-sized Chameleon. It's not quite as roomy and low to the ground as the Kona Honzo CR, but that will be a good thing for some riders.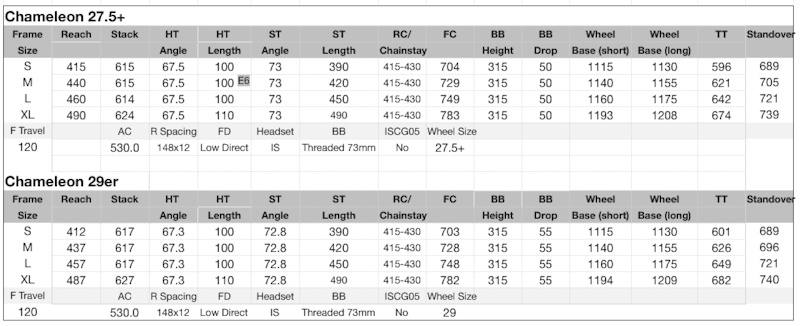 This being the digital release of the seventh generation Chameleon, I have no idea how it rides yet, but the bikes are already in dealers if you want to see one in the flesh. If I were to choose one, it'd likely be the 29er in olive green (surprise!) as big wheels and little travel always goes together nicely. And I'd have to add a party-post, of course, because every trouble making hardtail should have one.
How would you run your Chameleon? Big wheels or 27.5+? Geared or single-speed?