We've had our hands on Shimano's eleven-speed XTR Trail group long enough to run it through everything from some extremely sloppy winter conditions, to the dust and rocks of Arizona, and even more countless miles of rowdy singletrack in southwestern British Columbia. The complete group, including the new
carbon and aluminum XTR Trail wheelset
, has even been installed on two different bikes during that time, a Rocky Mountain Element and Ibis' Ripley, which likely makes it the most well used drivetrain that we currently have in rotation.
The time we've put on the XTR Trail group has given us a clear idea of how it functions over the long haul, but let's first take a look at the details. Below is RC's take on the technical talking points of the XTR Trail drivetrain from the group's introduction back in April, and you can read the ride impressions farther down the page.
Shimano's Gearing Philosophy
We were given a fresh explanation of Shimano's drivetrain doctrine at the XTR product launch last April, with Shimano explaining that they divide the available gear ratios into two groups: "Driving gears" and "Challenge gears." Driving gears, in the case of a two ring or three ring drivetrain, are in the middle range of the cassette when the rider is in the big chainring. Challenge gears are for the steepest climbs, when the rider is forced to select the smaller chainrings and to use the larger three cogs of the cassette.

Shimano professes that the smooth, 10 RPM jumps between shifts generated by its Rhythm Step, 11 by 40 tooth cassette, optimize the efficiency of the driving gears that we use most often for both climbing and pedalling on the flats. While the closer gear ratios of Shimano's XTR cassette provide smaller steps between most of the gearing range, they obviously cannot attain the higher top and bottom gears of SRAM's XX1 10 by 42 cassette. To achieve a competitive spread, Shimano "strongly suggests" that XTR customers choose its two ring crankset option.
Here is the closest comparison between a Shimano XTR two ring drivetrain and SRAM's single ring setup:
Shimano
28 x 38 tooth chain rings: Lowest gear 28/40 = 1.42:1 ratio. Highest gear 38/11 = 1:3.45 ratio.
(22 gear selections)
SRAM
30 tooth chain ring: Lowest gear 30/42 = 1.4:1 ratio. Highest gear 30/10 = 1:3 ratio.
(11 gear selections)
What the above chart demonstrates is how Shimano's close-ratio two ring option provides a nearly identical gearing spread compared to a SRAM XX1 single ring drivetrain. By switching to a 28 tooth chainring, the SRAM drivetrain can also match Shimano's 26 x 36 option, but Shimano also offers a third, 24 x 34 option for its two ring crankset that provides XTR customers an even lower gear than SRAM can match
(Shimano: Lowest gear 24/40 = 1.66:1 vs SRAM: Lowest gear 28/42 – 1.5:1).
The direct comparison makes it clear that Shimano's choice for trail gearing is a two ring transmission, and it competes directly with SRAM's single ring offerings.
XTR Trail Crankset
The XTR Trail cranks are cold forged like last year's and lack the bonded left-side crank-arm of its cross-country brother. The Q-factor is also ten millimeters wider
(168mm)
than the Race cranks. They are configurable in one, two or three ring combinations, with gearing ranges limited to 30, 32, 34 and 36 teeth for a single ring option; 24 x 34, 26 x 36 and 28 x 38 for the two ring option; and the triple ring option will only be available in 22 x 30 x 40-tooth combination. The two ring crankset that's reviewed below retails for $599.99 USD and weighs 652 grams, while the triple ring goes for $629.99 and the single for $399.99 USD. Bottom brackets range from $39.99 to $59.99 USD depending on what you need.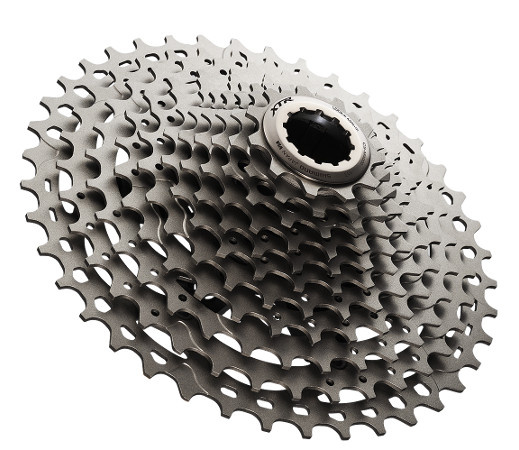 XTR Cassette
Shimano's 2015 XTR ensemble hinges upon its long-awaited eleven-speed cassette. Shimano says that the jumps between each gear were carefully selected to be close to ten RPM - a feature that Shimano calls "Rhythm Step" gearing. The actual cog numbers are: 11-13-15-17-19-21-24-27-31-35-40 teeth. Shimano makes the 40 tooth cog from aluminum and the rest of the cassette cogs are made of titanium. The cogs are grouped on aluminum spiders in similar fashion to previous XTR cassettes. If you want a preview on how the gearing is spaced, the first seven steps are the same as Shimano's ten-speed 11 by 36 cassettes, with the addition of the final 27, 31, 35 and 40 tooth sprockets. Great news for all is that the 326 gram XTR eleven-speed cassettes will fit on all ten-speed Shimano compatible freehubs, which is something that SRAM can't say. Previous XTR rear derailleurs, chains and right-hand shift levers, however, will not work with the new group. The XTR cassette retails for $349.99 USD.
XTR Chain
XTR requires a special, eleven-speed chain that goes for $59.99 USD, and like its predecessors, the links are profiled asymmetrically to boost shifting performance. Sil-Tec, a slippery nickel plating, is used to keep the chain running smoothly in all weather, and beyond its microscopically thinner width, the HG-11 chain is further lightened by hollow pins.
XTR Front Derailleur
Shimano has consistently offered the best shifting front derailleurs, but that hasn't stopped them from coming up with ways to have them shift even better. Shimano took advantage of the new XTR's smaller chain ring options and shortened the length of the front derailleur cage, then developed a top-mounted "Side Swing" mechanism that eliminates the old school derailleur's bird's nest of cables and lever arms that made a mess of the area behind the seat tube. Both improvements address nagging tire clearance issues that 29er designers faced when attempting to shorten the bike's chain stays. All two ring front derailleurs retail for $99.99 USD, while the triple version costs $119.99 USD.
Unlike previous Shimano front changers, the new XTR cage has fewer tricky bends and twists to coax the chain from sprocket to sprocket, relying more on brute stiffness to get the job done, and the cage is also designed to compensate for three degrees of rear suspension travel. Two separate derailleurs are offered, one for two ring and another for three ring setups, and both clamp type and direct mount options are available. For 2015, only the FD 9025 model changer will offer a conventional cable routing. The new FD 9000 XTR changer will be easy to spot because it requires a novel down tube-routed housing that feeds to the front side of the mechanism, and we expect to see some zip-ties on bikes that were designed before the new XTR components were released to manufacturers.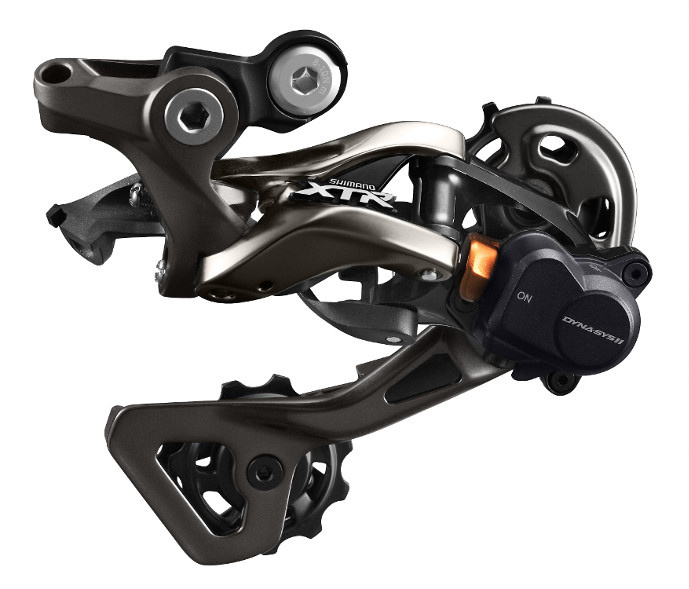 XTR Rear Derailleur
The 2015 XTR rear derailleur is essentially an entirely new model, with its parallelogram slant being reduced and the cage and upper pulley offset so the derailleur will better track the steeper angle formed by the wide-range eleven-speed cassette. Quicker shifting is said to be accomplished by extending the derailleur's body about 10mm farther forward, so that the upper pulley leads the chain into the next shift. The Shadow Plus clutch has also been reconfigured with an external hex key adjustment, and the outer cage is carbon fiber. Adjustments have extended ranges to make the new derailleur more adaptable to various frame designs and, presumably, to allow it to adapt to future eleven-speed cassettes with different gear ratios - we test fit it with OneUp's new 45 tooth cog and it clears without any issues. Both the medium and long cage options retail for $239.99 USD, with the medium cage weighing 217 grams on our scale.
Shift Levers
Shimano redesigned their XTR shifters with a longer cable take-up lever and a broader cable release lever that resembles Saint levers. The release lever can double shift if necessary - a feature that was added to facilitate faster shifting for single ring drivetrains. The internals have also been altered to offer a more crisp feel and tactile shift feedback, which Shimano refers to as "Vivid indexing" action. Cosmetically, the XTR shifters appear somewhat similar to last year's when they are on the bike, except for the addition of a textured carbon fiber release lever, and like previous XTR, they are I-Spec II compatible, so they can be directly mounted to the brake levers. A set of 229 gram XTR shifters with standard mounting costs $234.99, and there's a $10 up-charge if you want to go with the cleaner I-Spec II mounting. Individual left and right shifters are available for $119.99 USD.
---
Riding Shimano's XTR Drivetrain
Front Shifting
It wasn't that long ago that almost every mountain bike had either two or three chain rings and, as many of you likely remember, moving the chain from one to another was sorta reminiscent of accidentally dropping from fourth to first in an old car - there was a lot of banging, scraping, and wondering just what the hell was going on down there. Okay, maybe it wasn't that bad, but Shimano's latest front derailleur and chain ring designs make it seem like it was. And yes, I'm well aware that there's going to be a load of comments below going on about two rings versus one, but I'd love it if we could all forget about that banter for just a second and take a moment to appreciate just how fast and precise Shimano has been able to make their front shifting.
Those who do choose to run multiple rings with their XTR drivetrain are in for a treat, with the front derailleur able to move the chain up to the large chain ring extremely quickly, even when the rider is still on the gas; the whole operation feels solid and leaves no questions. I love the simplicity of a single chain ring system, and I'd likely go that route on my own bike, even with the XTR cassette's narrower 11 - 40 spread compared to what SRAM offers, but anyone who's going to run more than one chain ring can do no better than what Shimano is offering for 2015.

Chain retention was also on point, at least for a two ring setup that obviously can't take advantage of the added security that a narrow / wide tooth shape brings. That means that while I did have the chain drop from the large to the small ring a handful of times, especially when I was in the smaller cogs and chain tension was lower, it never did jump off to the outside of the big ring. The rear derailleur's clutch certainly feels to be a touch stiffer than what SRAM offers, enough so that I could feel it tugging on the chain when riding my bike on pavement (but not on the trail) and activating the suspension, and that clearly helps matters.

Rear Shifting
I know that most people reading this want me to do one thing and only one thing: compare the shift action between XTR and XX1, and make a clear choice as to which one is better. Unfortunately (or not), that's a bit like me trying to tell you that pizza is better than a hamburger - both taste great, and it just comes down to preference. The XTR and XX1 groups both shift sublimely and will leave a rider asking for nothing so long as they're both setup correctly. That said, the shift feel is
different
between the two, enough so that it'd be easy to tell them apart in a blind test. The thumb paddle of the XTR shifter has less throw to it before it makes things happen downstairs, although we're talking about a very negligible difference, and I'd also say that it feels a touch less 'kachug-y' than what the XX1 shifter offers.
Another difference is that the XTR thumb paddle can move the chain over four cogs through its entire arc, while SRAM goes over five. I honestly never noticed that last point on the trail, although one could argue that SRAM's shifting allows the rider to grab one easier gear should they blow a corner or come up to an unexpected and steep climb. The effort required to move the XTR shifter's thumb paddle through its arc doesn't feel like it rises the more you push it, which is a change from years past, although I'm also of the opinion that that point might be moot once you have a few thousand rainy and muddy miles on the shift cable and housing.

One area where Shimano does have a clear advantage over SRAM is when it comes down to shifting to a harder gear out back, with Shimano's Multi-Release design allowing you to grab two smaller cogs instead of just a single cog per click as SRAM offers. This is handy when cresting a rise into a quick downhill section, or anywhere else where speeds go up in a short amount of time.

The speed at which the chain is moved across the cogs feels equal between XX1 and XTR, which isn't a surprise when you take into account that both employ eleven cogs that are squeezed into about the same slice of real estate. There is no clear winner in this department, and any rider fortunate enough to have either group is going to be stoked on what they offer.
Gearing Range
There was quite the hoopla when Shimano released the specs for their new eleven-speed drivetrain, with most of it centered around the fact that it uses an 11 - 40 tooth cassette that doesn't offer the range of SRAM's 10 - 42 offering. With single ring setups becoming the norm in many locations (but not all), it's easy to question Shimano's logic, especially because the Japanese giant surely could have come up with something to equal their competition. But they didn't, and not because they couldn't, but because they believe that the tighter jumps between the 11 and 40 tooth cogs on their cassette make more sense, and that two ring drivetrains also make sense for a lot of riders and terrain. To be honest, the former felt invisible to me when on the trail, even when riding XTR back to back against XX1, and the two chain ring setup did make the tighter range cassette a non-issue. Also, being able to cross-gear from the big chain ring to the large cog as required, and without any nasty chain rub on the front derailleur, made for one less thing to worry about in that I didn't have to use the front shifter nearly as much as you might think.
What won't be invisible to the average rider who's using a single ring is the two tooth difference between the easiest gear on a SRAM cassette and the 40 tooth cog on the XTR block. Single ring riders take note that both the top and bottom ends are a bit more limiting when using an XTR cassette with a single chain ring, but that obviously wasn't an issue with my two ring test drivetrain. The upside is that your wheel doesn't require the XD freehub body that makes the 10 - 42 SRAM cassette a possibility. I suspect that we'll be seeing a lot of companies choosing to spec their bike's with
Shimano's recently released 11 - 42 XT cassette
that offers a wider range than XTR and a decent cost savings.
It's also worth mentioning that while there are aftermarket companies offering single ring solutions for the proprietary 70-degree, four-bolt pattern of the XTR cranks, you won't be able to bolt up a spider-less chain ring like you can with SRAM's drive side crank.
Ergonomics
SRAM has long held the crown when it comes to adjustment and positioning options on the handlebar, and that's still the case when talking about the standard XTR shifter mounts, but the I-Spec II system does offer multiple setup choices that allow the rider to tinker until they get it exactly right for their hands. It also makes for a clean looking cockpit, with the slim mount taking up next to no room. One detail that seems small but is actually pretty nice on the trail is the heavy texturing of the two-way release paddle, which is more noticeable than you'd assume, but the small divots in the carbon thumb levers seem to do about as much good as nipples on a man.
A hiccup that I'd like to see improved is how difficult it is to flip the rear derailleur's clutch lever between the on and off settings. It's a minor thing, no doubt, but I did find it pretty difficult to move, especially is the heat of the moment when you're trying to change a flat tire quickly.
Reliability
I ran the XTR drivetrain on two bikes, a Rocky Mountain Element and an Ibis Ripley, and found reliability to be solid in most regards. I never needed to add tension (which you can now do externally) to the clutch hidden inside of the XTR rear derailleur, and it's currently straight and moving the chain across the cogs just as well as it did prior to being dragged against rocks and smashed into the ground. Its carbon outer cage is also still going strong, despite some obvious heavy contact with pointy things, but the threaded-in pin that keeps the cage from being wound completely around the parallelogram took leave long ago, which means that the cage is now free to rotate back past its stop when the chain isn't installed.
I'm satisfied with the group's long term reliability, with the exception of a few notable issues... I did manage to break the XTR chain twice, but the second instance was admittedly my fault. The first break looked a lot like the typical peeling of the outer plate away from the pin, and it wasn't at the joint where the supplied pin was used to install the chain. Still, these things happen, so I wasn't too bothered until I realized that I didn't have another joining pin (or aftermarket master link) tucked away inside my bag. That meant that I had to remove the damaged section of chain and re-join it using one of the factory installed pins. That's a no-no in eleven-speed land, which is a bit of a bummer as I feel like you shouldn't need one of their tiny joining pins every time you need to put the chain back together. Yes, I realize Shimano says this design makes for the strongest possible joint, which I don't doubt, but it's also about as user friendly as having to kill and slice up your own cow every time you want a nice steak. To be fair, I should also note that I've broken eleven-speed chains from SRAM and KMC, as have many other riders, so I don't hold the XTR chain's first failure against the group.
I also had some issues with Shimano's BB92 bottom bracket, although it wearing out to the point of rattling in a few months was less of a headache than trying to remove the cups from the frame. The composite BB92 cups do make sense in that they're a lot less likely to creak and groan, and they probably also allow for a small degree of self-alignment if required, but they're not nearly as user-friendly to remove as more robust aluminum cups are. I know, the right tools for the job and all that, but it'd be nice if they were a little less prone to damage if and when a rider needs to pop them out. Also, the last time I went to remove the crankset, the drive side bearing pulled right out of the cup and was nearly one with the spindle. Cue much swearing and a hammer going for a short flight.
Pinkbike's Take:
Shimano is going to have an uphill battle trying to talk the average trail rider into a two or three chain ring drivetrain - my non-racer body would still prefer a single ring setup, despite being surrounded by steep climbs and tall mountains - but those who do decide to go that route will be rewarded with the best shifting front derailleur that's ever been conceived. That said, this isn't a single ring versus double ring comparison, but rather a review of Shimano's latest XTR drivetrain, which, as probably shouldn't come as a surprise, performs extremely well. And while I do have a few reliability concerns, which is odd when talking about Shimano, there is absolutely nothing to complain about when it comes to shift action.

- Mike Levy