What if I told you there was a tire and rim combination that could, at least theoretically, offer greatly increased traction and forgiveness at the cost of a relatively minor weight penalty? That's exactly what 27.5+ bikes have set out to accomplish, and there's no better way to see if the concept holds water than to spend a load of time on an example from a major player. In this case, it's Specialized's 135mm travel Stumpjumper FSR Expert Carbon 6Fattie.

The $6,500 USD 6Fattie rolls out of the warehouse on three-inch wide tires that can be run well under 20 psi in most settings, and Specialized has spec'd both a 150mm travel fork and a minimalist chain guide, a move that shows they expect the 6Fattie to be ridden hard. This is nothing like a novel yet ultimately awkward fat bike, but the question that needs to be answered, at least in my mind, is if the 6Fattie performs close enough to a normal bike to be considered anything more than just the latest wheel-size related gimmick.
Expert 6Fattie SE Details
• Intended use: trail / all-mountain
• Rear wheel travel: 135mm
• Wheel size: 27.5+
• Carbon fiber front triangle, alloy rear
• SWAT storage in down tube
• Fox 34 Plus Performance fork, 150mm
• Fox Float Factory DPS shock w/ Autosag
• 67 degree head angle
• Weight: 29lb 12oz (large, w/o pedals)
• MSRP: $6,500 USD
•
www.specialized.com
/
@Specialized
Frame Details
The Same Frame:
While the 6Fattie may look like something out of a comic book, it actually shares a lot of its DNA with an already existing bike: the carbon fiber front triangle is the exact same as what Specialized uses for their Stumpjumper FSR 29 model. This makes a lot of sense when you consider that the outer diameter of the 6Fattie's three-inch wide tires is just a whisker smaller than that of a standard 29er with normal tires. It also gives the bike a similar head angle of 67 degrees, just a half of a degree slacker than the 29er due to the longer travel (and axle-to-crown length) of the 150mm Boost fork compared to the standard 140mm 29er fork.
Mega Tire Clearance:
The 6Fattie's carbon front triangle mirrors that of the one used for the Stumpy FSR 29er frame, including the internal cable routing via channels that have been molded into the inside walls of the frame, giving it extraordinarily clean lines. The same svelte looking seat and top tube junction is also present, as are the bridge-less seat stays that create more clearance - Specialized says that their new, stouter '6-Pack Linkage' provides the required rigidity now that the left and right side seat stays are no longer a single unit. The 6Fattie's widely spaced seat and chain stays are necessary in order to accommodate the bike's three-inch wide tires, but that width may cause them to rub on some riders' heels or calves.
Specialized actually designed the 6Fattie to be able to fit three-and-a-half-inch wide tires, but have admitted that they'll likely be re-working the bike's stays now that the plus-size world seems to be leveling off at around three-inch tires as a maximum.
The 6Fattie's rear end uses the much-maligned Boost 12 x 148mm hub width, but, unlike with so many normal bikes that are Boost-ed, this is a near requirement to make room for the massive tires without compromising the bike's geometry. There's also no place to mount a front derailleur for the same reason, with the 6Fattie being designed to be run solely with a single-ring drivetrain. It does come with a 28 tooth, direct-mount chain ring, though, so anyone who can't pedal the bike up a steep hill would likely be walking, front derailleur or not.
SWAT Hole:
Underneath the water bottle mount is a port that can be easily opened by flipping a latch, giving the rider access to nearly the entire length of the down tube to use as storage. To keep items from rattling around against the frame, Specialized
includes fabric wraps
that are designed to hold a tube and a pump, and there's also a plastic plug in place a few inches down from the lower portion of the SWAT door opening that prevent items from dropping out of reach towards the bottom bracket shell. You don't need to use the wraps - I just stuffed a tube and some supplies in there without any issue - and Specialized says that the SWAT compartment adds about 200 grams over if it wasn't included.
The 6Fattie's Suspension Explained
Being a Specialized, the 6Fattie was always going to feature an FSR Horst Link suspension layout for its 135mm of rear wheel travel, and the bike employs the company's latest '6-Pack Linkage' that is more compact and said to be torsionally stiffer that previous iterations. The shock, which is a custom tuned Fox Float Factory DPS unit, is bolted to the clevis link with a proprietary, rearward-facing attachment, meaning that not just any aftermarket shock can be mounted up. Specialized says that the shock's custom 'Rx Trail Tune' features different compression ratios than an off the shelf damper would, while its Autosag function should make setup, or at least getting the spring rate in the right ballpark, a breeze.

---
Specifications
Specifications
Release Date
2016
Price
$6500
Travel
135
Rear Shock
FOX FLOAT Factory DPS, AUTOSAG, Rx Trail Tune, Kashima coating, 197x47.6mm
Fork
FOX 34 Plus Performance Elite, 150mm travel, 3-position compression adjust, tapered steerer, 51mm offset, 15mm thru-axle
Headset
Hella Flush, 1-1/8" and 1-1/2" threadless
Cassette
SRAM XG-1180, 11-speed, 10-42T
Crankarms
Custom SRAM S-2200, carbon, PF30 spindle, 28T, direct mount
Bottom Bracket
SRAM, PF30, OS press-in bearings
Rear Derailleur
SRAM X01, 11-speed
Chain
SRAM PC-X1, 11-speed
Shifter Pods
SRAM X1, 11-speed, trigger
Handlebar
Specialized, 7050 alloy, 8-backsweep, 6-upsweep, 10mm rise, 750mm, 31.8mm
Stem
Specialized XC, 3D forged alloy, 4-bolt, 6-degree rise
Grips
Specialized Sip Grip, light lock-on, half-waffle
Brakes
Shimano Deore XT
Hubs
Roval Traverse
Spokes
DT Swiss Revolution
Rim
Roval Traverse 650b, alloy, disc, 29mm wide, 24/28h
Tires
Specialized 6Fattie Purgatory Control, 60TPI, 2Bliss Ready, folding bead, 650bx3.0", Specialized 6Fattie Ground Control, 60TPI, 2Bliss Ready, folding bead, 650bx3.0"
Seat
Body Geometry Henge Comp, hollow Cr-Mo rails, 143mm
Seatpost
Command Post IRcc, remote adjust SRL lever, 30.9mm
---
Climbing
There's nothing like a steep pitch of uphill singletrack crisscrossed with so many shiny roots that you wonder if there ever was any dirt covering them to begin with. Or maybe the trees have spread their tentacles out above the ground specifically to make you feel like you don't know how to mountain bike. And then it rains, and you're sure that's the case. This is the sort of damp, dark setting where the 6Fattie, with its three-inch-wide tires aired up (or is it down?) to just 14 or 15 psi, can make a committed rider feel like a legend.
The bike's high-volume 27.5" rubber give the wheel an outer diameter close to that of a regular 29er, so it's not much of a surprise that the bike excels on technical ascents. However, a normal 29er can only dream of the sort of bite that the three-inch-wide tires supply. This puts the onus on handling skill and commitment rather than traction when you're on the 6Fattie. I'm positive that I didn't spin-out in places where I would have on a "normal" bike, and because of that, I cleaned pitches that I doubt I would have otherwise, especially on the first try. And while the traction is well beyond what a ''regular'' rim and tire combo can offer, there isn't that hefty, burdensome character of a real fat bike, with the 6Fattie offering a much more normal trail experience than what most plus-bike virgins would probably expect.
| | |
| --- | --- |
| | The 6Fattie is like one of those irritatingly common Instagram users who's always posting corny inspirational quotes; the bike takes away any excuses you might have had for dabbing on a tricky climb, and it will propel you to new heights thanks to all the traction. All it needs is the photo of a sunset behind it. |
With all that said, I did find myself wishing for slightly sharper handling - which contradicts what I say later on in the review - probably because there's enough traction that I got places where the 67-degree head angle didn't gel. I could say the same thing about the bottom bracket height: I found myself tagging my pedals on the ground more often than I normally would, but only because I was trying to turn over the cranks in places where I would likely have been walking if I was aboard a regular bike.
But what about those droning, smooth gravel road climbs that so often lead to the reason we all ride? Surely the massive tires and low air pressure had the 6Fattie feeling like an uninspiring beast of burden, right? Far from it, actually. I spent a lot of time huffing the 29.75 lb Specialized up old logging roads, often with riding buddies on lighter weight bikes with less clown-like tires, but I had no trouble keeping up. More importantly, I didn't feel like I was working any harder than usual. I guess the proper thing to do would have been to wire up a power meter to measure my output (I've heard that these big tires cost a rider around five watts) and compare it to my speed, elapsed climbing time, and power to when I was on a standard bike, all of which sounds like a lot of work. Instead, I just rode the bike a shit ton, which is my preferred method of testing, and never felt like I was slow on it.
What I did feel, though, was a short delay in accelerating from slow speeds, much like you might notice on a mid-priced 29er with heavy-ish wheels. I don't care how many squats and lunges you plan on doing, the 6Fattie won't jump forward as briskly as a $6,500 bike of the same travel but with lighter and much skinnier tires, that much is obvious. I've seen and heard of strong riders posting new PRs up climbs or netting their best results in a cross-country races aboard plus bikes, but I can tell you that the 6Fattie isn't going to be my first (or second, or third, etc...) choice if I'm going to be racing. Get the bike moving, however, and it seems to roll just as quickly as a rig with skinnier tires, not that that is going to matter for those who can't get past the sight of that immense rubber under them.
Descending and Handling
In my mind, plus bikes and broccoli share a single commonality: a lot of people seem to be hesitant about both, even if it is justified. And I bet that I'm in the minority when I say that I'm a fan of both the tree-like vegetable and trail bikes with three-inch-wide tires. They're both best enjoyed in a certain way, however; the broccoli with a ton of delicious cheese sauce, and the 6Fattie on some saucy terrain that's worthy of its massive rubber. Take away the sauce, though, and they can both get a bit bland.
While the 6Fattie can feel very much like a normal mountain bike in most settings, and it rolls quicker than you might expect it to, it's also not going to inspire any wild antics on smooth ground. I ran anywhere from 14 to 19 psi, a pressure range that turned out to match test riders' feedback at Specialized, and you're much better off at the high-end of that scale if you frequent trails that take more inspiration from IMBA than they do from a boulder field. The 6Fattie doesn't exactly feel slow on the former, but it does feel, ahem, plus-sized. Or maybe uninspired is a better way to put it, especially compared to a similarly priced bike in the same travel bracket.
Fast, high-G corners on such terrain are where, having read some other writers' thoughts on 27.5+ bikes, I expected the 6Fattie's tires to fold over and send me into a vicious high-side that would leave me searching for my shoes and wondering what day it was. That never happened, but things can feel a touch vague if you're running 14 psi and slamming into berms like you have nothing to lose. Do the same thing on your current bike with under-inflated tires and see what happens, though. But, with the tires just 2 psi higher, I felt like I could get away with everything from cashing checks that my skills can't cover, to not paying my taxes for a decade, such is the amount of forgiveness that's built into the bike.
| | |
| --- | --- |
| | The incredibly planted feel will allow you to go quicker, and the high-volume tires make the bike ride like it has much more travel than it actually does. The result is that the bike's 67-degree head angle feels a touch steeper than it actually is. Yes, I just said that a 135mm travel bike with a 67-degree head angle can feel twitchy, which is a bit ridiculous and should be taken more as a compliment to the bike than an insult. |
It took a few rides, but I swear that the 6Fattie increased the size of my love spuds exponentially, especially when faced with a hairy section of trail and something as trivial as having to choose the proper line. But you can choose a line, almost any line, actually, and take it without the bike scaring you while you're on top of a mess of wet roots. This exact scenario played out in front of me a handful of times: I'd ride a section of roots that might as well have been covered in hot bacon grease aboard the 6Fattie, and then I'd hold my breath as my buddy followed, with his normal bike looking like it was having a bad Molly trip at a rave.
I could go faster over rough and technical ground on the 6Fattie than when on a more traditional bike of similar travel, which means that traditional geometry numbers might need a re-think in the future. Specialized's Sean Estes agreed, saying, ''We are still learning exactly what the perfect geo and overall setup is for 6fattie, so far we are very pleased with our current setups, but we are always looking into how to make it even better.'' Having so much traction when climbing that the bike feels a bit too slack, but being able to go quick enough (and brake even later) on the descents that it also feels a touch twitchy, is a good problem to have.
Suspension
Much like getting on a longer travel, slacker bike, the traction and confidence that the 6Fattie's tires deliver to the rider might have you pushing yourself a bit harder than you usually would with 135mm under you. And when that happens, you might discover that the bike's somewhat linear feeling suspension needs a simple mod to keep up with your growing courage. Using the Autosag function on the Fox Float shock, which is a good place to start, had me running out of travel on mere three-foot drops. Because it is so forgiving over roots, rocks, and rough trail, it's easy to forget that the 6Fattie is really a 135mm trail bike. Also, Autosag is by no means the be all and end all of suspension setup, as anyone who likes to get a bit wild on the 6Fattie is going to want to run more air than what Autosag tells you. I ended up pumping an extra 10 psi into the shock, and then added a single, large-sized volume spacer a few rides later, a job that takes all of five minutes. I also dropped a few volume spacers into the Fox 34 fork while I was at it.
The result was a still immensely forgiving package but also one with the perfect spring rate for me and where I ride, with the tires eliminating much of the nasty chatter and the suspension looking after anything that gets past them. Damping was spot-on after I slowed it down a few clicks from where I'd usually run a mid-travel bike, probably because the high volume of the tires was tricking me into thinking the suspension was rebounding quicker than it actually was. Either way, the relatively slow rebounding, more progressive suspension that I ended up with, when combined with the huge tires, makes other bikes in the same travel bracket feel like they're from the late 1990s.

Technical Report
• Dropper Post:
The bike's 125mm Command Post IRCC is Specialized's latest take on getting the seat out of the way, and much like the older Command Posts, it's
a consistent and trouble-free performer
. The new micro-indexing lets you fine tune seat height ever so slightly (although I wish that were all at the very top of the stroke), and the SRL remote's thumb paddle (otherwise known as the fun-button), which is shaped very much like a SRAM shifter's thumb paddle, is also spot-on.
• Brake Noise:
You know when you go hunting, and you shoot a moose but just end up mortally wounding it rather than causing instant death, and then the animal releases a baying sound that comes from deep inside just before it expires? I don't either, but I think that's kinda how the 6Fattie's Shimano XT rear brake sounded thanks to a sticky piston that was slow to retract after I released the lever. It only lasted for a few seconds, but it was definitely annoying to hear that strange warble even after letting go of the brake lever.
• Burrito Pocket:
The carbon 6Fattie frames (but not the alloy version) feature Specialized's SWAT Door system that lets you store a bunch of stuff in the down tube, and the bike comes with some nifty pouches that that keeps things from rattling around in there. You can fit a tube, pump, large-sized bag of Fuzzy Peaches, and a bunch of other things in there, which I have to admit to finding pretty handy. While some manufacturers design bikes that can't even fit a bottle inside the front triangle or, worse yet, make bikes that have exactly zero water bottle bosses, Specialized came up with a frame that lets you hide a bag of candy or a burrito.
• Rubbed Me Wrong:
My calves constantly rubbed the 6Fattie's seat stays, enough so that I found it pretty annoying on long rides. The bike was designed to fit even wider tires than the three-inch monsters that it comes with, although it sounds like Specialized plans on shrinking down the stays to improve foot and leg clearance in the future.
• Tire Talk:
The bike's three-inch Purgatory Control and Ground Control tires are interesting in that they don't roll nearly as slow as you'd expect them to. In fact, in a lot of trail conditions they seemed to roll similar to an aggressive tire like a big Hans Dampf or Muddy Mary that's run at low pressure. Traction was immense, as you'd expect, but their Kryptonite is definitely mud - they want to skate over the top of slime rather than cut through it - which made for some interesting moments while testing the bike through November and December here in British Columbia. A proper, digital pressure gauge is also nearly mandatory when it comes to plus bikes, as a difference of just one or two psi has a massive effect on how the tire performs: at 14 psi I was getting too much casing roll in hard corners, but this feeling went away at 16 psi. Good luck nailing that sort of accuracy with the analog gauge found on most floor pumps.
• Insurance Included:
Specialized decided to spec the 6Fattie with a pint-sized chain guide that bolts onto the bike using the upper two ISCG 05 chain guide mounts. Clutch derailleurs and narrow-wide chain rings will make this a bit redundant for some riders (depending on terrain, skill level, and bike setup) but it's cool to see Specialized go with this little extra insurance add-on despite the fact that it's likely that no one would have thought any less of them for not spec'ing a guide from the factory. What other 135mm travel bikes come stock with a chain guide? No dropped chains and no annoying chain rub.
Pinkbike's Take:
| | |
| --- | --- |
| | If you think that plus bikes, and especially the 6Fattie, are going to ride awkwardly, you're wrong. The Specialized feels very much like a normal 29er on the trail, with the exception being that it allows the average rider to go faster on most downhills and clean tricky climbs more easily. Its 135mm of travel doesn't convey how it performs, however, making it a hard bike to try and label. Then again, that very description, that it doesn't suit any exact definition, makes it clear that the 6Fattie is best suited to a rider who falls into the same sort of non-classification. - Mike Levy |
---
Visit the feature gallery for high resolution and additional images
---
---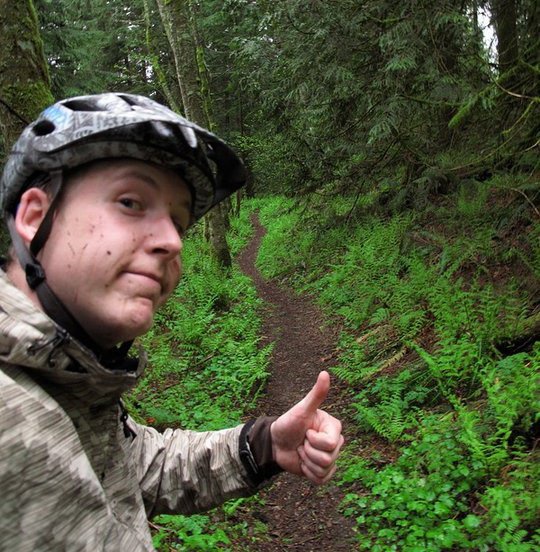 About the Reviewer
Stats: Age: 34 • Height: 5'10" • Inseam: 33" • Weight: 165lb • Industry affiliations / sponsors: None Mike Levy spent most of the 90s and early 2000s racing downhill bikes and building ill-considered jumps in the woods of British Columbia before realizing that bikes could also be pedaled for hours on end to get to some pretty cool places. These days he spends most of his time doing exactly that, preferring to ride test bikes way out in the local hills rather than any bike park. Over ten years as a professional mechanic before making the move to Pinkbike means that his enthusiasm for two wheels extends beyond simply riding on them, and his appreciation for all things technical is an attribute that meshes nicely with his role of Technical Editor at Pinkbike.