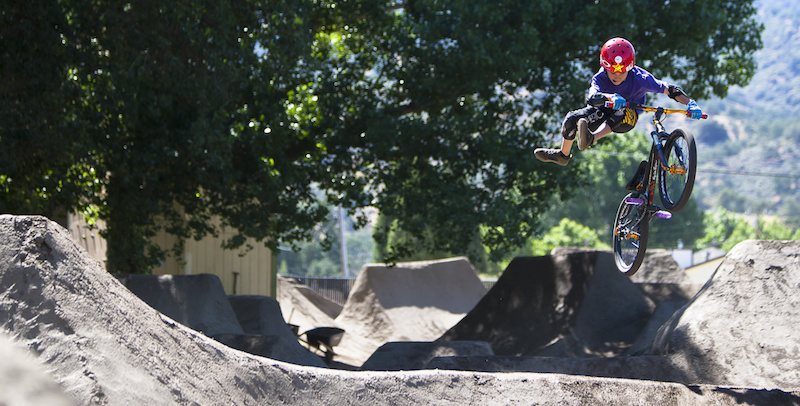 All photos by Brian Finestone
| | |
| --- | --- |
| | 10-year-old Finn Finestone has been raising eyebrows for several years. He absolutely slays every kind of riding, including BMX, skate park, dirt jumps and, of course, the Whistler Mountain Bike Park. It makes sense...Finn's dad Brian happens to be the Whistler Mountain Bike Park Manager. I chatted with Brian and Finn to get a better idea how this father and son shred team work together. - Mike Berard |
What is your background in biking?
I have been involved in the WMBP since 2000, first as the safety guy and then as manager from 2007. I didn't grow up racing, but always wanted to, BMX was on my radar as a kid but there was no track where I grew up. I raced rigid mountain bikes in the early 90's, it was rough on the body, no pads, no suspension, high speeds and sketchy Styrofoam helmets.
When did Finn first ride a bike? And when did he first catch the bug to be a mountain biker?
Finn started riding at age three. We missed the first wave of the run-bike revolution by a year or two. Finn rode for a couple of weeks with training wheels and then told me to take them off when our neighbor gave him a full-face moto helmet and some Fox moto pants. We told him they were magic pants that would help him ride on two wheels, so he put on the suit and just rode away. Later that day we built a jump, I guess there was some magic in those pants. Mountain biking was a given, Finn has grown up watching Crankworx, both turned 10 this year, so there has definitely been an influence watching the best riders, live in person for as long as you can remember.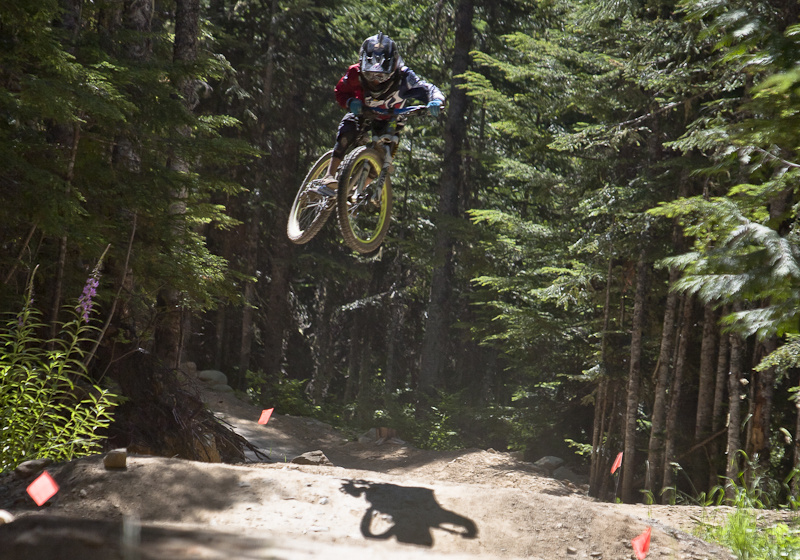 How the heck has Finn cultivated such style at such a young age, and has it been a concentrated effort to perfect style?
I truly think style is something you are born with. Finn has always watched the best riders in the world very closely and recognizes their style. He has an innate ability to look at two different riders whether it's cornering or doing the same air and identify the one with better style.
Clearly, Finn's success is a result of a close bike-centric relationship between the two of you. How many days a week do you ride together?
Finn's abilities are the direct result of practice time. We ride different stuff all the time, it's random really, not some bike training regimen. We ride skateparks, pumptracks, race BMX, pedal XC and DH, or else we just go skateboarding. We just have fun together doing things and I guess the aggregate result is his skill set. We probably ride some sort of bike daily during the summer months.
Brian, you mentioned to me that Finn recently won the "Target Outstanding Camper" award at Woodward for "good spirit and sportsmanship." You also said it was what made you proudest. As a parent, is it a challenge to maintain his expectations when he rides at such a high level?
Abbie and I are proud of Finn's tenacity. It takes motivation and a serious work ethic to get to where he is today. A parent can't make a child love something, all you can do is provide the opportunities and if they take to it, support them in any way you can. It is not about spending money on bikes, it is about spending time with your kids. Finn is pretty humble for his skill set, he is always looking for kid's videos on You Tube to see what other riders are up to and get inspired to try new things. He loves to ride, plain and simple, and will ride with anyone of any age and have fun. Finn is competitive in nature and seems to thrive under competition pressure situations, often landing completely new tricks he has never done before. That trait is important but we watch it closely and put zero importance on results at this stage. What is important is that you had fun, tried your hardest and lost or won gracefully. Burnout is something we want to avoid, but I think we are lucky with the seasons here, as biking gets to its peak we switch to snowboarding each year so there is always something fresh coming around the bend.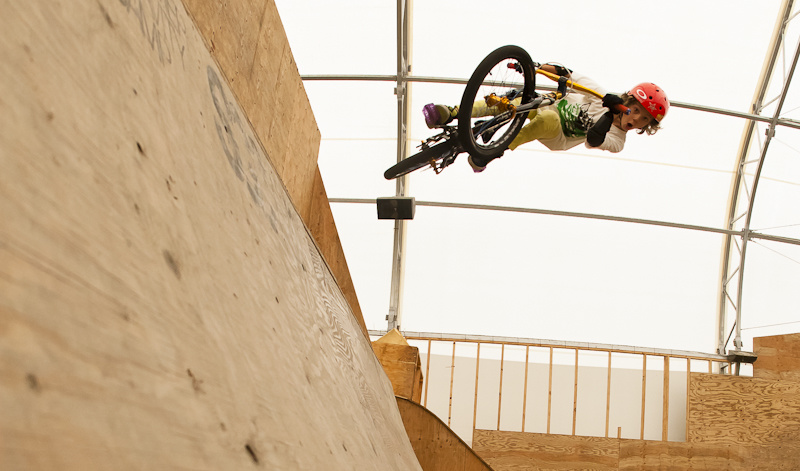 Most of Finn's coverage is park or jump based, but clearly he must ride single track and bike park if he's your son. When and where is Finn at his happiest?
I think the bulk of the coverage is skate park and dirt jump based because those are easy places to shoot. We ride everything and I guess stopping while riding DH and XC kind of blows the flow. Finn is happy any time he is riding, no single discipline stands out yet, most days we do a mix of all of them, Bike Park laps in the morning, skate park / dirt jumps in the afternoon followed by an Airdome session and some pump-track on the way home.
The future seems to be bright for Finn. What mantra would you say the two of you follow most closely going into the future?
The future is full of options. Finn could certainly make a career as a cycling athlete if he chooses to – there is plenty of time. The only mantra we try to follow is "Keep it fun", if he is getting frustrated with a trick, I try to get him to leave it alone for a while and come back to it, sometimes you just have to try "softer".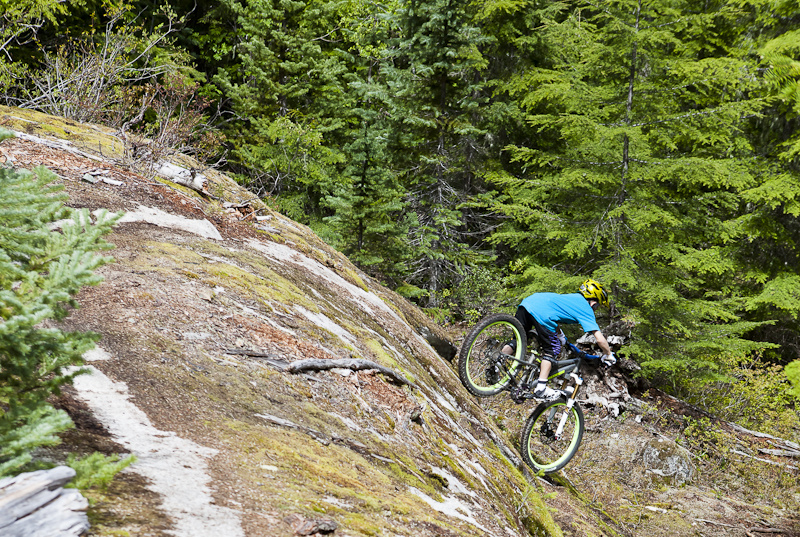 Finn, a quick 10 questions for you...

1. Who are your favourite riders?
My favorites are Brandon Semenuk, Brett Rheeder, Danny McAskill, and Cam McCaul for tricks. I like Brendan Fairclough, Stevie Smith and Aaron Gwin for racing and Kurt Sorge, Graham Agassiz and Thomas Vanderham for big mountain riding.
2. What do you enjoy most about riding?
That's a hard one, I don't know how to answer that…it's just fun.
3. What's your pre-riding ritual (if you have one)?
I don't have one, I just drop in and ride.
4. What's the next trick you'd like to learn?
I have a few; bar spins, flips to dirt, and 360s.
5. Who has the best style in mountain biking?
Brandon Semenuk easily.
6. Who has the best style in BMX?
I liked Daniel Dhers in the X Games.
7. What's better, speed or air?
Air!
8. If you had to choose one style of bike (BMX, hard-tail, DH, DJ, trail) for the rest of your life, which one would it be?
Dirt Jump bike I guess, because I could ride it in pump tracks, skate parks and dirt jumps.
9. How long will it be until you are beating your dad down the mountain?
Already happened, he tried to film my last Phat Wednesday race and you can only see me for a few seconds.
10. Favorite Trail?
I would pick Top of the World to Khyber Pass because you can only do it sometimes, otherwise A-Line which you can ride any time.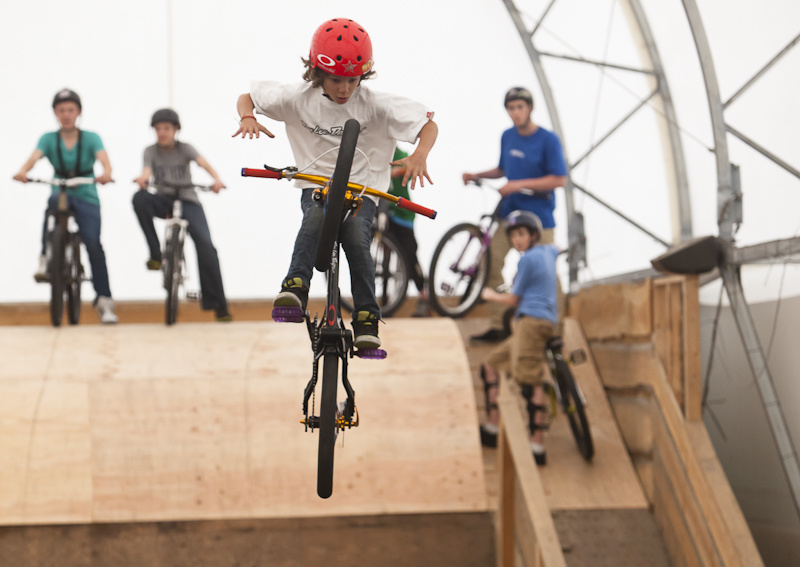 Finestone Sponsors
: Lil' Shredder Bikes, Troy Lee Designs, Chromag, Shimano, Sandbox Helmets, Oakley, Five Ten, Fox Suspension, Evolution Shop and Leatt Brace.