Tubeless tires give better performance than traditional bike tires, providing more traction, a lower rolling resistance, less weight and more protection from punctures. Want to go Tubeless? You'll be there in just five steps - it's easier than you think.
Basically, any wheel can be converted into a tubeless wheel, though tires and rims optimized for the tubeless technology are easier to inflate and to seal.
1) Remove the tire and tube from the rim. You won't be needing the tube.
2) If you don't use a tubeless-ready rim, close the spoke holes of the rim with rim tape. This ensures that the system is airtight once the tire is back on the rim.
3) Install the
milKit
valves, just like a conventional tubeless valve into the rim and unscrew the valve core. milKit valves fit all standard rim types.
4) Mount and inflate the tire without sealant on the rim. By adding some soapy water the rubber snaps into place at a lower pressure.
5) Add sealant with the milKit applicator through the valves to the tire and put back the valve core. No air is lost.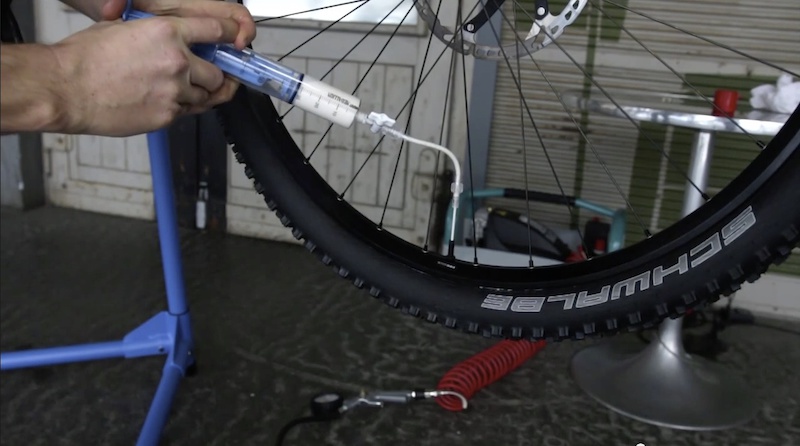 Enjoy a safe ride!
Going tubeless is easier than ever before: the benefits of milKit
Mountain bikers riding on tubeless tires normally must detach their tires to check their remaining sealant, a time-consuming and messy process. milKit eliminates the guessing game and lets professional and amateur riders alike quickly and easily check and add to their remaining sealant in seconds, while their tires remain on their rims and their bikes stay at the ready. The Swiss invention
milKit
comprises two easy-to-install valves that are compatible with all standard rims and a custom applicator that lets bikers remove, inspect and inject sealant whenever needed, with no mess or fuss. And, a rubber flap at the bottom of the patented valves prevents the sealant from filling and blocking the valves.
---
MENTIONS:
@milKit
---