missmalburd
Member since Feb 14, 2017

Female / 31
Park City , Utah
@malburd - Put the fun between your legs. Ride bikes be happy. read my pinkbike interview to know more!
Block user
Recent

Selling
Sep 3, 2017 at 11:50
Sep 3, 2017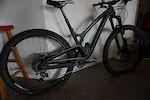 $3500 USD
2016 Evil Following 29er - Custom Build, very few miles! Frame size - small, black, carbon Wheel size - 29" - Front wheel - WTB KOM, WTB Vigalanti 2.3" tire, HBM788 hub, 180mm rotor Rear Wheel - WTB HOM, WTB Vigalanti 2.3" tire, SRAM XO hub 160mm rotor Fork - Rockshox Pike RTC3 130" Shock - Rockshox Monarch 120" Drivetrain - SRAM XX1 - crank, shifter, cassette, derailleur, 30T chainring Brakes - guide ultimate Bars - Easton Haven carbon Stem - Easton Haven 55 Dropper - Rockshox reverb stealth 125mm Saddle - WTB, carbon rails Overall the bike is in great shape.  Because of a recent move, this bike did not see many miles. I also have 3 other bikes in my fleet so this wasnt ridden much at all. More details please look at Evils website - www.evil-bikes.com For all specs on specific parts on bike please look at manufacturers websites. Bike description: The Following was designed with FUN in mind and uses 120mm of progressive Delta System suspension in conjunction with 120-130mm forks to change its personality from aggressive XC to All Mountain styles of riding. You could call the Following a Trail bike, but the lines between categories have become so blurred that we like to think that this bike can handle All Day Epics to All Mountain Shredding. The Following has features plenty of clearance for 2.4" Monster Truck tires. With support for, and internal cable routing, stealth dropper post and front derailleurs, the Followings rear derailleur and brake line are cleanly routed under the top tube. After passing down the top tube, the rear derailleur cable is internally routed through the swingarm. The Delta System delivers the party in the back with a progressive spring curve that keeps you higher in the travel and maintains a playful feel through the entire stroke. Undoubtedly due to some Weagle black magic and complex number crunching, the Following feels like it has much more than 120mm of travel, which makes for a truly versatile bike thats shred ready out of the box.​

Mar 17, 2017 at 9:15
Mar 17, 2017
Load more...