mongooseoterosuper
Member since Jan 31, 2012

Male / 36
Liverpool , United Kingdom
Block user
Recent

Jan 20, 2015 at 6:33
Jan 20, 2015

Jan 19, 2015 at 12:28
Jan 19, 2015

Feb 2, 2014 at 7:22
Feb 2, 2014

Selling
Jun 10, 2013 at 4:31
Jun 10, 2013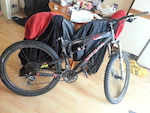 $150 GBP
I am selling my mavic ex 721 rims they are straigjt and true never had any problems and have been recently serviced. These wheels come with a standard qr but you can swap the hope adapters for a bolt thru. Any questions feel free to ask. I can ship anywhere in the country and have adequate packaging for them. wheels are pictured on my old frame Quoted from the mavic website The reference rim for all extreme MTB riding EX 721 provides downhillers the strength and agility they need. Rewarded by many victories in the most hotly contested races, this rim will suit perfectly those who want to be fast on the down side of the mountain. Happy trails guys.

Selling
Sep 6, 2012 at 9:55
Sep 6, 2012

Selling
Jul 16, 2012 at 9:37
Jul 16, 2012
$150 GBP
hi I am selling my samsung r60 plus laptop it has been upgraded to a 320gb hard drive it has a 2.3 gb dual core processor dvd burner 1.5 gb of ram. The reason i am letting it go cheap is because it needs a new charger port its about £40 to get a new one done by a pro shop or £7.50 if u can do it yourself the laptop still works and it will charge u just have to fiddle with it also i have bought an extended life battery as well. any questions give me a buzz oh and i should also mention it has windows 7 ultimate and mcafee anti virus with a lifetime key on it. let me know if your interested and al send u pics etc.

Feb 1, 2012 at 3:00
Feb 1, 2012
Load more...