I throw on the car stereo and set the iPod at random (consulting the 0rac1e). As if perfectly planned, Zeppelin's The Rain Song comes on and the Quathiaski Cove ferry starts moving out of its secluded harbor. It's grey and misty out there, a fine rain making everything seem remote, subdued. My beautiful female consort is on a 4-day exploratory mission around Quadra Island with a whole pod (or is it gaggle?) of other kayak guides, getting to know the territory that they'll be paddling over the next 4 months.

Perfect day for a road trip.


My first stop is base lodge at Mount Washington, which is actually a 16 kilometer climb before you get there. Yeah, I know the bike park doesn't open for over a month, but I wanted to go see what their excuse for opening so damn late might be. As far as I could tell the place was pretty much deserted, pointing to the probability that the Mt Washington crew just lets Mother Nature take care of getting the trails ready. Fair enough, I mean we are on Island time here.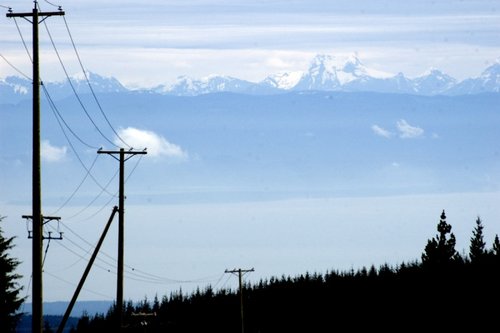 The view from Mount Washington. Just need to get over to those mountains...
After taking in the view, I dropped back down to the highway and decided to head to Cumberland and see what was happening at Dodge City Cycles. Turned out there was a street festival going on in Cumberland, and Dunsmuir Avenue was filled with booths, kids with painted faces, and couples with shaggy dogs wandering around checking everything out. Cumberland seemed to be in a sun bubble where the rain was magically held back for the festivities. I weaved through the smiling faces and went immediately to get a mocha at Tarbells, where the staff was super friendly, defintely enjoying the party atmosphere. Next, over to DCC. I had a positive memory of visiting these guys back in 2004 when I was staying in Merville for a short time. Big disappointment. The staff at DCC all felt to me like they had better things to do. Way more important things to do. They also seemed to have sectioned off the store with a dividing wall in the centEr, making it feel small and crowded. I've been looking for a Magura brake adapter and asked someone about it, and was directed to the mechanic, who really put out as little effort as possible without actually refusing to talk to me. He made a half-hearted attempt to look up the part but dropped the ball after a glance at a catalog. During this noncommittal interaction I asked him about good spots to ride and he said I could buy a trail map, then he told me he had to finish the bike he was working on. Well, I've never bought a trail map in my life (read on to see why) and I'm not about to start, because I prefer to actually meet people and go riding. Obviously, it wasn't going to happen here. Now, I'm not expecting the DCC staff to divulge inside
information to every dork who walks through the door asking for good places to ride. It was just this underlying snide and superior attitude that ran through the place that made me walk out the door thinking, ʻscrew you'. And guess what? Screw them. No need to go back. A bike shop has to have something special going on, otherwise I'll buy my stuff online for 40% less, right? No stickers for those guys.

Stickers. A free passport to good banter in unfamiliar bike shops the world over. Or should be.
Onward to Arrowsmith Bikes in Parksville, where a staff member actually said hey to me when I walked in so things were already looking up. They were really friendly and open at Arrowsmith and wanted to help with the Magura thing, but no such luck. Good shop with lots of the necessary stuff and a cool vibe. Those guys I would deal with. So by now I'm pretty close to Nanaimo, so I figure I should get over to Delicado's and have a roll-up for the ferry ride over to the mainland. Man, they make the best roll-ups. Hmmm, come to think of it I'd like one of those right now...
Made it to the ferry with 5 minutes to spare, then headed on over to Horseshoe Bay and up Highway 99 to experience massive amounts of road construction and condo sprawl. Last time I rolled through Squamish in 2004, it had one intersection. Now it seems to have about 10 kilometers of mall sprawl and mondo condos. It passes through my head that British Columbia should change their provincial motto to ʻThe Ugliest Crap You've Ever Seen in The Most Beautiful Setting You've Ever Seen'. Remind me to email BC Premier Gordon Campbell to suggest this. And p.s., Screw the Olympics. Cops are nested into all the 50 km/h construction zones, and people are being pulled over in both directions on the Sea to Sky highway. It's not complicated, people - just
obey the speed limit in the construction zones!
Whistler. A ridiculous spectacle of Western excess sautéed in a Disneyland aesthetic with a Mall for a brain. Full Retail Hell. Full Retail Paradise. Whatever. It was manic. The
notorious Long Weekend when Whistler is descended upon by thousands of idle teens and middle class families. Everywhere, the feeling that Something was going on that You Weren't a Part Of. And the shoulder-to-shoulder crowds all seemed to be...shopping. Here we are in one of the most amazing bunch of land formations on the planet, and we all want to go shopping? Did I miss the damn memo for self-lobotomy?
I wandered into the information building in the main village and found out about a sweet little B&B close by called the Cedar Springs. The rates at this place were amazing, the owner Jackie was really friendly and helpful, and the breakfasts were absolutely epic. Homemade bread, buttermilk blueberry banana pancakes, fresh fruit, good coffee...easily the best breakfast I've had away from home. I'm not exaggerating, it was awesome and it cost under 80 bucks a night! And after one of her breakfast, I wasn't hungry for like 15 hours. Super positive experience. Once I checked in and met a few of the people staying there, and had some of Jackie's freshly baked zucchini-banana bread, it was back to the village to sample more of the manic carnival energy. I used my Magura adapter search as an excuse to check out the Village's bike shops. First stop was Fanatyk-Co, whose crew was a good jumble of Canadians, Aussies, and Kiwis. Small shop but good selection of the necessary gear. No Magura adapters of course, but one optimistic dude tried to upsell me an entire brakeset. The good-natured banter which ensued eventually led to them suggesting I check out Summit, which was across the street, or Kathmandu, whose reputation for holding on to old school bits and pieces sounded hopeful. I put my search off for the night in order to explore other aspects of Whistler, but resumed the next morning. Kathmandu is the closest thing in Whistler to what I would call a ʻlocal' bike shop - actually, more of a blend of bikes, boards and bongs. Squireled wa-a-a-y out of the way and impossible to find (although I seem to remember it was somewhere near the KFC - commonly referred to as the Dirty Bird), Kathmandu was low-key, unpretentious, and, most importantly, actually had a bunch of Magura adapters kicking around. When I got there the laid-back Kiwi mechanic was working on an XC fanatic's Element 90, which had inadvertently sucked a piece of wire into the derailleur pulleys. The Kiwi did a very competent and efficient extraction, probably spending about a half hour in total on the bike to make sure everything was tuned sweetly, and only charged the kid 15 bucks. Once the kid was on his way, the mechanic started searching through bins and finally
located his secret stash of Magura adapters - all 3 of which turned out to be for an obscure, non-IS, long-forgotten fork mount lost somewhere in the legendary mists of time. All this bike shop research was beginning to threaten my riding time, so I ended up testing out a set of Avid Elixirs, courtesy of Fanatyk-Co.
OK, finally, time for first tracks. All my haphazard wanderings from the previous night had familiarized me with the layout of the village, at least enough to find my way to the ticket booth and get a lift pass, which set me back 42 bucks, $9 less than the regular season price. I was about 5th or 6th on the lift, and for whatever reason, I was nervous as hell. The chairlift bubbles were still in place and, on the first run around the bullwheel, were set to automatically lower, so I was stuck in this discolored translucent plastic shell listening to the amplified sound of my own breathing, like some outtake from 2001: A Space Odyssey.
Whistler. Every bit of bike porn I've ever subjected myself to has included something featuring this place. I already knew what the trails looked like - the trail names - the drops and features - even the people who ride here - from videos, photo shoots, magazine articles, and friend's descriptions. Without question, the single best-known mountain bike destination in the world. Hype or not, Whistler's bike park has become the model on which every other resort is based, the arbiter by which every other resort is measured. And here I am alone in a plastic bubble with no idea how long the lift even takes. Breathe in. Breathe out. Find my gloves. Find my goggles. Find my gloves again. Wonder why I'm breathing so loud. Tighten the straps on my backpack. Wonder why the lift's taking so long. Breathe more. Damn that's loud. Man, can I ever feel the coffee kicking in full force when it gets mixed with adrenaline. Holy crap, I'm at Whistler. Finally the bubble latch is released and I am free to unload! A grinning Australian liftee in black-framed Oakleys holds the handlebar of my Free and we casually nod at each
other as I take the bike from him. I roll down the ramp, past the trailmap board, down to the sign that says Bike Park Privileges Revoked For Riding on This Road, and then right back up again to the trail map. I glance at the board as if I can actually make sense of it, then do the only logical thing: follow someone else to the trails. I don't know about you, but trailmaps make no sense to me at all - until I've familiarized myself with the territory. Then, I can kind of see where those map guys were coming from when they decided to pretend that the multicolored squiggles that interweave all over the place, with numbers and arrows and diamonds and double diamonds and blue patches and green patches, are actually trails. Let's just say I value personal experience above whatever kind of foreknowledge those damn maps are supposed to provide.
A short pedal to the trailheads and I'm riding past small white signs with black lettering that say things like: A-Line, Schleyer, Joyride, B-Line. B-Line sounds like a good place to warm up. From the knowledge of Whistler that just seems to become part of your brain once you start gravity riding, B-Line is understood to be a casual stroll down the hill without consequences. Which means no gaps, no drops, no technical. It's considered Intermediate in the bike park, but if you can't roll down B-Line, you should really go back to knitting. B-Line is almost as relaxed as an old armchair; comfortable, familiar, and every once in a while it'll kick back and spring the footrest out when you're not expecting it to, just enough to keep you alert, but not enough to knock you off the chair. The spring runoff had made some of the corners nice and gooey, to remind riders that getting dirty is part of the fun. This trail is definitely a great first-run warm-up: make sure the bike is working the way it should, make sure you're awake enough. No real surprises, just a nicely bermed meander down the mountain to get a rider used to being on a bike after whatever abuse they've subjected themselves to the previous night.
The thing about the Whistler bike park is that it's carefully (almost too carefully) tailored, and it's easy to gradually increase the challenge level. Crank It Up, for example, is exactly like someone took B-Line and turned it up a notch or two. Still no big challenges, just a ʻrollercoaster of fun' as a riding buddy of mine likes to describe it. What gives B-Line and Crank It Up an intermediate rating is the fact that they both are interspersed with tabletop kickers. But if you're just learning, these runs are perfect for gradually increasing your speed and learning how to take some air. Crank it Up also gives you some easy wall rides to try out. Remember kids, the faster you go, the smoother it is. Only a limited amount of trails were ready to rip this early in the season, although for opening weekend the Whistler crew had been working diligently to get the snow cleared off and the things flowing smoothly on the runs that were open. There was still too much snow on the higher elevations for the Garbanzo lift to be running, but most of the lines to the west of Fitzsimmons were ready for action. I tried the top of Joyride to Schleyer next, whose legendary status is, uh...legendary. A technical trail with some good rocks, roots and drops and a couple of good surprises. Being an easterner, Schleyer is more like the kind of trail I am used to seeing. On my first run down, there were a few sections I had to stop and look at before dropping, but again the trail is so well built that it had
lots of gnarly flow to it, and nothing too huge. The end of the Schleyer trail spaghettis out into lots of trail choices, all similar in technical level to Schleyer itself. Next, I had to hit A-Line. It seems that every resort building mountain bike trails now has a run that they refer to as ʻtheir version of A-Line'. You've already heard what it's like, and you've already seen lots of photos of it, so I'm not going to bore you too much with the description: lots of tabletops, some gap jumps, big berms, lots of fast flowy bike highway. Yes, it's as fun as it sounds. At the end of the trail as you approach the Fitzsimmons lift, there are a few different line choices to direct you back to the chair or the village.
The rest of the day was spent exploring variations on these themes - Joyride, Rock City, Clown Shoes, Whistler Downhill, and whatever else was open. I didn't pay too much attention to the trail names after a while, I was too busy refilling the void left by a winter of wanting to go riding but living in a snow belt. Not only was this my first ride at the Whistler Bike Park, it was my first ride of the season. I noticed that at about 3:30 in the afternoon I still hadn't stopped for lunch and was feeling a bit worn around the edges, so I took a quick break, found a grocery store, downed a couple of Powerades and ate a banana or two, then got the hell back up there and ripped it up till they wouldn't let me on the lift anymore. What a perfect way to start the season! Just to spite all the weather reports that insisted it would be rainy and overcast, Mother Nature provided a perfect weekend, above 25 degrees and beautifully shiny. I'm taking this as an omen for the rest of the season out here - the precedent has been set!
In spite of the fact that it takes about a day to get there, I'm planning on returning for Crankworx just to experience the spectacle and film WomenzWorx, and try out the Garbanzo-accessed runs. In case you've never heard of it, WomenzWorx is...yep, you guessed it, a women-only freeride comp that takes place during CrankWorx. According to the Pique, Whistler's weekly rag, women represent the fastest-growing demographic in gravity riding right now. So let's start featuring women in the bike media! It's time to change it up and take a break from all the cockwaving macho metalhead crap that's been totally done to death. It isn't just pimply 12-year-old boys who love this sport. People of all ages, shapes and sizes are into it, and a couple of days in the Whistler Bike Park will prove this to you without question.
Even if you can't stand the over representation of Whistler in the bike media and all the hype surrounding it, you know you have to check it out. In spite of all the noise, all the riders I met were chill, laid back and in it for the good times. Everyone who loves our sport has to experience the place for themselves and see where they're at with it. I know I walked away feeling a huge sense of accomplishment. Somehow my riding was stepped up just by being there, if only for the fact that I've finally experienced first-hand the trails that are continually rocked by the some of the best riders in our sport.
-
mpathic.pinkbike.com