mypetpickle
Member since Aug 16, 2017

Male / 26
South Bend , Indiana
Block user
Recent

Selling
Jan 15, 2020 at 10:42
Jan 15, 2020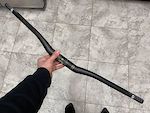 $70 USD
New, was mounted on a stem for mockup but was never ridden on. Price includes shipping and Paypal fees. 31.8 clamp 780mm width 25mm rise 9* backsweep 6* upsweep https://www.chainreactioncycles.com/us/en/nukeproof-horizon-carbon-riser-bar/rp-prod158768?gs=1&sku=sku582509&istCompanyId=64a3dd19-9b5e-411d-a4f3-46f21c06bfee&istFeedId=504a9a46-d791-4ab6-bde1-bd49b4b78bc6&istItemId=iwxxrmapr&istBid=t&pgrid=54137515364&ptaid=pla-434234021457&utm_source=google&utm_term=&utm_campaign=PLA+All+Products&utm_medium=base&utm_content=mkwid|s8S62jQf9_dc|pcrid|253659801802|pkw||pmt||prd|582509US&gclid=EAIaIQobChMI3tfHp6CG5wIVS73ACh1_IA4REAQYASABEgIy2fD_BwE# Thanks

Jan 1, 2020 at 15:42
Jan 1, 2020

Selling
Jan 1, 2020 at 15:39
Jan 1, 2020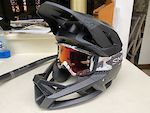 $150 USD
Basically new, worn twice, never crashed, been sitting on the shelf for near 8 months now. Edit: goggles sold, only helmet available now.

Aug 7, 2019 at 12:57
Aug 7, 2019

Selling
Jul 22, 2019 at 9:38
Jul 22, 2019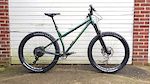 $1900 USD
Brand new build-up, I bought this bike two months ago but due to tearing a few ligaments in my ankle just a few days later in a crash on a different bike I will be out most of the rest of this season which is my only reason for selling. This bike has ZERO rides, everything on this bike is new minus the wheels and cassette, which are like-new but have been used very little. Large frame E*Thirteen TRS+ 27.5 Wheelset 27.5x2.8 Michelin Wild Enduro tires Rock Shox Pike Debonair - set at 150mm, also comes with 130mm airshaft TRP Quadiem brakeset Galfer Wave disc rotors, 203mm front/180mm rear SRAM Descendant 170mm crankset SRAM NX Shifter/Derailleur Box Components 11-46T Cassette Ergon grips and saddle PNW Cascade 150mm dropper Race Face Turbine R 780mm bars Race Face AEffect 50mm stem Price is firm. Add $75 for fully insured shipping through BikeFlights if needed. I can drive a couple of hours to meet if you are somewhat local and want to save on shipping. Thanks, Josh

Selling
Jul 14, 2019 at 9:47
Jul 14, 2019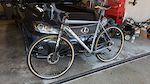 $1600 USD
Selling my 2017 Cannondale Slate Ultegra size Large (57). I bought this while recovering from an ankle injury earlier this year to try out the gravel/CX trend and have just decided I get more enjoyment out of my MTB now that my ankle is fixed. Rides super smooth and is in excellent condition minus a few scratches around the bottle area (pictured as best I can, I am including the touch up paint as well). Full Ultegra, hydraulic disc, Lefty Oliver carbon fork, upgraded Shimano 11-32T cassette with long cage Ultegra derailleur. I will also include the stock 11-28T cassette and short cage Ultegra derailleur, stock Cannondale Panaracer 650Bx42 tires, tubeless valve stems, Stans sealant, as well as a pair of Nashbar clip-ins if you want them. I'm asking $1600 obo and can drive to meet within reason if needed, will also ship. Texting is easiest way to reach me, 574-606-9077 Thanks, Josh

Selling
Jun 16, 2019 at 17:18
Jun 16, 2019

Selling
Jun 16, 2019 at 15:57
Jun 16, 2019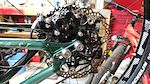 $325 USD
Braided front line (I screwed up the rear one or that one would also still be braided), comes with 203mm Moto rotor and 180mm standard Hope floating rotor. Fresh rebuild with new seals February 2019 and have parts receipts/photos to prove. New Nukeproof sintered pads as well with 5-ish easy rides on them. Coming off of a large frame so plenty of hose to use. Shipping included in price.

Selling
Jun 14, 2019 at 5:41
Jun 14, 2019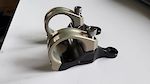 $40 USD
Like new, was on the bike for 3 months and ridden on a couple times. Only selling because I don't have anything that takes a direct mount anymore. 45mm, 0 rise, 31.8 clamp.

Selling
Jun 14, 2019 at 5:24
Jun 14, 2019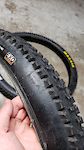 $50 USD
Used but in good shape, decent tread left, never been punctured/repaired, would make a good set of spare tires or replacements even. Price includes shipping and fees.
Load more...