Whether you have ridden Perry Park Birmingham, the Manchester indoor cycling centre SX track or watched the London 2012 Olympics BMX, judging by the design and flow there's little doubt that the architects of these epic constructions know how to shape dirt!
C&K Contractors are renowned for building world-class tracks. Clark, Kent and Woodrow Bridgett have grown up riding bikes and shaping dirt, refining their skills into evermore elaborate and sophisticated courses. But it was in their folk's back garden that they got a taste for digging.
I'd seen a few snaps and heard many tales about where these guys honed their craft - namely the Bridgett's backyard, so I was stoked to get an invitation to Jane and Peter's home to check out the infamous C&K Compound!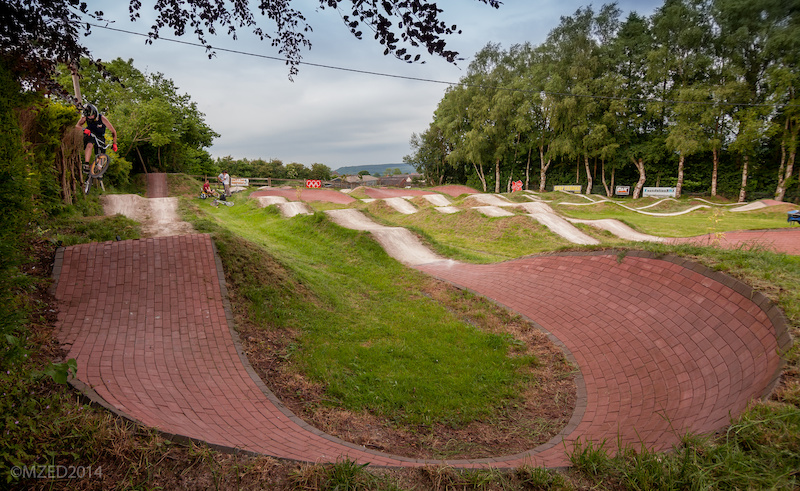 Driving down an idyllic country lane I was greeted by Woodrow in front of the family's neat Californian style bungalow. As Woodrow led me around the back I was confronted by what can only be described as the dream backyard, the sheer scale of the construction immediately struck me as well as those notorious, immaculately paved berms! Without a doubt the most intriguing feature. I remember thinking "Woodrow's folks must be super cool" and I certainly wasn't mistaken.
The highlight of the afternoon was spending time with Jane and Peter; this is a couple you want at your party! Charismatic, sharp, funny and no bullshit, both were super hospitable and incredibly generous with their time and knowledge. Unfortunately Clark was only around briefly but it was great to meet him and hear about the various incarnations of the yard, it's been everything from a football pitch to massive sets of doubles and every variation possible in-between.
As riders started filtering into the yard I knew I was in for a treat, it didn't take long before things got interesting! Joey Gough's speed and style never fails to impress and witnessing Antony Tuffs' tripling rollers that simply looked impossible was an eye opener! Some mega fast and close trains were going down and riders were boosting crazy air from features that simply shouldn't throw you that high!
It was a shame that I only had an afternoon behind the lens, as there is enough interest and characters at C&K's to make a feature film. It was a privilege to have spent an afternoon with such rad people at such an awesome location; I hope you enjoy the edit as much as I enjoyed my time at the Compound.