Few individuals in the U.K. can call themselves a professional Freerider. At the tender age of 33 Chris Smith has been riding for well over 20 years and has spent over a decade riding professionally. Chris is seriously diverse: he can just as easily be found digging a gnarly Freeride line in a derelict quarry, clocking up the miles on his XC rig or shredding the local Skatepark.
Throughout his career Chris has frequently featured in MTB magazines and participated in countless events competing in various disciplines. As early as 2004 Chris was taking part in many noteworthy comps: Ride To The Lake (Meersburg, Germany), The first two Red bull District Rides (Nuremburg, Bavaria/Catania, Italy), Adidas Slope-style (Austria) White Style 2007 (Austria) taking 3rd behind Lacondeguy, Chris has also competed in numerous Sea Otter Classics, the list goes on….
In the late 90's Chris spent a lot of time racing DH and Duel Slalom, also competing in the first ever 4X races held in the U.K. often placing on the podium. More recently Chris took the overall win at the British nationals 4X series 2013 (Masters) as well as taking the Masters win at the 2014 National 4x Championships, this year he set the world record for the longest (flat surface) manual at 216.6meters.
Over the years Chris has been represented by a long list of sponsors, from Curtis, Azonic, Mongoose, GT, Giant, Corsair to name a few, so Chris' house is packed with riding memorabilia, trophy cabinets, magazine covers, jerseys, lids and medals. A number of large lizards keep guard over the bootie, one of which recently needed to be re-housed due to an absent minded videographer!
I find it no surprise that Chris is one of the few riders who make a living solely from riding, there is no question that he is an exceptional rider but it is his personality, approach and attitude that makes him stand out as an athlete worthy of Living The Dream. Chris is one of those rare individuals who thinks before he speaks (and acts) he is humble, down to earth with an incredibly professional work ethic. I found it a pleasure to work with a rider who understands the mutual benefits of hard graft and is willing to give what it takes.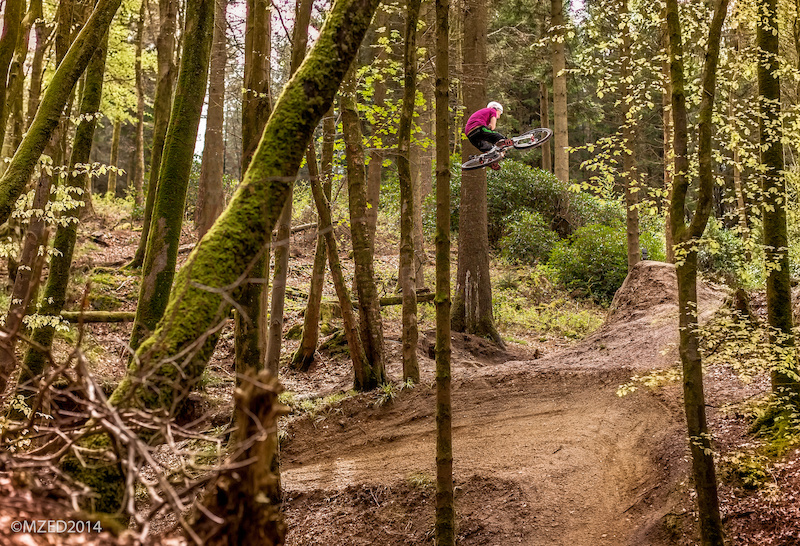 Anyone that's worked with me is familiar with "The Curse" that manifests itself in various guises. It may be the (constant) destruction of camera equipment, being slammed into at full force while getting too close, breaking down in sketchy locations, the car getting robbed or that black cloud which lets loose as soon as the cameras are ready to roll. This project was no exception, many shoots where cancelled due to mother nature and hence it took us all Summer to get the footage in the Can. I must give special thanks to Rush Skate-park, for giving us exclusive access at such short notice on one of these cursed days.
My favourite location was the Black Canon Collectives trails. A truly photogenic spot with many features (bastard to access with shed loads of gear) major respect goes out to the builders! My jaw was on the floor at first sight. Chris rode these trails with such confidence it made his style look lazy (in a good way) shredding take after take until the light faded. Our subsequent shoot was at "Soft porn quarry" (don't ask) Chris had been riding and building there for years and it boasts some truly unique features. A post-apocalyptic landscape littered with ruins and debris, although the conditions were atrocious we still managed to capture a few gems.
Lady luck was on our side at Salisbury Quarry, a remarkable location due to the brilliant white surface and great vistas. This spot is of particular significance to Chris as it is where he broke his back doing a massive drop a number of years ago. Standing on the sketchy take off turned my boxers brown. I'd give it about 35 ft across and a similar distance down, landing sniper on loose boulders, luckily (for us both) it was too overgrown for Chris to even consider it that day.
It was a treat to work with a true veteran of the U.K. Freeride scene, especially one with such a professional approach and passion for the sport. Personally, Chris Smith epitomises what I love most about Mountain biking: Get out there and shred whatever gets you stoked!
Chris Smith is currently riding for Identiti, Halo, Gusset, ODI, Renthal, TSG, MRP, Endura, Marzocchi, Morgan Blue, Brakeburn, Schwalbe and 100%.
---
Mentions:
@schwalbe
,
@Marzocchiusa
---