Team LineCam is stoked to announce the release of the 2014 Flow System — the smallest and lightest cable-assisted film rig available. Discover a new perspective.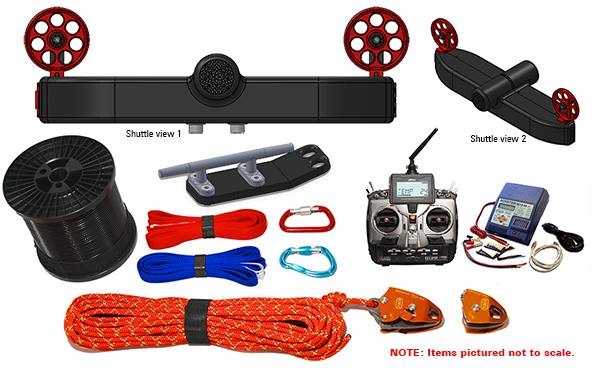 LineCam Systems Pre-order Sale - Flow System Pack: $5,750 reg. $6,900
Reserve your system now and get a 2nd battery at no extra cost (a $200 value).
Custom laser engraving for the first 20 orders. Engrave the shuttle body with your logo, business name, or whatever you can think of. Certain restrictions apply.
This is a limited time offer. Pre-order Sale pricing valid through November 2013
System package includes
:
1 Flow shuttle, 2 shuttle batteries,1 HiTec Digital Radio controller (Eclipse 7 Pro 7-Channel 2.4GHz), 1 Hyperion battery charger (EOS 7201), 500ft of Plasma fiber rope, 75ft of 8mm Prusik Cord (red), 1 Quick-set rope cleat, 1 Progress capture double pulley, 1 Double pulley, 2 6ft webbing loops, 3 Twist Lock Carabiners and 2 Foam Bumper Stops.
The Flow shuttle has a suggested camera weight of 15lbs.
Although you can use GoPros with the Flow shuttle, is directed more towards professional cinematographers and cameras.
For more information or to place an order please contact us at info@linecamsystems.com
-
Roll with it