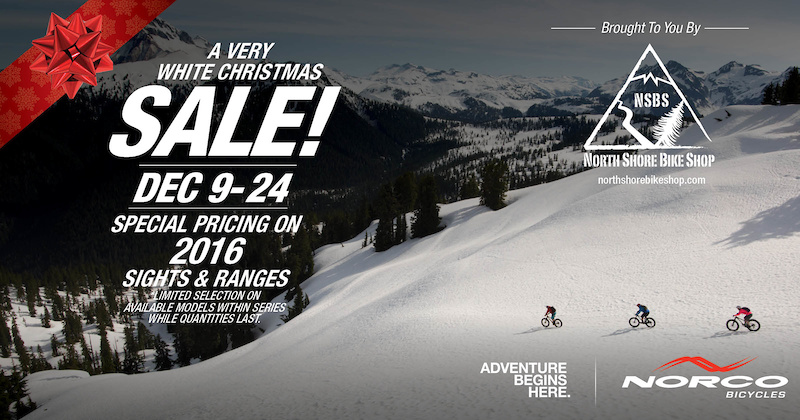 We have a very exciting Norco Factory Clearance sale to share with you. All remaining 2016 Norco 27.5" Sight and Range complete mountain bikes are being cleared out to make room for incoming 2017 models. Sale is on from now until closing time December 24, 2016.
The
2016
bikes being offered are as follows:
Range A7.1 (reg. $5000)
$3500
Range C7.1 (reg. $8500)
$6000
Range C7.2 (reg. $6600)
$5000
Range C7.3 (reg. $5400)
$4000
Range C7.4 (reg. $4500)
$3000
Sight A7.1 (reg. $5000)
$3000
Sight C7.1 (reg. $8000)
$5600
Sight C7.3 (reg. $5200)
$4000
Sight C7.4 (reg. $4750)
$3400
(this is a factory-upgraded model, Pike RC and 1X drivetrain are included)
We have several bikes on our shop floor for your in-store visiting pleasure and test drives. No layaway possible. Bikes are subject to 5% GST sales tax. Prices quoted are in Canadian Dollars.
In addition to the Norco factory sale, we are offering all bike purchasers 25% off ALL extra purchases (regular-priced items), FREE pedals (choice of NRG Hippy Killers or Deity Decoy), and 50% off all open-face helmets. Please email for sizing or with any questions. Quantities are, of course, limited, so hurry in!
---
MENTIONS:
@north-shore-bike-shop
---