Bridge Project at Stub Stewart, Saturday 2/18/17, 8:45 AM.
Volunteers are needed –
With 50-60 volunteers, we can finish this project (i.e., two bridges)
and reopen the Link'n'Pin trail.
Finishing this project will be a major accomplishment for the MTB area at Stub Stewart.
Thanks to the efforts of Dan Katten, Joe Rykowski, and the Park Rangers rock has been staged close to the bridges sites.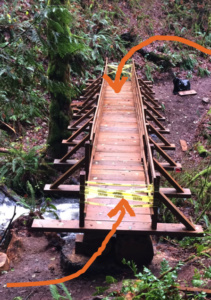 One of Two Bridges needing the ramps
Scope of work for Saturday:
Transport the rock down to the bridges
Assemble, position, and fill the gabion (i.e. cages that hold rock)
Realign the trail to match the bridge approaches
This is a BIG task and we will be working on TWO bridges (at two different locations).
***
We will create TWO trail teams.
To plan the logistics for the day we are asking that people SIGN UP.
People who
SIGN UP
will be emailed updates about the project, your team assignment, and your team meeting location.
BONUS ITEMS:
We have sponsors! Thus we will have a BBQ social and swag raffle following the trail work
Swag provided by Fat Tire Farm
Tasty Beverages provided by Hopworks Brewing
BBQ Provided by SmithCFI
Carpool option available: Fat Tire Farm has volunteered to use their vans to transport volunteers from their Portland shop
Want a ride? Email Barry to reserve your seat. barry@fattirefarm.com
Carpool meeting time: 7:15 AM at FTF's shop; 2714 NW Thurman St, Portland, OR 97210
Tools provided. Bring weather appropriate clothing/gear.
SIGN UP NOW
https://goo.gl/forms/YCJeoWYGGobaar4H2
Team list, action plan, and meeting location will be emailed to people who sign up.
Thanks for your support!!!