If you're already familiar with oval chainrings, then you probably know that a regular chainguide system will struggle to cope with the peculiarly shaped sprocket bolted to your ride. And, if you're reading this and wondering what the hell an 'oval chainring' is, RC put one through the grinder last year and you can read his review
here
.
As one of the first brands to champion the benefits of ovalized chainrings, Absolute Black now have a chainguide to match, designed in partnership with chainguide specialists, 77Designz. We've been hammering the miles into one for the last few months to see how it fared...
Oval Guide Details:
• ISCG 05 mount
• Articulated outriggers
• Compatible with any 1x10, 1x11 or 1x12 drivetrain with AB oval or round chainring
• 48-53mm (Boost compatible) by every 0.5mm using 4 spacers (included)
• 26-34T Oval or 28-36T Round
• Backplate: 7075 aluminium, Cage: GF + PA66 polymer composite, Bolts: Titanium Torx T25
• MSRP: $62.95 USD
•
www.absoluteblack.cc
Given the superb chain management on offer from a chainring with a narrow-wide tooth profile, why develop a chainguide at all? Simply put, a chainguide offers additional security that for some riders, especially those who frequently find themselves on faster, rougher trails, view as a necessity. After all, who wouldn't want additional peace of mind, especially if it only weighs 19 grams (no hardware). But until recently, finding a chainguide that would work well with an oval ring was no mean feat. Thankfully the solution didn't require a drastic redesign of the humble chainguide.
Increasing the drop of the top guide would allow it to accommodate a chainring that rises and falls as it rotates (see gif below), solving the problem and keeping the chain neatly in place. Innovative or not, that didn't stop the team at Absolute Black from cramming some interesting features in all the same.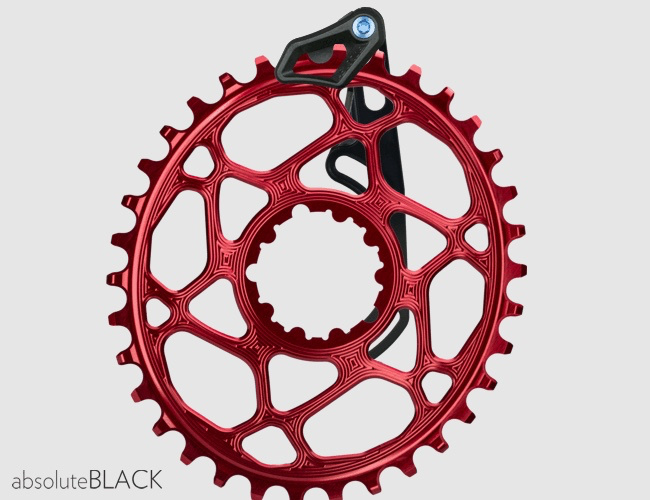 .

In the workshop and on the trail

After familiarizing myself with the manual and all the parts installing the Oval Guide took just a few minutes. With the back plate bolted directly to the ISCG 05 tabs on your frame (thankfully no spacers here) you just need to measure your chain line, which for this application is the distance between the center point on your chainring to the outside edge of the Oval Guide's backplate. In the box, you have four spacers to play with: a 0.5mm, 1mm, 2mm and a 3.5mm spacer. With your chain line distance determined, a quick glance at the manual will tell you the spacer configuration.

The spacers slip on to the back of the top bolt via a tear-drop shaped design and are then sandwiched between the top guide and the back plate. With the correct configuration of spacers installed and everything torqued up, all that's left is to set the height of the top guide in accordance with your chainring size. If you're running a regular 'round' chainring, you have to go up two teeth, so you can only run between a 26 and 34-tooth oval chainring and between a 28 and 36-tooth round chainring.




On the bike and on the trail, the chainguide did its job without any issues, but then what else was it going to do? It has no moving parts and provided you follow the assembly instructions to a tee and have everything nipped everything up (the three bolts) to the correct torque settings, what could go wrong? The chain could come off, but it didn't budge, after all, the Oval Guide is loosely based on a design which has been around for years, and for good reason - it works. For me, the only chink in its armor is a lack of protection from below in the shape of a bashguard, but Absolute Black have recently added such a guide to their line with other options to suit frames without ISCG tabs.





Pinkbike's Take



If you're a fast rider, competing and frequenting rough terrain or someone who regularly finds their drivetrain clogged with crap, a chainguide to accompany your narrow-wide chainring is a wise move for that extra peace-of-mind. And at just over 20 grams and just over 60 bucks, Absolute Black's Oval Guide isn't going to upset the scales any more than your bank balance. While it will tick a big box for the oval ring convert looking for additional "chain management," it's also a neat little upgrade for any rider looking for a great chainguide that happens to weigh next to nothing.

- Olly Forster
---
Visit the feature gallery for high resolution and additional images
---