olslash
Member since Apr 19, 2015

Male / 33
Laguna Beach , California
Block user
Recent

Jul 31, 2020 at 17:12
Jul 31, 2020

Feb 19, 2020 at 17:20
Feb 19, 2020
Bontrager Announces Free Lifetime Warranty on All Carbon Wheels
I broke an Agent rim on a shitty drop. Sent them my hub and they built/shipped me a new wheel for 30 dollars (I'm in the US so this was international shipping, too). They even let me upgrade to a beefier Outlier rim while they were at it. why would you buy anything else?

Nov 21, 2019 at 12:55
Nov 21, 2019

Nov 6, 2019 at 13:42
Nov 6, 2019

Oct 22, 2019 at 13:11
Oct 22, 2019

Selling
Aug 19, 2019 at 20:32
Aug 19, 2019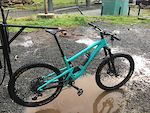 $3800 USD
I had this bike for sale up a while ago but took it down because I wanted to do some maintenance before going forward with a sale. Finally got around to bringing everything well into shape, and here it is ready to shred! I got the bike last spring, but haven't ridden it for the last few months because I've been enjoying my 29er more. photos are from whistler last summer, specs below are up to date (there are a couple minor changes but the overall condition hasnt changed) I strongly prefer a local sale, and i'm happy to go on a test ride with you in the OC area. Frame: Bronson 3 CC Carbon, originally purchased as a frame only. Fully wrapped in invisiframe. A few minor scratches in the invisiframe, and a couple that have reached the paint leaving slight scratches. Fork: MRP Ribbon Coil. Factory serviced with only a few hours on it, and i bled the damper this week. Super smooth. Stanchions are perfect. set at ~165mm, easily changeable to 150-170 without parts. Sale includes 3 springs (soft/medium/hard), with medium installed. Happy to include the bleed tools for a few bucks if you want to save money doing your own maintenance. Shock: RS Super Deluxe + megneg RD: GX eagle Shifters: X01 Eagle Cassette: GX eagle (basically new) Chain: GX eagle (basically new) Crankset/BB: Raceface Turbine (alloy), with new chainring Brakes: Shimano XT levers, XT 4 piston front (203mm), 2 piston rear (180mm). Fully bled and fluid is pretty new. Pads and rotors only have a few hours on them. Bars: Whiskey carbon 31.8 cut around 790 Stem: Truvative 50mm Grips: Ergon Wheels: Raceface Turbine R, alloy Tires: Assegai front, DHR rear (pretty new) Seatpost: BikeYoke Revive 185mm Sale does not include pedals, saddle, or chain guide

Selling
Aug 11, 2019 at 19:58
Aug 11, 2019

Selling
Aug 10, 2019 at 15:51
Aug 10, 2019

Jun 16, 2019 at 13:58
Jun 16, 2019

May 24, 2019 at 15:23
May 24, 2019
Load more...